Inspired by the flavours of the traditional gingersnap cookies, these ginger cookies are an absolute delight. The cracked tops give another dimension to the visual effect.
---
Unlike the traditional gingersnap cookies, mine were a bit softer and I did not make them as flat and thin as the original. The kitchen really smells good when these beauties are being baked. These were delightfully spiced cookies, and felt very light at the same time.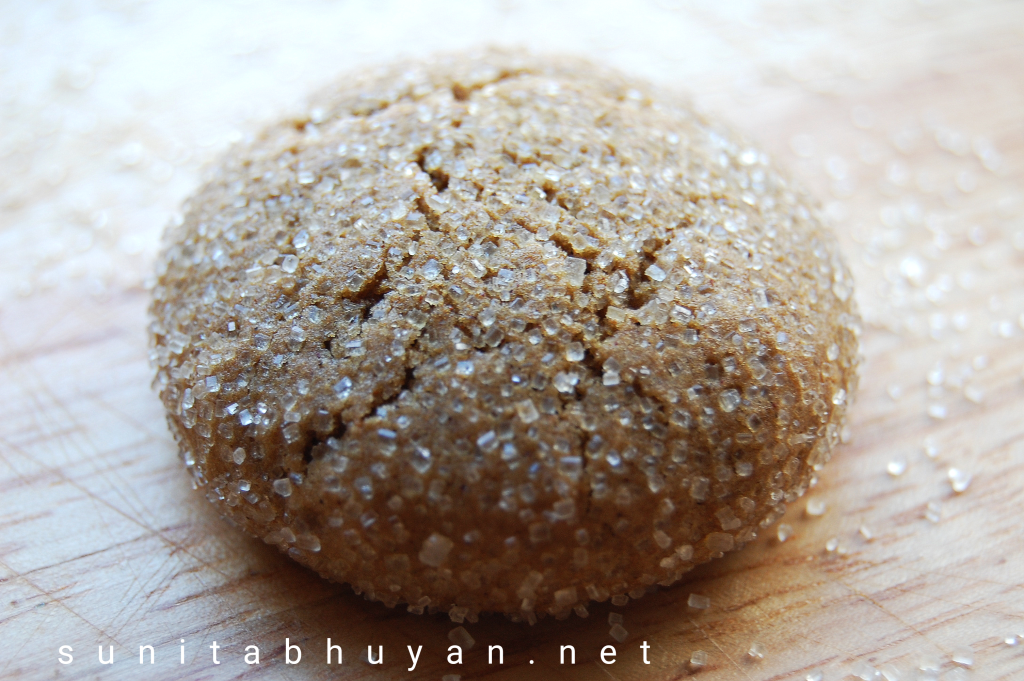 ---
Summer has come and gone in the blink of an eye and so has autumn. As we enter the month of December, and the cold kicks in, it is also a time for to get ready for the end of the year festivities. On the cooking front, hot soups, stews etc begin to rule the roost. Warm spices added to various dishes seem to be more appealing during this time of the year. The aromas wafting though the kitchen while baking these cookies with the warm spices is something to be experienced. Do give these cookies a try; they do feel very festive and you will be left wanting for more!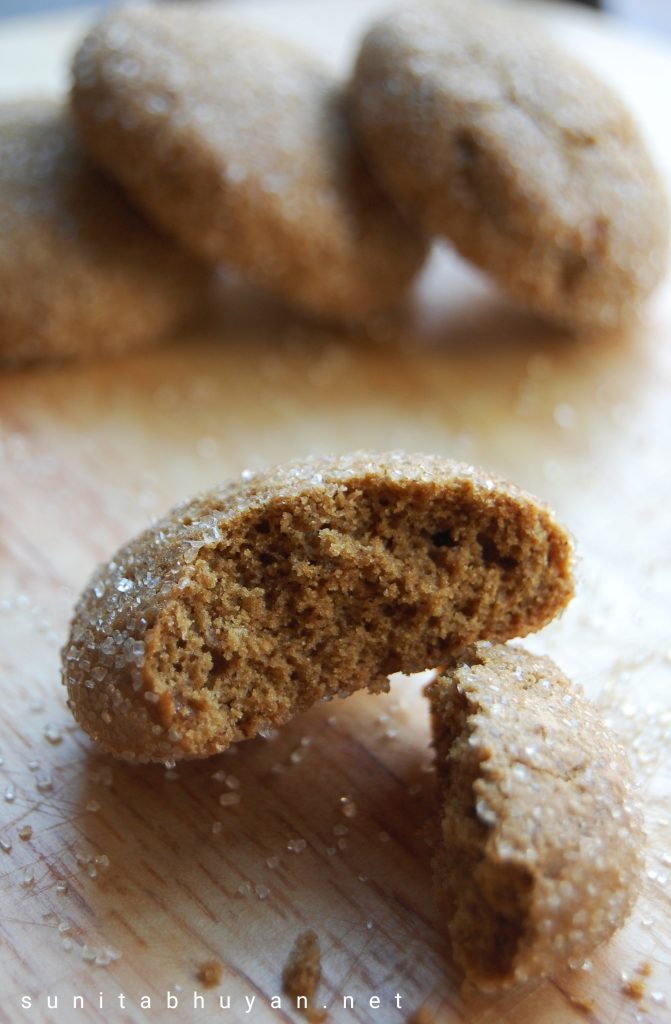 ---
Continue reading for the full / printable recipe for these ginger cookies.
All the baking recipes on this website can be found here.
You might also like to try the following recipes from this website-
Shortbread stars
Short and rich biscuits shaped into stars, perfect for the festive season.
Check out this recipe
Pistachio and chocolate pinwheel cookies
These cookies are mildly sweet and wonderfully crumbly.
Check out this recipe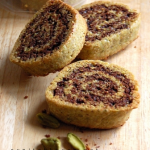 Whole wheat cranberry triangles
These whole wheat cranberry triangles are the perfect accompaniment to your cuppa. Along with whole wheat, they also include oats and cornmeal which gives a lovely bite. And not to forget the dried cranberries that add the slight tang.
Check out this recipe
---
Subscribe to Sunita's World – life and food! to receive updates on latest posts, tips and recommendations straight to your inbox! Simply fill in the details below. Thank you!
On another note, if you try any recipe from this website, do take a photo and tag me on instagram @sunita_bhuyan. I would love to see your creations! Also, do connect on other socials too; links to all my socials are given below-
STAY CONNECTED:
---
Recipe card-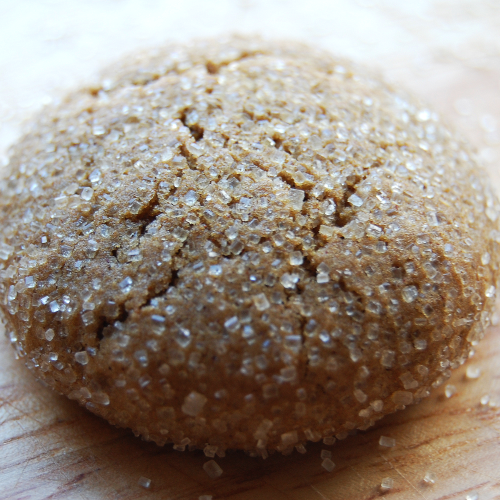 Ginger cookies
Delicious spiced cookies, perfect for the festive season, or for any time with a cuppa!
Ingredients
1

cup

plain wholewheat flour (atta)

¾

tsp

ground cinnamon

1

tsp

ground ginger

¼

tsp

bicarbonate of soda

a pinch of salt

4

tbsp

dark brown sugar

3

tbsp

vegetable oil

1

egg

¼

tsp

vanilla extract

a little granulated sugar for rolling the balls of cookie dough
Instructions
Whisk together the egg, oil, sugar, and vanilla.

In a separate bowl, whisk together the flour, soda, salt, cinnamon and ginger.

Make a well in the centre of the flour mixture and tip in the egg mixture.

Gently fold in, with a spatula until everything just comes together; do not over mix.

Cover the bowl with plastic wrap and chill in the refrigerator for an hour.

Pre heat the oven at 180 deg C and line a baking tray.

Place the granulated sugar for rolling, in a bowl.

Roll each ball of cookie dough in the sugar and place them on the prepared baking tray, a little apart from each other.

Gently flatten the balls and place the tray in the centre of the pre heated oven for 12-15 minutes or till the tops are firm and feel dry (there will be visible cracks on the top and this is normal).

Cool in the tray for a few minutes and then transfer to a rack to cool completely before storing in air tight containers.
---
You might also like to try the following recipes from this website-
Coconut and cumin cookies (eggless)
Delightful savoury cookies which can be enjoyed on their own or as a base for various cheeses and chutneys. Also has a slight hint of chillies.
Check out this recipe
Cheese bites l Cheese cookies
These little crispy cheese bites l cheese cookies are really addictive and the pungency of the nigella seeds complement them very well. The Red Leicester cheese gives them a lovely orange hue too! Great if you're looking for a savoury treat to nibble on.
Check out this recipe
Eggless banana chocolate chip cookies
A delightful cookie alongside your cuppa or a glass of milk; consists of all good ingredients and is not overtly sweet.
Check out this recipe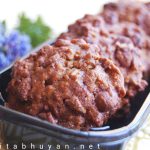 ---
Until next time,
Sunita
STAY CONNECTED: