This Clafoutis inspired cranberry dessert is very easy to rustle up and a great way to use up fresh cranberries. I made a clafoutis some time ago, and based on that, I made this dessert (can't call this a clafoutis though), with some alterations for a cakey texture. The similarity of this particular dessert with clafoutis ends with the method; the taste is very unlike the French dessert.
---
---
Clafoutis (pronounced 'klafouti') is a rustic French dessert wherein fruit, usually cherries are arranged at the bottom of a buttered dish and an egg based batter is poured over them. The cherries rise to the top and after baking, this fruit studded dessert has a custardy texture. It is then enjoyed warm with a dusting of icing sugar over it and some optional cream. While the French are known for their patisseries selling delicate, fancy pastries and other sweet delights, the clafoutis is more rustic and homely.
---
---
I have called my dessert clafoutis inspired; the method to make it is very similar to the French rustic dessert of clafoutis. But I have made a few substitutions and the end taste does not duplicate that of the traditional clafoutis. Unlike the traditional recipe which gives a more custard like texture, mine was more cakey. I have used honey (as sweetener for the main batter), oil and plain wholemeal flour instead of sugar, butter and plain flour. I have also added a little chopped nuts for an added bite. Instead of the traditional cherries, I used some seasonal cranberries. I added a little baking powder / soda for the cakey texture.
---
---
Continue reading for the full / printable recipe for this Clafoutis inspired cranberry dessert.
All the dessert recipes on this website can be found here.
You might also like to try the following recipes from this website-
Chilli and paprika French macrons
These chilli and paprika infused French macarons are perfect for those who would like their macarons to be less sweet. The paprika adds its smoky flavour and the hint of chilli adds to the flavour sensation.
Check out this recipe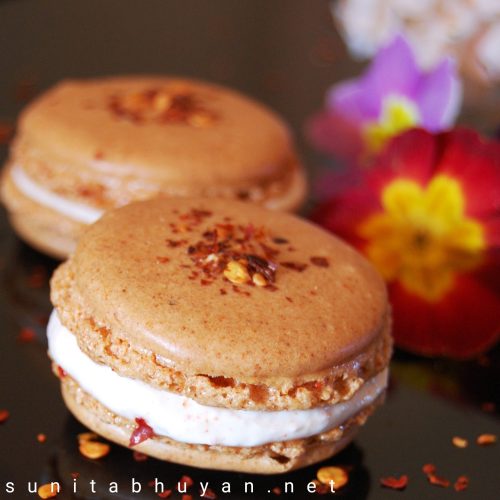 Apple and quince crumble
A beautifully spiced quince and apple crumble topped with oats and an assortment of seeds.
Check out this recipe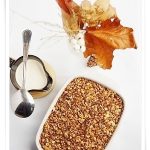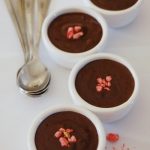 ---
Subscribe to Sunita's World – life and food! to receive updates on latest posts, tips and recommendations straight to your inbox! Simply fill in the details below. Thank you!
On another note, if you try any recipe from this website, do take a photo and tag me on instagram @sunita_bhuyan. I would love to see your creations! Also, do connect on other socials too; links to all my socials are given below-
STAY CONNECTED:
---
Recipe card-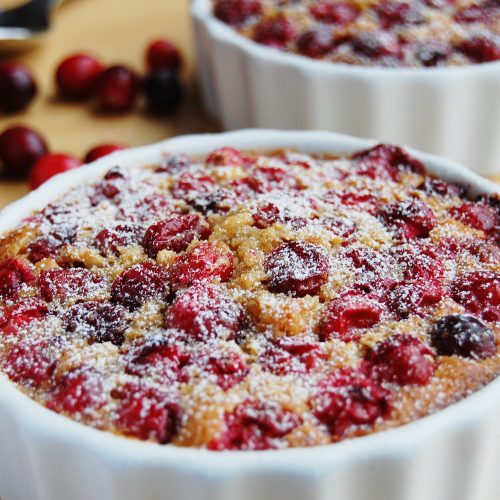 Clafoutis inspired cranberry dessert
Inspired by the French clafoutis, this is an easy to make dessert when fresh cranberries are in season.
Ingredients
2

handfuls of fresh cranberries

4

tbsp

of finely chopped nuts (I used almonds)

1

tbsp

sugar

4

tbsp

plain wholewheat flour

1

egg

3

tbsp

honey

3

tbsp

vegetable oil

½

cup

milk

½

tsp

baking powder

a pinch of bicarbonate of soda
Instructions
Pre heat the oven at 180 deg C

Grease two 4½ inch round tart pans and arrange them on a bigger baking tray.

Mix together the cranberries, nuts and sugar. Divide the mixture into two and arrange at the bottom of the two pans.

Whisk together the flour, baking powder and bicarbonate of soda.

In another bowl, whisk together the honey, egg, oil and milk.

Add the flour mixture to the egg mixture and whisk lightly till there are no lumps.

Divide the mixture between the two pans over the cranberry and nut mixture. The cranberries will rise to the top.

Place the tray in the centre of the pre heated oven and bake for about 25-27 minutes or till the top is golden or a toothpick inserted through the centre comes out clean.

Serve when warm with a dusting of icing sugar.

Other serving suggestions- a scoop of ice cream, a dollop of whipped cream, some custard poured over it.
---
You might also like to try the following recipes from this website-
Citrus cornmeal olive oil cake
A very moist cake with citrusy flavours from lemon and orange running through it and a slight bite from the pine nuts.
Check out this recipe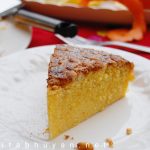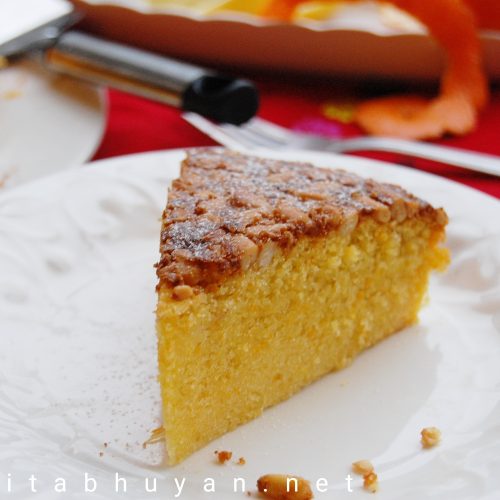 Whole wheat apple and cinnamon cake
An easy peasy cake that delivers on the taste too with its autumnal flavours.
Check out this recipe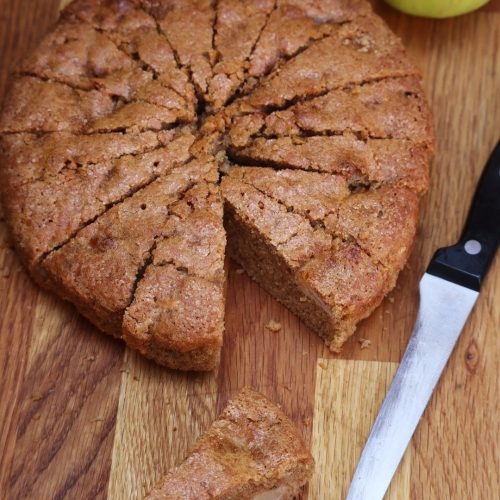 Chocolate almond sponge
A no butter / no oil sponge cake which is easy to make and decorate
Check out this recipe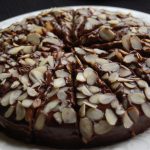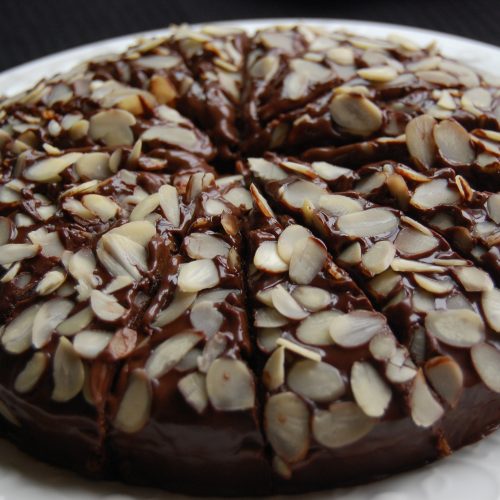 ---
Until next time,
Sunita
STAY CONNECTED: