This beautifully spiced quince and apple crumble is the perfect autumnal dessert is the perfect autumnal dessert. The fruit layer is topped with oats and an assortment of seeds that give a lovely bite.
---
Quince-
Quince is an autumnal fruit that belongs to the apple family. But unlike the apple, quince is rarely eaten raw due to its hard and dry texture. It also leaves a slightly bitter taste if eaten raw. It has a very tough flesh and is not pleasant ot eat as it is. Hence it is cooked and used as a puree or even turned into jams and jellies. In fact, it's high pectin content makes it perfect for jams and jellies.
---
I love the beautiful colour it turns on cooking and not to mention the beautiful fragrance too. It's taste is somewhere between an apple and a pear.
I used a couple of quinces to make this quince and apple crumble. It is a light, refreshing dessert, perfect after a heavy meal. The addition of the various seeds on top complement the soft fruit. It is not overtly sweet and the various spices elevates the recipe. You can have it on its own or spoon / pour a little cream on top to enjoy! Or if you are feeling particularly indulgent, give the cream a mix and add some vanilla ice cream.
---
This is a very adaptable recipe. Of course, quince is the highlight in this dish, but you can adapt it make it with just quince or just apple or just pears. Whatever you choose to make this with, I am sure you will enjoy this autumnal delight.
Continue reading for the full / printable recipe for this quince and apple crumble.
---
Stay connected-
On another note, if you try any recipe from this website, do take a photo and tag me on instagram @sunita_bhuyan. I would love to see your creations! Also, do connect on other socials too; links to all my socials are given below-
STAY CONNECTED:
---
---
Subscribe to Sunita's World – life and food! to receive updates on latest posts, tips and recommendations straight to your inbox! Simply fill in the details below. Thank you!
---
Recipe card-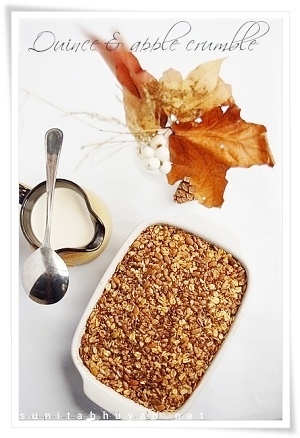 Apple and quince crumble
A beautifully spiced quince and apple crumble topped with oats and an assortment of seeds.
Ingredients
2

quinces, cored, sliced and chopped into small pieces (about 4 cups)

6-7 tbsp of honey

1

tsp

ground cinnamon

¼

tsp

ground nutmeg

6-7 cloves

¼

cup

water

tsp

crushed red chillies

¼

cup

water

1½

cup

chopped apples (chopped a little bigger than the quince pieces); I used 2 firm apples.
For the topping-
1½

cup

jumbo oats

4

tbsp

dark brown sugar

1

cup

mixed seeds ( I used a mix of sunflower, pumpkin and linseed)
Instructions
In a pan, add the quince, honey, cinnamon, nutmeg, cloves, crushed red chillies and water.

Stir everything together.

Cover and cook over low heat for about 10 minutes or till the quince begins to soften.

Add the apples, cover and continue to cook for 10-12 minutes or till the apples soften.

Increase the heat, remove the cover and continue to cook till most of the moisture evaporates. Keep stirring.

Remove from heat and transfer to a baking dish. Spread evenly.

Pre heat the oven at 180 deg C.

In a bowl, add all the ingredients for the topping and mix well.

Spread the topping mixture evenly over the fruit mixture.

Place the pan in the centre of the pre heated oven and bake for about 30 to 40 minutes or till hot and bubbly.

If the top browns to quickly, cover the top lightly with a piece of foil.

Serve warm on its own or pour some double cream over it or indulge with a scoop of vanilla ice cream
All he dessert recipes on this website can be found here.
You might also like to try these other recipes from this website-
Whole wheat blueberry and coconut muffins
Easy to make muffins filled with the goodness of whole wheat, blueberries and coconut.
Check out this recipe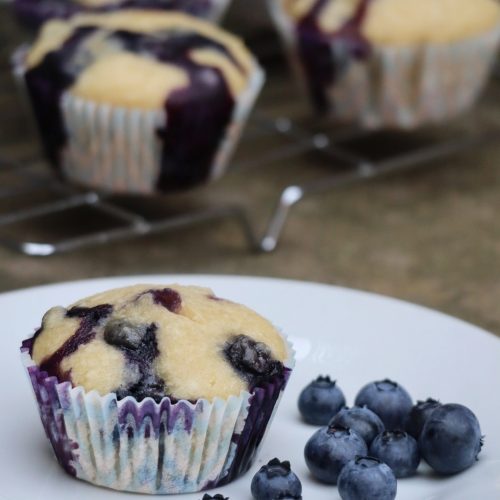 Carrot, walnut and raisin cake
A moist carrot cake made with whole wheat, flavoured with spices and filled with walnuts and raisins. Can be had on its own or filled and covered with frosting for a special occasion.
Check out this recipe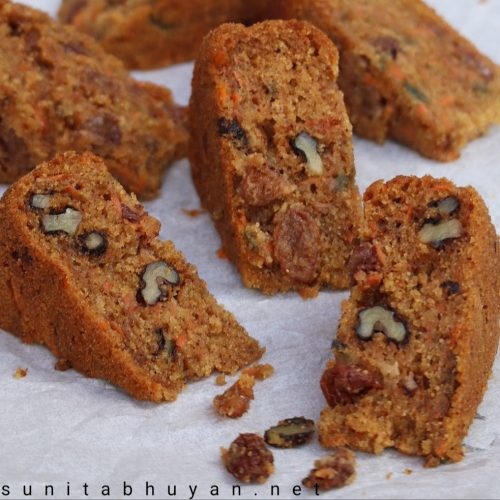 Citrus cornmeal olive oil cake
A very moist cake with citrusy flavours from lemon and orange running through it and a slight bite from the pine nuts.
Check out this recipe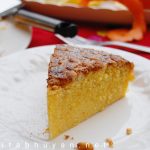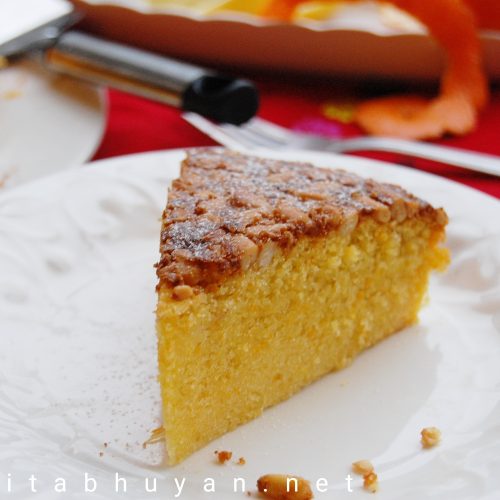 Until next time,
Sunita
STAY CONNECTED: