This spiced potato and leek soup is one of the easiest soups you can make. At the same time, it is full of flavour, and enough to warm you up on a cold day or night!
---
The temperatures have definitely been making a nosedive in our neck of the woods; going below freezing now and then and some parts of the country have already been snowed under. So as the weather does its own thing, what better way to warm up than to huddle around a pot of hot soup!
I love making soups during this time of the year and all of us do enjoy bowlfuls of it. The best part of this spiced potato and leek soup is that it can be made in one pot and served straight from there. When I blended the mixture, I did keep a few bits whole to bite into. A few croutons or some crusty bread is all that is needed to scoop up from the bowl of goodness. It has a smooth texture layered with spices and the chilli and ground black pepper gives it a slight kick. And it's vegan too, so everyone can enjoy it!
Potatoes-
I kept the skin on in the potatoes; you can peel them if you wish. If you decide to keep them, make sure you scrub the potatoes real well before chopping.
Leeks-
Regarding the leek, make sure you clean them really well. They often have dirt inside the layers, so do rinse well. In the instruction video of one of my previous recipes with leeks, I have shown this . If you wish , you can check it out here.
The soup is very adjustable too. You can add or reduce the liquid to get your desired consistency.
Continue reading for the full printable recipe for this spiced potato and leek soup.
---
Subscribe to Sunita's World – life and food! to receive updates on latest posts, tips and recommendations straight to your inbox! Simply fill in the details below. Thank you!
---
Stay connected-
On another note, if you try any recipe from this website, do take a photo and tag me on instagram @sunita_bhuyan. I would love to see your creations! Also, do connect on other socials too; links to all my socials are given below-
STAY CONNECTED:
---
Recipe card-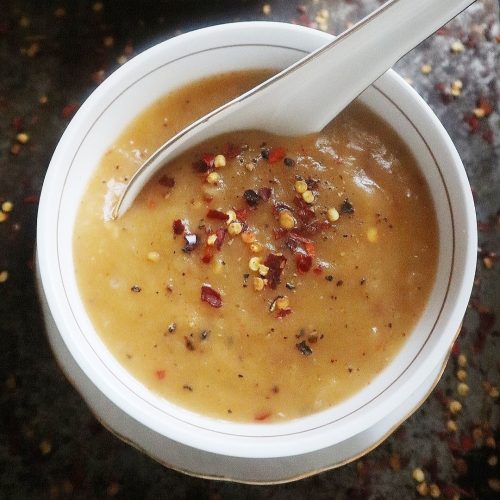 Spiced potato and leek soup
An easy to make one pot soup for those colder times.
Ingredients
1

medium sized onion chopped

8

cloves of garlic, chopped

630

gms

potatoes ( I used British white potatoes), chopped into small pieces. I kept the skins on

2

leeks, chopped

2

tbsp

olive oil

2

tsp

crushed red chllies

2

tsp

paprika

salt

to taste

freshly crushed black pepper ( I used a generous amount)

5

cups

hot water
Instructions
Heat the olive oil in a pot.

Over medium to high heat, add the onions, garlic and leeks and stir for about 30 seconds.

Add a pinch of salt and continue to sir for 3-4 minutes.

Add the potatoes, salt (to taste), freshly ground black pepper ( I put in a generous amount), paprika and crushed red chillies.

Stir well for about a minute.

Cover and cook over low heat for 10-12 minutes or till the potatoes soften. A piece should cut easily but still retain its shape.

Stir well for few seconds.

Add the hot water, increase the heat to high and bring to a boil.

Stir, reduce the heat to low, cover and cook for about 3-4 minutes. The potatoes should be soft but not mushy.

Remove from heat and blend. I used a stick blender in the pot. You can make it completely smooth; however, I kept a few tiny bits of potatoes here and there.

Ladle into bowls, garnish with chilli flakes and freshly ground black pepper and serve hot on its own or with some croutons or crusty bread on the side.
Video
All the vegan recipes on this website can be found here.
You might also like to try these other recipes from this website-
Baked baby aubergines in peanut gravy
Baked juicy aubergines dunked in an easy peanut gravy
Check out this recipe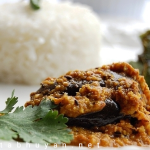 Roasted butternut squash and sweet potato soup
Chunks of butternut squash and sweet potato are roasted along with onion and garlic and flavoured with herbs and spices. Everything is then blended together to form a creamy soup.
Check out this recipe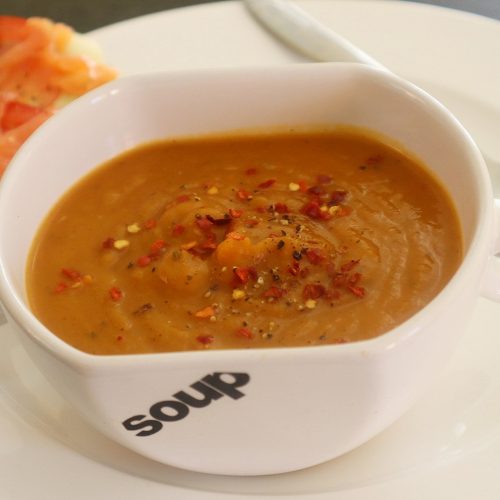 Baked cumin – potato wedges
Regular white potatoes are cut into wedges, tossed in an olive oil – spice (predominantly cumin) mixture and baked. They have a firm and crisp exterior with softer / fluffier insides.
Check out this recipe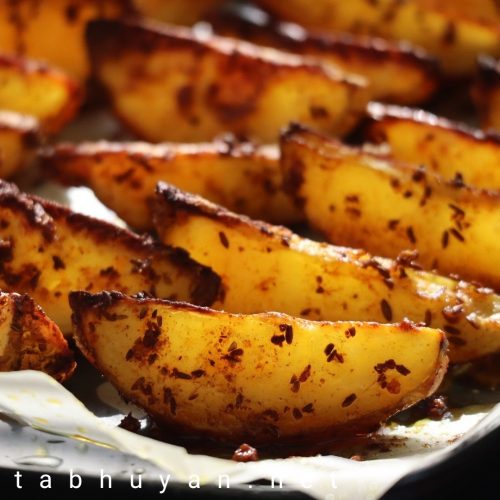 Until next time,
Sunita
STAY CONNECTED: