Today's post is an ode to the humble potato and I am sharing the recipe for these baked cumin – potato wedges. Full of flavour, crisp on the outside and fluffy on the inside, these wedges are a delight.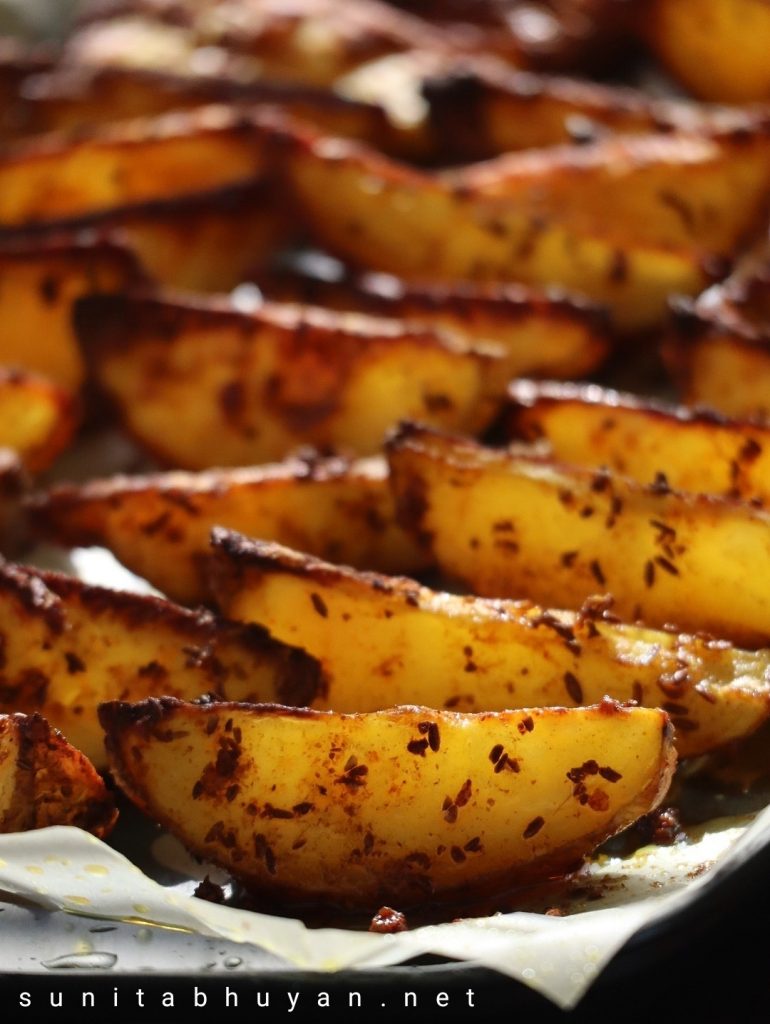 Potatoes are very important in my kitchen…well, probably in most kitchens, the world over. And why wouldn't they be. These plain looking things are probably one of the most versatile of ingredients…skin – on or peeled, whole or cut up (diced, sliced, chopped etc.), with seasonings or without. And what can one say about all those varieties of dishes that can be cooked with the humble potato….fried, chipped, boiled, mashed, baked, roasted, curried…the list is endless. Nutritionally, potatoes are known for their carbohydrate content in the form of starch.
Ability to absorb flavours
The best thing about potatoes is their ability to absorb the flavours of the dish that it is being added to. As good as they are on their own,they also make themselves comfortable with all the other ingredients in the simplest or the spiciest of dishes. The bland potato becomes all jazzy when dressed up with various ingredients.
Adaptability
Back in Assam, we call a person 'aloo', meaning' potato', if he or she is very adaptable and gets along with everyone!! I wonder if there is anyone who does not like potatoes…I bet, even the fussiest of eaters (especially kids) would not think of making a fuss when it comes to eating potatoes. In Assamese cuisine, a bit of potato is added to almost every dish. Whether it is with vegetable, fish, eggs, and even in chicken and goat curries!!! We also have them on their own by frying(aloo bhaji) or mashing (aloo pitika) or roasting them over naked flame (aloo poora) .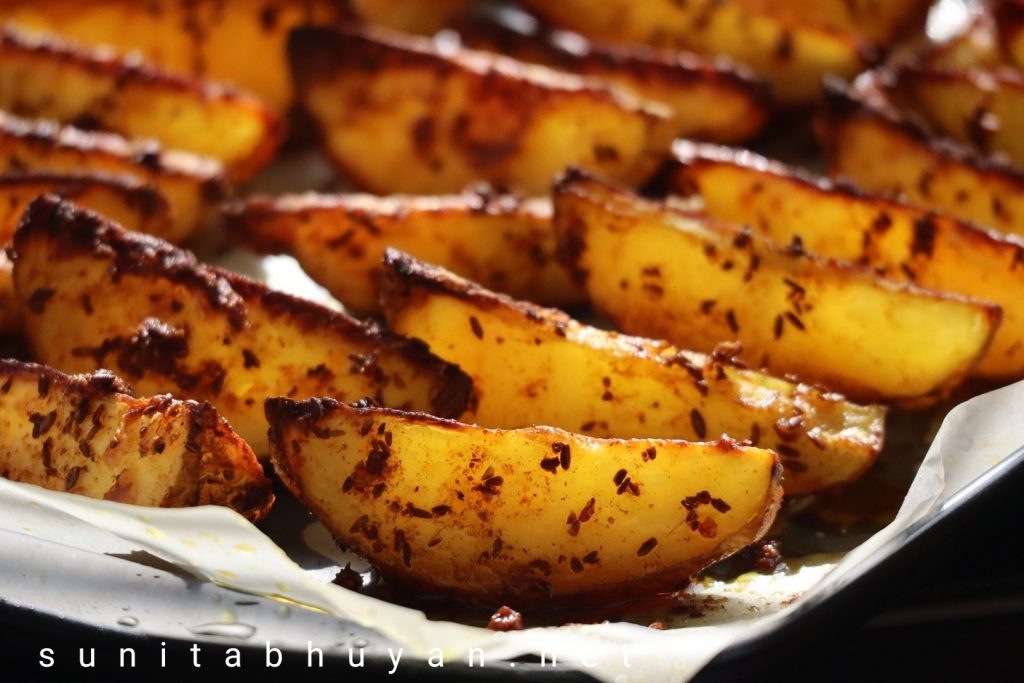 Today's recipe-
Since we're on a potato trail, my recipe for the day is one of potatoes cut into wedges, tossed in an olive oil- spice mixture and baked. I chose cumin as the predominant spice to dress up our good old potato. The flavours of freshly roasted and ground cumin was a perfect garment to ready the wedges for the show. These wedges are very contagious and you won't stop at one. It is great as a side dish with some rice and dal or with some baked fish and other vegetables, or even on their own as a snack with a dip. They were really gorgeous…firm and crisp exterior with softer insides…we loved every bit. Isn't it amazing how the simplest of dishes can give one so much gratification! They disappear all too quickly every time I make it.
Continue reading for the full recipe / video for baked cumin – potato wedges.
---
Subscribe to Sunita's World – life and food! to receive updates on latest posts, tips and recommendations straight to your inbox! Simply fill in the details below. Thank you!
---
Recipe card-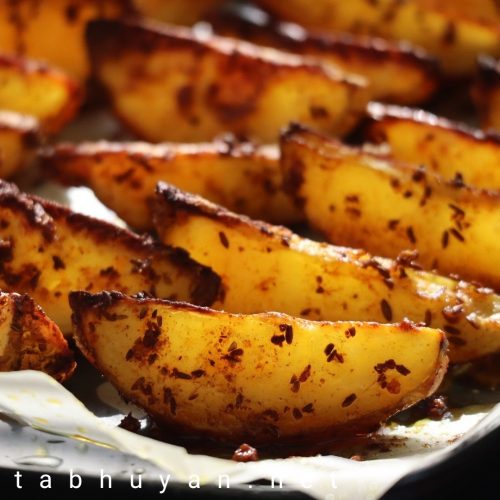 Baked cumin – potato wedges
Regular white potatoes are cut into wedges, tossed in an olive oil – spice (predominantly cumin) mixture and baked. They have a firm and crisp exterior with softer / fluffier insides.
Ingredients
1

tbsp

cumin seeds, roasted and coarsely ground

¼

tsp

turmeric powder

½

tsp

salt

a little less than ½ cup olive oil

2

cloves of garlic, crushed

½

tsp

paprika

5

medium sized potatoes, cut into wedges (about 570 gms)
Instructions
Pre heat the oven at 200 deg C (fan) and line a baking tray with parchment.

Wash the potatoes, cut into wedges and place in a bowl.

In a small bowl, whisk together the rest of the ingredients.

Pour the olive oil mixture onto the potatoes and toss / mix well together.

Arrange the potatoes in a single layer, skin side down. Make sure the potato pieces are not sticking to each other.

Place the tray in the centre of the pre heated oven and bake for 25-30 minutes. Do keep an eye on them so that they don't burn.

Serve hot as a side dish or as a snack.
Video
All the baking recipes on this blog can be found here.
You might also like to try these recipes-
Spicy baked salmon
Bite sized pieces from a salmon fillet are marinated in a wonderful combination of warm spices and herbs, wrapped in a parcel and baked.
Check out this recipe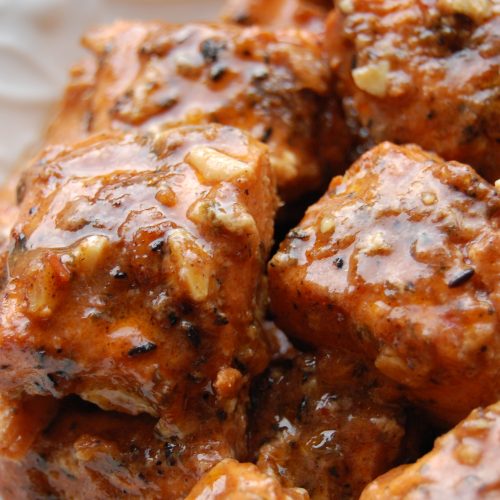 Savoury scones
These versatile savoury scones are filled with the goodness of vegetables and a little cheese to taste; great on their own or as an accompaniment to soups and stews.
Check out this recipe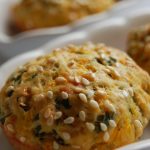 Until next time,
Sunita
Follow me on-