Ever since we came to the UK, salmon has been on top of the fish list for all four of us. Needless to say, I am forever looking for ways to enjoy this beautiful fish. The following spicy baked salmon is one such way.
Both me and the other half were born and brought up in Assam (a state in North East India). It's close proximity to the mighty Brahmaputra river meant that we were spoilt for choice when it came to varieties of fish. And we carried this love for fish wherever we went.
The kids too have grown up eating fish quite a lot as I always try to incorporate it in various ways. As mentioned above, salmon is our all time favourite fish. When the kids were little, their eyes used to light up with joy whenever I made the "pink fish', their name for this lovely fish. They are not little kids anymore but the love for salmon still resides in them.
This time I marinated bite sized pieces from a salmon fillet in some warm and flavoursome spices and herbs, wrapped them in foil and baked. The parcel locks in all the flavours so when you open the parcel, prepare your sense of smell to be hit with this amazing aroma. I actually made this quite some time ago and came upon my notes just recently, so now sharing it with all of you.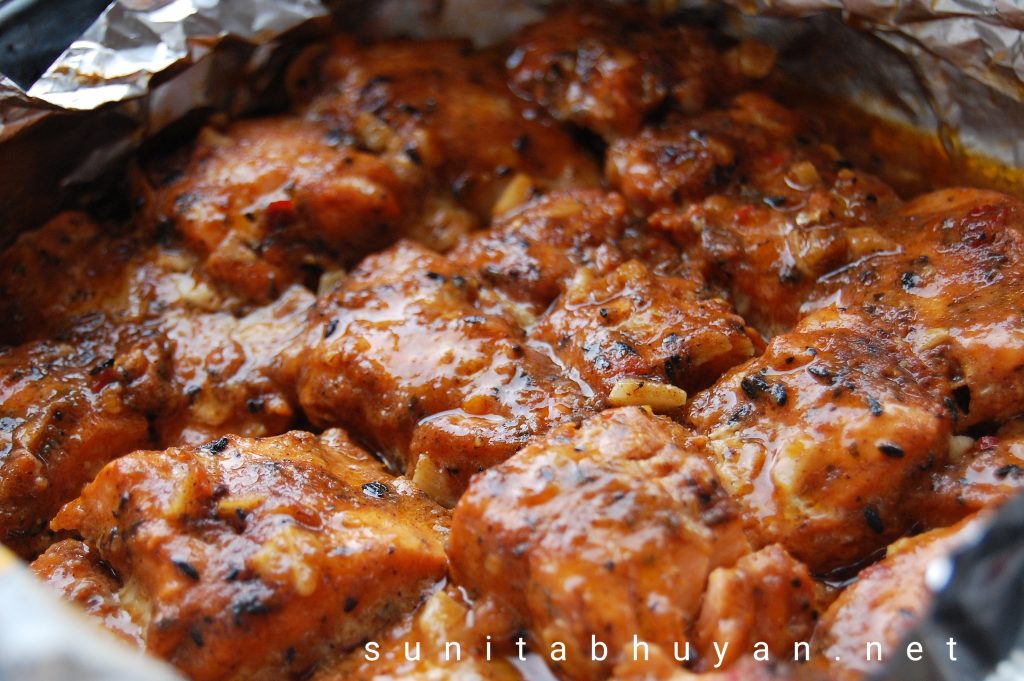 The recipe for this spicy baked salmon is quite easy. Marinate the fish, wrap in foil and let the oven do all the work. Please continue reading for the detailed recipe.
---
Subscribe to Sunita's World – life and food! to receive updates on latest posts, tips and recommendations straight to your inbox! Simply fill in the details below. Thank you!
---
Recipe card-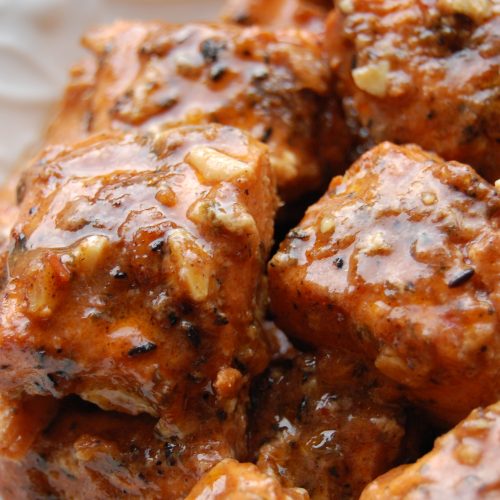 Spicy baked salmon
Bite sized pieces from a salmon fillet are marinated in a wonderful combination of warm spices and herbs, wrapped in a parcel and baked.
Ingredients
500

gms

salmon fillet cut into bite sized pieces
For the marinade
3

tbsp

olive oil

1

tbsp

roasted and coarsely ground cumin

5

tbsp

lemon juice

4

cloves of garlic, finely chopped

1

tbsp

tomato puree

½

tsp

brown sugar

a pinch of turmeric powder

a large pinch of ground cinnamon

½

tsp

crushed red chillies

1½

tbsp

paprika

1

tsp

dried parsley

salt and freshly ground pepper to taste
Instructions
Mix together all the ingredients for the marinade in a bowl.

Add the fish and rub the pieces with the marinade so that they are evenly coated.

Cover and leave to marinate for half an hour.

Pre heat the oven at 200 deg C.

Line a baking dish with foil, leaving enough hanging on the sides to cover the fish and seal completely.

Arrange the pieces of fish on the lined baking dish in a single layer and top with the extra marinade.

Pull over the extra foil to cover the fish and pinch the edges to seal it and make a parcel.

Place the dish in the centre of the pre heated oven and bake for about 25-30 minutes or till the fish flakes easily, and is nicely cooked. (See notes below)

Serve hot as a side dish.
Notes
While opening the parcel, be careful, as the trapped steam will gush out. 
Other fish recipes on this blog can be found here
Until next time,
Sunita
Follow me on-