The Assamese are great fish lovers. With the mighty river Brahmaputra flowing by, there is an abundant supply of a variety of riverine fish, both large and small. Therefore, they all have a prominent place in Assamese cuisine. Fish is cooked in a variety of ways; in simple day to day light curries to being grilled, mashed etc. We are also great advocates of utilising the whole fish from head to tail. And this muri ghonto l fish head with yellow lentils is one such recipe. It uses the head of larger sized fish to add flavour to the rest of the dish.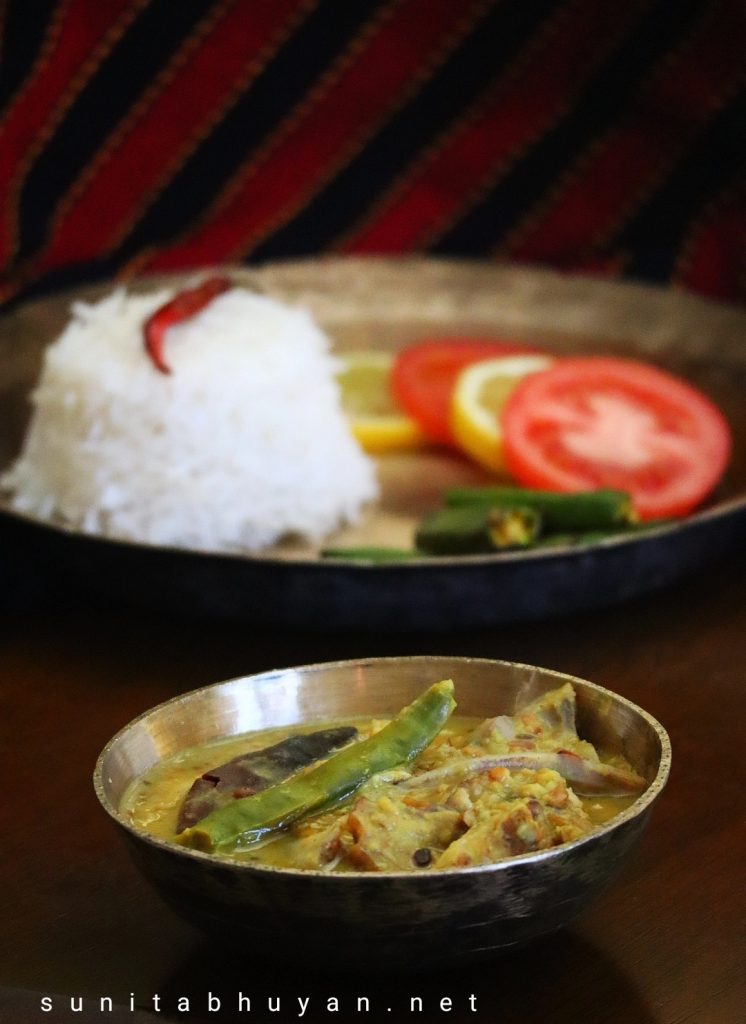 Muri ghonto?
Muri ghonto is a popular dish in Bengali and Assamese cuisine. The word 'muri' means head; this is a dish prepared with fish head pieces. Muri ghonto in our house and others around us was always made with mung dal and usually with the head of rohu (wiki) or catla (wiki) fish. I have seen muri ghonto made with rice and potatoes too instead of mung dal. But, this particular recipe is made with mung dal, just like the way I grew up eating.
For those of you who are not familiar with this dish, it is an acquired taste. You have to meander your way through the big bones of the fish head, which in itself is a skill. And yes, no fancy cutlery is to be used while enjoying this dish; one needs to get down to basics and use ones bare hand to separate the bones, mix the rest with some hot boiled rice. Some even like to suck out the bits on the bones too. It is indeed an earthy dish and is definitely a taste worth acquiring.
We really enjoyed our helpings of muri ghonto with some hot boiled rice and some salad and vegetables on the side. A few pointers before moving on to the recipe-
The fish head-
I have used the head from a large catla fish. The head from rohu fish can also be used. If you live outside India, you will be able find these varieties of fish in the frozen aisles of many Asian stores (especially Bangladeshi stores). The weight of the head that I used was about 550 gms. If the fish head that you are using is smaller or bigger, adjust the measurement for the rest of the ingredients accordingly.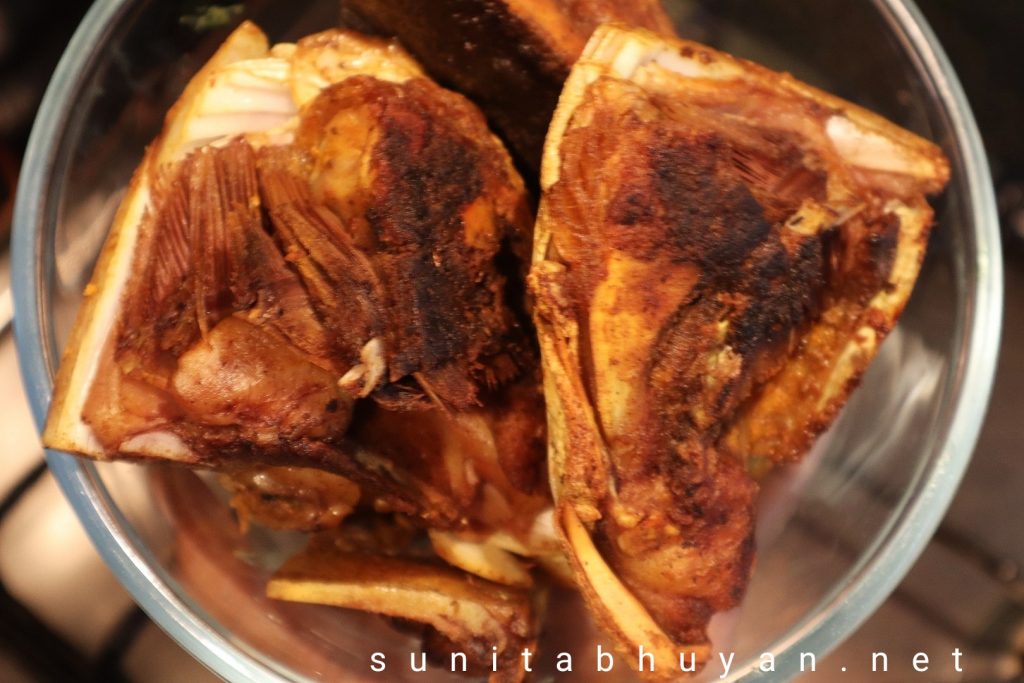 Roasting the dal-
The mung dal that I have used in this recipe needs to be dry roasted. This means that it needs to be added to a dry pan and roasted till it slightly colours and starts to leave an aroma. Do this over medium to high heat, stirring constantly, or else the lentils might burn and ruin the taste of the dish. A few will turn darker in colour, which is fine.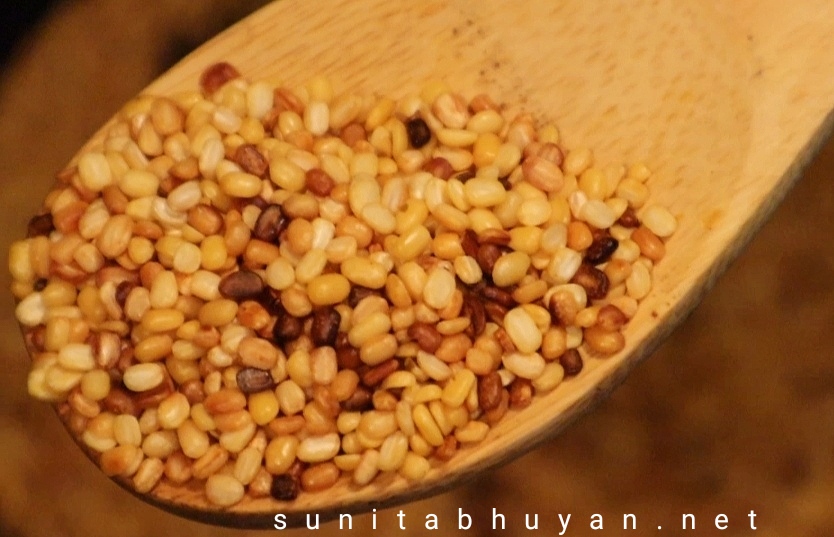 Vegan??
This dal tastes delicious even without the fish head. So, if you are a vegetarian / vegan, you can skip the addition of the fish head and follow the rest of the steps for a tasty lentil dish.
To serve-
This muri ghonto taste best when served hot over plain boiled rice.
Continue reading for the full printable recipe /video for the muri ghonto l fish head with yellow lentils.
---
Subscribe to Sunita's World – life and food! to receive updates on latest posts, tips and recommendations straight to your inbox! Simply fill in the details below. Thank you!
---
Recipe card-
Muri ghonto l fish head with yellow lentils
A dish of split yellow lentils (mung dal) with fish head; best served with hot plain rice.
Ingredients
550

gms

fish head (I used the head from a 6kg catla fish)

2

cups

mung dal (about 425 gms)

2

tbsp

mustard oil (see notes below) + a little extra for frying the fish head

2

bay leaves

3

green chillies, trimmed and slit halfway up from the bottom

2

dried red chillies

1

tsp

cumin seeds

5

cardamom pods, slightly split at one end

2

sticks of cinnamon (about 2 inches each)

1

onion

finely chopped

1

tsp

ginger-garlic paste

1

tsp

cumin powder

1+1

tsp

turmeric powder

½

tsp

coriander powder

1+1½

tsp

salt

7

cups

water

1

tsp

garam masala powder
Instructions
Rub the pieces of fish head with 1 tsp turmeric powder and 1 tsp salt and pan fry till nicely browned on all sides. Keep aside.

In a dry pan, add the mung dal and roast over medium to high flame for about 5 minutes or until it is nicely coloured and starts leaving an aroma. Keep stirring continuously to avoid burning. Once roasted, remove from heat, wash with water (at room temperature) and drain. Keep aside.

Heat the mustard oil in a pan and add the bay leaves, green chillies, red chillies, cumin seeds, cardamom and cinnamon.

Add the onion and stir for a minute.

Add the ginger garlic paste and cook till the onion softens (about 2½ minutes)

Add the dal and stir for a minute.

Add salt (1½ tsp), turmeric powder (1 tsp), cumin powder and coriander powder. Stir for 2 minutes.

Add water, stir and bring to a boil.

Lower heat, cover and cook for about 20-25 minutes or till the lentils are just about to be cooked through. Stir every now and then.

Add the pieces of fish head and stir for a bit. Increase the heat to high ad cook for 2 minutes. Then, reduce heat to low, cover and cook for another 2 minutes.

Stir and break the bigger pieces of fish head.

Add the garam masala powder, stir for a couple more minutes and remove from heat.

Serve hot with plain rice.
Video
Notes
Can use vegetable oil instead of mustard oil but mustard oil gives a better flavour.
The amount of water that I used was enough to give the dish its right consistency. The dish meant to be thick, not watery. And it will also thicken further on cooling. However, if you find that your dish is getting too dry before it is completely cooked, you can add a little water gradually. Do not add too much in one go.
All the Assamese recipes on this blog can be found here.
You might like to try some of thee other fish recipes from my blog-
Spicy baked salmon
Bite sized pieces from a salmon fillet are marinated in a wonderful combination of warm spices and herbs, wrapped in a parcel and baked.
Check out this recipe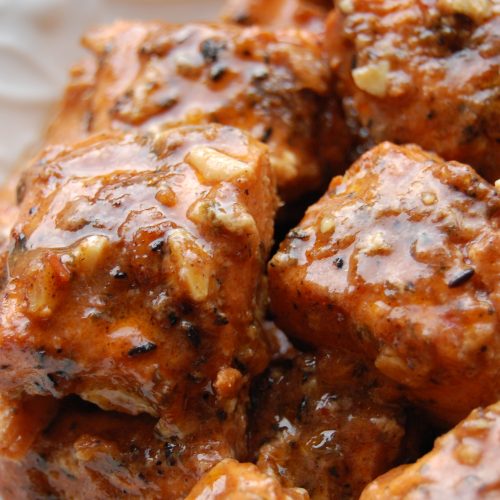 Salmon and vegetable pie
A delicious yet light salmon and vegetable pie which with a simple fresh salad can form a hearty meal.
Check out this recipe
Orange salmon bake
Pieces of salmon are drizzled with a delicately spiced orange and olive oil dressing and baked. The recipe is easy to put together. It is simple enough to cook on a regular basis and sophisticated enough to grace your entertaining table.
Check out this recipe
Until next time,
Sunita
STAY CONNECTED: