I made these baked leek and sage chicken patties a while back to make burgers with these whole wheat chilli, garlic and herb rolls. The patties are full of flavours and can be enjoyed in a variety of ways.
Delicious!
All four of us literally went gaga over these patties. Not only were they succulent, but they were also full of flavours. Considering the amount of chicken (about 1300 gms), I have used only 1 and a half tablespoons of olive oil. The sage, leek, onions and garlic added their own flavours and the carrots brought their goodness. The other dry spices – chilli and paprika also played their part. Who says healthy food is boring! This is a fine example of healthy food that looks and tastes good!
The chicken-
I used skinless and boneless chicken thighs to make these patties. I then cut them into small pieces and ground them in a mixer.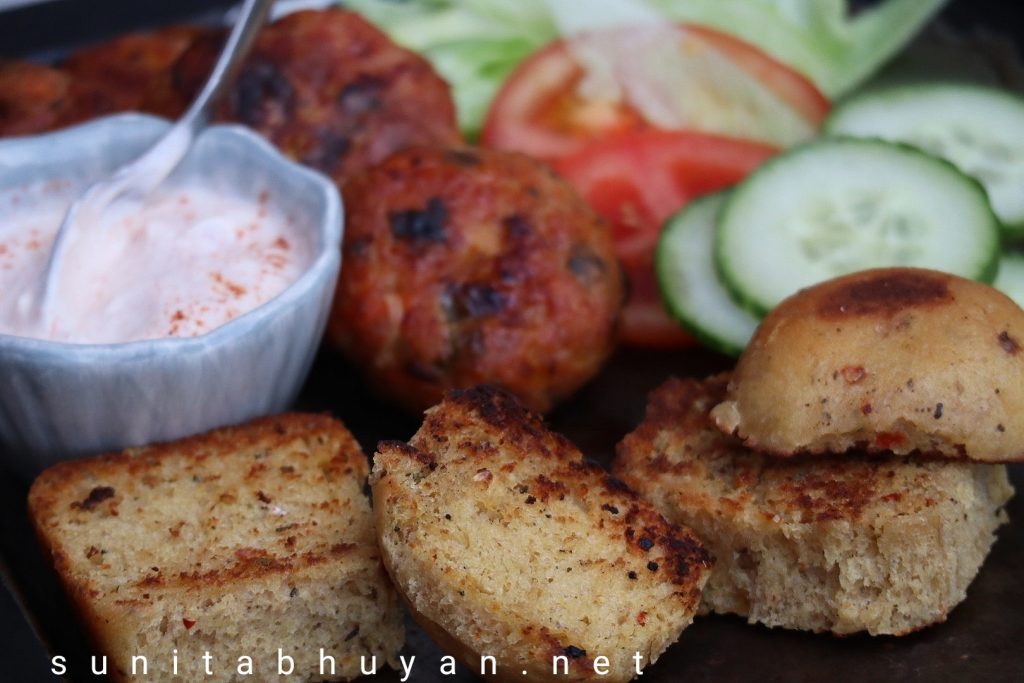 The leek-
Leeks have a lot of dirt within their folds. Make sure to wash well to remove all the grit. I have mentioned this in my video too!
The dip-
I have used roasted garlic in the dip. I have already shared the recipe and video on how to roast garlic in a previous post. Click here for the post.
Mixing-
I have used my hand to mix everything. I used mashing and squishing motions to blend all the flavours and bring everything together.
To serve-
I made a delicious dip of yogurt and roasted garlic to go with these patties. We then proceeded to enjoy these scrummy patties as burgers- with the whole wheat rolls mentioned above. A few leftovers were chopped up and along with some yogurt and fresh salad, wrapped up in a tortilla for a yummy dinner. And of course, some were also enjoyed on their own with the dip!
It does take a bit of planning to make these patties. You need to keep aside at least an hour (30 minutes each) to chill and then bake them. The recipe might sound complicated, but the steps are all easy to make. Hopefully, the video will make it easier.
Continue reading for the full printable recipe / video for these delicious baked leek and sage chicken patties.
---
Subscribe to Sunita's World – life and food! to receive updates on latest posts, tips and recommendations straight to your inbox! Simply fill in the details below. Thank you!
---
Recipe card-
Baked leek and sage chicken patties
Ground chicken thighs (boneless and skinless) are mixed with an array of herbs and spices, shaped into patties and baked. Great on their own or as a burger or inside a tortilla wrap.
Ingredients
1300

gms

boneless and skinless chicken thighs

1

onion, chopped

1

leek, finely chopped

2

small carrots, grated

3

tbsp

finely chopped sage leaves

4-5 cloves of garlic, crushed

1½

tbsp

olive oil

¼ +2

tsp

salt

2

tsp

paprika

1

tsp

crushed red chillies

½

cup

bread crumbs

1

egg
For the yogurt and roasted garlic dip-
8

tbsp

greek yogurt

4

cloves of roasted garlic

½

tsp

salt

¾

tsp

paprika
Instructions
Heat the olive oil and add the onion. Cook, stirring continuously, over medium to high heat for 1 minute.

Add the leeks and stir for about 10 seconds.

Add the garlic and cook for a minute.

Add ¼ tsp salt and cook for another 7-8 minutes or till the leeks and onions soften. Adjust the heat accordingly to avoid burning.

Remove from heat and transfer to a bowl.

In a large bowl, add the ground chicken, leek/sage/onion/garlic mixture, carrots, sage, remaining salt, crushed red chillies, paprika and breadcrumbs.

In a small bowl, lightly beat the egg with a fork and keep aside.

Start mixing everything together; I used my hand.

Add the beaten egg and continue mixing till everything comes together. Use mashing and squishing motions so that the chicken is well coated with the rest of the ingredients.

Line a baking tray with foil.

Using greased hands, take a portions (I divided the mixture into 27 portions) of the mixture, shape into balls, flatten them between your palms and smoothen the edges.

Arrange in a single layer on the baking tray, a little apart from each other.

Cover with cling film and chill in the fridge for 30 minutes.

Pre heat the oven at 190 deg C.

Place the tray in the centre of the pre heated oven and bake for about 25-28 minutes or till nicely coloured and cooked. Flip the patties after 20 minutes.

While the patties are baking, make the dip.

In a bowl, add all the ingredients for the dip, give a good mix (make sure the garlic is either mashed completely or only slightly coarse if you prefer a bite) and keep aside. Please see notes below

Take the patties out of the oven and serve hot. Please see notes below.
Video
Notes
I have shared the recipe for roasted garlic in an earlier post. Click here for the link.
Serving suggestions- Apart from on their own with the dip, we had the patties as a burger with some home made whole wheat chilli, garlic and herb rolls (click here for recipe), tomatoes, cucumber and lettuce. I also sliced some of them to be wrapped inside a tortilla along with some fresh salad and drizzled with Greek yogurt.
All the baking recipes can be found here.
All the non vegetarian recipes can be found here.
You might also like to try these recipes from my blog-
Whole wheat chilli, garlic and herb rolls
Soft and rich whole wheat rolls flavoured with garlic, chilli and herbs.
Check out this recipe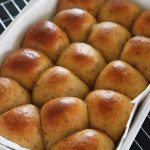 How to roast garlic
A whole head of garlic is halved, drizzled with olive oil, wrapped in foil and roasted. And what comes out of the oven are these soft, juicy and flavoursome cloves that can just be squeezed out. It can be used in a variety of dishes such as soups, pastas, dips etc
Check out this recipe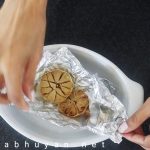 Grilled chicken skewers
Boneless strips of chicken thighs marinated in a walnut and yogurt marinade and grilled along with peppers and onions. Great to have wrapped in flatbreads or even on its own.
Check out this recipe
Til diya kukura mangxo / Assamese style chicken curry with sesame seeds
An Assamese (from Assam, North East India) style chicken curry filled with the nutty flavour of sesame seeds. Not overpowering, and with minimum use of spices. Great with rice or Indian flatbreads.
Check out this recipe
Lemon chicken
An easy to make lemon chicken recipe which has a mild flavour, a hint of heat and a slight sweet note from the lemon. Great as a side dish with fried rice or stir fried noodles.
Check out this recipe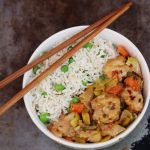 Until next time,
Sunita
STAY CONNECTED: