This recipe for lemon chicken came about by accident; and it was an accident we did not mind at all!
The travails of a home cook! You want to cook something- you check the larder; find key ingredients missing; then frantically look around to make do with what's available and come up with a dish that you had no idea you were going to make. Fortunately, everything comes together and as you sit around the table with your family and see them enjoying it, well- it was worth the running around like a headless chicken and pulling out ingredients at random and turning them into a great combination.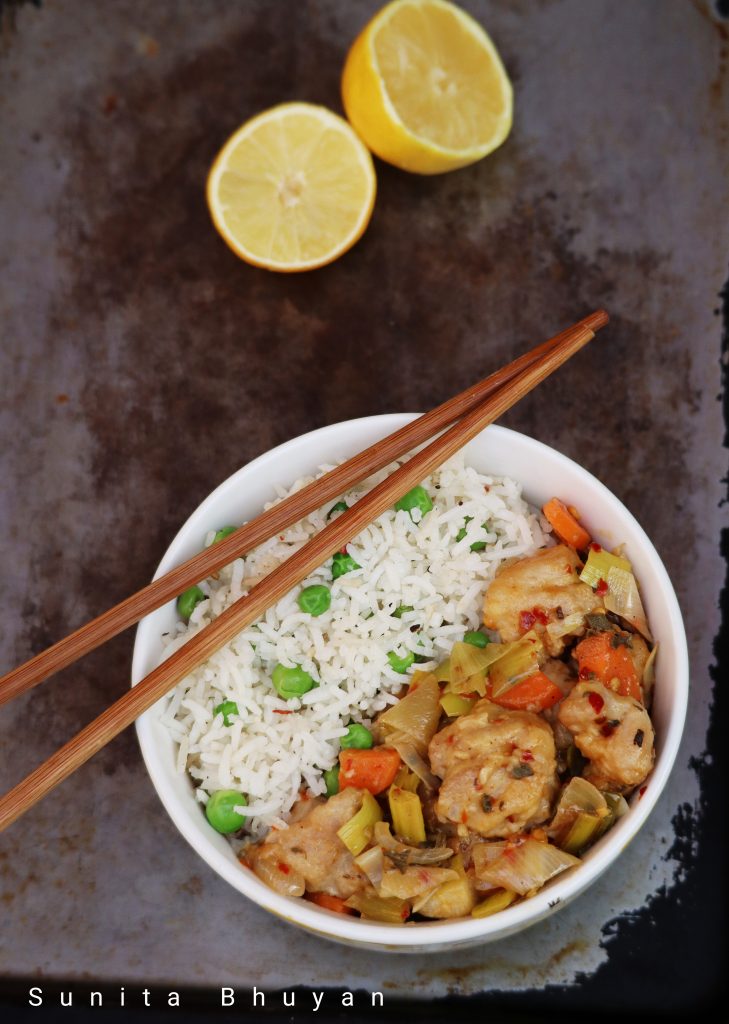 Has it ever happened to you? You feel confident that you have certain ingredients and then you go to cook and realise that they are either not there or not enough for what you wanted to make! The other day, in my head I thought of making the family's favourite chilli chicken, only to check the larder and realise that the soy sauce was missing and there weren't enough peppers! I could have sworn that I had some lying around! We don't have fried stuff too often, and this was supposed to be a treat!
Oh well! I had already cut the boneless and skinless chicken thighs into bite sized pieces. There was not much going on elsewhere either- a lonely leek, some sad looking sage leaves, some carrots past their prime, a couple of lemons…well, you get the drift! But a couple more minutes, and I was feeling okay about what might come out of the combination. My cook's intuition told me it might come out good, so quickly recorded a video as well to share with all of you. And it did not disappoint!
So! No chilli chicken that day, but we did enjoy our lemon chicken instead. It had a mild flavour, a hint of heat and a slight sweet note from the lemon. We had ours with some peas fried rice. Love it when one failed plan leads to another successful one! And that's what home cooking is all about, right!
Continue reading for the detailed recipe below; instruction video included towards the end of the post.
---
Subscribe to Sunita's World – life and food! to receive updates on latest posts, tips and recommendations straight to your inbox! Simply fill in the details below. Thank you!
---
Recipe card-
Lemon chicken
An easy to make lemon chicken recipe which has a mild flavour, a hint of heat and a slight sweet note from the lemon. Great as a side dish with fried rice or stir fried noodles.
Ingredients
550

gms

skinless and boneless chicken thighs, cut into bite sized pieces
For the marinade
3

tbsp

cornflour

juice of ½ a lemon

1

egg

1

tsp

salt
For the slurry
1

tbsp

cornflour

juice of 1 large lemon

½

tsp

salt

1

cup

water
Others
½

cup

oil

1

medium sized onion, chopped

2

tsp

crushed garlic ( I used 6 cloves)

1

cup

chopped carrots ( I used 1 large)

3

cups

loosely packed leeks ( I used 1 leek)

2

tsp

crushed red chillies

1

tsp

salt

2

tsp

finely chopped sage leaves
Instructions
Marinate the chicken pieces with the marinating ingredients, cover and leave aside for at leat 15 minutes

Mix together the ingredients for the slurry and keep aside.

Heat oil in a pan ( preferably a wok) and swirl to coat it with the oil.

Add half the marinated chicken pieces to the wok in a single layer. I fried them in two batches over medium to high heat.

Flip and cook on the other side.

Prick them halfway through with a knife to speed up the cooking process.

Toss and cook till done ( I took about 7-8 minutes).

Transfer the cooked chicken pieces to a dish lined with paper towels to drain the excess oil.

Repeat the process for the remaining marinated chicken pieces.

Save 2 tbsp of the oil and discard the rest.

Add the chopped onion to the wok and cook for 30 seconds.

Add the crushed garlic and stir for another 30 seconds

Add the chopped carrots and fry for a few seconds,

Add the chopped leeks and fry for 30 seconds.

Add crushed red chillies, salt and sage and cook for 2-3 minutes.

Add the fried chicken and stir for a minute.

Add the slurry and cook for 2-3 minutes, making sure everything is nicely coated with it. Do not let it dry out too much as it will thicken further on cooling.

Done! Remove from heat and serve as a side dish with rice or noodles. We had ours with some peas fried rice.
Video
Notes
The fresh sage can be substituted with dried.
Spring onions can be used instead of leeks. Add the green part to towards the end of the cooking process and the hard white part at the point when the leeks were added. It will give a slightly different flavour but will taste good.
The pan needs to be hot throughout and there should be constant stirring of the ingredients to prevent burning. However, if you see the ingredients colouring too much, reduce the heat a little.
You might like these other chicken recipes from my blog–
Til diya kukura mangxo / Assamese style chicken curry with sesame seeds
An Assamese (from Assam, North East India) style chicken curry filled with the nutty flavour of sesame seeds. Not overpowering, and with minimum use of spices. Great with rice or Indian flatbreads.
Check out this recipe
Grilled chicken skewers
Boneless strips of chicken thighs marinated in a walnut and yogurt marinade and grilled along with peppers and onions. Great to have wrapped in flatbreads or even on its own.
Check out this recipe
The full list of non vegetarian recipes can be found here.
Until next time!
-Sunita
STAY CONNECTED: