We have been under a cold snap for more than a week with the temperatures refusing to rise and the snow on my garden benches showing no signs of shifting anytime soon!
Only this morning, the temperature seems to have risen by a few degrees and the grass is visible once more. Not complaining though as the snow still gives me childlike thrills! The last couple of years, we've barely seen enough of the white fluffy stuff and global warming comes to mind. So, it was somewhat nice to feel cold and see the weather acting as it should in our part of the world.
A walk on a snowy day, and we were treated to the delightful squeals of the young and not so young as they came out in droves to enjoy the snow- making snowmen ( or in some cases snowwomen ), hurling snow balls and engaging in snowball fights and sledging down the snowy slopes. A little bit of cheer as the country still continues to reel under the effects of the pandemic and continues to be shut under a lockdown. It's been such a harsh year for everyone, a little distraction and grabbing little moments of happiness is definitely the way to go.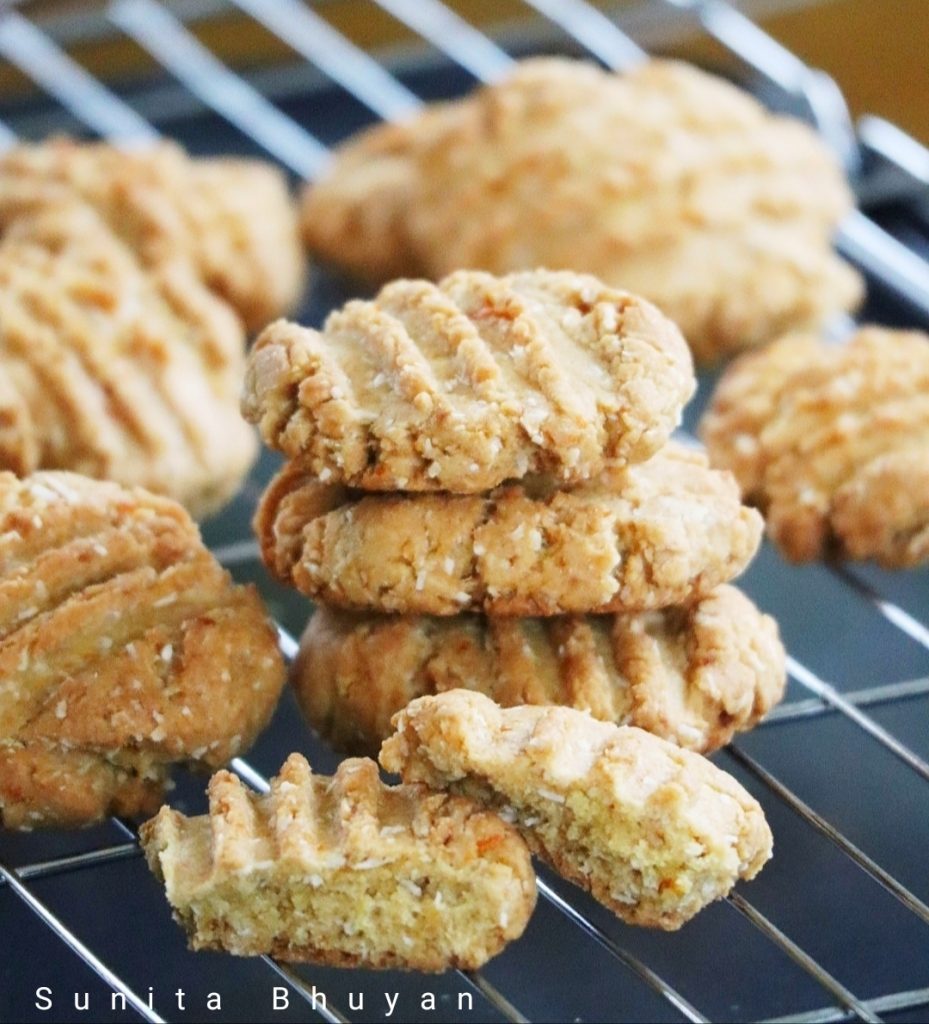 The weekend came and in between online events, it went as swiftly as it came. I managed to get a spot of baking done; hence sharing the outcome with you all. Today's recipe is that of a whole wheat, coconut and orange cookie (eggless) recipe. It's an old recipe, but one that I go to when I look for something not overtly sweet and a for a less guilty pleasure. These will go great with your cup of tea or glass of milk. You can have them as they are, and if you have been good recently and want to dress them up a little, you can do so too. Drizzling them with some icing as in the picture below or melted chocolate should do the trick.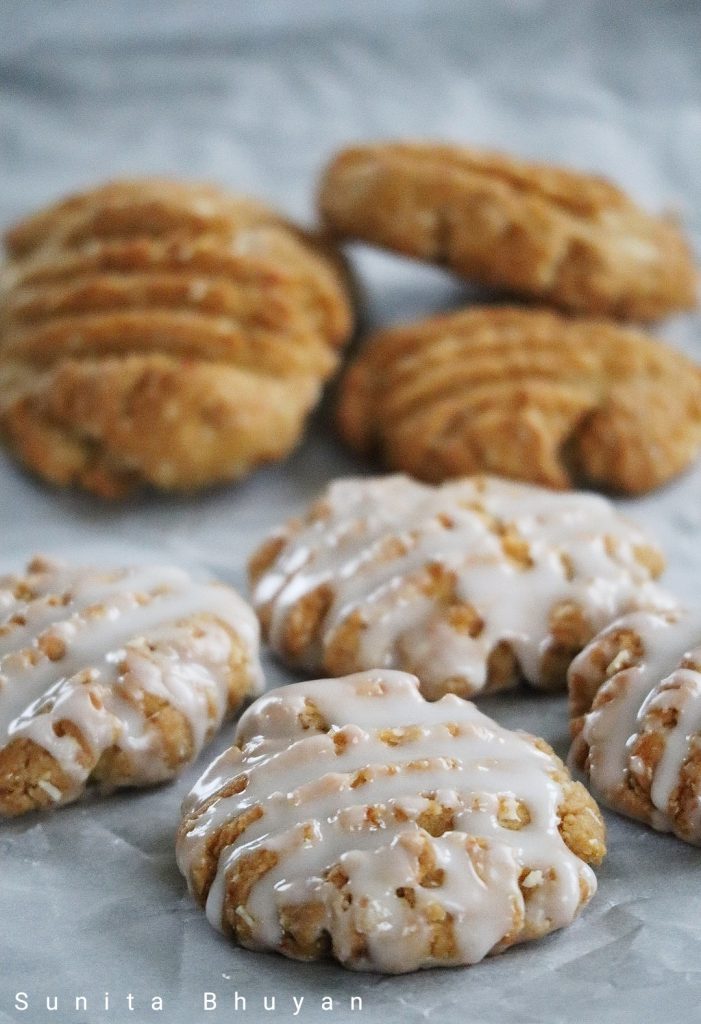 Continue reading for the full ingredients list and instructions. A step by step video is included too!
---
Subscribe to Sunita's World – life and food! to receive updates on latest posts, tips and recommendations straight to your inbox! Simply fill in the details below. Thank you!
---
Recipe card-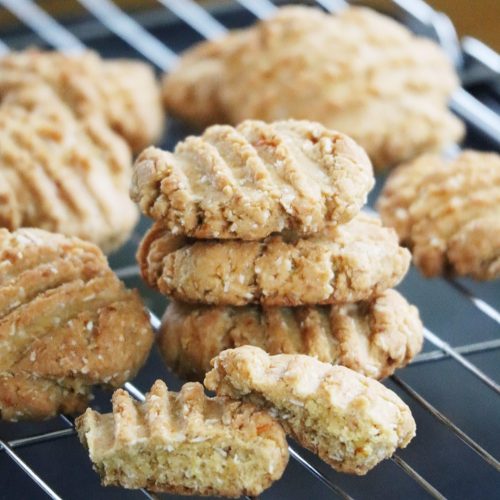 Whole wheat , eggless, coconut and orange cookies
A whole wheat, eggless, coconut and orange cookie recipe; crisp and not overtly sweet.
Ingredients
2

cups

plain whole wheat flour (I used atta)

5

tbsp

desiccated coconut

½

tsp

bicarbonate of soda

1

tbsp

semolina

1/2

cup

icing sugar

5

tbsp

vegetable oil

zest of 1 large orange

½

cup

milk
Instructions
In a bowl, add the flour, sugar, soda, semolina and orange zest and mix with fingertips for a few seconds.

Add the oil and rub everything together till the mixture resembles fine breadcrumbs.

Make a well in the centre of the mixture and tip in the milk.

Mix in with a spatula for a bit, until everything is just moistened.

Use your hand to bring everything together gently. Do not knead.

The mixture will be quite craggy; do not be tempted to add in more liquid; the mixture just needs to be moistened and brought together.

Cover the bowl with plastic wrap and chill in the fridge for 30 minutes.

Pre heat the oven at 180 deg C and line a baking tray.

Make 22 rough balls of the mixture and place on the lined baking tray. Do not squeeze and smoothen the balls.

With the back of a fork, press down on the balls and gently lift up the fork to leave its impression.

Place the tray in the centre of the pre heated oven and bake for 20 minutes or till golden.

Transfer the cookies to a cooling rack and cool completely before storing in air tight tins.

If you wish to indulge a bit, drizzle a bit of icing ( icing sugar and a little milk ) or melted chocolate on top.
Video
Notes
These cookies are low on the sweetness. They are best enjoyed with a cuppa or a glass of milk.
Until next time-
Sunita
STAY CONNECTED: