Saraswati puja musings-Dark, gloomy and rainy day today! The mind wanders across land and seas thousands of miles away and brings back memories filled with the hustle and bustle, the cleaning of the study desk etc, the music, the prayers, the bhog ( food offered to the gods) the beautiful belles of all ages dressed in traditional finery and going from one pandal to the next – much to the delight of the onlookers- as they create a riot of colours.
Back in India, especially in the Eastern and North Eastern region, today is the celebration of Goddess Saraswati- the goddess of learning and art, especially music. Most educational institutions would celebrate with great pomp. In my convent school, this celebration was absent, but we did get a holiday and was able to celebrate at home or other venues. It was also inauspicious to study on this day; and to whoever came up with this, we were forever grateful!
---
Subscribe to Sunita's World – life and food! to receive updates on latest posts, tips and recommendations straight to your inbox! Simply fill in the details below. Thank you!
---
Yes, Saraswati Puja is much more than the worshipping the goddess of learning and art. We have been lucky enough here in the UK to be able to recreate in a small way, that festive feeling for the past few years; missed the face to face hustle and bustle this year. But the feeling and the lovely memories of yesteryears are there to fill the heart and I will hold on to it.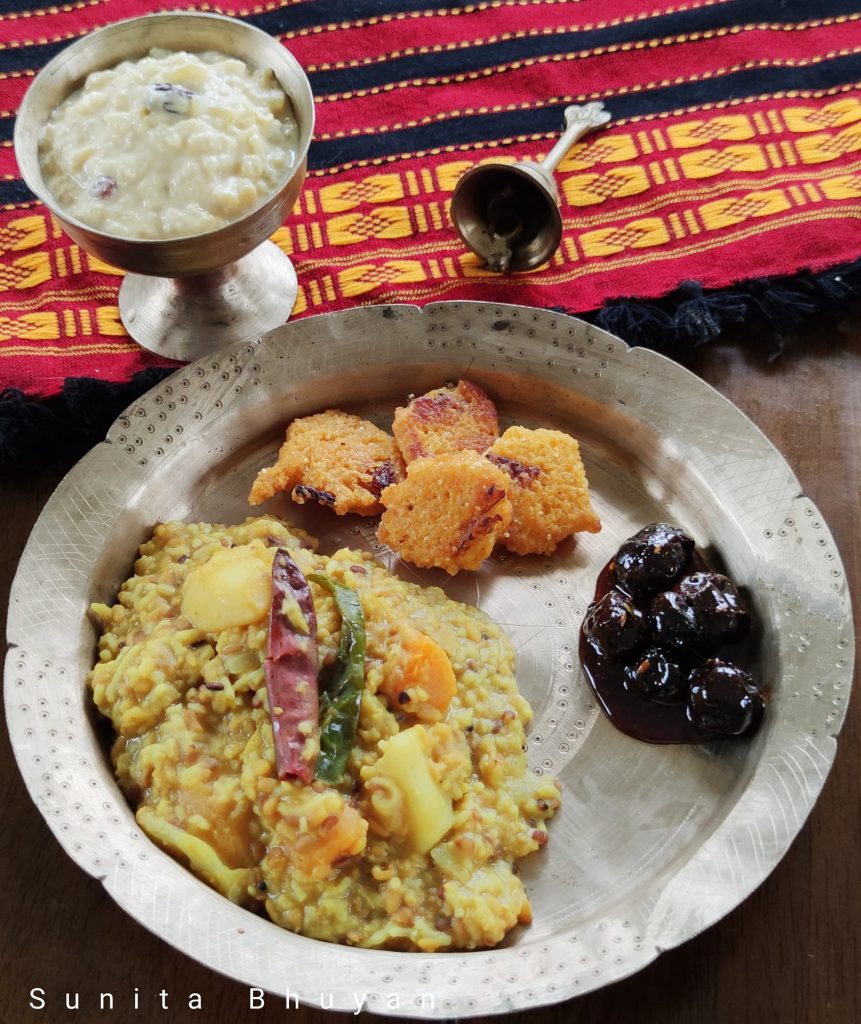 In the meantime, on this dark and gloomy day, a plate of traditional food made with whatever was available in the pantry, brought much cheer. On the plate, clockwise from left- rongalau, alu, bandhakobi diya bhaja mug dal khisiri (butternut squash, cabbage and potato in a fried mung dal and rice dish); masur dailor bor ( red lentil fritters), bogorir jola mitha asar ( homemade hot and sweet jujube pickle) and payash( Assamese style rice pudding studded with raisins and nuts ) in the bowl. The heart was content; taking pleasure in the small things. And feeling grateful; very grateful. Take care everyone!
Unfortunately, I did not write down the recipes for the above; being swayed by memories and all that! Hopefully will get down to noting them and sharing with you all soon. Until then, take care.
Other Assamese recipes can be found here.
-Sunita
STAY CONNECTED: