Since you've landed here, I would like to welcome you to my first post on this blog, though it is by no means my first ever! I like to call this my second innings. If you would like to know why, click here!
The start of something new is always exciting- whether it is a baby's first step- not knowing where his / her feet will lead to in the future; or a blog's first post, not knowing who will read it and become part of your little community in the days ahead. This is a culmination of the hours of putting the site together, reminding oneself of the technical terms that were once at the tip of the tongue; making oneself comfortable to the new ways of doing things socially with a blog; asking oneself through sleepy eyes if it is worth it as one tries to add another bit of code to change an element of the template.
But it did not take long to realise that the excitement and the rush is still there as I once again go through the motions of creating the website, cooking, taking delectable photographs, writing posts and so on- which are things that I have really missed in the last few years. Technologies, social interactions and so many other things have changed. But the thrill and the joy of creating will always be close to my heart.
One might think that being a mum a second time round will be easier as one has done it all before; not sure about easier, but it is definitely different and I guess that is what makes the journey more fulfilling. As I mentioned earlier, this blog is my second innings; so not sure if that makes things simpler, but it is definitely different and as of now I am not complaining!
Inviting you all to join in this second innings with me as I once again embark on this journey with different stories at a different time of life, but with the same enthusiasm. There will be my day to day ramblings, travel stories, garden snippets and most importantly, the hits and misses in my kitchen, where I do spend quite a lot of enjoyable time experimenting with cooking / baking healthy family meals from scratch along with treats to satisfy the huge sweet teeth that me and my family possess. Please make sure to subscribe to my blog and connect on social media (links given below) so that you can come along on this journey.
I come from a heritage where guests are always offered something delectable, especially if they visit for the first time! So guess I will need to feed you! These whole wheat, banana and walnut cake squares are simple to make, not overtly sweet and sings with the flavour of spices. They are good to have when one craves for something sweet to go with one's cuppa; to be honest, they are more like a snack cake. I topped half of them with a quick chocolate frosting to lift them a notch, but you can simply have them just as they are. Please find the recipe below. I have also included a short video to demonstrate the process. Enjoy!
---
Subscribe to Sunita's World – life and food! to receive updates on latest posts, tips and recommendations straight to your inbox! Simply fill in the details below. Thank you!
---
Recipe card-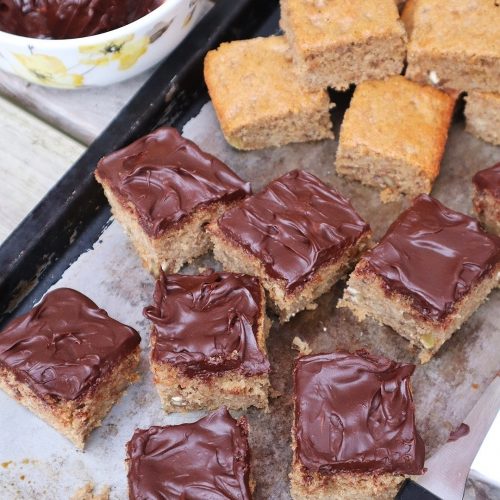 Whole wheat banana, ginger and walnut cake
An easy snack cake filled with the goodness of bananas, the warmth of ginger and cinnamon and the bite from the walnuts. Not overtly sweet; perfect with a cuppa either as it is or topped with a simple chocolate frosting. Can also be a light and less guilty indulgence to appease the sweet tooth.
Ingredients
3

eggs

1/2

cup

dark brown sugar

1

cup

plain whole wheat flour (I used atta)

1/2

cup

chopped walnuts

2

tbsp

chopped crystallised ginger

1

tsp

baking powder

1/2

tsp

ground cinnamon

3/4

cup

ripe mashed bananas (I used two small ones)

1/2

cup

vegetable oil
For the frosting (the following measurements are to cover half of the cake; if you want to cover the whole cake, double the ingredients)-
100

gms

dark chocolate, chopped

3-4

tbsp

milk (I used whole milk)
Instructions
Pre heat the oven at 180deg C.

Line an 8 inch square baking pan with foil.

In a bowl, add the eggs and sugar and beat until pale and foamy ( it took me about 3-4 minutes with my electric whisk).

In another bowl, mix together the flour, baking powder, walnuts, ginger and cinnamon.

Add the mashed bananas and oil to the egg mixture and fold in.

Tip in the flour mixture into the egg mixture and fold in until everything is mixed well together.

Tip the batter into the lined baking pan.

Place the pan in the centre of the pre heated oven and bake for 25 minutes or until a toothpick inserted into the centre of the cake comes out dry.

Cool the pan on a rack for a few minutes.

Remove the foil and cool completely on the rack.

Cut half of the cake into squares. ( If not frosting, cut the whole cake into squares and serve or store in air tight container; if you are frosting, proceed to next step).

Melt the dark chocolate and mix in the milk.

Spread it on the other half of the cake.

Cut into squares and serve or wait till the frosting is at room temperature before storing in airtight containers.
Video
Notes
I decided not to frost one half of the cake as we wanted to enjoy them like that as well. If you want to frost the whole cake, double the recipe for the frosting. Then cover the cake with the frosting after cooling the cake completely; cut into squares and enjoy!
Some other whole wheat bakes on the blog-
Carrot, walnut and raisin cake
A moist carrot cake made with whole wheat, flavoured with spices and filled with walnuts and raisins. Can be had on its own or filled and covered with frosting for a special occasion.
Check out this recipe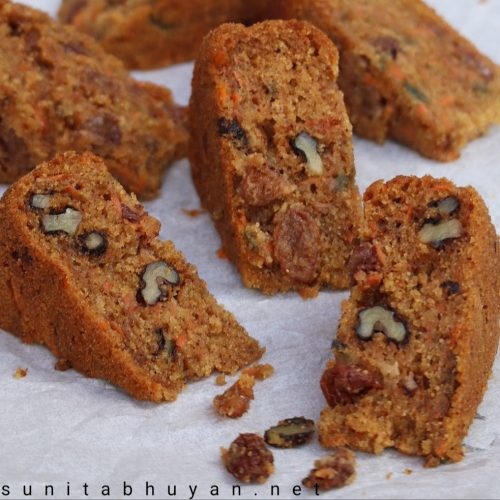 Lemon cake
A whole wheat lemon cake with subtle flavours dressed with some lemon whipped cream.
Check out this recipe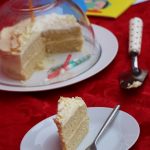 Whole wheat , eggless, coconut and orange cookies
A whole wheat, eggless, coconut and orange cookie recipe; crisp and not overtly sweet.
Check out this recipe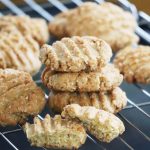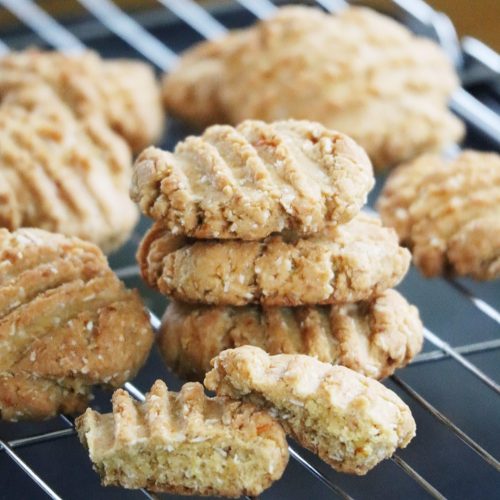 Other baking recipes on the blog can be found STAY CONNECTED: