The daffodils came, the tulips are sprouting up, the blossoms are putting on a show and clusters of new leaves on the trees are opening up. Long, warmer days were on the horizon. But then, the temperatures decided to take a nosedive. We even had a few flurries of snow on Monday! Prince's song "Sometimes it snows in April" comes to mind! Don't get me wrong, I love the snow and the ethereal atmosphere it brings. But I also want to be able to work and enjoy amidst the plants and trees in my garden and long spring and summer days. But, again, who can argue with Mother Nature! I may not have any control over the weather, but I definitely have control over what we eat. So, in keeping with the current freezing temperatures, I whipped up one of our favourite soups- roasted butternut squash and sweet potato soup. This is a family favourite and over the years, I have made it numerous times during the colder months.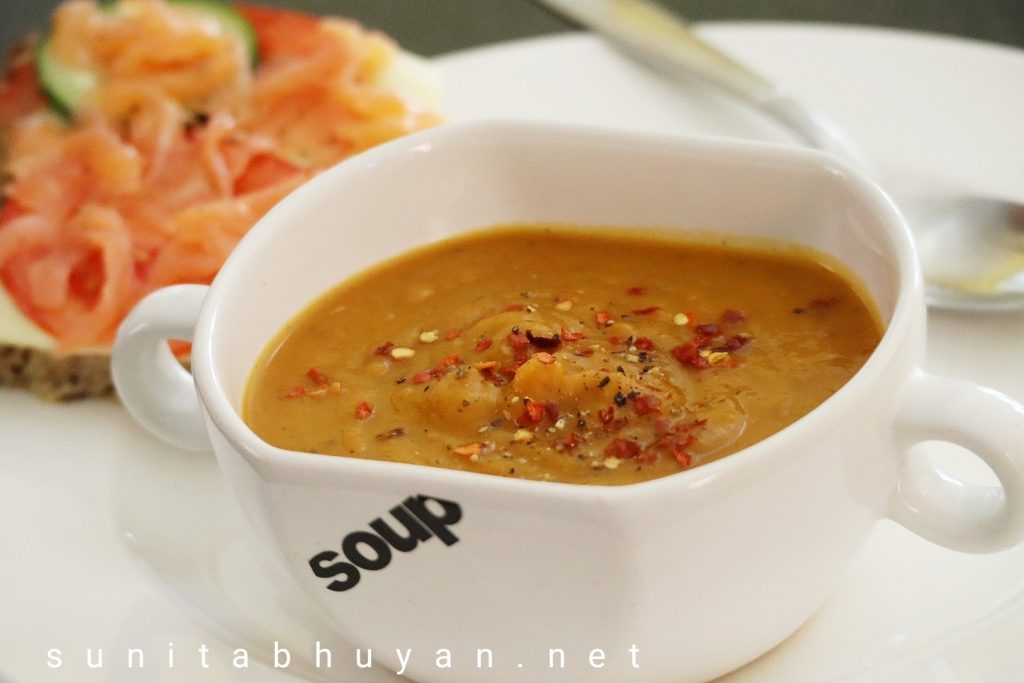 This soup has a smooth creamy texture and is truly warming. It is quite easy to rustle up and is healthy too, without compromising on the flavours which we simply adore. Chunks of butternut squash and sweet potatoes are roasted along with onions and garlic and flavoured with herbs and spices. The aroma that emanates from the oven during the roasting is truly divine! We enjoyed bowlfuls of our favourite soup yesterday with some open sandwiches on the side for a truly filling lunch.
Butternut squash is one of our favourite vegetables and I use it in a multitude of ways. This recipe is definitely one of our favourites.
The weather in our neck of the woods looks to remain cold for the next few days- perhaps you could give this soup a try; I'm sure you won't be disappointed!
Preparing the vegetables-
I kept the pieces quite chunky. I also did not peel them before roasting. The flesh of the butternut squash and sweet potato softens on roasting and is quite easy to scoop out.
To serve-
We had ours with some crusty bread open sandwiches. It will go well with any crusty bread. In the past we have also had it with some savoury scones like these.
Continue reading for the detailed recipe and video for this hearty roasted butternut squash and sweet potato soup
---
Subscribe to Sunita's World – life and food! to receive updates on latest posts, tips and recommendations straight to your inbox! Simply fill in the details below. Thank you!
---
Recipe card-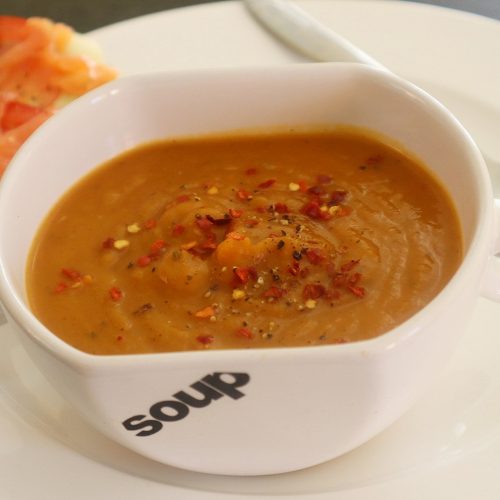 Roasted butternut squash and sweet potato soup
Chunks of butternut squash and sweet potato are roasted along with onion and garlic and flavoured with herbs and spices. Everything is then blended together to form a creamy soup.
Ingredients
375

gms

butternut squash ( I used the top half of one whole), chopped into large chunks

265

gms

sweet potato ( I used one whole), chopped into large chunks

1

onion, peeled and chopped into large chunks

1

whole head of garlic, halved horizontally, placed in a piece of foil, drizzled with 2 tsp of olive oil and foil sealed to form a parcel

1

tbsp

Italian seasoning

½

tbsp

crushed red chillies (more or less)

½

tbsp

paprika

1

tsp

salt (may need more later)

3

cups

hot water

freshly ground pepper
Instructions
Pre heat the oven at 190 deg C (fan) and line a baking tray with foil.

Place the chopped butternut squash, sweet potato, and onion on the baking tray.

Add the crushed red chillies, Italian seasoning, paprika , salt and freshly ground pepper.

Add the olive oil and mix everything together well.

Arrange the butternut squash and sweet potato with the skin side down.

Place the parcel with the garlic in a bowl and place it in a corner of the tray. You can also place the parcel directly on the tray if you wish.

Place the tray in the centre of the pre heated oven and bake for 30 minutes or till the butternut squash and sweet potato are tender.

Scoop out the flesh of the butternut squash and sweet potato into a pot.

Add the onions; don't worry if they are too coloured, they will add to the flavour; but take out any burnt bits.

Open the garlic parcel and squeeze out the soft flesh and add to the pot.

Blend everything together. I used a stick blender.

Check the seasoning; add more salt if needed.

Add a generous amount of freshly ground pepper. Stir.

Place the pot over heat for a little to warm through.

Garnish with a little crushed red chillies and freshly ground black pepper and serve hot with some crusty bread on the side or with some croutons.
Video
Other baking recipes on my blog can be found here.
You might like to try these other recipes from my blog-
How to roast garlic
A whole head of garlic is halved, drizzled with olive oil, wrapped in foil and roasted. And what comes out of the oven are these soft, juicy and flavoursome cloves that can just be squeezed out. It can be used in a variety of dishes such as soups, pastas, dips etc
Check out this recipe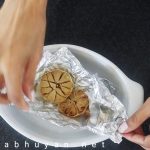 Savoury scones
These versatile savoury scones are filled with the goodness of vegetables and a little cheese to taste; great on their own or as an accompaniment to soups and stews.
Check out this recipe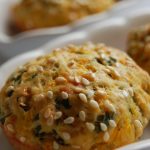 Salmon and vegetable pie
A delicious yet light salmon and vegetable pie which with a simple fresh salad can form a hearty meal.
Check out this recipe
Until next time,
Sunita
STAY CONNECTED: