Khar is an alkaline based delicacy from Assamese cuisine, generally had at the start of a typical Assamese meal, especially lunch. It is had with some rice. Apparently, khar is said to have cleansing properties. It is said to help in preparing the digestive system to welcome the spicier flavours of the other dishes that are to come after it. Khar can be made with a variety of ingredients. Today I am sharing the recipe for courgette / zucchini khar (Assamese recipe). It is a quick and simple recipe and cooks in about 15 minutes.
Khar?
This is an alkaline solution prepared from banana peel and also the trunk of the banana plant. Banana peels are dried and burnt; the best peels being from the thick, heavily seeded indigenous variety of banana- Musa Balbisiana Colla (bhim kol / athiya kol in common parlance). The ashes are mixed with water and kept overnight. They settle at the bottom and the water is then filtered. The liquid collected is known as 'khar'. This alkaline solution can be stored for a while and added to dishes to create 'khar'. Yes, both the alkaline additive and the cooked dish is called 'khar'!
Kharkhua Axomiya /Khar-
The word 'khar' conjures up so many things for the true blooded Assamese. Not only is the word 'khar' synonymous with the alkaline based delicacy of Assamese cuisine, but it is used in general conversations. Khar is such a unique Assamese dish, that the Assamese consider themselves as 'kharkhua Axomiya'- the khar eating Assamese! The term 'khar' is also used as a noun to refer to a person from Assamese ethnicity. When you are away from Assam, and you meet an Assamese you would usually report that you met a 'khar' and the feeling would be mutual!
Khar is quite simple to make and uses minimum ingredients. Amazing to think how an entire ethnic group identifies itself by such a simple recipe.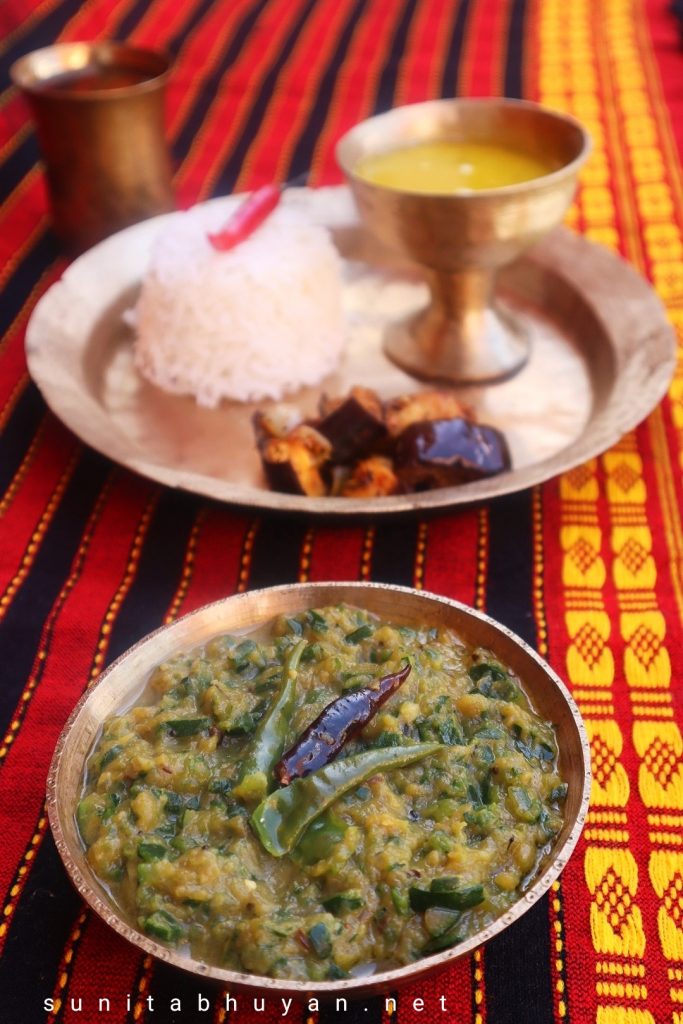 Main ingredients-
Khar is cooked with a variety of main ingredients, the most common being raw papaya. Other types of vegetables and lentils are also used to make khar. This is a dish made with the bare minimum ingredients but is still flavoursome. Like most Asamese recipes it lets its main flavours shine through.
Bicarbonate of soda-
In the absence of the traditional khar (ingredient), bicarbonate of soda in small quantities can be used in the dish. This is what I use nowadays.
In this post, I am making khar from courgette / zucchini. It is readily available and is one of my favourite vegetables which I add to a variety of dishes. This khar recipe is one that we simply adore. I could probably lap this up with some rice without needing anything else!
Continue reading for my recipe /video for courgette / zucchini khar l Assamese recipe.
---
Subscribe to Sunita's World – life and food! to receive updates on latest posts, tips and recommendations straight to your inbox! Simply fill in the details below. Thank you!
---
Recipe card-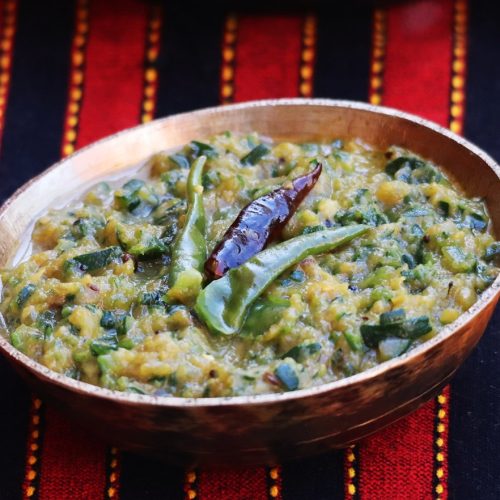 Courgette / zucchini khar (Assamese recipe)
An alkaline based dish from Assamese cuisine, typically had at the start of a meal with some rice.
Ingredients
gms

courgette ( I used 2 medium sized ones), cut into thin pieces

2

green chillies, trimmed and slit halfway lengthwise from the thicker end

3

cloves of garlic, finely chopped

2

tbsp

mustard oil + 1 tbsp little extra to drizzle after cooking

½

tsp

pas puron (see notes below)

2

bay leaves

2

whole dried red chillies

¾

tsp

bicarbonate of soda

½

tsp

salt
Instructions
Heat the 2 tbsp of mustard oil. When properly heated, mustard oil turns smoky and pale in colour.

Add the bay leaves, whole red chilies (break them a little) and pas puron.

When the seeds splutter, add the courgette, garlic and green chillies.

Stir for about a minute over medium to high heat.

Add the bicarbonate of soda and salt.

Stir well for about 30 seconds. The courgette will start to release its juices.

Cover and cook over low heat for about five minutes.

Remove lid and stir for a few seconds. The courgette will have started to soften. Stir, and using the ladle, break the pieces a bit more. Do not mash.

Cover and cook for another 4 minutes.

Remove the lid and cook for another 2-3 minutes, over high heat, stirring constantly till most of the moisture evaporates. The dish should should not be watery, but shouldn't be too dry either. The courgettes should be very soft yet have a slight texture and not go completely mushy (check the video).

Remove from heat and mix in the remaining tbsp of mustard oil.

Serve hot with boiled rice.
Video
Notes
Pas puron / paanch phuron is a whole spice blend of equal proportions of fenugreek seed, nigella seed, cumin seed, black mustard seed and fennel seed
You can find other vegetarian recipes here.
You might like to try these Assamese recipes from my blog-
Til diya kukura mangxo / Assamese style chicken curry with sesame seeds
An Assamese (from Assam, North East India) style chicken curry filled with the nutty flavour of sesame seeds. Not overpowering, and with minimum use of spices. Great with rice or Indian flatbreads.
Check out this recipe
Bogorir jola mitha asar l Assamese hot and sweet jujube pickle
A hot and sweet Assamese (from Assam, in North East India) style jujube pickle which is sure to tickle your taste buds; simply irresistable! And easy to make too.
Check out this recipe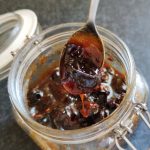 Bootor dali
Bootor dali is an Assamese dish of split chickpeas (chana dal) cooked in spices. It is usually thick and eaten with Indian flatbreads though it's thinner counterpart is also enjoyed with rice.
Check out this recipe
All my Assamese recipes can be found here.
Until next time,
Sunita
STAY CONNECTED: