This recipe for baked baby aubergines in peanut gravy came about in order to make good use of a few baby aubergines languishing at the back of the refrigerator. And the result was not disappointing. The soft aubergine flesh complimented the nutty gravy and was a fine accompaniment to our meal.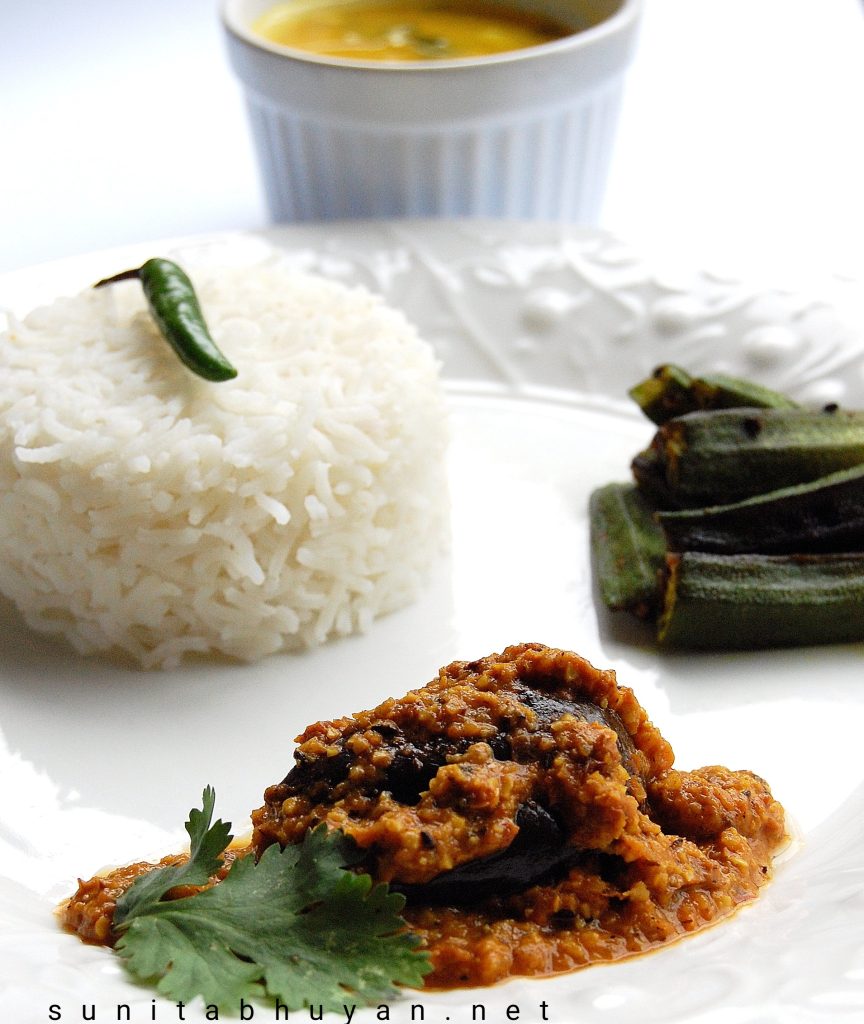 Revived-
This again, is another one of the recipes rescued from 'the notebook'. Check this to find out what I mean by 'the notebook'.
This is a very old recipe and I am glad to have the pictures in my old folders to go long with it. Sometimes, well, most of the times, for me, the good recipes are concocted on the spur of the moment, and those are the recipes that make me happy and jump for joy. Most of you, some time or the other, must have had the same feeling too. You take out the ingredients, ponder as to what to make, start the preparation without any pre conceived idea and just flow along the tide. In the end, the finished dish, gives so much joy – both to the maker, as well as to the ones to whom it is served.
This and three other baby aubergines (brinjal or eggplant), have been in and out of the refrigerator, quite a few times now. They come out, I think of making something, no ideas, and back they go into the cold. Until one particular Saturday. They were again sitting on the counter, and that time I took pity on them. The brinjals were washed, trimmed, slit and coated with a little spice, salt and oil and sent into the oven. In the meantime, I made a very simple and quick gravy. By that time, the brinjals were soft and juicy and were taken out and dunked into the gravy. I must say that I was really pleased with the results; enough to be happy to share with you all. It's a very versatile gravy and would also go well with paneer or mushrooms. The preparation time is also very less.
Relatively simple-
The recipe might look a bit long, but when you get down to it, is really very simple. By the time the brinjals finish baking, the gravy is ready to receive it. And it tastes great! It can be served as a side dish with rice or some Indian flatbread. As it was a spicy dish, we kept the rest of our meal quite simple – plain rice, dal and some stir fried ladies fingers; needless to say, we licked our plates clean 🙂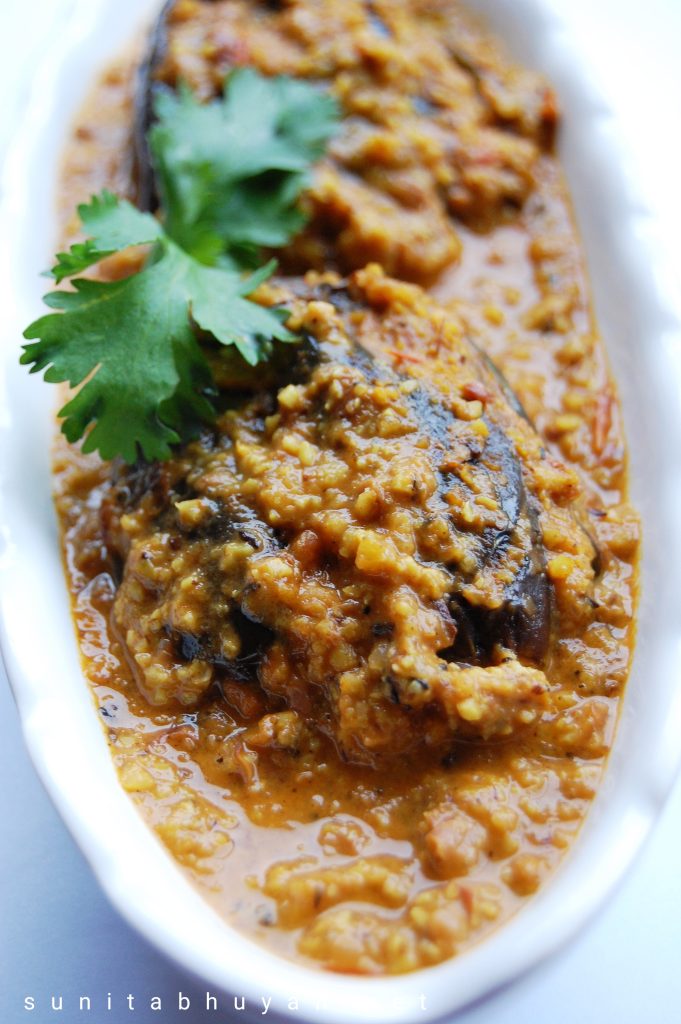 Continue reading for the full / printable recipe for this baked baby aubergines in a peanut gravy.
---
Stay connected-
On another note, if you try any recipe from this website, do take a photo and tag me on instagram @sunita_bhuyan. I would love to see your creations! Also, do connect on other socials too; links to all my socials are given below-
STAY CONNECTED:
---
Subscribe to Sunita's World – life and food! to receive updates on latest posts, tips and recommendations straight to your inbox! Simply fill in the details below. Thank you!
---
Recipe card-
Baked baby aubergines in peanut gravy
Baked juicy aubergines dunked in an easy peanut gravy
Ingredients
For baking the baby aubergines-
4

baby aubergines, the stalks removed, washed and a deep + sign cut vertically at the thicker end 

1

tbsp

mustard oil (sunflower or vegetable oil will do too, but mustard oil adds more flavour)

½

tsp

turmeric powder

½

tsp

salt
For the peanut gravy-
1

tbsp

mustard oil (sunflower or vegetable oil will do too, but mustard oil adds more flavour)

½

tsp

whole cumin seeds

1

small onion, chopped

a handful of peanuts

3

cloves of garlic, chopped

1

whole red chilli

chilli powder- as per taste

⅓

tsp

turmeric powder

½

tsp

roasted and ground cumin

2

ripe tomatoes, chopped

1

inch stick of cinnamon

2-3 cardamoms

1

small bay leaf

3-4 cloves

¾

cup

water (more or less)

½

tsp

garam masala powder

salt to taste

fresh coriander leaves to garnish
Instructions
For the baked baby aubergines
Pre heat the oven at 250 deg C.

Rub the brinjals with the rest of the ingredients, well into the slits, and place them on their sides, on a lined baking tray.

Place the tray in the top rack of the pre heated oven and bake for 20-25 minutes or till they are soft and begin to leave their juices… they need not be completely cooked (approximately 90%), for they will do some more in the gravy. turn them over, once in between.
For the gravy-
When the brinjals are nearly half way through, heat the oil for the gravy in a pan and add the whole cumin seeds, bay leaf and the whole red chilli.

When the seeds begin to splutter, add the onions and peanuts and fry till the peanuts leave their aroma and dark spots start to appear.

Add the tomatoes, garlic, roast cumin, chilli powder(if using any) and turmeric and season with salt. Stir and cook covered over low heat till the tomatoes are mushy. Stir in between.

Add the water and bring to a boil. Transfer to a food processor and pulse, along with the whole spices. Do not make it too smooth, just make sure that the spices have ground properly.

Transfer the gravy to the pan over heat and bring to a simmer over medium heat.

Add the brinjals, coat them with the spices and cook for a couple more minutes, stirring often (the gravy will tend to stick to the pan). Add more water if necessary and cook till the brinjals are completely done.

Add the garam masala powder, stir and remove from heat.

Garnish with coriander leaves before serving.
All the vegetarian recipes on this website can be found here.
You might also like to try the following recipes on this website-
Tomato, peas and paneer curry
A delicious, healthy and creamy paneer curry packed full of flavours.
Check out this recipe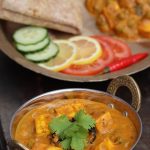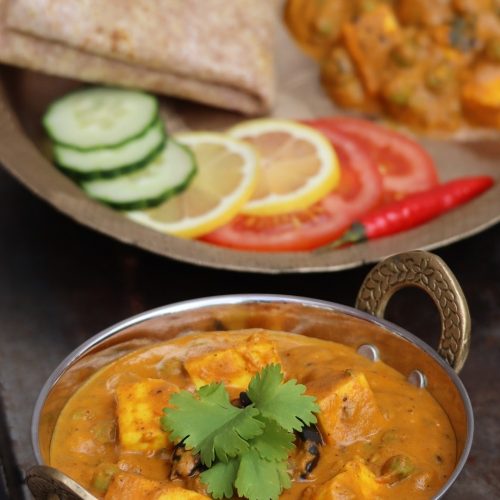 Baked cumin – potato wedges
Regular white potatoes are cut into wedges, tossed in an olive oil – spice (predominantly cumin) mixture and baked. They have a firm and crisp exterior with softer / fluffier insides.
Check out this recipe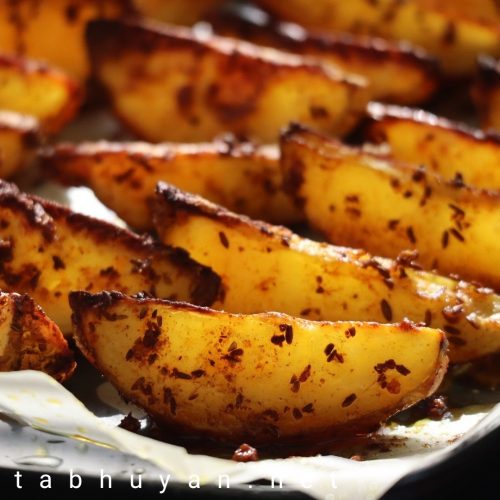 Bootor dali
Bootor dali is an Assamese dish of split chickpeas (chana dal) cooked in spices. It is usually thick and eaten with Indian flatbreads though it's thinner counterpart is also enjoyed with rice.
Check out this recipe
Until next time,
Sunita
STAY CONNECTED: