This citrus cornmeal olive oil cake is a very moist cake with citrusy flavours running through it and with a slight bite from the pine nuts.
I first baked this cake many years ago; read that as (12-13 yeas ago) and I remember being super pleased with the way it turned out. Of course, anything well cooked is most welcome… but when you step forward with a slight apprehension and receive great results, it is much more than welcome. The spring in the step is much more than the spring in the step…it is a celebration…of success!
Both the hubs and myself are great fans of citrus flavoured cakes and this one was simply to die for !
Sicilian flavours-
The inspiration for this cake lies in the Mediterranean (read Sicilian) version of a semolina citrus cake that I read about many moons ago. And then, I did my own thing! I substituted the semolina with coarse cornmeal; castor sugar with icing sugar; ground almonds with ground pine nuts; and added a topping of whole pine nuts as well. I also omitted the liqueur which was drizzled after the cake had been baked. I was not quite sure whether I was doing it right, because I came across the other recipe some time before I made this cake. This cake batter, for one, was more like a thick pancake batter. But it all ended well, and to my great delight… the cake was moist and simply bursting with the citrusy flavours of lemon and orange…hence the smile and the spring in the step.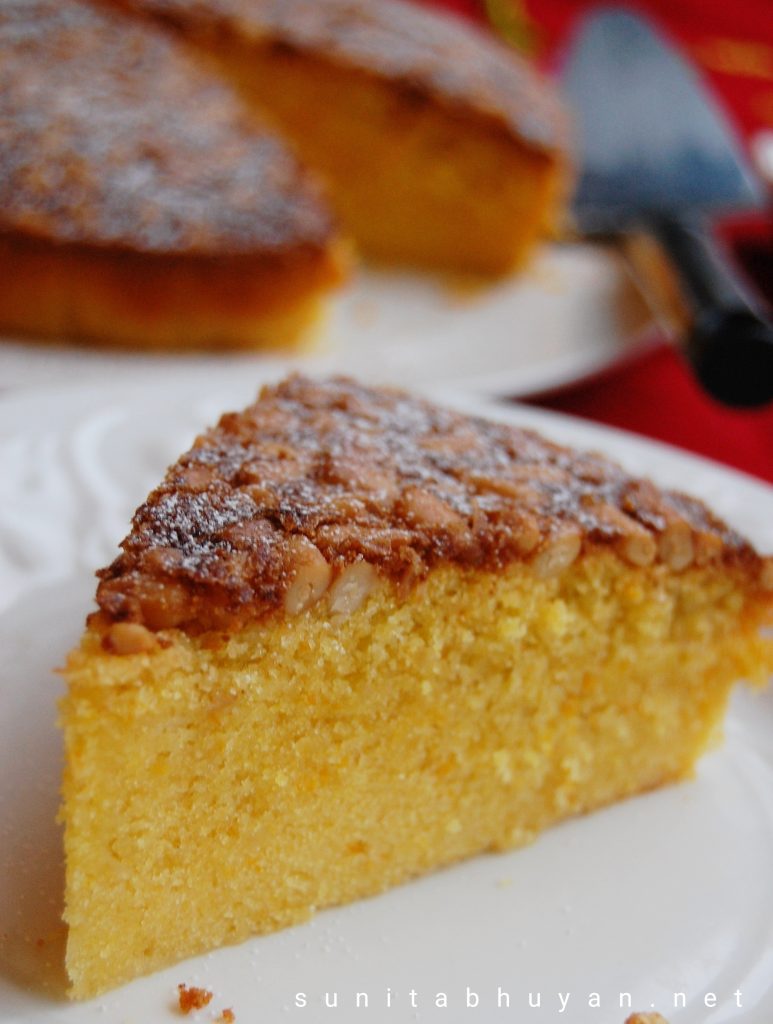 Continue reading for the full, printable recipe for this citrus cornmeal olive oil cake.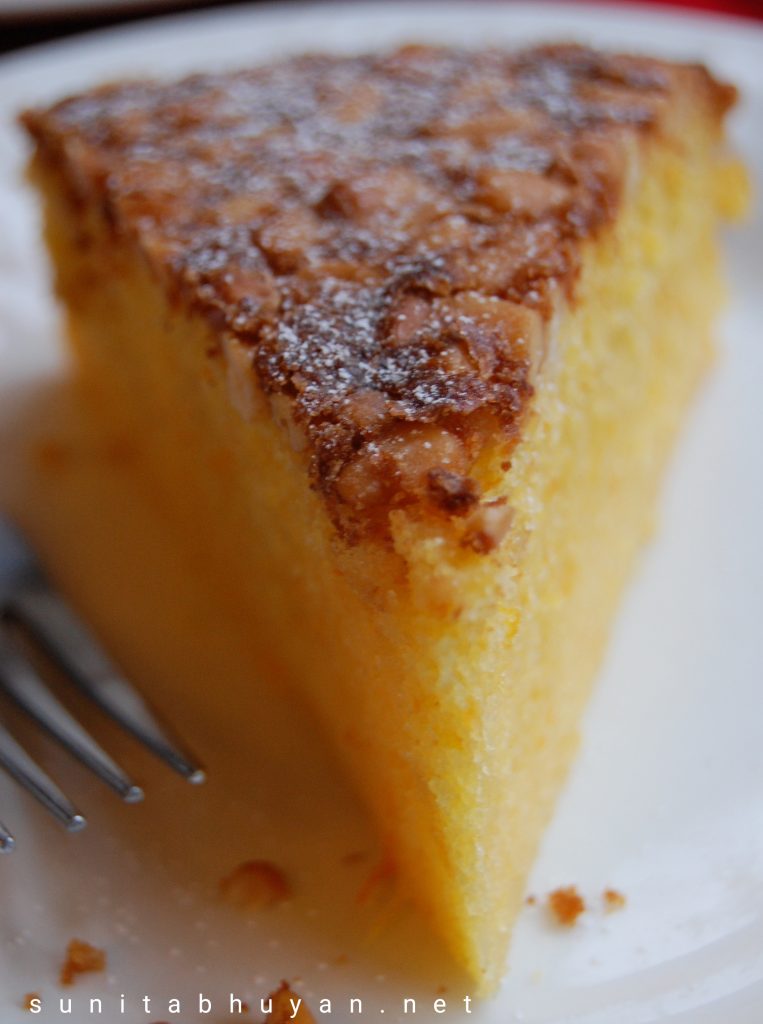 ---
Stay connected-
On another note, if you try any recipe from this website, do take a photo and tag me on instagram @sunita_bhuyan. I would love to see your creations! Also, do connect on other socials too; links to all my socials are given below-
STAY CONNECTED:
---
Subscribe to Sunita's World – life and food! to receive updates on latest posts, tips and recommendations straight to your inbox! Simply fill in the details below. Thank you!
---
Recipe card-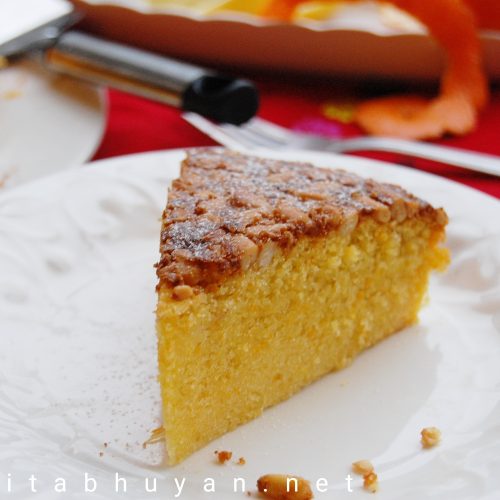 Citrus cornmeal olive oil cake
A very moist cake with citrusy flavours from lemon and orange running through it and a slight bite from the pine nuts.
Ingredients
3

eggs

1¾

cup

coarse cornmeal

grated zest and juice of 1 lemon

grated zest and juice of 1 orange

1

tsp

baking powder

1½

cup

icing sugar + a little extra for dusting on top

¼

tsp

salt

½

cup

pine nuts, ground

½

cup

whole pine nuts

¾

cup

extra virgin olive oil

1

tsp

orange flower water (optional)
Instructions
Pre heat the oven at 160 deg C and grease and line the bottom and sides of an 8 inch round baking tin with parchment.

In a bowl, place the eggs, olive oil, salt, sugar, zests and juices and whisk till smooth.

Fold in the orange flower water into the egg mixture.

In another bowl, whisk together the cornmeal and baking powder and whisk in the ground pine nuts.

Tip the egg mixture into the cornmeal mixture all at once, and fold in. Do not over mix.

Tip the mixture ( as I mentioned earlier, do not be alarmed by it's light consistency) into the prepared baking tin and smooth the top.

Place the tin at the top of the pre heated oven and bake for 2-3 minutes.

Take out the tin and sprinkle the whole nuts on the top.

Return the tin to the top rack of the oven and bake for another 38-42 minutes or till a skewer inserted through the centre comes out clean. The top will brown nicely.

Cool in the tin for 10 minutes. Take it out of the tin (along with the parchment) and cool on a rack for another 10 minutes.

Peel the parchment, slice and serve warm or cool completely on the rack for later (do not chill).

Dust with icing sugar before serving.
Al the baking recipes on this website can be found here.
You might also like to try these other recipes from this website-
Whole wheat banana, ginger and walnut cake
An easy snack cake filled with the goodness of bananas, the warmth of ginger and cinnamon and the bite from the walnuts. Not overtly sweet; perfect with a cuppa either as it is or topped with a simple chocolate frosting. Can also be a light and less guilty indulgence to appease the sweet tooth.
Check out this recipe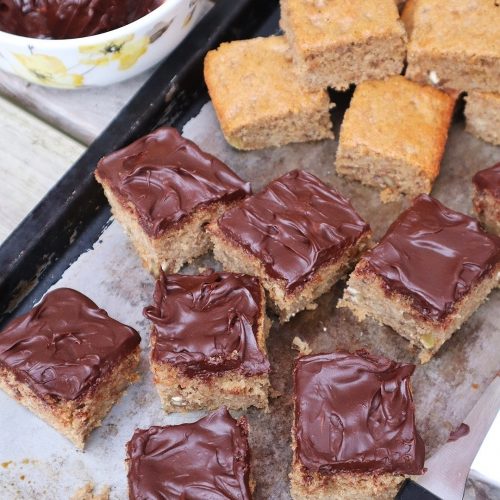 Chocolate, orange and almond flourless cake
A flourless chocolate cake with a hint of orange and almonds (ground and flakes)
Check out this recipe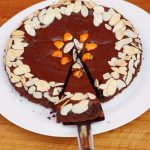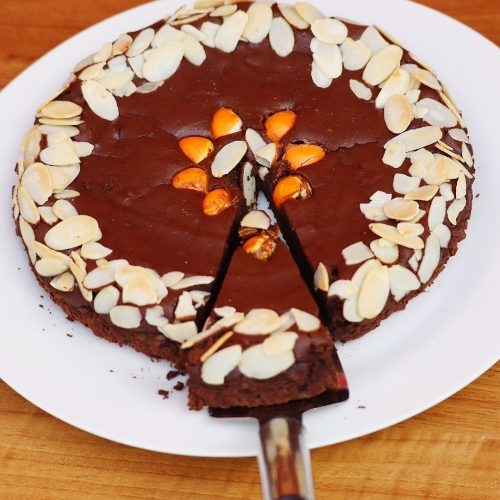 Whole wheat, lemon and coconut cake
It has a beautiful crumb, is full of lemony flavours with a bite from the coconut and the nuttiness from the whole wheat. And the lemon icing on top adds an extra zing!
Check out this recipe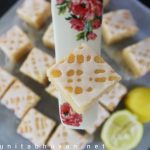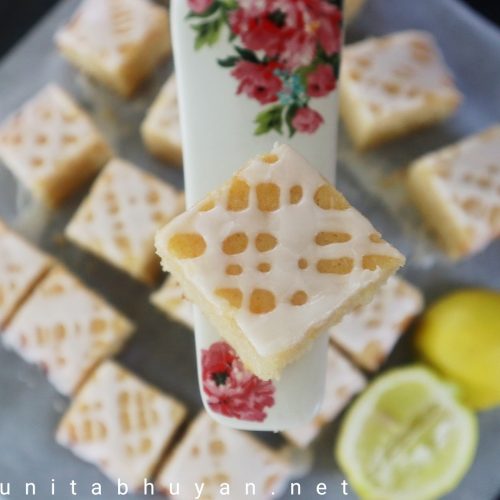 Until next time,
Sunita
STAY CONNECTED: