We don't celebrate Easter. But, when Easter comes around, for some reason, I always feel the urge to bake something chocolatey. Must be all those Easter eggs that are in our faces every time we visit the supermarket from long before Easter. Or maybe it's just that all four of us are chocoholics; and I love to bake, so there you go! This year, I baked this chocolate, orange and almond flourless cake. There were a few oranges waiting to be used up. Moreover, my eyes fell upon these little packs of chocolate orange eggs in the shop. It was definitely a sign!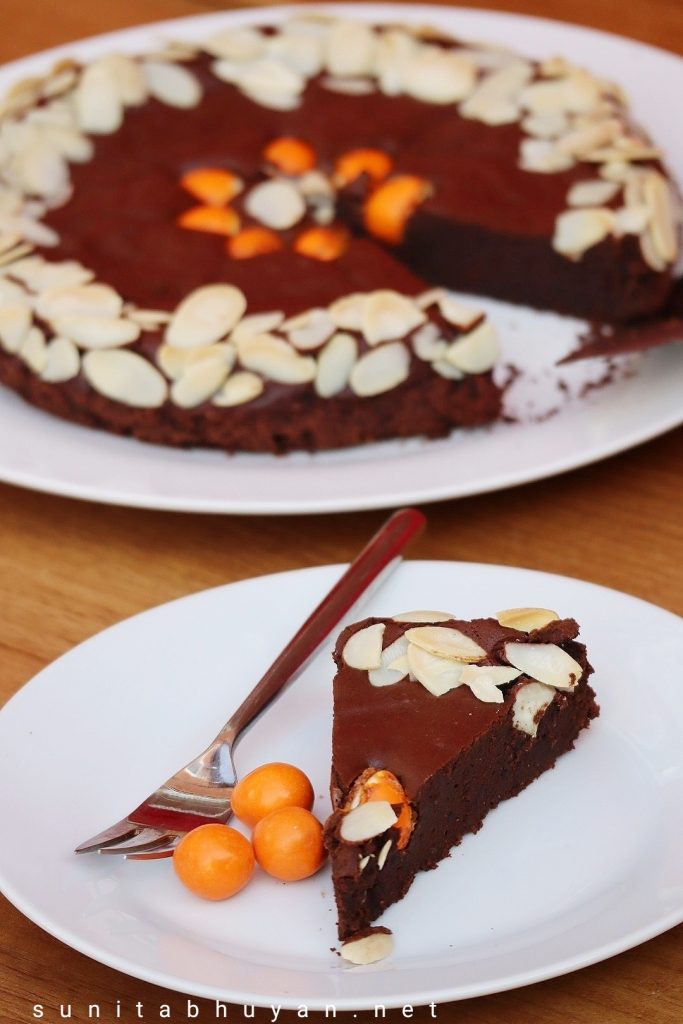 With both the kids back from university for their Easter break, it was a good excuse to bake as there are more mouths to share. Ever since they left for university, I've hesitated to bake family sized chocolate cakes. Both of us are very capable of devouring one whole cake, and that is where the worry lies! With friends not been allowed to visit due to the pandemic lockdown restrictions, rich bakes have been more or less absent from my baking list.
Flourless cakes-
Anyway, coming to this bake, if you have not had flourless cakes before, their texture is very different from regular cakes. They are denser and more fudgy and the chocolate really comes through. So use the type of chocolate that you really prefer. It is always nice when ingredients are put together and the outcome is successful. It did receive a high rating from the family and not a single crumb was spared! And mind you, the family are all honest critics! This cake has a truffle like texture and the almond flakes on top give a nice bite. Hopefully you will enjoy it as much as we did!
Equipment-
This cake needs just one bowl to mix everything in, a whisk and an oven. It helps to have a microwave oven to melt the chocolate. However, if you do not have a microwave, you can still melt the chocolate by placing the bowl of chocolate on top of a pan of simmering water; just make sure that the water does not touch the bowl.
Chocolate type-
I prefer using dark chocolate with at least 65-70% cocoa content. Milk chocolate will make the cake far too sweet.
Chocolate eggs-
I used chocolate eggs in the centre as it was Easter and they were readily available. They can easily be left out.
Mixing bowl-
Starting from melting the chocolate, use a large enough mixing bowl as the cake batter is mixed in one bowl.
Turning out the cake-
Once the cake has baked, it is going to be quite delicate; handle with care or it might break. Try to lift, turn upside down and peel off the foil only when the cake is firm enough to handle. For this to happen, it needs to cool down a bit.
To serve-
This cake is best had slightly warm. If serving later, heat the slices for a very few seconds in the microwave.
We had the cake on it's own. A scoop of vanilla ice cream or a dollop of whipped cream on the side would make it a truly indulgent dessert.
Light-
This cake is not piled with loads of butter and sugar; hence it does not give a heavy feeling and is relatively light.
Wishing all who celebrate, a very Happy Easter!
Continue reading for the detailed and printable recipe for this chocolate, orange and almond flourless cake; I've also included an instruction video.
---
Subscribe to Sunita's World – life and food! to receive updates on latest posts, tips and recommendations straight to your inbox! Simply fill in the details below. Thank you!
---
Recipe card-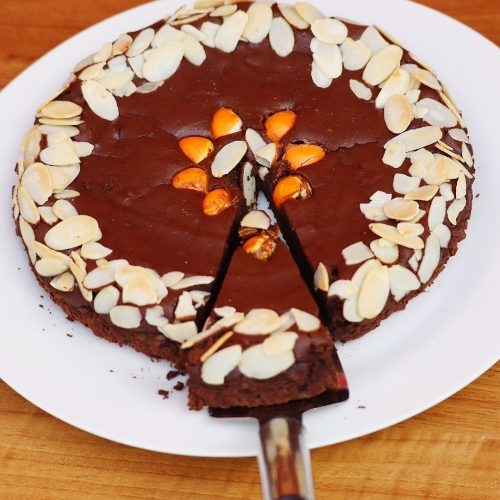 Chocolate, orange and almond flourless cake
A flourless chocolate cake with a hint of orange and almonds (ground and flakes)
Ingredients
170

gms

dark chocolate

⅓

cup

vegetable oil

½

cup

dark brown sugar

½

cup

unsweetened cocoa powder

¼

cup

ground almonds

¼

tsp

salt

grated zest and juice of one large orange

4

eggs
Topping
½

cup

almond flakes ( more or less)

a few chocolate eggs (optional)
Instructions
Pre heat the oven at 190 deg C and line an 8 inch baking pan.

In a large microwavable bowl, place the chocolate and oil and microwave till the chocolate melts. Do not overheat or else the chocolate will seize.

Except the eggs and orange juice, add all the other ingredients to the same bowl and whisk till combined.

Add the eggs and whisk well.

Add the orange juice and whisk further till everything is well combined.

Transfer the mixture into the baking pan and smooth the top.

Sprinkle the almond flakes around the edge of the pan.

Arrange the chocolate eggs in the centre and add a little almond flakes in the middle of the eggs.

Place the pan in the centre of the pre heated oven and bake for about 25 minutes.

Cool the cake in the pan for 3-4 minutes.

Gently lift the cake out of the tin by using the extra bit of foil around the cake pan and place on a wire rack.

Loosen the foil around the side of the cake and leave for a few minutes or till the cake is firm enough to be balanced on one hand upside down. Be careful as it is delicate and can break.

Once you are able to gently place the cake upside down on one hand, quickly but gently peel off the foil with the other hand.

Return the cake to the rack and cool.

Cut into slices and serve. (See notes below)
Video
Notes
This cake is best had when it is slightly warm. If you are saving it for later, warm the slices for just a few seconds ( not too long though, just when it feels slightly warm to touch) in the microwave before enjoying.

We had the cake on its own. A scoop of vanilla ice cream or a dollop of whipped cream on the side can make this dessert truly indulgent.
If you are making this at a different time of the year or if chocolate eggs are not readily available in your area, they can be easily given a miss.
All the baking recipes on this website can be found here.
You might like these other recipes from this website-
Whole wheat banana, ginger and walnut cake
An easy snack cake filled with the goodness of bananas, the warmth of ginger and cinnamon and the bite from the walnuts. Not overtly sweet; perfect with a cuppa either as it is or topped with a simple chocolate frosting. Can also be a light and less guilty indulgence to appease the sweet tooth.
Check out this recipe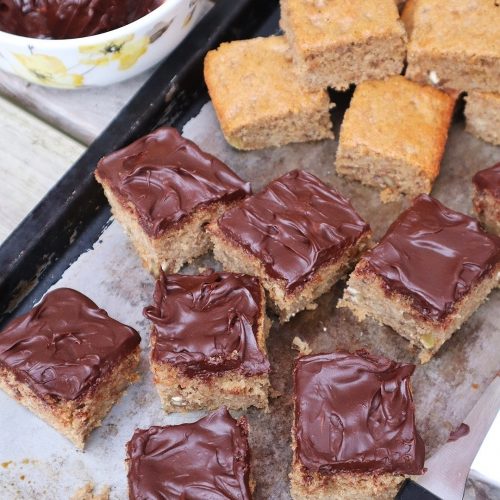 Carrot, walnut and raisin cake
A moist carrot cake made with whole wheat, flavoured with spices and filled with walnuts and raisins. Can be had on its own or filled and covered with frosting for a special occasion.
Check out this recipe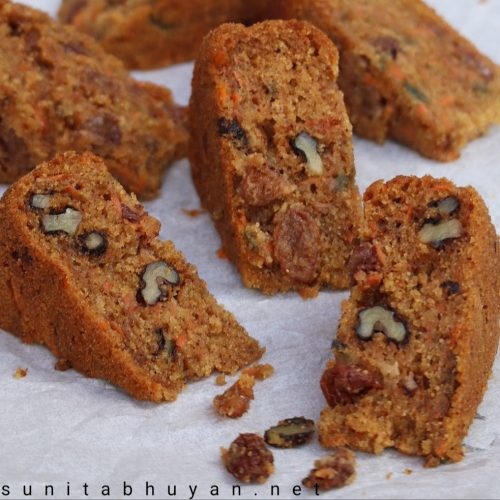 Lemon cake
A whole wheat lemon cake with subtle flavours dressed with some lemon whipped cream.
Check out this recipe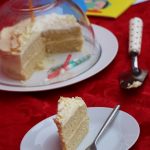 Until next time,
Sunita
STAY CONNECTED: