I first made these oats, chocolate and ginger cookies (eggless) more than a decade ago! How time flies! My two taste testers were so little then and are both now taller than me! This is another recipe that I managed to find in my recovered notebook. What recovered notebook? If you want to find out what I am talking about, go here.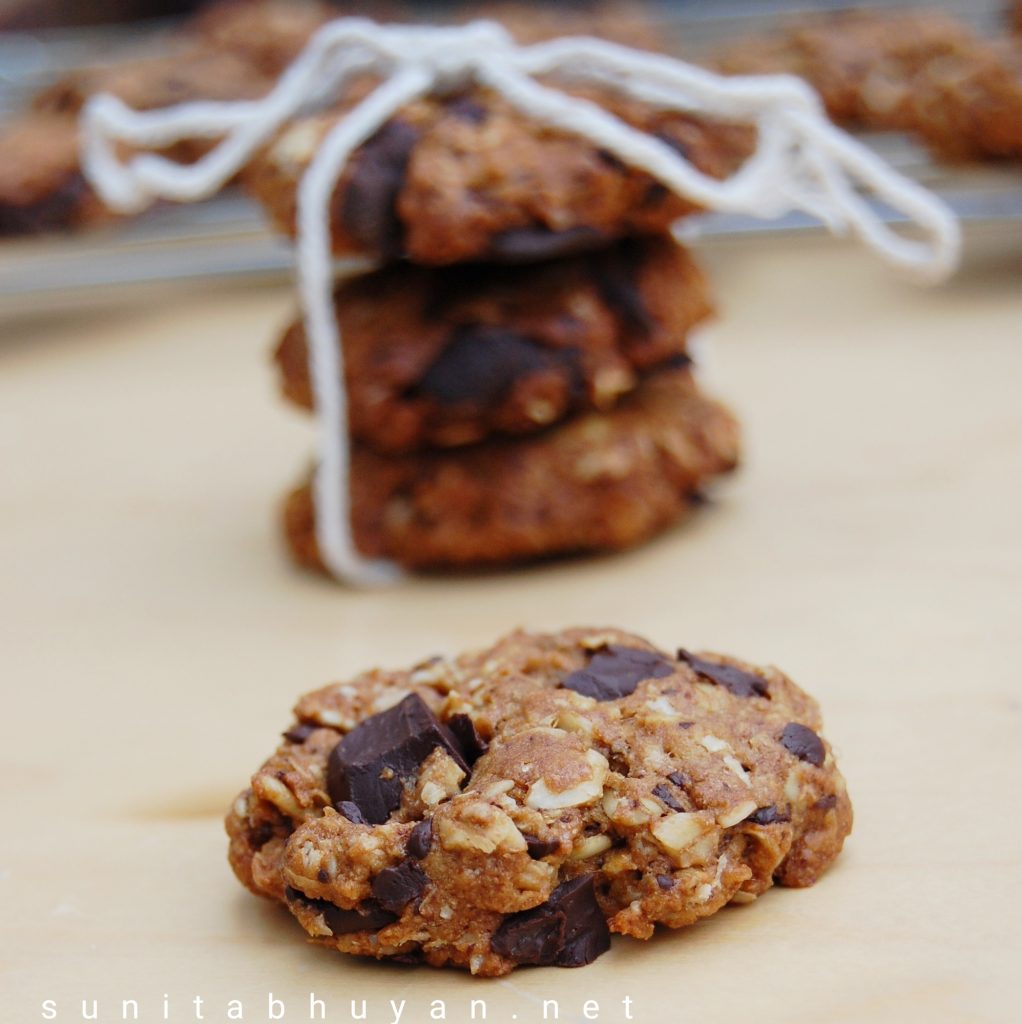 Hope you are having a good week so far. The lockdown restrictions are slowly easing in our part of the world. Small groups of people are now able to socialise outdoors and we are looking forward to when we can all meet our near and dear ones.
Having been confined to our homes for so long, one does wonder as to whether we will be able to go back to our pre-Covid lives. So much water has flown under the bridge; the mind and heart does wonder. But, whatever the new normal brings, I, for one, am so grateful to be able to cross the past year safely along with the rest of the family and close friends; at least so far! Touchwood! And the heart does go out to those who have been adversely affected by this unwanted pandemic, whether it is their health or livelihood!
The sun too is shining brightly today. The sky looks gorgeous; the birds are flitting to and fro filling the air with their spring songs; the leaves and buds are gradually starting to unfurl! I checked the fruit trees in my tiny backyard and their blossoms are just about to explode. One can only feel hopeful for better times and take on whatever the next stage brings.
Notes-
These oats, chocolate and ginger cookies (eggless) are crisp and the ginger adds a nice kick. I have kept the chocolate pieces chunky and it adds to the texture. The cookies are relatively simple to make and does not involve complicated processes. Just remember not to overmix the cookie dough and mix only till everything comes together. Bake the cookies in the oven for 20-25 minutes or just till they brown nicely. Keep an eye on them to prevent burning. The cookies will firm up further on cooling completely.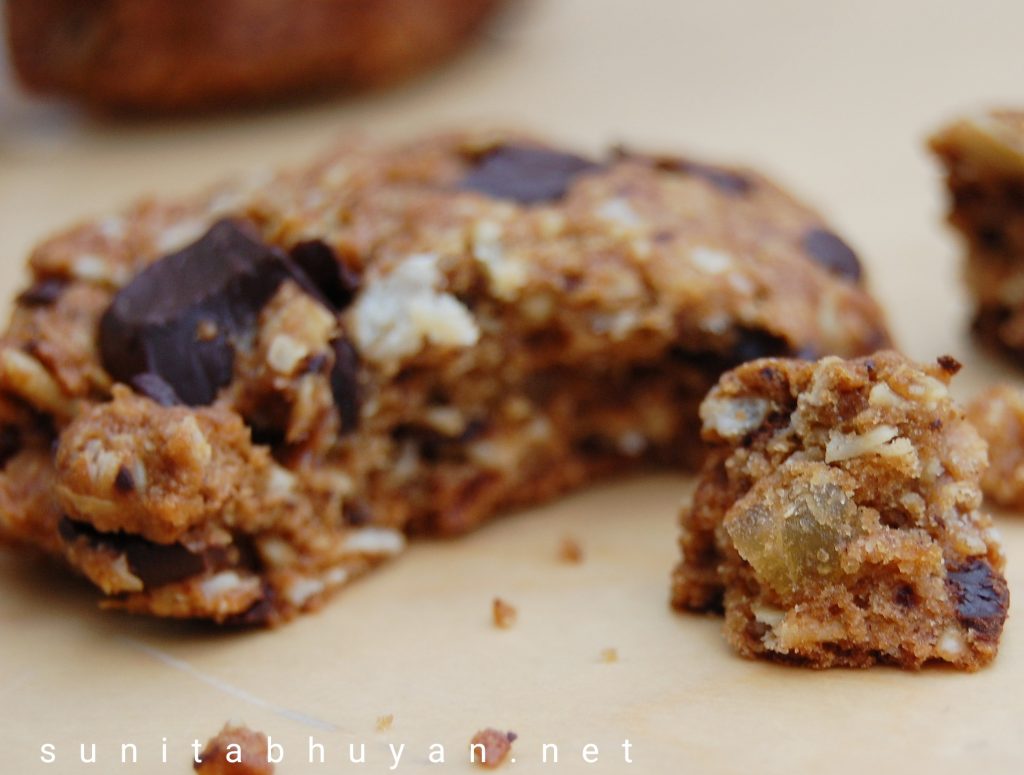 Continue reading for the recipe of these scrummy oats, chocolate and ginger cookies (eggless).
---
Subscribe to Sunita's World – life and food! to receive updates on latest posts, tips and recommendations straight to your inbox! Simply fill in the details below. Thank you!
---
Recipe card-
Oats, chocolate and ginger cookies (eggless)
Easy to make eggless oats, chocolate and ginger cookies. They have a nice bite to them and the ginger gives it a nice kick; perfect with your cuppa or glass of milk.
Ingredients
1

cup

jumbo oats

5

tbsp

plain whole wheat flour (I used atta)

½

tsp

bicarbonate of soda

5-6

tbsp

finely chopped crystallised ginger

100

gms

dark chocolate, roughly chopped

4

tbsp

dark brown sugar (I used muscovado)

6

tbsp

sunflower / vegetable oil

7

tbsp

milk
Instructions
In a bowl, mix together the oats, flour, soda, ginger and chocolate.

In another bowl, whisk together the sugar, oil and milk.

Make a well in the centre of the oats mixture and tip in the sugar, oil and milk mixture.

Fold everything together. Do not overmix.

Cover the bowl with plastic wrap and chill in the fridge for at least 30 minutes.

Pre heat the oven at 180 deg C and line a baking tray.

With slightly damp hands, make approximately 25 balls of the mixture and arrange on the baking tray, keeping them slightly apart from each other.

Flatten the balls with your fingertips.

Place the tray in the centre of the pre heated oven and bake for about 20-25 minutes or till nicely browned. Do keep an eye on them to ensure that they do not burn.

Cool in the tray for 2 minutes and then transfer to a rack to cool completely. The cookies will firm up on cooling.

Store in an airtight container.
All the baking recipes on this website can be found here.
You might like these other recipes on my website-
Whole wheat , eggless, coconut and orange cookies
A whole wheat, eggless, coconut and orange cookie recipe; crisp and not overtly sweet.
Check out this recipe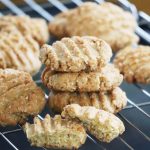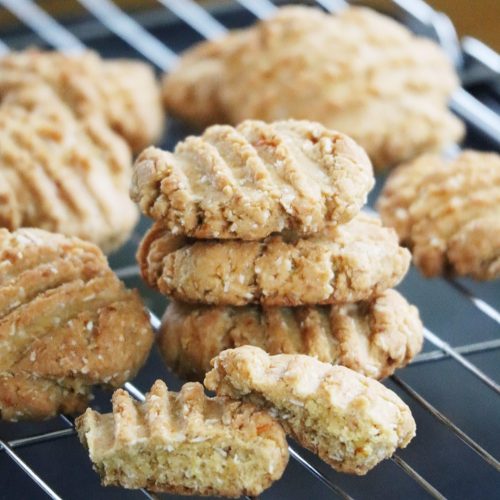 Lemon cake
A whole wheat lemon cake with subtle flavours dressed with some lemon whipped cream.
Check out this recipe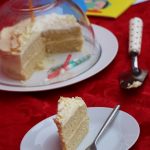 Until next time,
Sunita
STAY CONNECTED: