This kala chana – alu chaat l black chickpeas and potato chaat is an explosion of flavours. It is loaded with kala chana ( black chickpeas), potatoes and an assortment of other vegetables, fruits and nuts. A couple of fresh and dry ground spices are also added. All the above are then brought together with some homemade chutneys- a spicy mint-coriander chutney and a sweet and tangy tamarind and date chutney.
A spoonful of the above and the profusion of flavours and textures explodes inside the mouth. For example, there is a bite, a softness, a crunch; laced with the salty, sweet, sour, heat. It is truly an experience worth having. It is a dish that gives you the feeling of indulging; a feeling of naughtiness. But in fact, it is a healthy dish and this definitely is a bonus. Nothing better than that, right?
Feeling grateful-
The last year has been a tumultuous one. Loss of smell and taste are a couple of the symptoms suffered by those who were unfortunately affected by 'the virus'. In a year where so many have been affected by these two and other symptoms and have had their lived transformed, I, for one, can't help but feel so very grateful to have all my senses in working order as of now (touchwood) and to be able to experience each element of this dish.
Holi wishes-
It also somewhat reminded me of the colours of life, which is not defined by only black or white; happy or sad. Just like all the different textures and flavours come together in this recipe to make one enjoyable dish, all the various experiences together make us the individuals that we are, each experience shaping us in their own way. Our life's experiences are not just sweet or bitter; but consists of a whole lot of others to create our unique journey. On the occasion of the Indian festival of Holi, sharing with you a bowl of this scrummy black chickpea and potato chaat- a healthy guiltfree indulgence. May you always have the strength to experience and enjoy the various colours and flavours that life throws at you! Happy Holi everyone!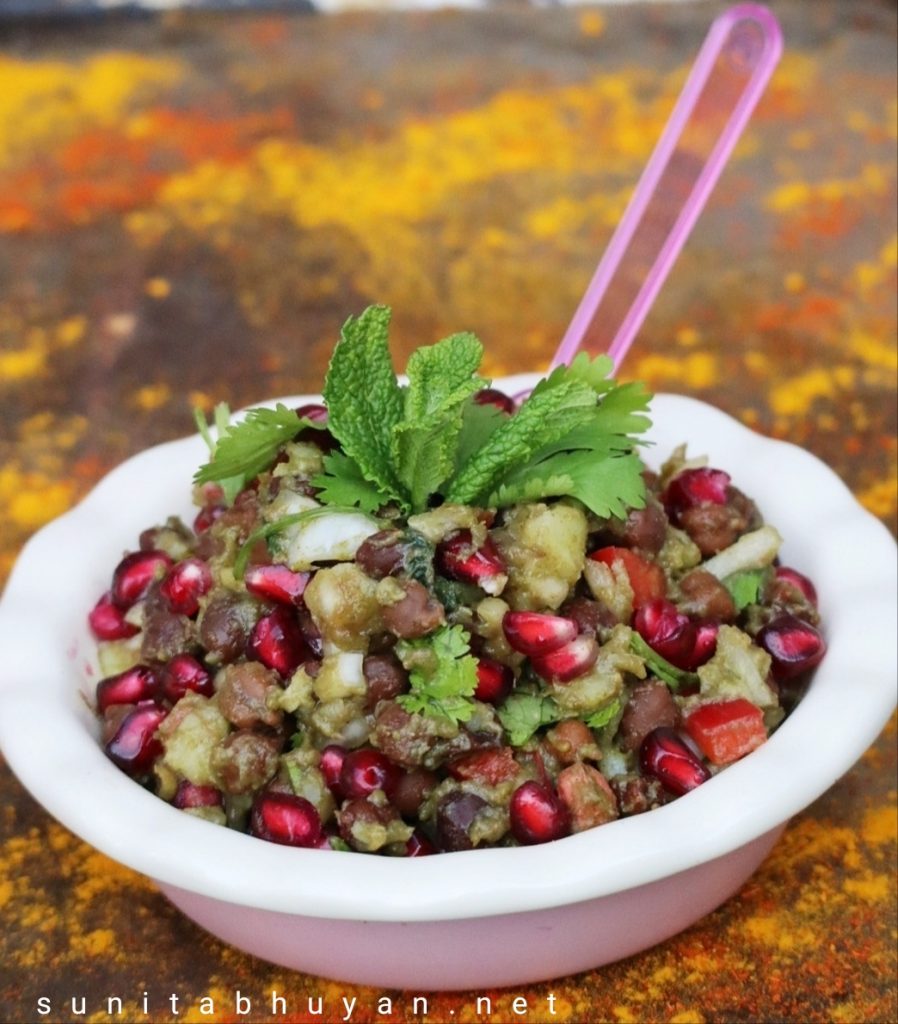 Chaat?
Mention 'chaat' and probably anyone who is familiar with it will start drooling. Chaat is an immensely popular savoury snack whish is usually sold from roadside food carts all across the Indian sub continent.
Types-
There are various types of chaat and different chaatwalas may offer one or a number of options. Some are like the one I have made- with chickpeas, potatoes, vegetables, nuts and spices. Others may include deep fried lentil fritters or potato patties with a spicy yogurt dressing and a minty and tangy sauce. Some even include crisp deep fried dough discs. Even the popular samosa can also be turned into a chaat by breaking it into pieces and garnished with the above. As you can see, the list of options is quite long. But the bottom line is that they all offer an explosion of flavours that makes one crave for more.
Memories-
The 'chaatwala' ( chaat vendor) is a popular person. I fondly remember the chaatwala who religiously parked his cart in front of our college to sell his wares. His aim- to entice the youngsters coming to and from the college with his irresistable chaat offerings. And he didn't have to try hard. For, he had a fan following of young people who would queue up in front of his cart to savour his delicacies. And it was easy on the pocket too for these youngsters for whom a plate of his chaat would keep them satiated for a while. Year after year, new batches of students entered the college premises and older ones left, but the chaatwala and his colourful cart was the only constant. The chaatwalla and his cart became an integral part of our college life.
Are you familiar with chaat? If so, what is your favourite combination?
As mentioned before, the recipe for my kala chana – alu chaat l Black chickpeas and potato chaat is full of all the good things and can easily fall into the healthy snack category. It is loaded with black chickpeas which is an excellent source of protein. Apart from this it is full of an assortment of vegetables, nuts, fruits and fresh spices. It is also quite filling and will keep you going for a while. It is very adaptable and you can use your own choice of vegetables / fruits / nuts to add to it.
Timing/planning-
This recipe calls for the chickpeas and potatoes to be boiled and this takes the most time. So plan accordingly. While they are boiling, prepare the vegetables, fruits, fresh spices and nuts ( I dry roasted the peanuts for a couple of minutes). As a result, once all this is ready, they just need to be assembled together which does not take much time. I made the chutneys the previous day.
Serving-
This dish can be served as healthy snack and also as a part of the food spread during Indian festivals like Holi / Diwali etc. As such, it is quite versatile.
Vegan-
I have used chickpeas, potatoes and other vegetables, fruits and nuts along with other herbs and spices. As such, this recipe can be enjoyed by vegans too!
Continue reading for the detailed recipe. It is very easy to put together and very adaptable too. I will post the recipe for my homemade chutneys (which can be made earlier)- mint-coriander and date-tamarind later and will update this post.
---
Subscribe to Sunita's World – life and food! to receive updates on latest posts, tips and recommendations straight to your inbox! Simply fill in the details below. Thank you!
---
Recipe Card-
Kala chana – alu chaat l Black chickpeas and potato chaat
Kala chana / black chickpeas and potatoes are mixed with an assortment of vegetables, fruits and spices (fresh and dried) and brought together with some homemade mint-coriander and date-tamarind chutney. A healthy snack suitable for vegans too.
Ingredients
3

medium sized potatoes, chopped, boiled and peeled

1½

cup

boiled black chickpeas

1

onion, finely chopped

1

inch piece of ginger, finely chopped

3-4

tbsp (more or less)

mint-coriander chutney

3-4

tbsp (more or less)

date-tamarind chutney

1/2

cup

fresh pomegranate

½

red bell pepper, finely chopped

1

tsp

kala namak /Himalayan black salt

½

tsp

ground cumin

1

tsp

ground coriander

1

green chilli, finely chopped

2-3

tbsp

peanuts, lightly dry roasted

½

cup

fresh coriander, chopped
Instructions
Ina large bowl, add the boiled black chickpeas.

Roughly crumble the potatoes and add them to the chickpeas.

Except the chutneys and the pomegranate seeds, add the rest of the ingredients one after the other.

Add both the chutneys and mix well.

Add the pomegranate and mix well.
Video
You can find links to other sweet and savoury snacks here.
You might like these other recipes from this blog-
Date – tamarind chutney / Indian style date and tamarind chutney
This date – tamarind chutney / Indian style date and tamarind chutney is the perfect blend of sweet and tangy with a slight heat running through it. It is the perfect accompaniment to various Indian snacks such as samosas and pakoras to name a few.
Check out this recipe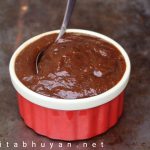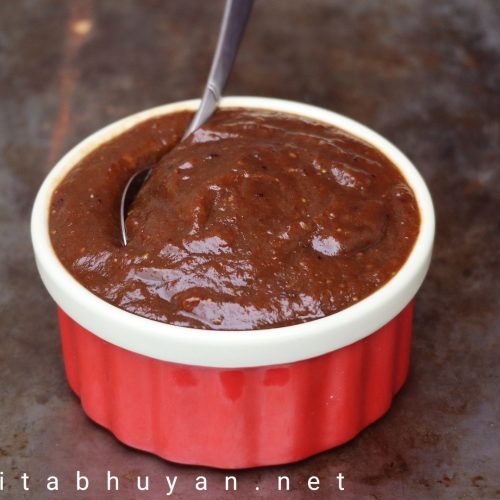 Mint – coriander chutney
An easy to put together Indian style chutney consisting of fresh mint, coriander, spices and lemon juice. My recipe calls for some peanuts too. A great condiment for Indian dishes- street food, grilled dishes etc
Check out this recipe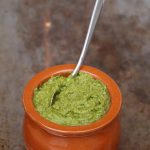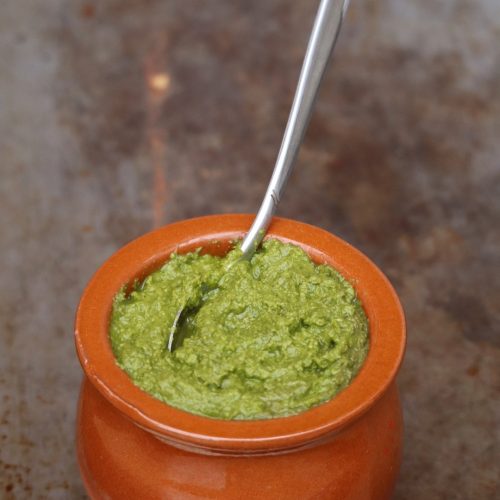 Until next time,
Sunita
STAY CONNECTED: