Mint – coriander chutney / Indian style green chutney is a a very common chutney, not only in most Indian households, but also on the food carts of roadside vendors and restaurants in India. Growing up, how many times have we pleaded with the roadside chaatwalla ( chaat seller) to top up the chutney! This spicy and tangy green chutney is a great accompaniment to Indian street foods, but can also perk up a simple meal.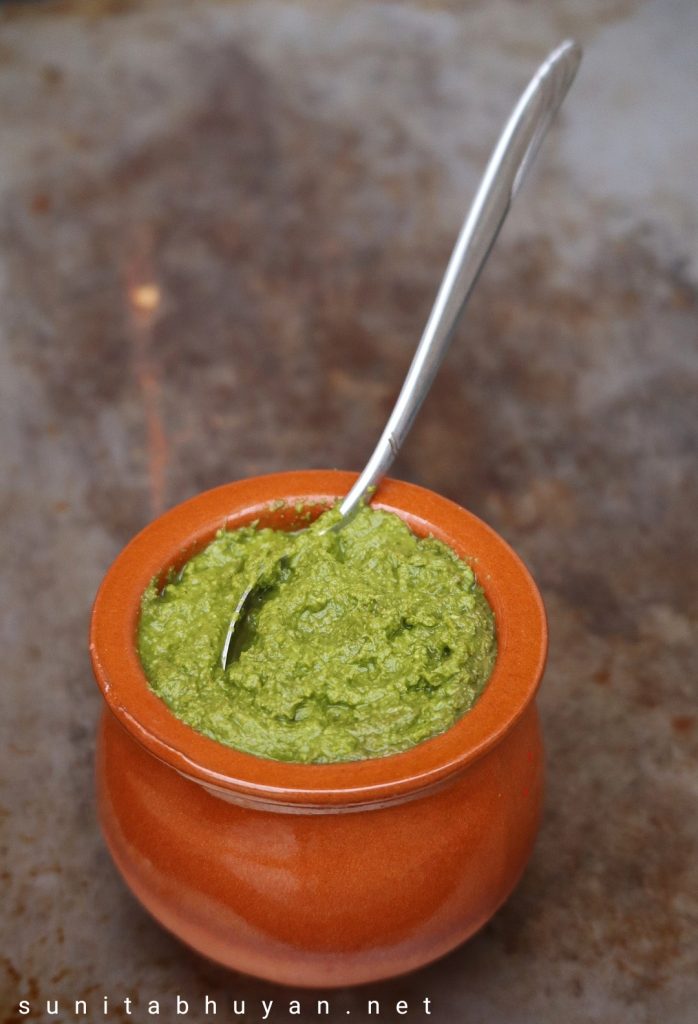 I recently bought some black chickpeas and we have been craving for the Indian street food of chaat. It's been ages since we had some of the zingy explosive flavours of chaat, and so I got making. I went the full hog and used homemade chutneys ( mint- coriander and date-tamarind) for the recipe. I am sharing the recipe for the mint- coriander chutney recipe n this post and will provide the links to the chaat recipe and date- tamarind chutney recipe towards the end of the post, so do remember to keep reading.
Health benefits-
Both mint and coriander have health benefits too – mint, with it's rich nutrients and coriander with its immune boosting antioxidants. All the more reason to make this chutney. The best bit about this chutney is that once you assemble the ingredients, it takes hardly a few minutes to put it together and you have this delightful and healthy condiment within your reach.
Cleaning-
It is important to clean the mint and coriander leaves thoroughly. I have used the tender stalks of coriander as well. Soak the coriander along with the mint leaves ( pluck the leaves from the stem which is woody) in a bowl of water and rinse several times until completely dirt free. Gritty chutney is a big no no! The chutney will only taste as good as the quality of the leaves. So make sure to check thoroughly and discard any wilted or spoilt leaves or it will ruin the taste.
Storage-
This chutney will keep in an air tight container in the fridge for 3-4 days. Make sure to use a clean dry jar for storing and a clean dry spoon to take some out. Going by how simple it is to make, it is quite a handy condiment to have.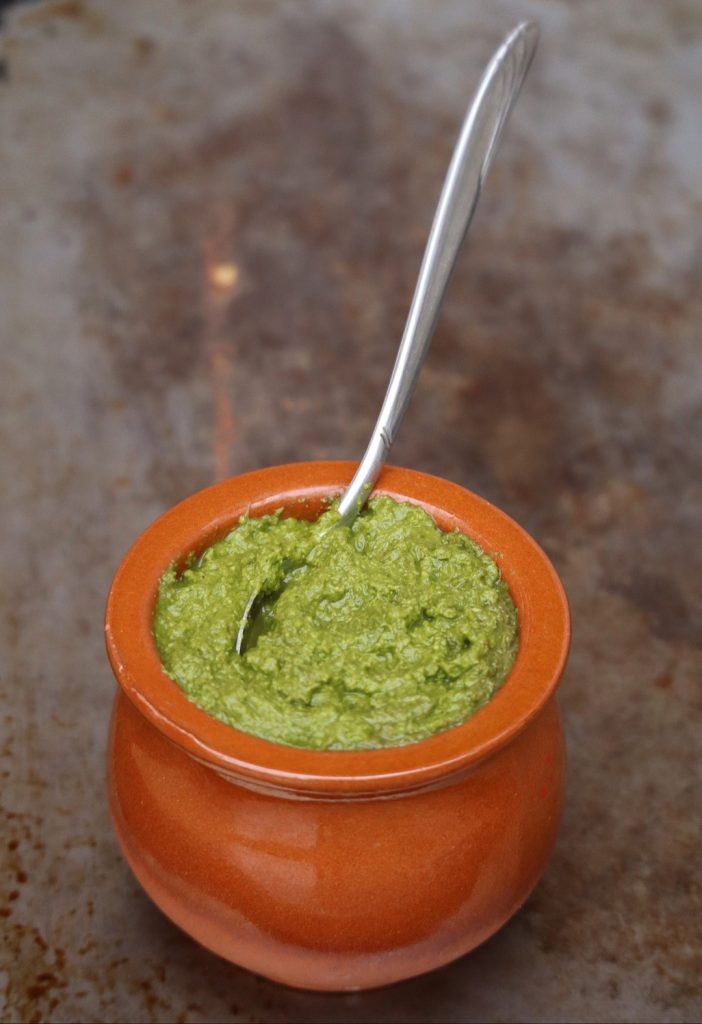 To serve-
This green chutney can be used alongside a variety of dishes. It is a great accompaniment to most street foods like samosa, pakora, bhel puri, chaat etc. This chutney can also be used as a spread in sandwiches and other dishes if you desire a spicy change to the usual butter or cheese. It can also be used alongside Indian style grilled dishes. This zingy chutney can perk up a meal. Add a spoonful on the side to a simple Indian meal of rice or Indian flatbread, dal and vegetables and enjoy. You can also mix a little of this chutney with some yogurt or mayonnaise to flavour them and use as dips.
Adaptable-
I have made this chutney to suit our taste buds. Once you try this, you can add or take away ingredients to suit yours. For example, you can increase or decease the amount of green chillies used in the recipe; use more or less of the quantities for the mint and coriander etc.
Chutney bitter?
Do not grind for too long or else it may have a bitter taste to it as the oil from the coriander leaves will turn rancid. My recipe states 5 minutes for the grinding time. This incudes the time to arrange the ingredients in the grinder as well and not just the time you must spend grinding. It comes together much quicker than that. Do not grind any more than necessary to avoid the bitterness.
Continue reading for the detailed and printable recipe for the mint – coriander chutney / Indian style green chutney ; and check out the video too!
---
Subscribe to Sunita's World – life and food! to receive updates on latest posts, tips and recommendations straight to your inbox! Simply fill in the details below. Thank you!
---
Recipe card-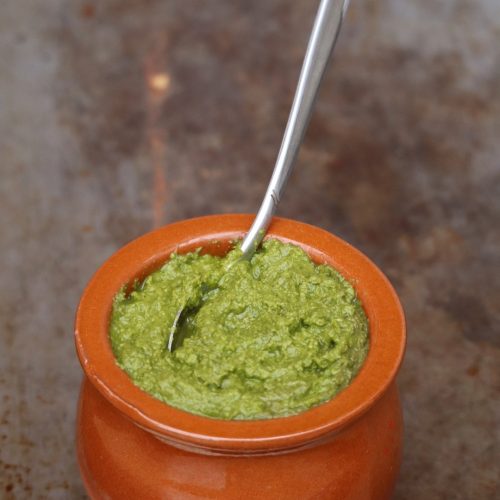 Mint – coriander chutney
An easy to put together Indian style chutney consisting of fresh mint, coriander, spices and lemon juice. My recipe calls for some peanuts too. A great condiment for Indian dishes- street food, grilled dishes etc
Ingredients
80

gms

fresh coriander, washed well and drained ( I used the tender stalks too)

30

gms

fresh mint leaves, washed well and drained

1

tbsp

peanuts

1

tbsp

chopped ginger

2

green chillies, chopped

½

tsp

ground cumin

½

tsp

salt

1

tsp

sugar

juice of 1 lemon

3

tbsp (more or less)

water
Instructions
Add all the ingredients to a grinder and grind till smooth. Use very little water at time to get the desired consistency. I have used about 3 tbsps.

Store in a clean, dry, airtight container in the fridge for 3-4 days.
Video
All chutney recipes on this blog can be found here.
You might like these other recipes from my blog-
Date – tamarind chutney / Indian style date and tamarind chutney
This date – tamarind chutney / Indian style date and tamarind chutney is the perfect blend of sweet and tangy with a slight heat running through it. It is the perfect accompaniment to various Indian snacks such as samosas and pakoras to name a few.
Check out this recipe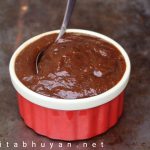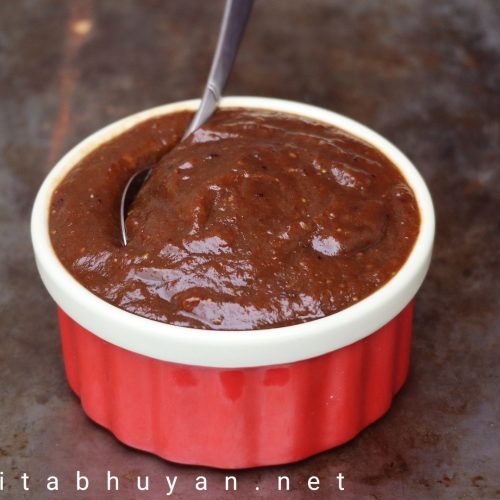 Kala chana – alu chaat l Black chickpeas and potato chaat
Kala chana / black chickpeas and potatoes are mixed with an assortment of vegetables, fruits and spices (fresh and dried) and brought together with some homemade mint-coriander and date-tamarind chutney. A healthy snack suitable for vegans too.
Check out this recipe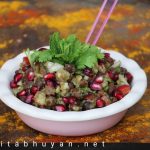 Until next time,
Sunita
STAY CONNECTED: