Unlike some curies that require more simmering time, this uncomplicated aloo bilahi masor jool / Assamese style fish curry with potato and tomato makes for a fast and hearty meal any day of the week. It is light with a slight hint of spices and comforting as most Assamese style fish curries are. The uniqueness of Assamese style curries is the simplicity. They are not overtly doused in spices and the main ingredients are allowed to shine.
Assamese style fish curries-
Fish forms an important part of our diet. Growing up in Assam (a state in North East India) on the banks the mighty Brahmaputra river, fresh riverine fish found their way into our dining table very, very often. Although we do have our rich versions of preparing them, the most common way of enjoying them on a day to day basis would be a light, soup like curry (patla jool/anja). Pieces of fish are pan fried and dunked into a light leafy and other vegetable based curry.
Apart from the occasional xorioh maas ( fish in a mustard seed paste ) or aphu maas (fish in a poppy seed paste), hardly any curry is made only with spices. After we moved to the UK almost two decades ago, fish like salmon have become our firm favourite, but others like mackerel, sea bass, herring , rainbow trout, cod, haddock etc, have also made their way into our kitchen and on our plates. However, when temptation gives in, we do make a trip to the frozen aisle of the local Asian store to get our hands on some rohu ( a species of fish from the carp family) or other fish that we grew up gorging on! For old times sake! On a day to day basis, a plate of plain rice accompanied with a maasor patla jool ( light fish curry) would be the ideal comfort food.
This recipe-
Food does need to be complicated to be comforting. The following recipe for aloo bilahi masor jool / Assamese style fish curry with potato and tomato is one such light and fragrant fish curry that is quick and easy to make yet comforting at the same time. Once the potatoes are boiled and ready, the rest of the dish takes minutes to make. I have used rainbow trout in this recipe. You can make it with rohu fish if you have access to it and make it the same way; the only thing is you might need a few more minutes as rohu takes a bit longer to cook than trout.
The potatoes-
This recipe askes for the potatoes to be crumbled after boiling. Make sure that you only crumble roughly. If you break them down too much, the texture of the curry will not be pleasant.
The tomatoes-
Make sure that the the tomatoes are fully ripe to get the best flavour in this recipe. Too firm tomatoes will not lend the same flavour.
I first posted this recipe many years ago and it was even featured in the Saveur online magazine's 'Best of the web' series. This again goes to show that simplicity works too! I have made it innumerable times and it has made me happy every single time!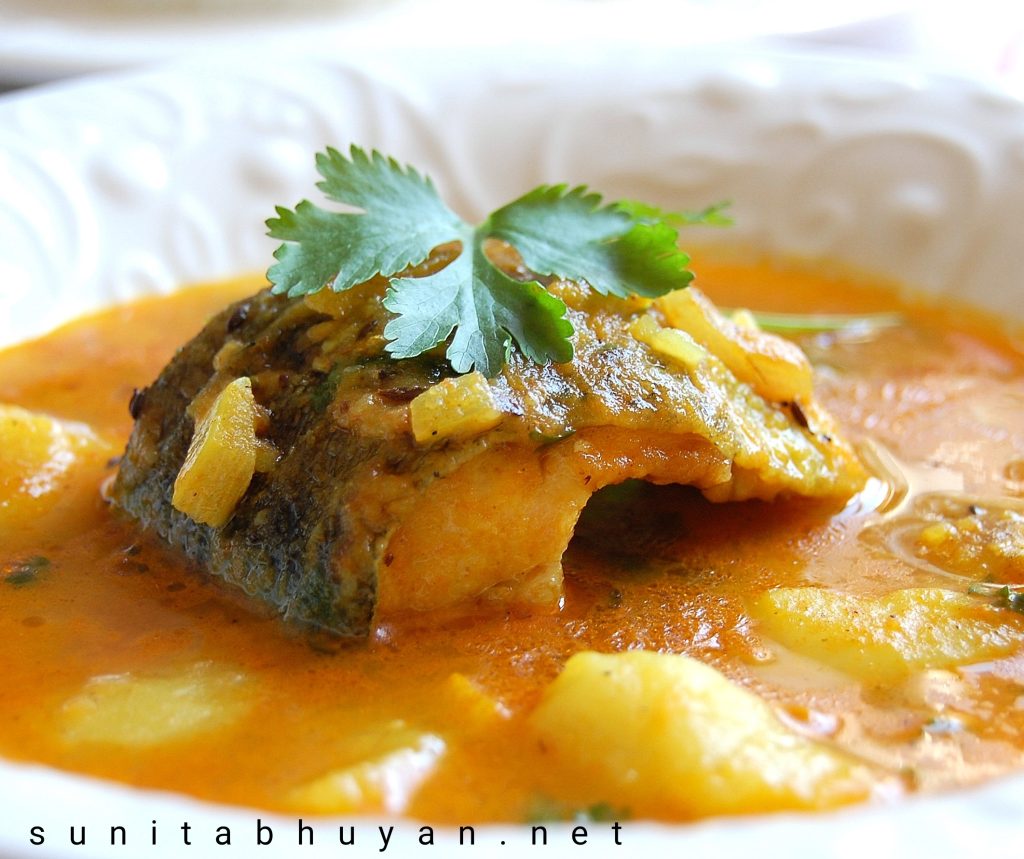 Continue reading for the recipe for this simple and comforting recipe for aloo bilahi masor jool / Assamese style fish curry with potato and tomato
---
---
Stay connected-
On another note, if you try any recipe from this website, do take a photo and tag me on instagram @sunita_bhuyan. I would love to see your creations! Also, do connect on other socials too; links to all my socials are given below-
STAY CONNECTED:
---
Subscribe to Sunita's World – life and food! to receive updates on latest posts, tips and recommendations straight to your inbox! Simply fill in the details below. Thank you!
---
Recipe card-
Aloo bilahi masor jool / Assamese style fish curry with potato and tomato
This uncomplicated fish curry makes for a fast and hearty meal any day of the week
Ingredients
4

tbsp

oil

½tsp + a pinch + extra for the curry (according to taste)

5-6 pieces of rainbow trout (I used cuts from whole fish with bones in)

4-5 medium sized potatoes, peeled, quartered, boiled and roughly crumbled ( there should be chunks)

3

large, ripe tomatoes

1

small onion, finely chopped

3-4 cloves of garlic, finely chopped

1¼

tsp

turmeric powder

½

tsp

garam masala powder

¾

tsp

cumin powder

a small bunch of coriander

3

cups of water
For the tempering-
1

bay leaf

1

whole red dried chilli, split in half

1

tsp

cumin seeds
Instructions
Rub the fish pieces with the ½ tsp of turmeric powder and ½ tsp salt.

Heat the oil (if the oil is not hot enough, the fish will stick to the pan) in a pan and fry the fish pieces on all sides. Remove the pan and keep aside. Do not turn off the heat.

In the same oil, add the ingredients for tempering and when the seeds start to splutter, add the tomatoes, onions and garlic, along with the rest of the turmeric powder and a pinch of salt. Cook covered over low heat till the tomatoes are mushy…do not let it dry out too much.

Add the potatoes, cumin powder and cook, stirring continuously till everything thickens.

Pour the water, increase the heat to high and bring the curry to a boil.

Add the fish, garam masala powder and season with salt. Simmer till the oil begins to rise to the top. Mash a few bits of potatoes.

Add the fresh coriander and simmer for a few seconds.

Serve hot with plain rice, a squirt of lemon and enjoy.
All the Assamese recipes on this website can be found here.
You might also like to try these other recipes from this website-
Til diya kukura mangxo / Assamese style chicken curry with sesame seeds
An Assamese (from Assam, North East India) style chicken curry filled with the nutty flavour of sesame seeds. Not overpowering, and with minimum use of spices. Great with rice or Indian flatbreads.
Check out this recipe
Courgette / zucchini khar (Assamese recipe)
An alkaline based dish from Assamese cuisine, typically had at the start of a meal with some rice.
Check out this recipe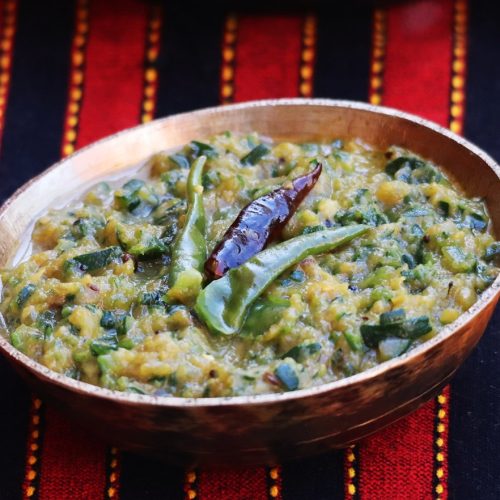 Gur diya narikolor laru (coconut balls with jaggery)
A sweet preparation made with scraped coconut and jaggery syrup, prepared during the Assamese festival of Bihu, especially Magh Bihu and Rongali Bihu.
Check out this recipe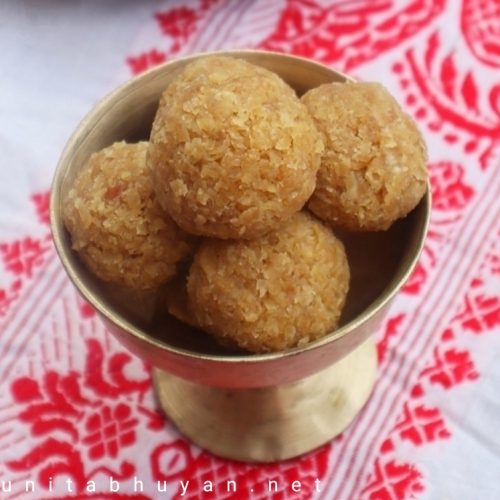 Until next time,
Sunita
STAY CONNECTED: