I recently made this gur besan burfi. Besan burfi is a very popular Indian sweet and is enjoyed specially during festive times such as Diwali; although it is readily available in Indian grocery shops throughout the year! It is usually made with besan ( gram flour), ghee (clarified butter) and sugar. In this recipe, I have substituted the refined sugar with jaggery.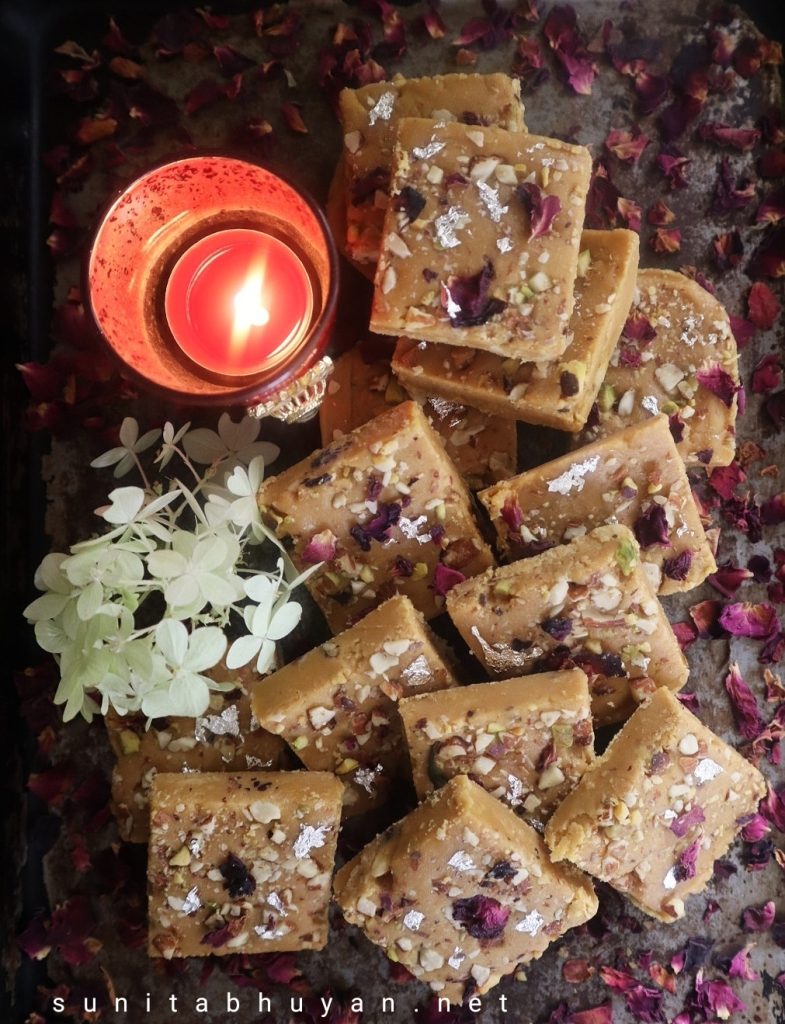 Memories-
Tomorrow is Diwali, the festival of lights. It signifies the triumph of good over evil, of light over darkness. As I mentioned in my last post, in Assam, it is Kali Puja, the worshipping of the Goddess Kali, the ferocious form of Goddess Durga. For many other parts of India, it is Lakshmi Puja (the worshipping of the goddess of wealth).
But whatever one celebrates, one thing is constant during these festivals; the feasting! And Diwali is no different. Growing up, in Assam, I don't remember many sweets being made; apart from the traditional payash ( rice pudding). It was during our Bihu festival that people got and probably still get carried away, making various edible goodies.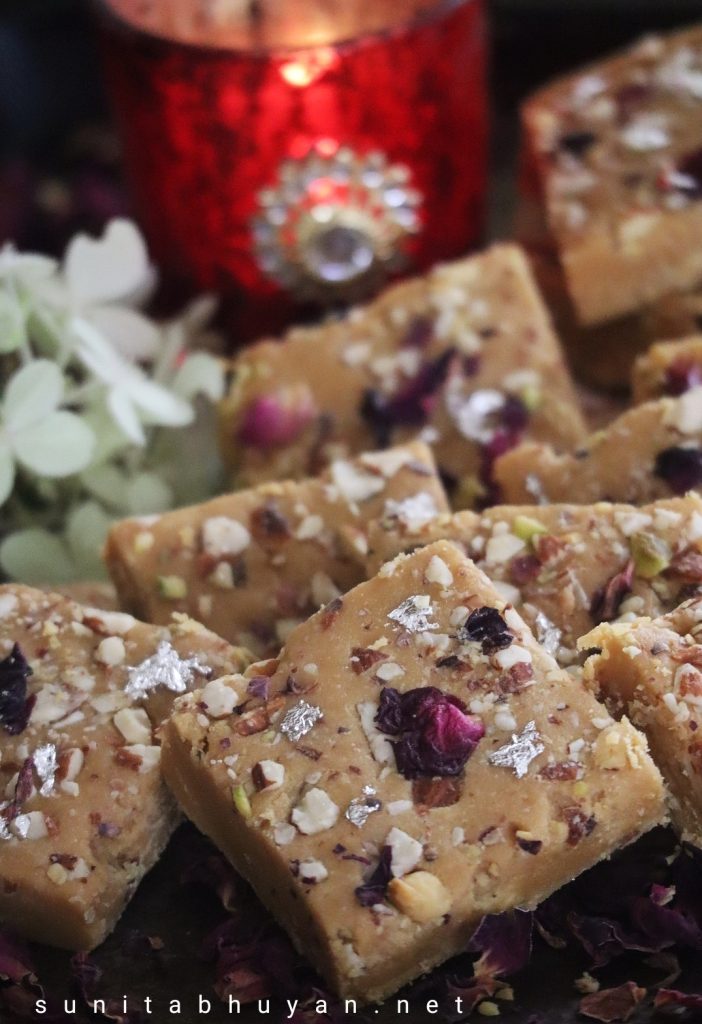 But what I do remember is the lighting up of our house with earthen lamps and holding the sparklers and swaying them round and round till they sizzled away. Ma would lay out the earthen lamps to be lighted later on during the day in the afternoon itself on the largest dola (a traditional Assamese bamboo tray). And we kids, would spread out the fireworks, especially the crackers on another dola in the sun… it seems the heat removed any dampness and made them go off louder! Somehow, when I come to think of it, I can't remember any rainy Diwali…thank goodness for that!
Besan burfi etc
As for besan burfi, these are one of the most popular Indian sweets and are available all year round in the numerous Indian sweet shops. It is traditionally made with ghee, besan ( gram flour) and sugar.
After coming to the UK, my huge sweet teeth were missing all those Indian sweet delicacies. Although they are still readily available in many parts of the UK, they were very scarcely found in the places where we lived. And that was when I resorted to making my own. Indian sweets can be quite high on the sweetener level. Making them myself meant that I had more control over it.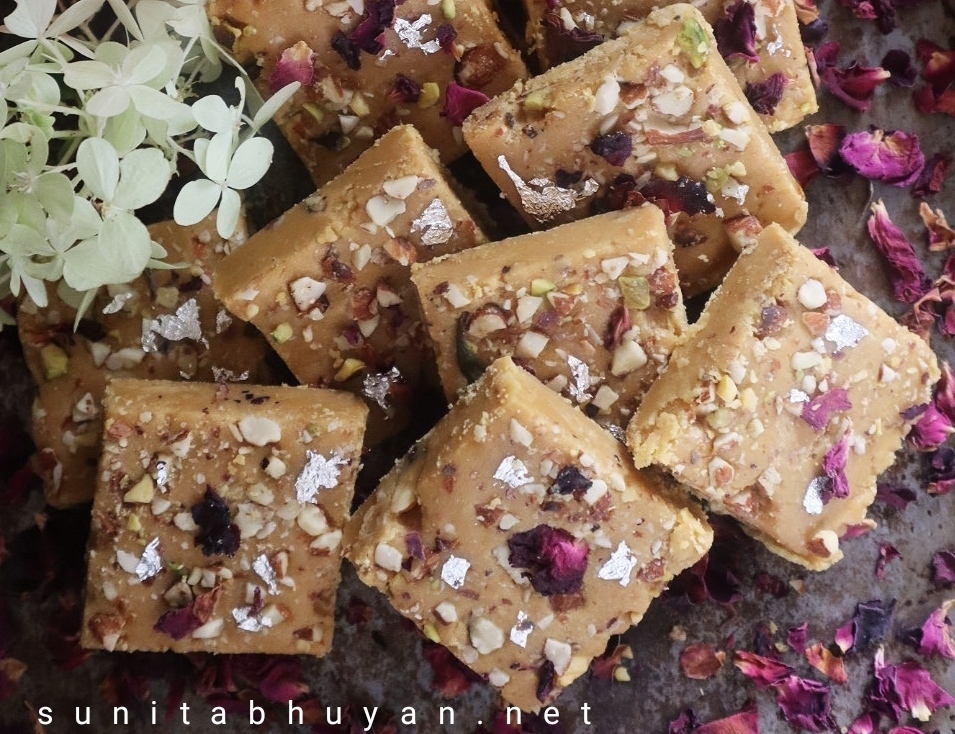 Gur besan burfi-
This burfi is quite indulgent and does contain a certain amount of ghee. I would suggest keeping the amount of ghee and compromising on the size instead. A little can go a long way. On the sweetener front, I have done away with the refined sugar and used jaggery instead. Jaggery is readily available in most Indian grocery stores.
This gur besan burfi is not hard to make; it just needs a bit of patience and your undivided attention.
A few pointers-
-The mixture needs to be stirred over low heat constantly so that it does not burn.
-A thick bottomed pan helps to avoid colouring the gram flour too quickly without roasting properly.
-Cut the jaggery in small pieces so that it can melt quickly.
-Another thing to keep in mind is that once the mixture is ready, it needs to be set quickly. For this, keep a greased pan ( I used a glass 8 inch square dish) or line it with parchment paper. Once the mixture is transferred to the dish, quickly spread and smooth it out, add any garnishes and rest for about 2-3 minutes. Then, cut into the desired shape and let it cool completely. Once the mixture cools and hardens, it will be difficult to cut into.
Continue reading for the detailed/printable recipe for this gur besan burfi.
---
Stay connected-
On another note, if you try any recipe from this website, do take a photo and tag me on instagram @sunita_bhuyan. I would love to see your creations! Also, do connect on other socials too; links to all my socials are given below-
STAY CONNECTED:
---
Subscribe to Sunita's World – life and food! to receive updates on latest posts, tips and recommendations straight to your inbox! Simply fill in the details below. Thank you!
---
Recipe card-
Gur besan burfi
A traditional Indian sweet made with ghee, gram flour and jaggery; perfect for the Indian festive season or all year round as a treat.
Ingredients
¾

cup

ghee

2½

cup

besan ( gram flour)

¾

cup

gur ( jaggery), add more or less

1

tsp

ground cardamom
For garnishing-
chopped nuts ( I used almonds and pistachios), dried edible rose petals (optional) and edible silver foil ( optional)
Instructions
Grease an 8 inch square pan with little ghee and keep aside.

In a thick bottomed pan over medium heat, ( I used a non stick pan), add the ghee and warm slightly.

Reduce the heat to low and add the gram flour and mix well.

Continue stirring the mixture for about 10 minutes. Do not be concerned if the mixture keeps changing the texture. At on point, it will be quite liquidy too. This is perfectly normal.

Mix in the ground cardamom and continue stirring the mixture for another 5-7 minutes or until the gram flour changes colour slightly. It will leave a beautiful aroma too. The mixture might be quite soft at this stage.

Turn off the heat, add the jaggery and continue to mix until the jaggery melts completely. As the pan and the mixture is still hot, the jaggery will melt easily.

Mix well and transfer the mixture to the greased pan.

Using a spatula, spread out the mixture in the pan and smooth the top.

Sprinkle some chopped nuts and edible dried rose petals and gently push it into the mixture so that it sticks. I also added bits of edible silver foil.

Leave the pan for about 2-3 minutes and then cut them into desired shapes and sizes. I cut them into 16 squares.

Let the burfi cool completely before taking them out. It will firm on cooling.

Store any leftovers in air tight containers.
All the Indian recipes on this website can be found here.
All the Indian sweet recipes on this website can be found here.
You might also like to try these other recipes from this website-
Dates, figs and nuts burfi ( no added sugar)
Healthy bites loaded with an assortment of nuts and seeds and with the sweetness of dried dates and figs.
Check out this recipe
Gur diya narikolor laru (coconut balls with jaggery)
A sweet preparation made with scraped coconut and jaggery syrup, prepared during the Assamese festival of Bihu, especially Magh Bihu and Rongali Bihu.
Check out this recipe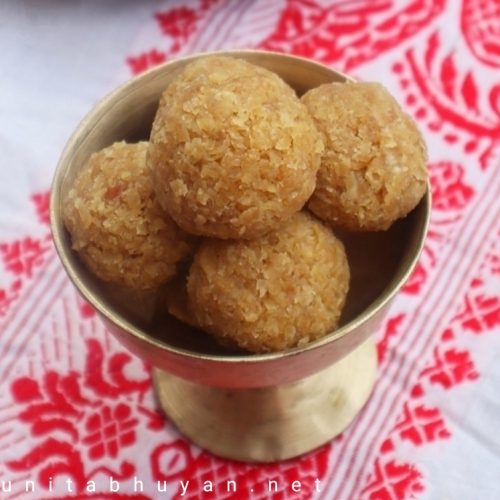 Pista badam peda
A jaggery based sweet with almond and pistachios; not overtly sweet and easy to make
Check out this recipe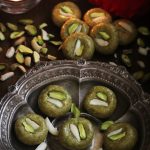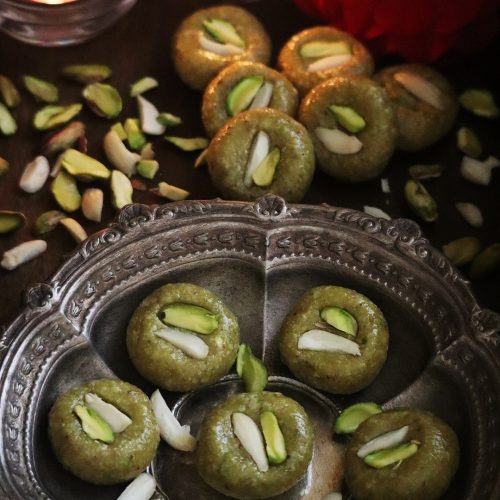 Until next time,
Sunita
STAY CONNECTED: