The Indian festive season is in full swing and this means plenty of feasting on sweets and savouries. This dates, figs and nuts burfi (no added sugar) is a healthier option to enjoy during this time. Along with the dates and figs, it is loaded with an assortment of nuts and seeds. There is no ghee or butter as well.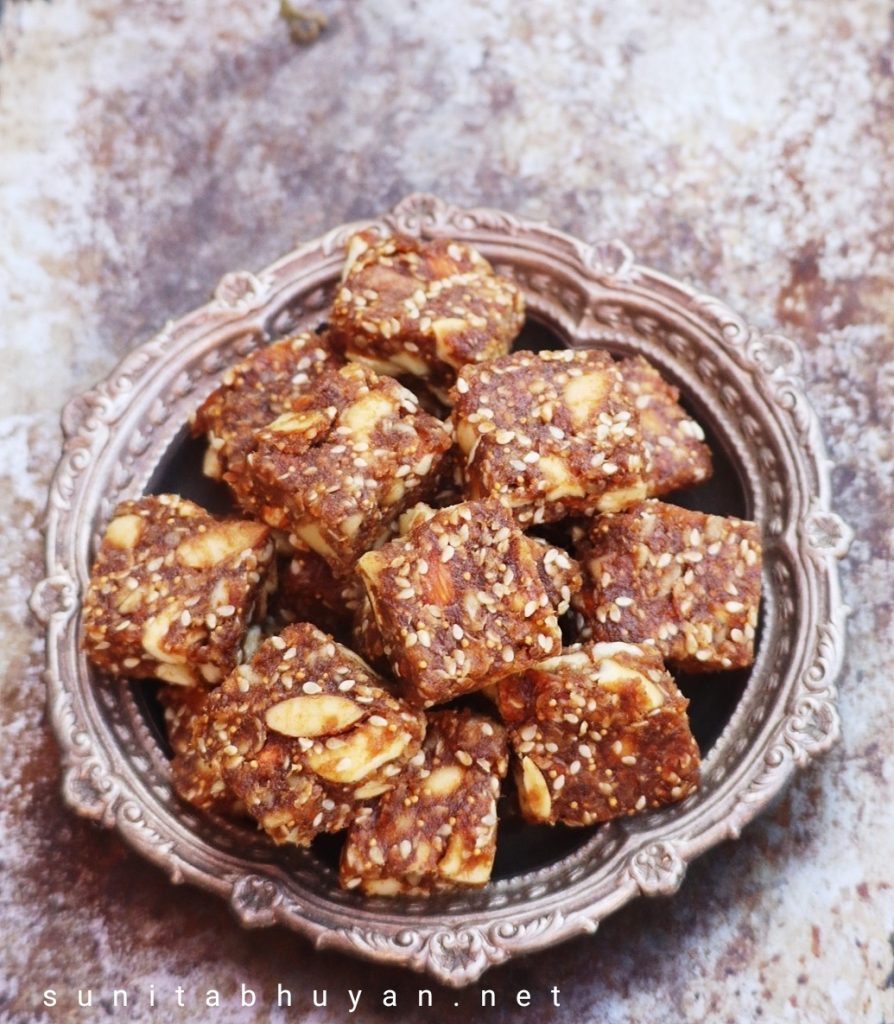 As mentioned before, this burfi is loaded with nuts and seeds. I have used whatever I had on hand- cashew nuts, almonds, walnuts, sesame seeds, sunflower seeds. You can use your own selection of nuts and seeds. I also added a little desiccated coconut. The dates and figs add their natural sweetness, so there is no need to add any extra sugar.
They are very easy to make. The nuts and seeds need to be dry roasted in a pan till crisp and then kept aside. The dates and figs are soaked in water to soften them and pulsed. This mixture is then cooked and the nuts and seeds mixture is added to it. When everything comes together, it is transferred to a pan, pressed and chilled. They are now ready to be cut into squares and enjoyed. I cut them into small bite sized pieces, but you can cut them as big or small as you wish.
By the way, it does not have to the festive season to enjoy these bites. You can also roll them into balls or cut into bigger shapes and have them as energy bars. Or take a few along with you on your next hike to keep you going.
Continue reading for the video and full printable recipe for this healthy dates, figs and nuts burfi (no added sugar).
---
Subscribe to Sunita's World – life and food! to receive updates on latest posts, tips and recommendations straight to your inbox! Simply fill in the details below. Thank you!
---
Recipe card-
Dates, figs and nuts burfi ( no added sugar)
Healthy bites loaded with an assortment of nuts and seeds and with the sweetness of dried dates and figs.
Ingredients
1

cup

dried, pitted dates

1

cup

dried figs

1½ cup

hot water

½

cup

cashew nut halves

¾

cup

halved almonds

½

cup

chopped walnuts

2

tbsp

sunflower seeds

⅓

cup

white sesame seeds

⅓

cup

desiccated coconut
Instructions
Soak the dates and figs in the hot water for about 20 minutes or till soft.

Add the dates and figs along with the water to a grinder and pulse. Keep aside.

Grease a dish and keep aside. We will use this to set the burfi. Mine was an 8 inch square dish.

In a pan, add the cashew nuts, almonds, walnuts and sunflower seeds, and over low to medium heat, roast them for 3-4 minutes.

Add the sesame seeds and roast further.

Towards the end, add the desiccated coconut and complete the roasting. Keep stirring and do not let them burn. Transfer to a bowl and keep aside.

In a pan, add the dates and fig paste and cook over low to medium heat, stirring constantly, till the moisture evaporates.

Add the nut mixture and mix till everything comes together and the mixture no longer sticks to the bottom of the pan. The mixture will be quite lumpy.

Transfer the mixture to the greased dish and press firmly into it with the help of a spatula. Smooth the top. Leave to cool and then transfer to a fridge for about 3 hours.

Remove from the fridge, cut into bite sized pieces and serve.

Save any leftovers in an airtight container in the fridge.
Video
All the desserts on this website can be found here.
You might also like to try these other recipes from this website-
Rhubarb, almond and white chocolate cake
Fresh stalks of rhubarb were combined with the flavours of almond and white chocolate to give a combination of taste explosions in every spoonful.
Check out this recipe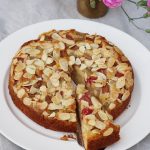 Pavlova
A meringue based desert with a crisp exterior and gooey marshmallowy interior which is slathered with whipped cream and topped with fresh fruits.
Check out this recipe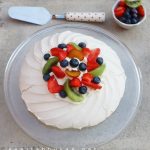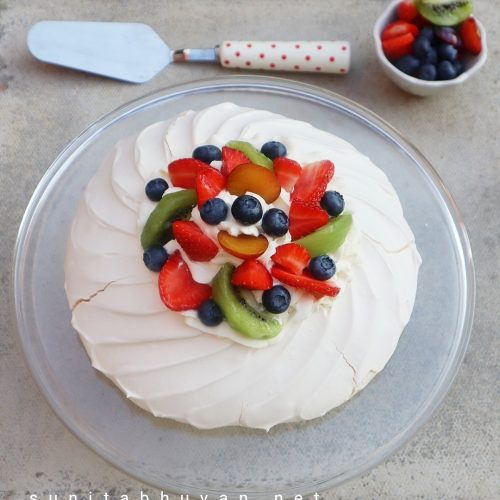 Cherry cheesecake
A cheesecake infused with the seasons cherries. It has a crisp crust, with a cherry and soft cheese filling, and drizzled with cherry syrup and melted white chocolate on top. A truly summery, fruity dessert.
Check out this recipe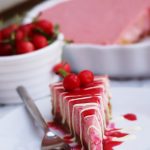 Until next time,
Sunita
STAY CONNECTED: