This pista badam peda (pistachhio-almond Indian sweet) is a healthy option for your sweet corner this Diwali. Or in fact for any other time when you crave something sweet. These three ingredient bite sized beauties are very easy to make, does not contain oodles of refined sugar and tastes great too.
In the blink of an eye, Diwali is around the corner again. Although I hated (and still do) the deafening sounds of the fireworks during this time, I did love the display of lights. And, as a child, I would look forward to the evening when houses including ours would be lit up by the earthen lamps. Everything seemed to be so magical (yes, except the crackers that went off with a bang).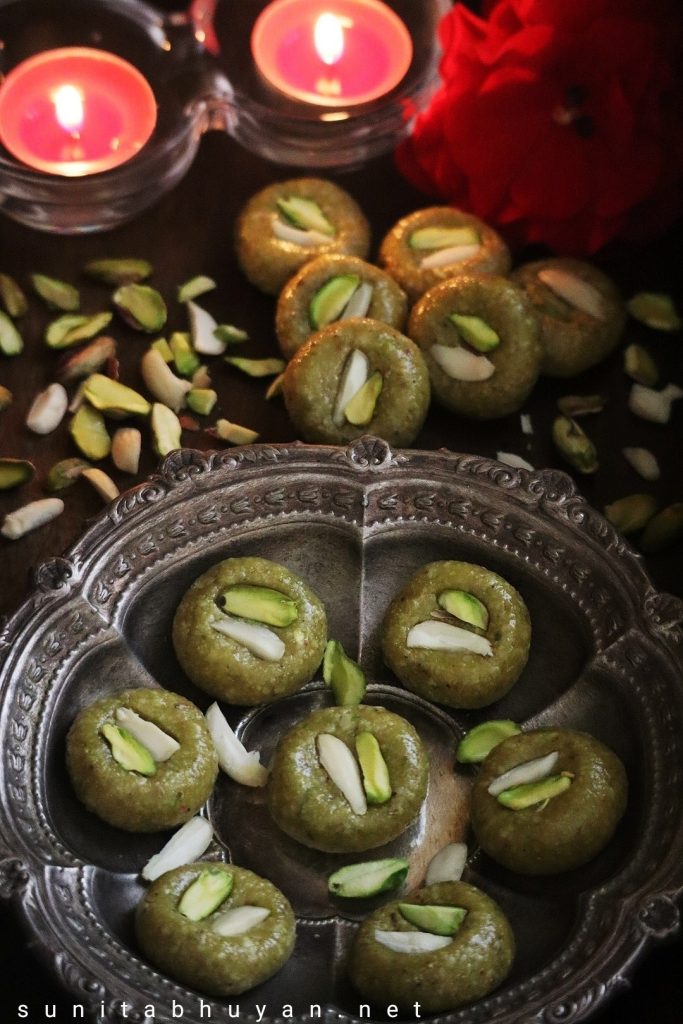 Our festive season starts with Durga Puja, the most important religious festival in our part of India, followed closely by Lakshmi Puja…and when Diwali came, it also meant that that our autumn break was almost coming to an end. In Assam, it was also Kali Puja, where the ferocious form of the Goddess Dura was worshipped.
Apart from perhaps some rice pudding, making elaborate sweetmeats at home during Diwali, is surprisingly not that prevalent in Assam; at least, it wasn't when I was growing up. But then, there were sweet shops at every corner to compensate that! But, once out of the country, not having that luxury, I do resort to making them myself. Indian sweets can sometimes be too sweet; making them at home means that one can control the degree of sweetness.
Only three ingredients-
Coming back to this pista badam peda, it is made with just three ingredients- pistachios, almonds and jaggery. I used a mixture of almond and pistachhio nuts. However, you may use just one of the nuts mentioned, or even different nuts like cashews. But this combination of almonds and pistacchios worked really well.
No refined sugar-
This peda contains no refined sugar and is made with just a little jaggery. Jaggery, or 'gur' as it is called in India is made from sugarcane juice and is not refined like sugar which goes through various processes to get to the crystallisation state. Hence, it is a healthier alternative to refined sugar.They come in blocks and are dark brown in colour. If you live outside India, you will find jaggery at your local Indian grocery store.
Fudgy-
This peda has a slightly chewy and fudgy texture. And they are not overtly sweet.
Quick to make-
This pista badam peda mixture takes just a few minutes to cook. So make sure, you keep an eye on the jaggery and don't let it burn or overcook. Also, keep a sheet of parchment ready on the counter; or grease a dish. This will be needed to transfer the nut mixture when hot.
Continue reading for the video and full printable recipe for this pista badam peda.
---
Stay connected-
On another note, if you try any recipe from this website, do take a photo and tag me on instagram @sunita_bhuyan. I would love to see your creations! Also, do connect on other socials too; links to all my socials are given below-
STAY CONNECTED:
---
Subscribe to Sunita's World – life and food! to receive updates on latest posts, tips and recommendations straight to your inbox! Simply fill in the details below. Thank you!
---
Recipe card-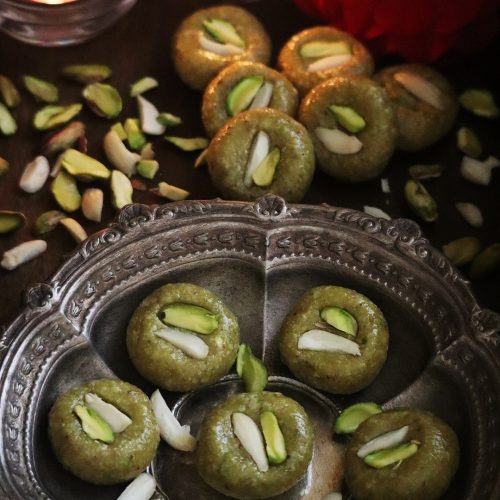 Pista badam peda
A jaggery based sweet with almond and pistachios; not overtly sweet and easy to make
Ingredients
¾

cup

blanched amonds

¼

cup

pistachios

½

cup

jaggery (grated or cut into very small and thin pieces)

¼

cup

water

a few almond and pistachio slivers to decorate on top
Instructions
Pulse together the almonds and pistachios. Do this in short bursts to prevent the nuts getting sticky and turning into nut butter. The mixture des not need to be a fine powder.

Place a thick bottomed (non stick) pan over low to medium heat.

Add the jaggery and water. Bring to a boil and simmer over low heat till the jaggery melts.

Stir continuously with a spatula till a single thread consistency is achieved. You can test this by taking a tiny bit of the mixture from the spatula ( be careful, it will be hot) between your thumb and index finger, then pressing down on it and taking the fingers apart. If you see a thread of jaggery between your thumb and index finger, it is the correct consistency. Make sure you reduce the heat to low when testing, to prevent burning or overcooking the jaggery mixture.

Add the nuts mixture and over low heat, mix well with a spatula.

Keep stirring constantly until the mixture comes away from the pan, but is still a little sticky. This took me just about 2 minutes after the nuts were added to get the right consistency.

Transfer the mixture to the parchment or greased dish.

Start to fold the mixture with a spatula; the mixture will be too hot to handle by hand. The mixture will gradually come together as it cools.

Once the mixture is cool enough to handle, gently knead it and bring together into a ball. Let it cool.

Don't skip the cooling part as the mix will still be slightly tacky.

Once cold, with greased hands, shape into a couple of sausages and divide into 15 portions.

Shape each portion into a ball and press a sliver each of almond and pistachio on top.

Store in air tight containers a little apart from each other as they may stick.
Video
All the dessert recipes on this website can be found here.
You might also like to try these other recipes from this website-
Kesa mithoi / Assamese no-cook rice flour laddu
An Assamese no cook sweet with rice flour and coconut as the main ingredients; usually served during religious functions.
Check out this recipe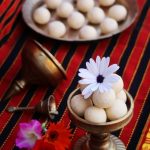 Dates, figs and nuts burfi ( no added sugar)
Healthy bites loaded with an assortment of nuts and seeds and with the sweetness of dried dates and figs.
Check out this recipe
Until next time,
Sunita
STAY CONNECTED: