These Gur diya narikolor laru (coconut balls with jaggery) were made to celebrate Rongali Bihu, the Assamese festival that is celebrated to usher in the Assamese New Year. Fresh grated coconut is mixed with a jaggery syrup. The mixture is then cooked and rolled into balls.
Bihu?
Assam, a North Eastern state of India, is primarily agricultural and three of its major festivals are all centred around it. Bihu is celebrated by all Assamese irrespective of religion, caste and creed. It has three forms-
Kati or Kongali Bihu (which is observed in October, to pray for a good harvest)
Magh or Bhogali Bihu (observed in January, to celebrate the end of the harvesting season)
Bohag or Rongali Bihu (observed in April, the start of the cultivation season and to usher in spring and the Assamese New Year)
Bohag or Rongali Bihu is the season of merriment. It is celebrated to welcome the spring season and the Assamese New Year. This is done with a lot of fun and gaiety and feasting. During this time the fields are also prepared for cultivation. There is a lot of singing and dancing in the form of folk songs known as Bihugeet and Bihu naas.
In case you are interested in knowing more, you nan read about Bihu in this article.
Coming back to our recipe for today, a few pointers on the making of gur diya narikolor laru (coconut balls with jaggery)-
Sweeteners-
These gur diya narikolor laru (coconut balls with jaggery) are made with just two ingredients, namely coconut and jaggery. Narikolor laru (coconut balls) are an integral part of Bihu celebrations. They are sweetened with either sugar or gur (jaggery). I chose to make them with jaggery this time; better than the white sugar!
Patience-
These larus are not hard to make but does need some patience. And some arm power too as there is a bit of stirring and rolling involved.
Coconut-
Back in Assam, the fresh coconut is scraped at home which gives the perfect texture for the larus. I do not possess a coconut scraper here in the UK and make do with store bought grated coconut. The texture is not as perfect as I would like it to be, but I make do with whatever is available. And I do not make them very often, so didn't see the point of squeezing another kitchen gadget into my already bursting at the seams kitchen cupboards and drawers! Having said that, since I don't compromise on the steps for preparing them, they do taste good.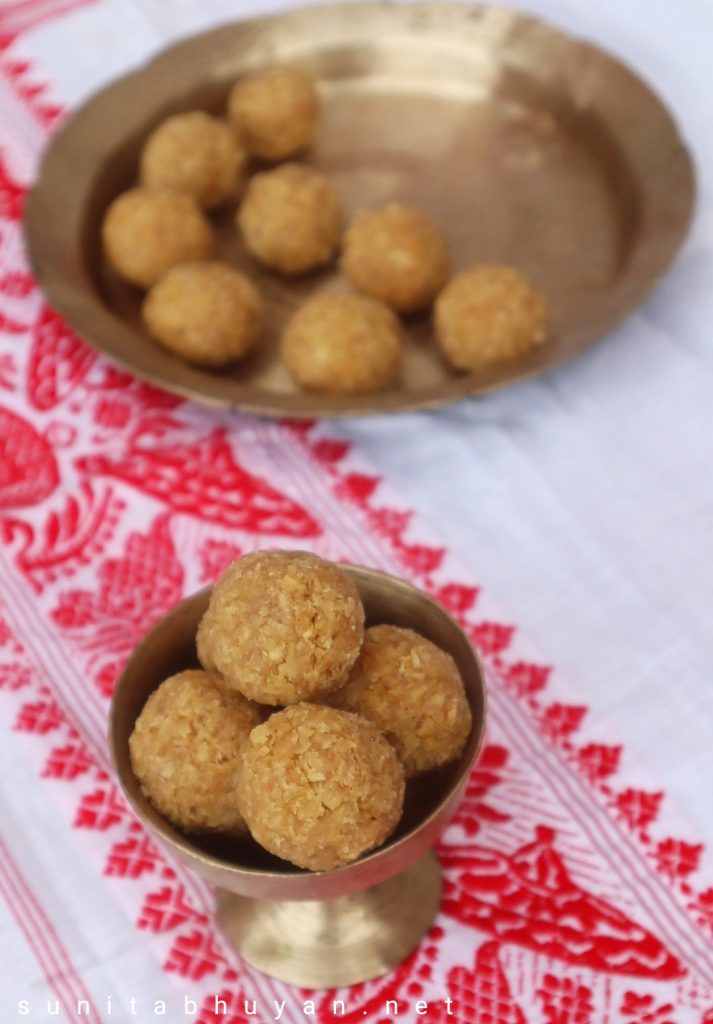 Jaggery syrup-
Cook the jaggery syrup over low to medium heat in the beginning and over low heat thereafter. Don't be tempted to raise the heat too much as the syrup might burn and affect the taste of the larus.
Cooking pan-
It is recommended to use a heavy bottomed pan to cook the coconut-jaggery mixture. I used a heavy, thick bottomed non stick pan.
Cooking the coconut-jaggery mixture-
The mixture needs constant attention; so don't be tempted to leave it on the pan and disappear. While stirring the mixture, use the back of your ladle to use a pressing motion.
Checking readiness-
Take a little of the mixture and try to press it together; if it holds, the mixture is ready.
Rolling-
Using wet hands will help in shaping and rolling the mixture. When rolling them, squeeze the portions of the mixture together and then roll into shape.
Storing-
Make sure the larus are completely cool before storing in air tight containers.
Continue reading for the recipe and video for gur diya narikolor laru
---
Subscribe to Sunita's World – life and food! to receive updates on latest posts, tips and recommendations straight to your inbox! Simply fill in the details below. Thank you!
---
Recipe card-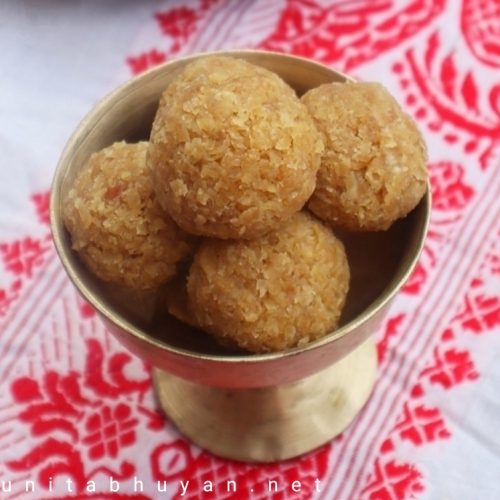 Gur diya narikolor laru (coconut balls with jaggery)
A sweet preparation made with scraped coconut and jaggery syrup, prepared during the Assamese festival of Bihu, especially Magh Bihu and Rongali Bihu.
Ingredients
400

gms

grated coconut (see note below)

2

cups

jaggery shavings (I shaved with a knife from a block of jaggery)

½

cup

water
Instructions
Add the coconut to a bowl and keep aside.

Place the jaggery and water in a small saucepan.

Place over low to medium heat and cook for 5 minutes, or until the jaggery melts. Stir constantly.

Reduce heat to low and cook further for 6-7 minutes. Take a little syrup from the cooking ladle and press between your thumb and forefinger. It should be stringy.

Remove from heat and pour the syrup over the coconut.

Mix together the coconut and jaggery.

When the mixture is cool enough to handle, use your hand to mix everything well together.

Add the coconut – jaggery mixture to a thick bottomed pan.

Place the pan over low to medium heat.

Cook for 6-7 minutes. stirring constantly.

Reduce heat to low and cook for another 14-15 minutes, pressing the mixture down frequently with the back of a ladle.

Remove from heat. Transfer the mixture to a plate and press down into a firm mound to prevent heat loss.

Starting from one end, and with wet hands, take portions of the mixture and shape / roll into balls. Keep them on another clean and dry plate.

Cool the larus completely before storing in airtight containers.
Video
Notes
I used store bought frozen grated coconut as I do not have coconut scraper. If you have one, scrape a fresh coconut and use that; it will give better texture to the larus.
You can find all the Assamese recipes in this blog here.
You might like to try these other recipes from my blog-
Bogorir jola mitha asar l Assamese hot and sweet jujube pickle
A hot and sweet Assamese (from Assam, in North East India) style jujube pickle which is sure to tickle your taste buds; simply irresistable! And easy to make too.
Check out this recipe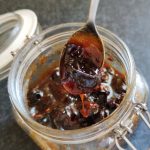 Til diya kukura mangxo / Assamese style chicken curry with sesame seeds
An Assamese (from Assam, North East India) style chicken curry filled with the nutty flavour of sesame seeds. Not overpowering, and with minimum use of spices. Great with rice or Indian flatbreads.
Check out this recipe
Bootor dali
Bootor dali is an Assamese dish of split chickpeas (chana dal) cooked in spices. It is usually thick and eaten with Indian flatbreads though it's thinner counterpart is also enjoyed with rice.
Check out this recipe
Until next time,
Sunita
STAY CONNECTED: