These pistachio and chocolate pinwheel cookies are a delight. They are mildly sweet and wonderfully crumbly.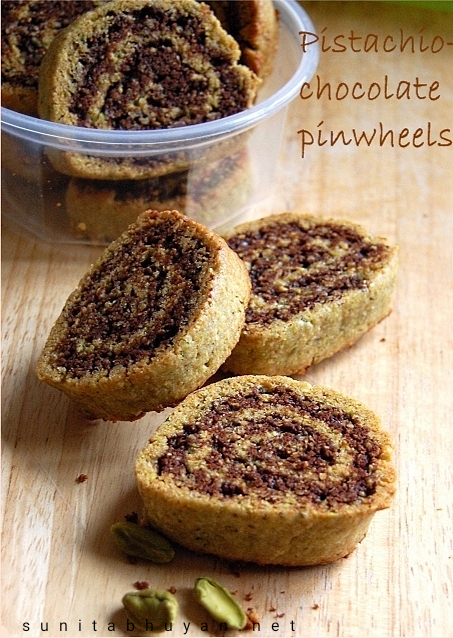 ---
These cookies very indeed very good, yes, the kind of end product that makes the baker in me jump with joy. Not loaded with butter and sugar, but mildly sweet and wonderfully crumbly. An absolute melt in the mouth. As you can see from the lavish praises that I have bestowed on them, we really enjoyed these cookies.
This recipe also comes from 'the notebook'. And luckily, I had a couple of pictures to go along with it, so it was a win win situation.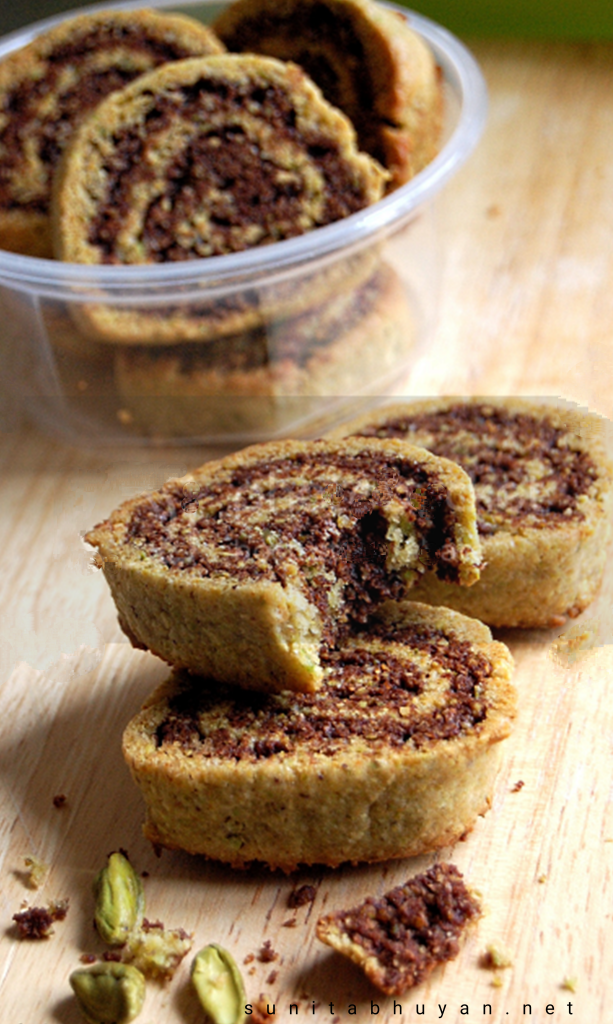 ---
Continue reading for the full recipe for these pistachio and chocolate pinwheel cookies.
All the baking recipes in this website can be found here.
Some of the other cookie recipes on this website are–
Coconut and cumin cookies (eggless)
Delightful savoury cookies which can be enjoyed on their own or as a base for various cheeses and chutneys. Also has a slight hint of chillies.
Check out this recipe
Whole wheat , eggless, coconut and orange cookies
A whole wheat, eggless, coconut and orange cookie recipe; crisp and not overtly sweet.
Check out this recipe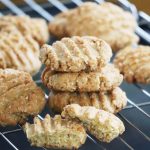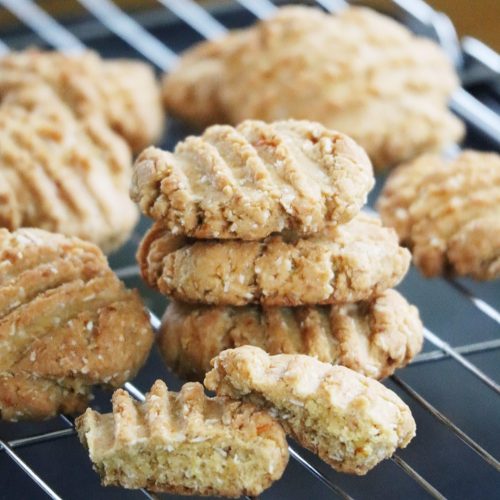 Eggless banana chocolate chip cookies
A delightful cookie alongside your cuppa or a glass of milk; consists of all good ingredients and is not overtly sweet.
Check out this recipe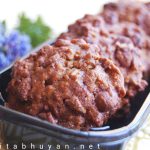 ---
Subscribe to Sunita's World – life and food! to receive updates on latest posts, tips and recommendations straight to your inbox! Simply fill in the details below. Thank you!
---
Stay connected-
On another note, if you try any recipe from this website, do take a photo and tag me on instagram @sunita_bhuyan. I would love to see your creations! Also, do connect on other socials too; links to all my socials are given below-
STAY CONNECTED:
---
---
Recipe card-
Pistachio and chocolate pinwheel cookies
These cookies are mildly sweet and wonderfully crumbly.
Ingredients
½

cup

pistachios

1

cup

plain flour

¾

cup

oat flakes

¼

tbsp

bicarbonate of soda

1

egg

½

cup

sunflower oil

5

tbsp

honey

a few drops of vanilla extract

2½

tbsp

unsweetened cocoa powder
Instructions
Grind together the pistachios, flour and oat flakes to the consistency of fine semolina. Add the soda and mix well. Keep aside in a bowl.

In another bowl, whisk together the egg, oil, honey and vanilla.

Make a well in the centre of the nut meal and tip in the egg mixture. Bring everything together and divide into two portions.

Mix in the cocoa powder to one of the portions and wrap both the portions in plastic wrap. Chill for at least ½ an hour.

Place a portion of the dough on a rolling board, covered with plastic wrap. Pat it out to a rectangle of about 2-3 mms in thickness. Gently, roll a rolling pin over it to smooth the top. Repeat the same with the other portion ( keeping it on another bit of plastic wrap), keeping the size same as the other. Gently lift up the cocoa portion with the plastic wrap underneath and turn it over on the other. Peel away the plastic wrap which will be on the top now.

From the longer end, start to make a roll, using the plastic wrap below the plain portion to help. Wrap in plastic wrap and chill again for at least ½ an hour.

Pre heat the oven at 190 deg C and line a baking tray with foil.

Slice the roll into about 1 cm thickness for each. Lay them flat with the cut side up and arrange on the prepared tray, a little apart from each other.

Bake in the centre of the preheated oven for approximately 15 minutes or till the edges start to brown slightly. cool in the tray for about 2 minutes. Transfer to a rack to cool completely before storing in air tight containers.
---
You might also like to try these other recipes from this website-
Spiced whole wheat and oats cookies
These cookies consist of an assortment of aromatic spices that lend their unique flavours.
Check out this recipe
Clove chocolate chip cookie
Delicious chocolate chip cookies with a hint of cloves.
Check out this recipe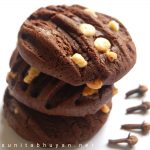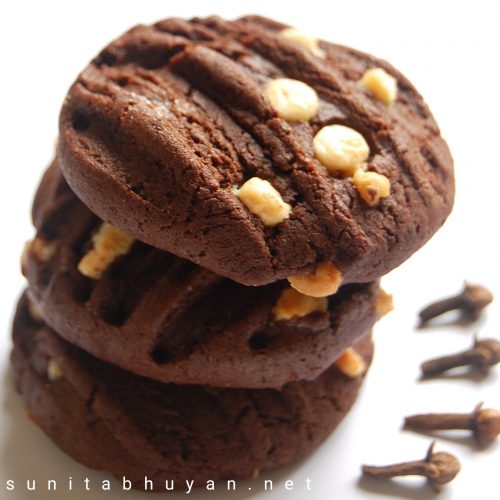 Cheese bites l Cheese cookies
These little crispy cheese bites l cheese cookies are really addictive and the pungency of the nigella seeds complement them very well. The Red Leicester cheese gives them a lovely orange hue too! Great if you're looking for a savoury treat to nibble on.
Check out this recipe
Until next time,
Sunita
STAY CONNECTED: