When I call these cookies spiced whole wheat and oats cookies, I mean that they are really spiced. They contain an assortment of various spices that gives the cookies a unique flavour and mouthfeel.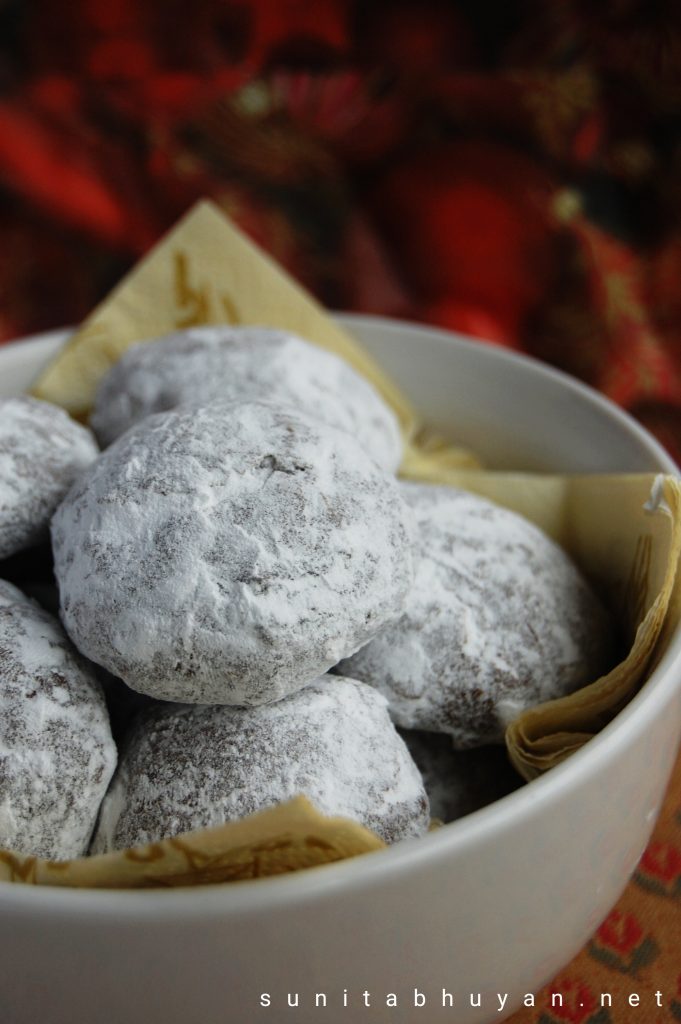 Inspiration-
Many years ago, a friend gifted me a pack of Pfeffernusse, a spiced cookie, popular in Germany, especially during the Christmas period. Pfeffernusse literally means "pepper nuts" in German, referring to the ground pepper that is added to the cookie dough. These cookies are popular in Netherlands and Denmark as well and can be found under different names. The recipes may vary slightly, but all of them contain an assortment of aromatic spices like cinnamon, nutmeg, cloves, ginger, mace etc. These cookies are sometimes rolled in powdered sugar or dipped in icing.
When I first tasted those cookies, it was an explosion of flavours. The spices really came through and created an exciting mouth feel. But all good things come to an end and before long the pack was empty.
The taste, though lingered on and inspired me to come up with a batch of my very own cookies that reflected the spiciness of the Pfeffernusse. Of course, as in most of my bakes, I used whole wheat flour and also added some jumbo oats to the mixture. I had some blackstrap molasses at home and added that as the sweetener. I also kept it eggless and substituted butter with oil. In other words, the recipe reads nothing like the original Pfeffernusse. It's only the spiciness that is reflected in my spiced whole wheat and oats cookies.
And yes, these cookies would make a great addition to your Christmas baking too!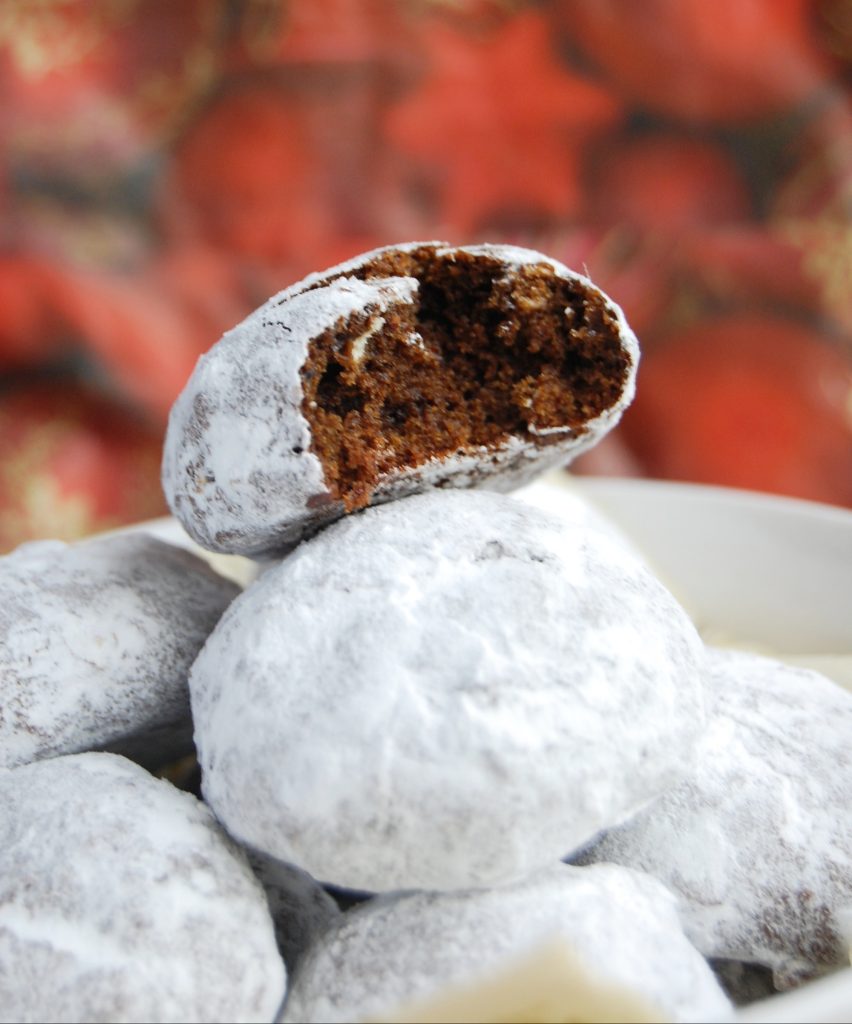 Continue reading for the full / printable recipe for these spiced whole wheat and oats cookies.
---
Stay connected-
On another note, if you try any recipe from this website, do take a photo and tag me on instagram @sunita_bhuyan. I would love to see your creations! Also, do connect on other socials too; links to all my socials are given below-
STAY CONNECTED:
---
Subscribe to Sunita's World – life and food! to receive updates on latest posts, tips and recommendations straight to your inbox! Simply fill in the details below. Thank you!
---
Recipe card-
Spiced whole wheat and oats cookies
These cookies consist of an assortment of aromatic spices that lend their unique flavours.
Ingredients
1¼

cup

plain whole wheat flour (atta)

5-6 tbsp jumbo oats

⅔

tsp

ground cinnamon

¾

tsp

ground pepper

⅓

tsp

nutmeg

3

cloves, ground

¾

tsp

bicarbonate of soda

5

tbsp

blackstrap molasses or black treacle

4

tbsp

sunflower/vegetable oil

1/3

cup

milk
Instructions
In a bowl, mix together the flour, oats, cinnamon, pepper, nutmeg, cloves and soda.

In another bowl, whisk together the molasses, oil and milk.

Make a well in the centre of the flour mixture and tip in the molasses mixture.

Fold in with a spatula until everything just comes together. Do not over mix.

Cover the bowl with plastic wrap and chill for at least two hours.

Pre heat the oven at 170 deg C and line a baking tray.

Make 26-27 balls of the mixture and arrange on the lined tray, a little apart from each other. If they don't fit in one tray, and you need to bake in batches, keep the unused cookie dough in the fridge until needed.

Very slightly press down the tops of the balls.

Place the tray in the centre of the pre heated oven an bake for about 22-24 minutes.

Remove the tray from the oven and cool for a minute.

Transfer the cookies to a cooling tray and cool completely.

Take some icing sugar in a bowl and roll the cookies in it.

Store in air tight containers.
All the baking recipes on this website can be found here.
You might also like these other recipes from this website-
Clove chocolate chip cookie
Delicious chocolate chip cookies with a hint of cloves.
Check out this recipe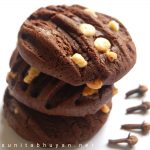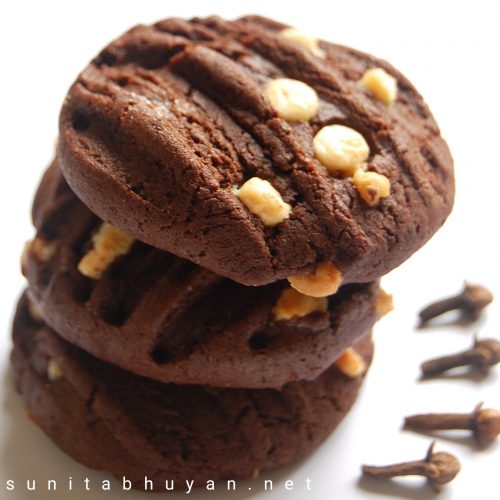 Cheese bites l Cheese cookies
These little crispy cheese bites l cheese cookies are really addictive and the pungency of the nigella seeds complement them very well. The Red Leicester cheese gives them a lovely orange hue too! Great if you're looking for a savoury treat to nibble on.
Check out this recipe
Whole wheat , eggless, coconut and orange cookies
A whole wheat, eggless, coconut and orange cookie recipe; crisp and not overtly sweet.
Check out this recipe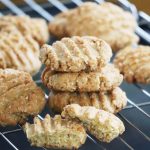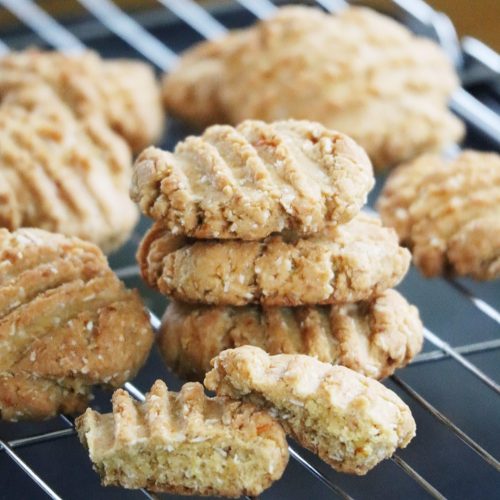 Until next time,
Sunita
STAY CONNECTED: