These mixed vegetable and cheese paratha are a meal in themselves. It has a crisp outer shell with a soft filling inside. It is literally an explosion of flavours.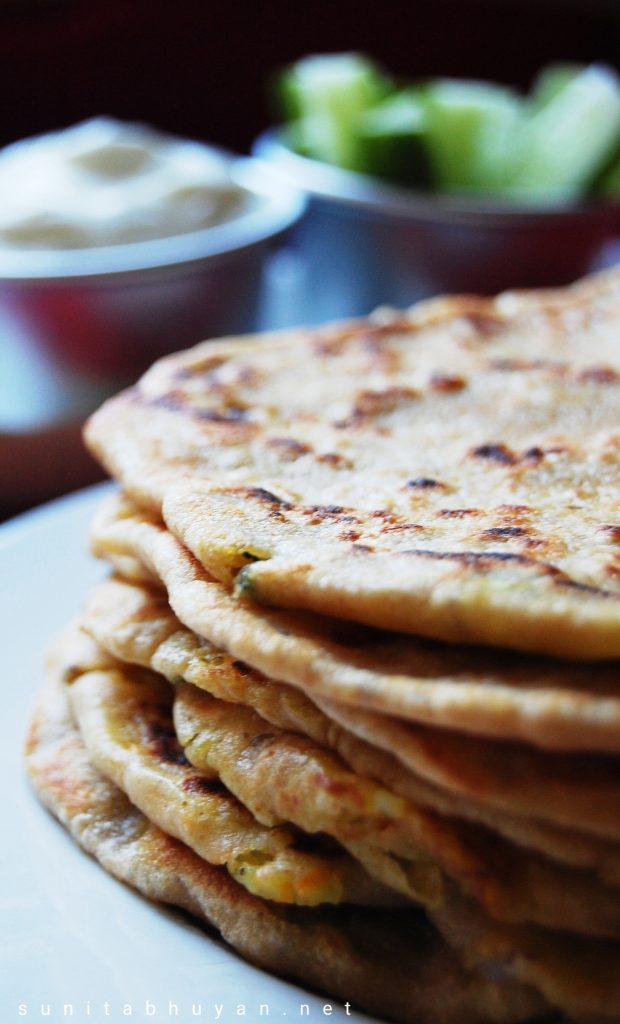 This mixed vegetable and cheese paratha is a spin off of the very popular aloo paratha which is one of the most popular breakfast dishes in North India. Aloo paratha consists of unleavened dough stuffed with a spicy mashed potato mixture and then cooked on a hot tava / griddle with butter or ghee (clarified butter). In these mixed vegetable and cheese parathas, I have added other vegetables like carrots and spinach and a little bit of cheddar cheese too. It is a good way of incorporating more vegetables into the dish, rather than having only potatoes in the stuffing. When the kids were much younger, this was particularly handy; as I could incorporate a lot of vegetables in them. Well, I still like doing that!
Aloo parathas are typically served with just some butter, ghee, chutney, pickle or yogurt. We like them with some yogurt or just some pickle.
Some things to keep in mind when making these mixed vegetable and cheese parathas-
The dough-
I have spiced up the dough a little instead of keeping it plain, to add more flavour.
The stuffing-
Always ensure that the stuffing is at room temperature. If it is warm, it will create a multitude of problems while rolling them out as the dough will tear while rolling out.
The stuffing should also be mashed in well and shaped into a ball. If the mixture is too lumpy, it will again cause problems while rolling them out.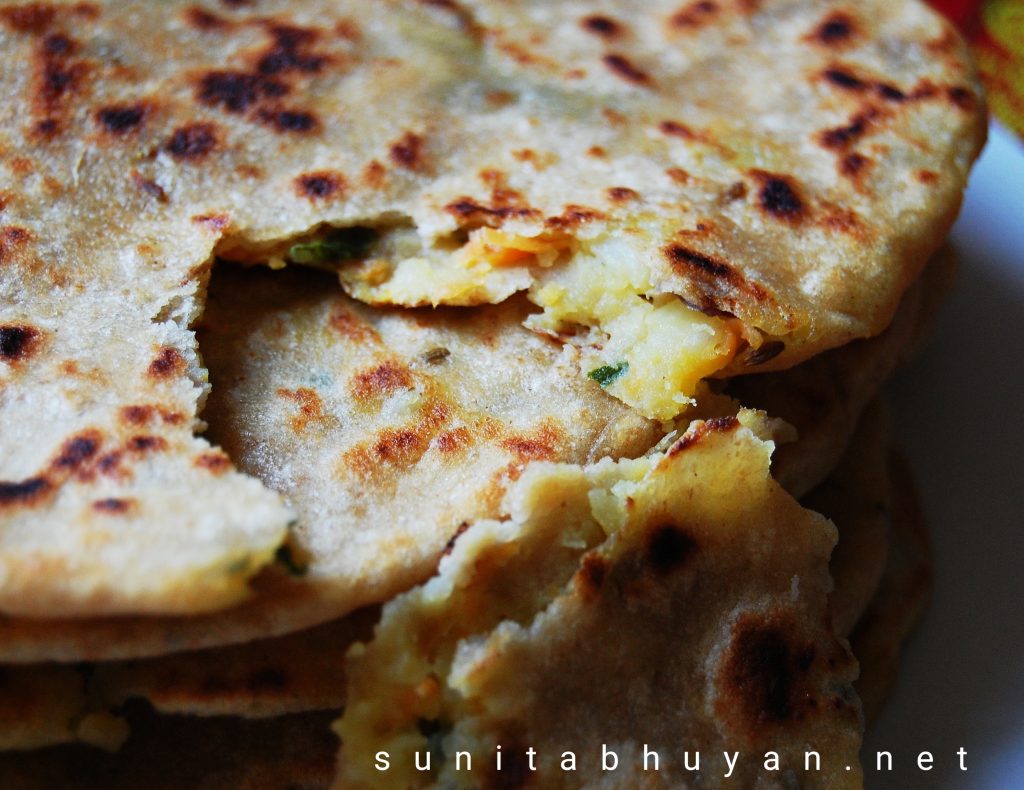 Rolling-
Grease the rolling pin and board very well. Once the stuffing is placed and covered, flatten it out to a disc by patting with your hand before attempting to roll. If you skip this, the sudden pressure from the rolling pin might tear the dough and the stuffing will ooze out. This, in turn will make it difficult to cook in the pan. Once you start using the rolling pin, apply just a gentle pressure.
Cooking –
Grease the pan well in order to avoid the parathas sticking. Turn the parathas over very gently.
Continue reading for the full /printable recipe for these mixed vegetable and cheese paratha.
---
Stay connected-
On another note, if you try any recipe from this website, do take a photo and tag me on instagram @sunita_bhuyan. I would love to see your creations! Also, do connect on other socials too; links to all my socials are given below-
STAY CONNECTED:
---
Subscribe to Sunita's World – life and food! to receive updates on latest posts, tips and recommendations straight to your inbox! Simply fill in the details below. Thank you!
---
Recipe card-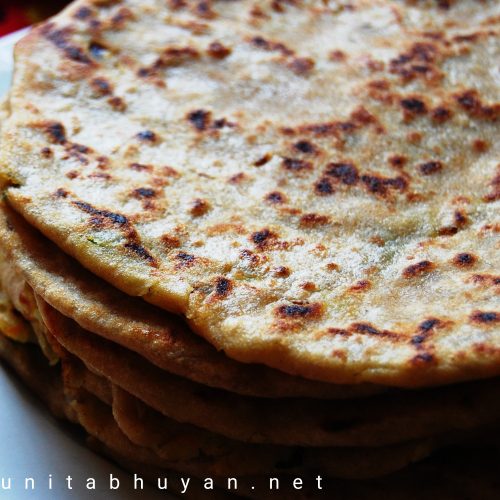 Mixed vegetable and cheese paratha
A filling and delicious paratha stuffed with an assortment of vegetables and some cheddar cheese.
Ingredients
For the dough-
5

cups

plain whole wheat flour ( atta)

1

tsp

cumin seeds

1

tsp

freshly roasted and ground cumin powder

½

tsp

salt

2

tbsp

oil (vegetable or sunflower)

2½

cups

water (more or less)
For the stuffing-
6-7 medium sized potatoes, quartered, washed, boiled, peeled and mashed

a handful of spinach leaves, finely chopped

a small bunch of fresh coriander, finely chopped

1

carrot, grated

1

onion, finely chopped

50

gms

cheddar cheese, grated

salt to taste
Extra oil for greasing and cooking
Instructions
The dough-
In a bowl, mix together the flour, cumin seeds and powder and salt.

Add the water, a little at a time, and bring everything together into a lump.

Knead the dough for a few minutes till smooth and pliable.

Cover the dough and let it rest for 15-20 minutes.

Divide the dough into 12 equal portions

Shape them each into a ball and slightly flatten between the palms of your hand. Keep aside.
The stuffing-
In a separate bowl, mix together (in mashing motions) all the ingredients for the filling and divide into 12 equal sized balls.

Ensure the stuffing is at room temperature before rolling the parathas.
The parathas-
Take a portion of the dough and place it on a greased rolling board.

With a greased rolling pin, roll out into a small thick disc.

Place a portion of the filling in the middle of the disc.

Gather up the sides of the disc to cover the filling and seal it to form a pouch.

Gently flatten and spread with your fingertips to slightly bigger discs and finally roll them gently, taking care so that the stuffing does not ooze out…about 3-4 millimetres in thickness ( well, may not be a perfect disc…at least mine weren't ;-))

Cook for 10-15 seconds and turn over to cook on the other side for the same time(if it sticks to the pan, grease it a bit more…either the tava or the parathas themselves)

Turn it over for a couple of more times till brown spots appear and the paratha is evenly cooked

Repeat the same for all the others. With practice, it gets easier.

Serve hot with some pickle, raita or yogurt or just by themselves with a blob of ghee or butter.
All the Indian recipes on this website can be found here.
You might also like to try these other recipes from this website-
Bootor dali
Bootor dali is an Assamese dish of split chickpeas (chana dal) cooked in spices. It is usually thick and eaten with Indian flatbreads though it's thinner counterpart is also enjoyed with rice.
Check out this recipe
Luci / Poori
A deep fried Indian bread made with unleavened dough. The dough is divided into small portions which are then rolled into small discs and deep fried in hot oil to puff up.
Check out this recipe
Palak paneer
An Indian dish of paneer (Indian cottage cheese) cubes in a spinach gravy. Soft cubes of paneer in a smooth spinach gravy- the perfect accompaniment to Indian flatbreads and rice.
Check out this recipe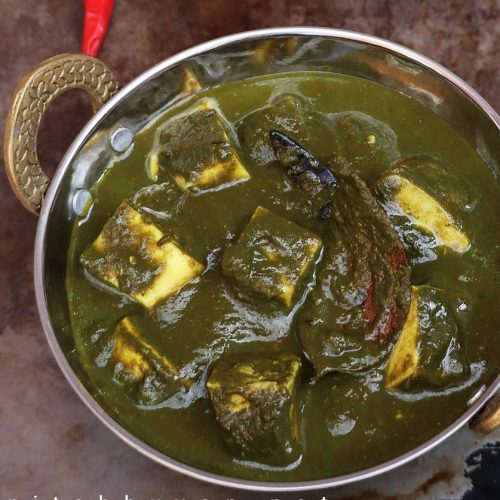 Until next time,
Sunita
STAY CONNECTED: