This chicken and vegetable spaghetti soup is just what you need on a cold, grey day! It's warmth and colour is perfect to lift one's spirits.
It seemed only a short while ago that the trees in our backyard were once again renewed with life after the bare winter months. Now it seems as if they are going to be bereft of any very soon. But that's autumn; doing away the old to make way for the new! At such times, with the weather not brightening things up, a bowl of nice hot soup goes a long way in recreating some of the warmth, that one craves for. Sitting round the table with your loved ones, ladling hot soup into bowls and enjoying them, does seem to spread that warm glow around.
Personally, I've always found a bowl of soup very nourishing and invigorating. We have had this chicken and vegetable spaghetti soup on many a chilly night. It is very simple to assemble and has a lot of vegetables thrown in; in fact one can add as many as one wants. Apart from the health factor, it also adds to the attraction with all their natural colour, especially if you have young ones. The soup has very subtle flavours which allows those of the other ingredients to retain their own. It fills you up without leaving you feeling heavy. All in all, we love it; such dishes makes one reflect on how the simple, subtle flavours can spread so much joy around.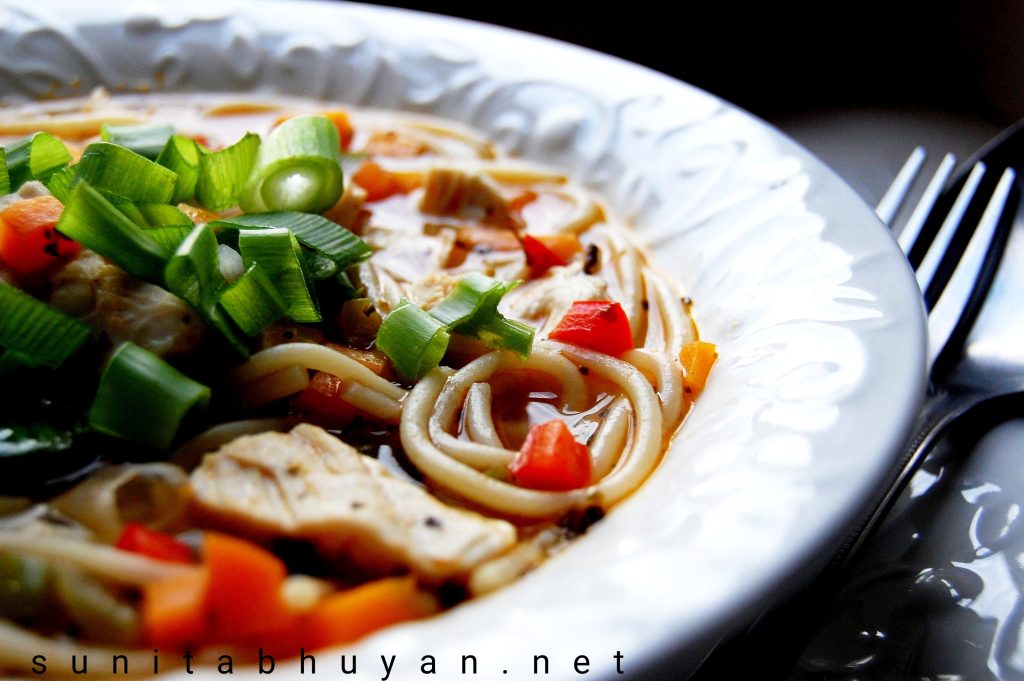 Continue reading for the full /printable recipe for this chicken and vegetable spaghetti soup.
---
Stay connected-
On another note, if you try any recipe from this website, do take a photo and tag me on instagram @sunita_bhuyan. I would love to see your creations! Also, do connect on other socials too; links to all my socials are given below-
STAY CONNECTED:
---
Subscribe to Sunita's World – life and food! to receive updates on latest posts, tips and recommendations straight to your inbox! Simply fill in the details below. Thank you!
---
Recipe card-
Chicken and vegetable spaghetti soup.
A healthy and easy to make soup full of flavour.
Ingredients
100

gms

spaghetti, cooked according o packet instructions

400

gms

chicken breast

2

cups

finely diced mixed bell peppers (I used green, red and yellow)

1

onon, sliced

1

carrot, finely diced

2-3 cloves of garlic, crushed

1

tomato, finely chopped

2

tbsp

olive oil

2

tbsp

dried oregano

salt and freshly ground pepper to taste

2

tbsp

lemon juice

2-3 chopped green parts of spring onions to garnish (optional)
Instructions
Boil the chicken in 6-7 cups of slightly salty water. Remove the chicken pieces and reserve the stock.

Tear the chicken into small chunks and keep aside.

Add the onion, garlic, peppers and carrot and stir for 2 minutes over medium heat.

Add the tomato and stir for another 2 minutes.

Add the chicken and herbs and stir for 3-4 minutes.

Add 4 cups of the stock and add the cooked spaghetti.

Season with salt and freshly ground pepper.

Add the lemon juice and simmer over medium heat for 6-7 minutes.

Remove from heat and ladle into bowls.

Garnish with the chopped spring onions and serve immediately.
All the chicken recipes on this website can be found here.
You might also like to try these other recipes from this website-
Roasted butternut squash and sweet potato soup
Chunks of butternut squash and sweet potato are roasted along with onion and garlic and flavoured with herbs and spices. Everything is then blended together to form a creamy soup.
Check out this recipe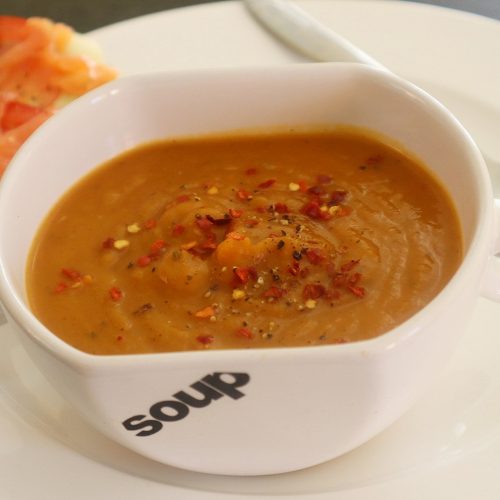 Baked leek and sage chicken patties
Ground chicken thighs (boneless and skinless) are mixed with an array of herbs and spices, shaped into patties and baked. Great on their own or as a burger or inside a tortilla wrap.
Check out this recipe
Lemon chicken
A mild lemon flavoured chicken recipe which can be made in one pan from start to finish. A great accompaniment to some fried rice or stir fried noodles.
Until next time,
Sunita
STAY CONNECTED: