This gingerbread house l design inspiration brings back so many beautiful memories. The design for the house was inspired by one of mine and the kids favourite fairy tales, and we had so much fun putting it together. The kids also managed to weave a story around it! In this post, I will be sharing those memories and how we put it together. Hopefully you too will be able to glean some ideas and create precious memories in the process!
---
Memories-
Many a time, I fondly dwell on food and my childhood memories with my ma; and it makes me wonder about those that I have been blessed to create with my kids. Browsing through the archives, their little hands crop up so many times- stirring this, cutting out that! One of them is this gingerbread house that we created years ago! There was also a beautiful story spun around it!
---
Have fun!
Before we move further, I want to make it clear that this post does not contain any particular and detailed recipe for the gingerbread as such. I was going through my photo archive and came across these photos of the gingerbread house that I made with the kids one Christmas, quite a few years ago. So, I decided to post the pictures here for some design inspiration. This is more of a visual post. Some of you might find it useful for some last minute design ideas. And if you have young ones around, perhaps you too could involve them as well. It doesn't matter if it turns out a bit rough around the edges in their hands; like us, you too will have created memories to last a lifetime. And speaking from experience, time does fly by too quickly!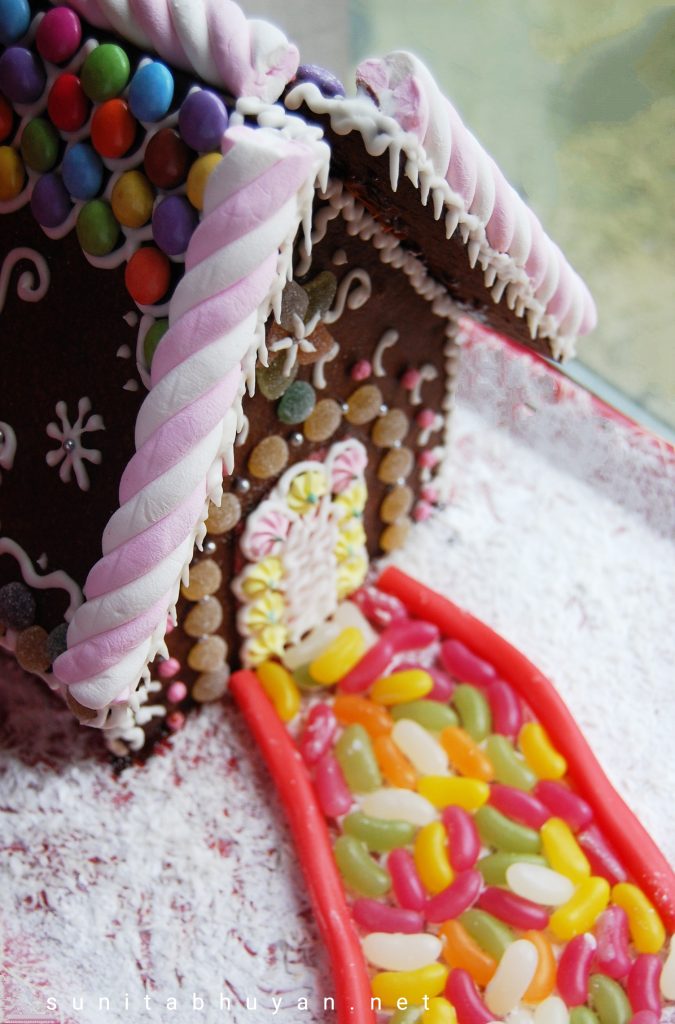 ---
Continue reading to find out where we drew our inspiration from and how we planned and put it all together!
All the baking recipes in this website can be found here.
You might also like to try the following recipes from this website-
Oats, chocolate and ginger cookies (eggless)
Easy to make eggless oats, chocolate and ginger cookies. They have a nice bite to them and the ginger gives it a nice kick; perfect with your cuppa or glass of milk.
Check out this recipe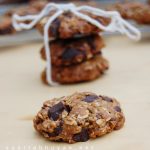 Coconut and cumin cookies (eggless)
Delightful savoury cookies which can be enjoyed on their own or as a base for various cheeses and chutneys. Also has a slight hint of chillies.
Check out this recipe
Spiced whole wheat and oats cookies
These cookies consist of an assortment of aromatic spices that lend their unique flavours.
Check out this recipe
---
Subscribe to Sunita's World – life and food! to receive updates on latest posts, tips and recommendations straight to your inbox! Simply fill in the details below. Thank you!
---
Stay connected-
On another note, if you try any recipe from this website, do take a photo and tag me on instagram @sunita_bhuyan. I would love to see your creations! Also, do connect on other socials too; links to all my socials are given below-
STAY CONNECTED:
---
---
The fairytale-
How many times have I read Hansel and Gretel while growing up, how many times have I read the story to R and A, when they were little and how many times they have read it themselves! And yes, how many times have I as a child, and then, my little children, thought lovingly about the gingerbread house in the woods. If only, there was no wicked witch involved!
---
It was just before Christmas, a good few years ago, when we had moved house. There was plenty of ice and snow around. The kids school holidays had started and they were excited about the upcoming days.
Once we had settled in, and the house was beginning to look more like a home and less of a storehouse, me and the kids got down to business. They had taken the move quite well, even pitching in to help. This was like ending the year and starting a new one with dreams. And as far as dreams go this gingerbread house fit the bill perfectly. After all, isn't it the stuff dreams are made of?
---
The planning-
But we did not call this the gingerbread house; in fact we or rather R and A called it the Candy Cottage. They drew up all sorts of designs, what sweets to pick and where to put them. 'A' helped to cut out the templates while R got her hands dirty and also helped in making the cookie dough. We had to bake enough for 1 front wall, 1 back wall, 2 side walls and 2 slabs for the roof; so 6 pieces in total. 'A' also read out instructions for the various steps.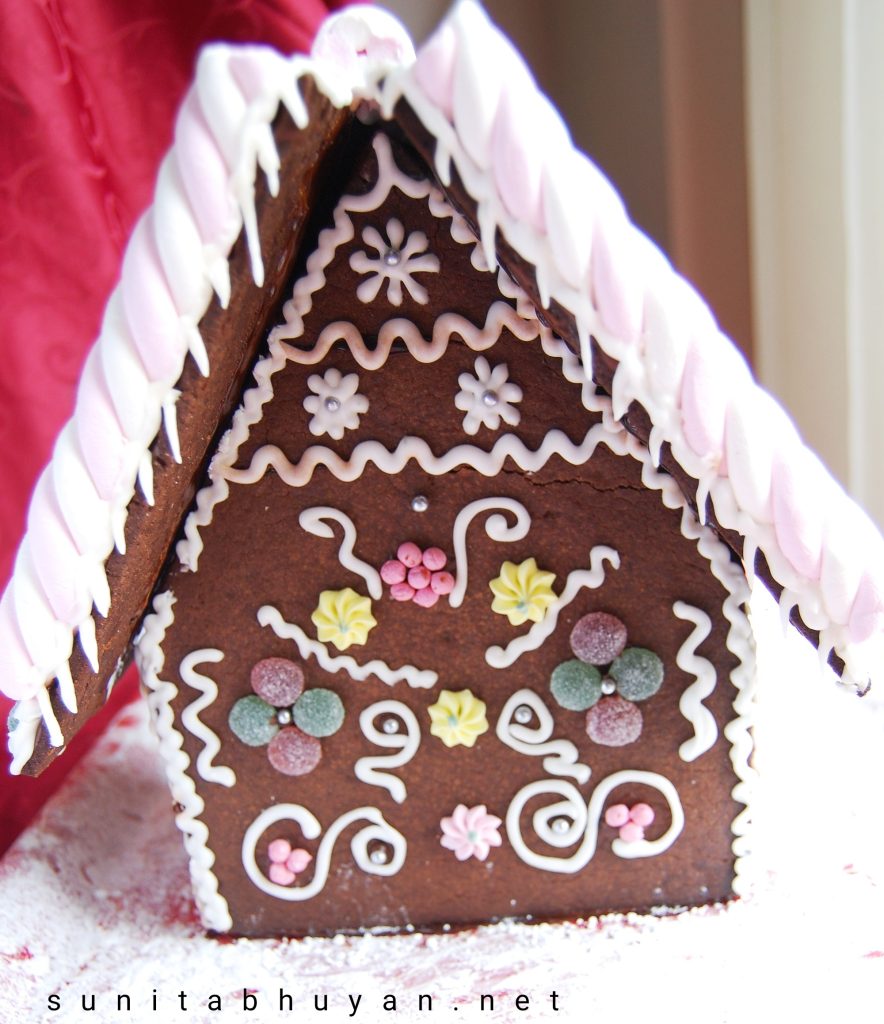 Baking, arranging-
The cookie dough was put together and rolled out. We then placed templates on it and cut out the various shapes. Once the gingerbread bases were baked and cooled, we got down to arranging the sweets on them. Each placement of the candies were done by R and A. It helps to arrange them first before actually sticking them on to get an idea of the design.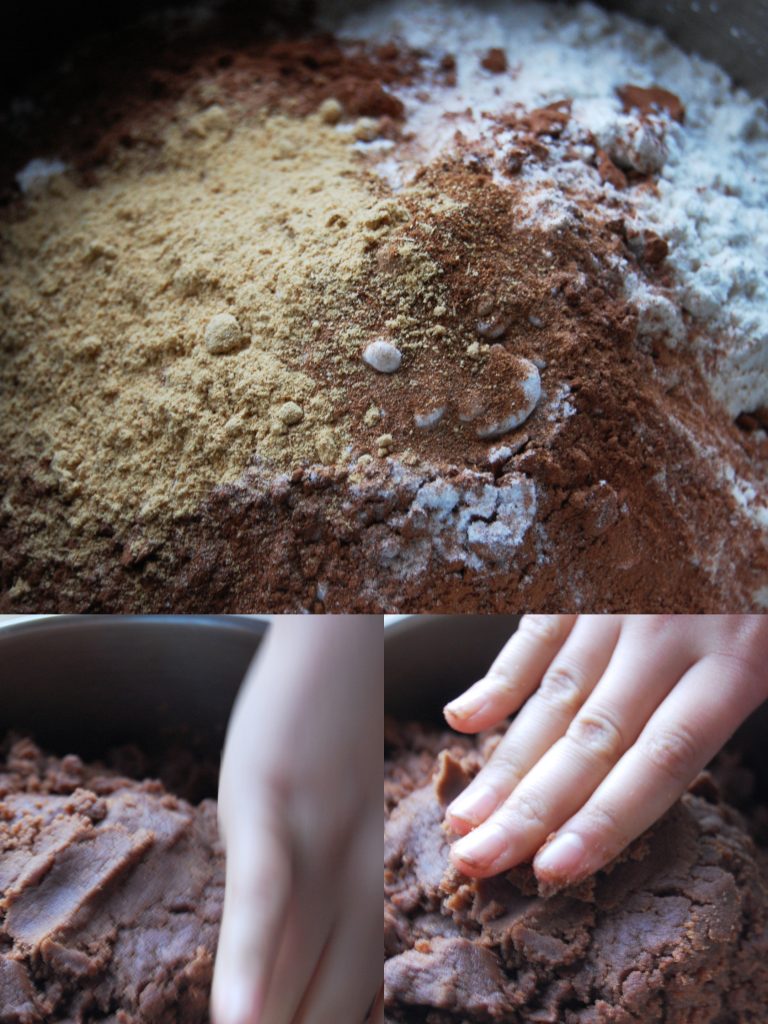 ---
Sticking-
I melted some chocolate with which they stuck the candies while I did the icing (I used royal icing). The mites were a bit tired by the time all the fixtures were added. And they needed to dry up before assembling the cottage. As it was getting quite late, they were put to bed after a little persuasion.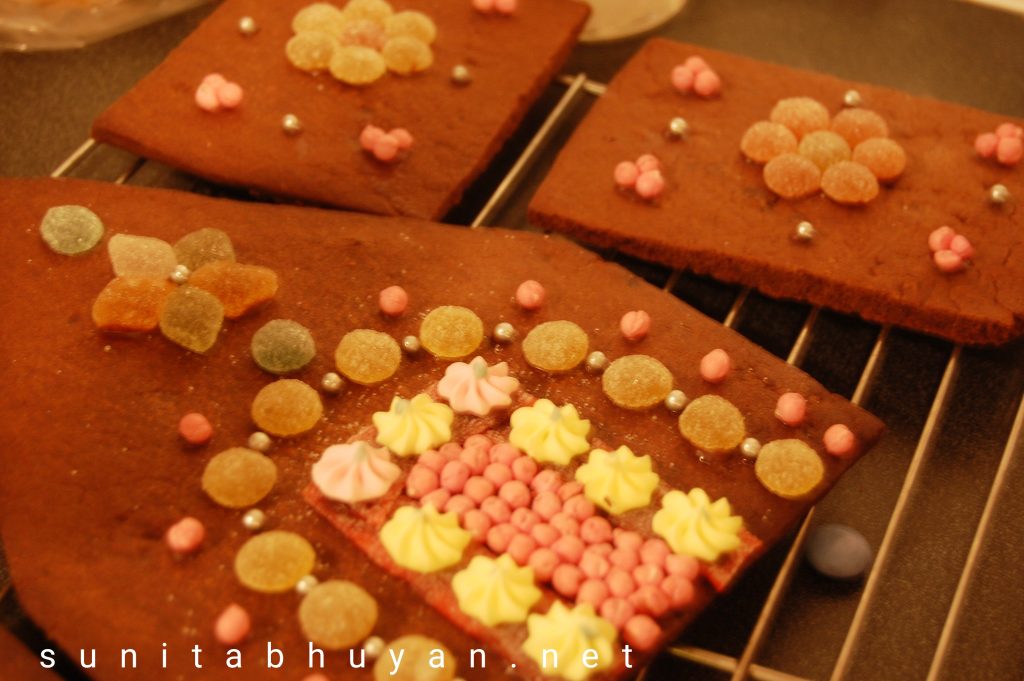 ---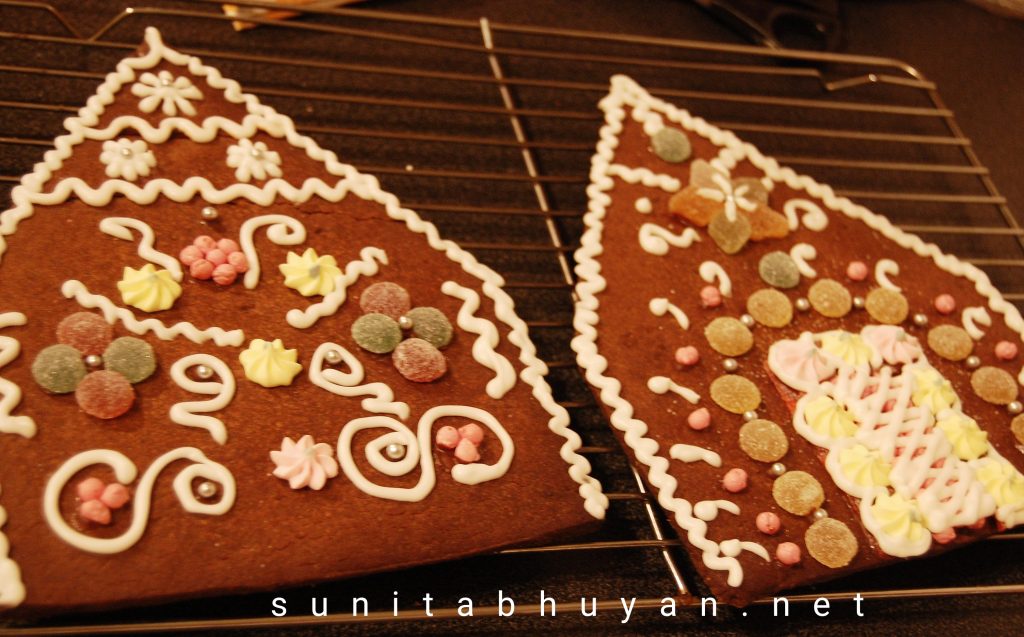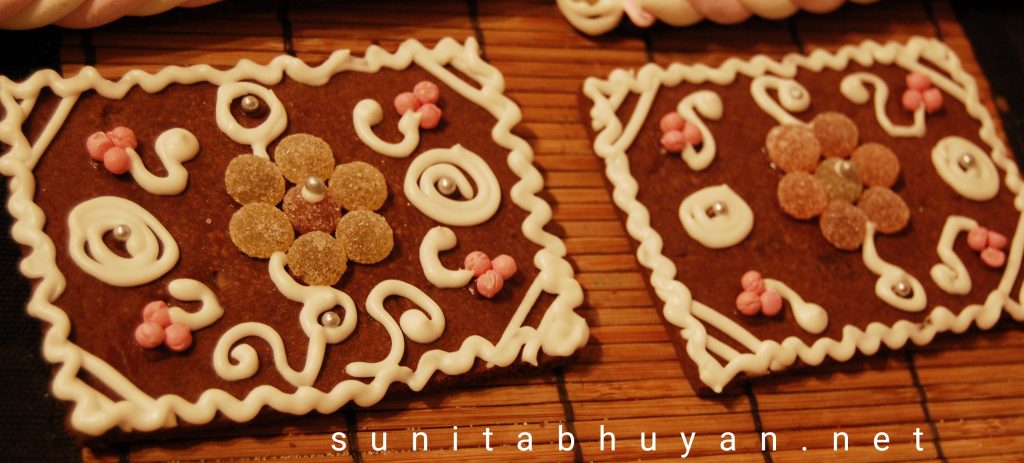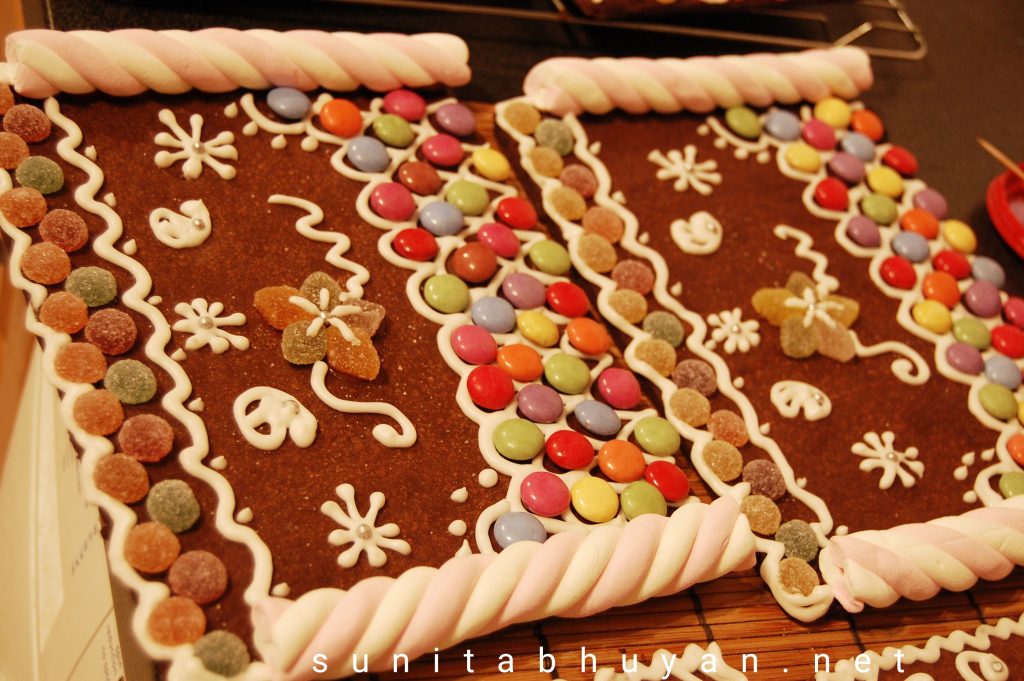 ---
Getting the walls up-
I must say that I was a bit glad about the kids being in bed as we needed to use hot sugar syrup as glue while constructing the Candy Cottage. And it would be a bit risky to have two excited kids around. So I worked late into the night. The walls were put together, the roof went up, the jelly bean path was laid and the snow ( desiccated coconut and icing sugar) was dusted around. And then, I went to bed. of course, there were squeals of delight in the morning, and I could see my Hansel and Gretel eyeing the house with longing eyes. Well, their mom did too!
---
Tom? fairy? Snowy?
It went further when Tom arrived on the scene. Tom who? Yes Tom! That was the name of the character conjured up by our little resident author R.
And also some other little figurines . R was so inspired that she wanted to weave a story around it. The house was to be called Candy Cottage with Tom as the central character. Tom, who had lost his way and was tired, arrives at the Candy Cottage.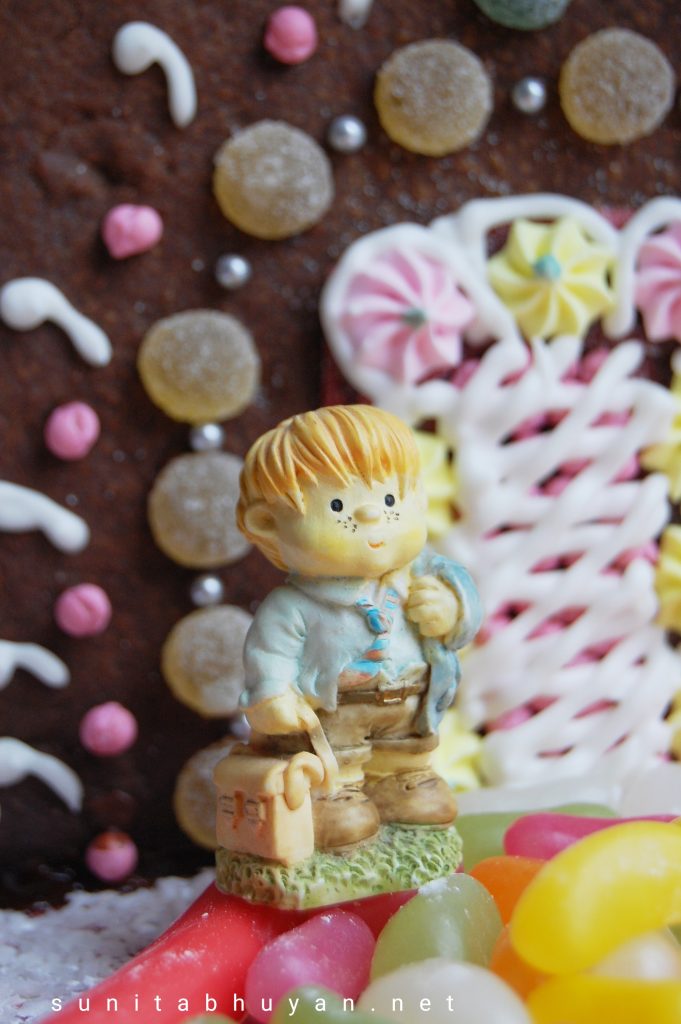 ---
He looks around for a while with wonder at coming upon such an unusual setting. He begins to look around for signs of anyone living there. Perhaps the owners would let him spend the night?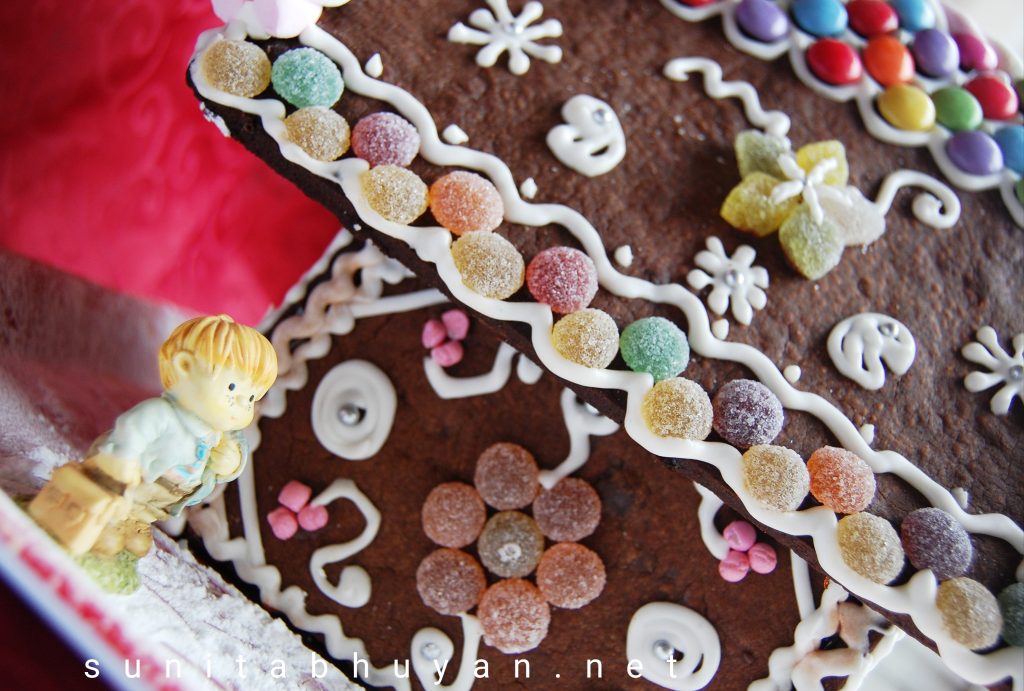 ---
In the cottage lived not a mean witch like the one in Hansel and Gretel ( "I want the story to be happy", R muttered!) And happy, it surely was! The cottage was inhabited by a very friendly fairy. Then, there was also 'Snowy', who was the resident snowman and " jolly cook / baker" of the cottage. They made Tom feel very welcome and allowed him to stay and rest until he was ready to go on his way.
---
Figurines-
Those little figurines? We've had the one of 'Tom' for years and the fairy and the 'Snowy' belonged to R. The trio were perfect for the story!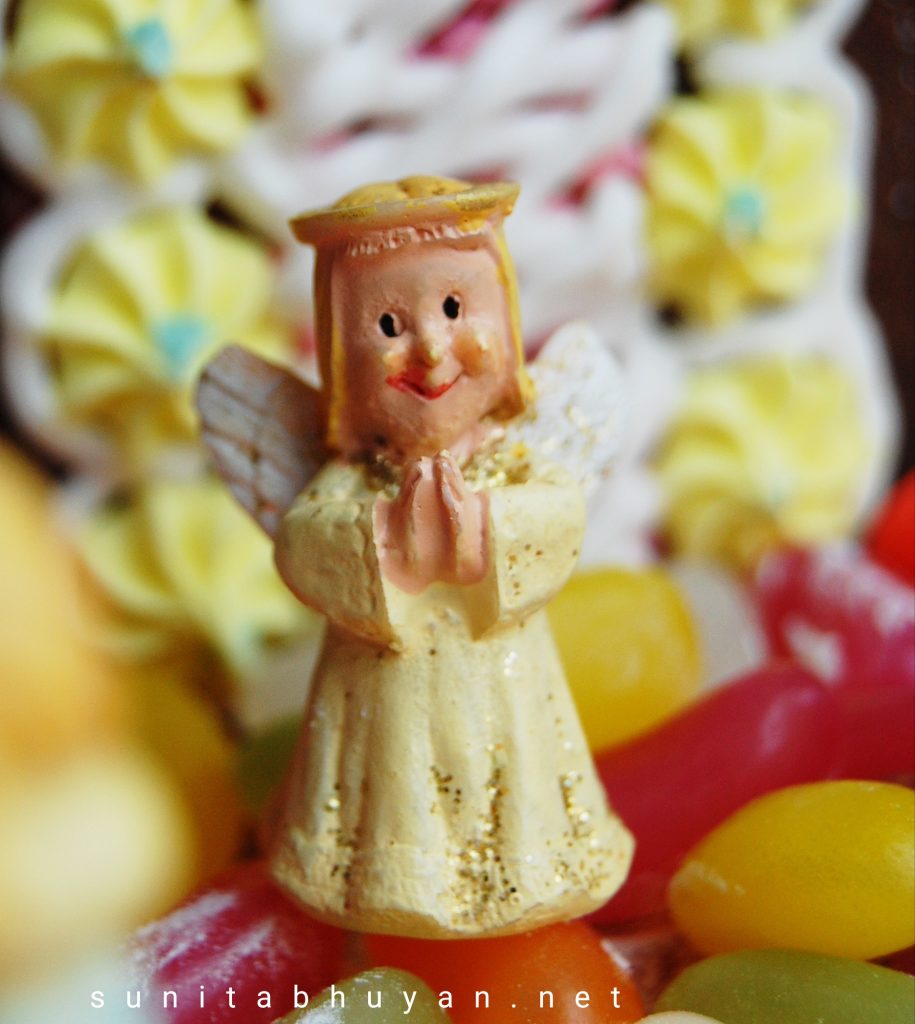 ---
Memories for a lifetime!
This was such a wonderful project for us, one which we thoroughly enjoyed. We are usually quite good on the food front and made sure the kids had regulated access to sugary treats. But that was an exception; perhaps for being good through out the year?
Those little hands in the previous pictures are now bigger than mine; my two little helpers are now taller than me! And as I eagerly await their arrival home for the holidays from their respective universities, I can't help but wonder as to how the time has flown!
---
You might also like to try these other recipes from this website-
Cumin cookies (eggless)
Easy to make cookies that are full of flavour ; a great accompaniment to your cuppa
Check out this recipe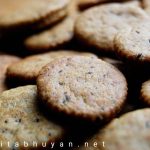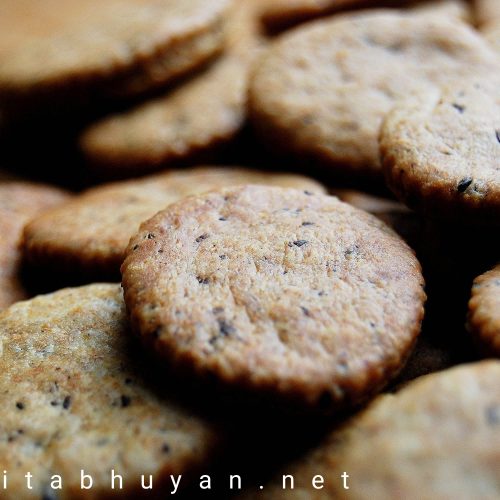 Eggless banana chocolate chip cookies
A delightful cookie alongside your cuppa or a glass of milk; consists of all good ingredients and is not overtly sweet.
Check out this recipe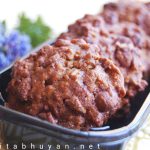 Whole wheat , eggless, coconut and orange cookies
A whole wheat, eggless, coconut and orange cookie recipe; crisp and not overtly sweet.
Check out this recipe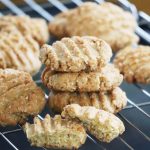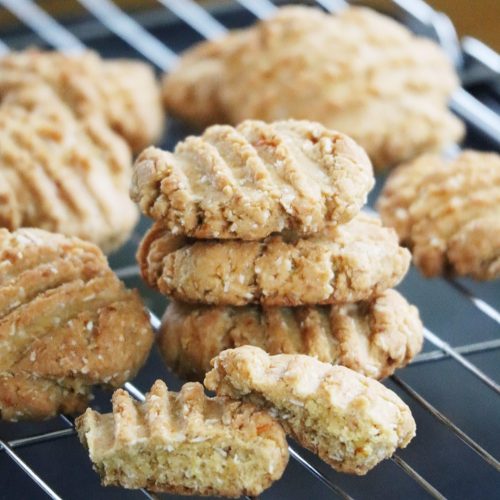 ---
Until next time,
Sunita
STAY CONNECTED: