These cumin cookies (eggless) are very easy to make and are a great accompaniment for a cuppa; nice break from the regular sweet cookies.
Cumin-
Cumin is one of the most popular spices in my kitchen cabinet. It is also a spice that I, like so many of you, use regularly during my culinary concoctions. My spice rack is hardly bereft of cumin in both their whole and powdered forms. The seeds popping in the hot oil and exuding a heady aroma, the powder sprinkled lovingly over so many vegetarian and non vegetarian dishes are indeed a delight. This time, in my kitchen, a handful of cumin have found their way into some little cookies. Freshly roasted and coarsely grounded, they were added to spice up these little, thin cookies. Well, they are actually quite thin and crispy; something that can be popped into the mouth at ease.. And of course with that distinct cuminy flavour. They also have a very light feel to them.
Old recipe / tried and tested by many-
The recipe for these cumin cookies (eggless) is also one of my older ones. And it was quite popular at the time. If you google 'Sunita Bhuyan cumin cookies recipe', you will find that many people have tried and tasted these with great success. Unfortunately, all those posts are linked to my earlier domain, with which I am no longer associated (read about it here.) Since I still had the recipe and the photos to go along with it, I decided to post them here so that they are available to anyone who would like to try them.
Whole wheat-
I made these cookies with plain flour, but you can also make them with whole wheat too; in which case, you might need a little more liquid to make the dough.
Serving suggestions-
These cookies are great on their own, but will also be great with savoury toppings like various cheeses, chutneys etc. As mentioned earlier, they are quite thin and are more like crackers. Hence, they would be perfect with various toppings.
Continue reading for the full / printable recipe for these cumin cookies (eggless).
---
Subscribe to Sunita's World – life and food! to receive updates on latest posts, tips and recommendations straight to your inbox! Simply fill in the details below. Thank you!
---
Stay connected-
On another note, if you try any recipe from this website, do take a photo and tag me on instagram @sunita_bhuyan. I would love to see your creations! Also, do connect on other socials too; links to all my socials are given below-
STAY CONNECTED:
---
---
Recipe card-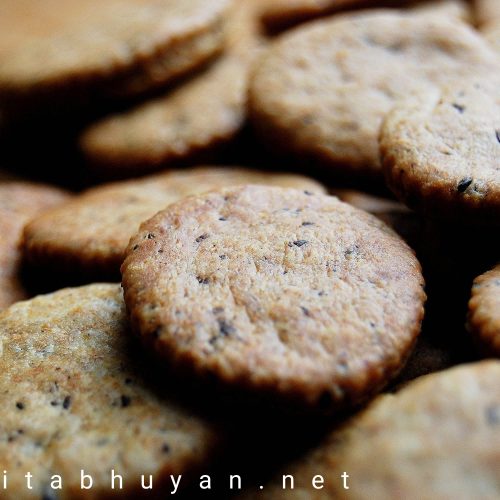 Cumin cookies (eggless)
Easy to make cookies that are full of flavour ; a great accompaniment to your cuppa
Ingredients
2

cups

plain flour

2

tbsp

cumin seeds

½

tsp

bicarbonate of soda

1

tsp

salt

½

tsp

sugar

5-6 tbsp of sunflower or vegetable oil

½

cup

milk
Instructions
Pre heat the oven at 180 deg C.

Line and grease a baking tray.

In a mixing bowl, add the flour, baking soda, sugar and salt and mix well.

Add the oil and rub it into the flour mixture with your fingertips.

Add the milk and bring everything together till the dough does not stick to the hand. But do not over knead, or they will turn out really hard.

Transfer the dough to the rolling board and roll out to about 2 mms thick.

With a 2inch round cookie cutter, cut out circles and arrange on the prepared baking tray. I made around 50 of them. Of course, it will not be possible to cut out so many at one go. Just bring together the scrapings after cutting out the first batch, roll out again and repeat the process till the entire dough has been used up.

Place the tray in the centre of the pre heated oven and bake for 20-25 minutes or till the top browns lightly.

Remove the cookies from the oven and transfer them to a cooling rack. Cool completely before storing them in air tight containers.
---
All the baking recipes on this website can be found here.
You might also like to try these other recipes from this website-
Eggless banana chocolate chip cookies
A delightful cookie alongside your cuppa or a glass of milk; consists of all good ingredients and is not overtly sweet.
Check out this recipe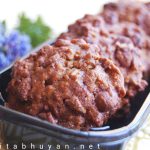 Cheese bites l Cheese cookies
These little crispy cheese bites l cheese cookies are really addictive and the pungency of the nigella seeds complement them very well. The Red Leicester cheese gives them a lovely orange hue too! Great if you're looking for a savoury treat to nibble on.
Check out this recipe
Oats, chocolate and ginger cookies (eggless)
Easy to make eggless oats, chocolate and ginger cookies. They have a nice bite to them and the ginger gives it a nice kick; perfect with your cuppa or glass of milk.
Check out this recipe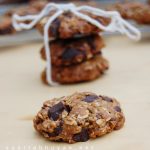 Until next time,
Sunita
STAY CONNECTED: