There is nothing better than cooking with home grown produce. And this fig and greengage salad is one of those. It is a mixture of textures and freshness. The big, ripe figs and the sweet greengage plums came from my garden and so did the sweet and colourful yellow and red cherry tomatoes. As we love cucumber, ad a bit of that too! A tangy dressing was all that was needed to zing up this fresh salad. Simplicity at its best.
To serve-
This salad can be enjoyed on it's own or as an accompaniment to other dishes. We enjoyed the salad on a bed of spiced and herbed couscous. I rustled up the couscous at the last minute, so didn't note down exact measurements and eyeballed the ingredients. But just to give an idea, here's how I made it. I added some spices (paprika and crushed red chillies) and herbs (Italian seasoning) to the dry couscous along with a couple of handful of raisins, few tablespoons of sunflower and pumpkin seeds and some salt to taste. I then mixed everything together in a bowl and poured very hot water over it; enough to just about cover it. I then covered the bowl with a tight fitting lid and left it undisturbed for a few minutes. Once the couscous had absorbed the liquid, I used a fork to fluff it up before serving.
It was a lovely meal. The freshness of the salad, lightness of the couscous along with the sweet raisins and bite from the seeds complemented each other.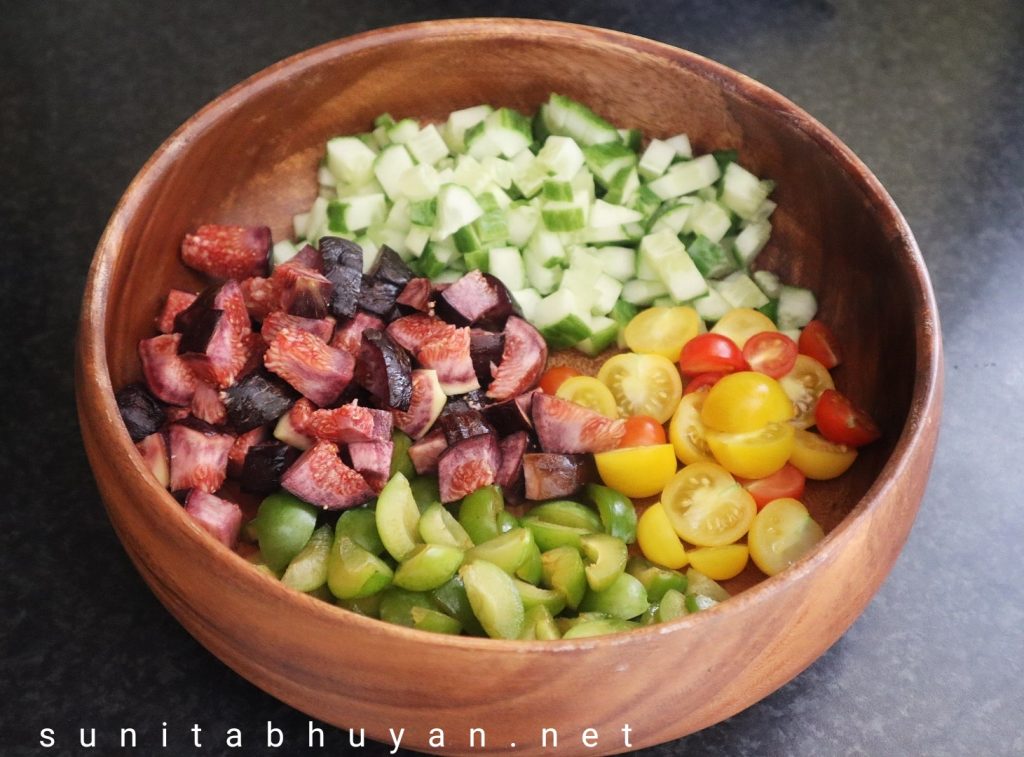 The salad-
Now, let's go back to the fig and greengage salad. My fig tree is a relatively new one compared to the greengage, which is almost ten years old. I got just one ripe fig last year and this year there were three. So, things are surely getting better! The greengage, on the other hand, has been providing us with the sweetest fruit for a good few years now. While we like them just as they are, quite a few of them also go into salads like this one. It is a simple salad where the taste of the fresh produce comes through. As mentioned earlier, a few red and yellow baby tomatoes from the garden were also thrown in.
Continue reading for the full, printable recipe for this fig and greengage salad.
---
Subscribe to Sunita's World – life and food! to receive updates on latest posts, tips and recommendations straight to your inbox! Simply fill in the details below. Thank you!
---
Recipe card-
Fig and greengage salad
An easy to make fresh salad with a zingy dressing made with mostly homegrown produce.
Ingredients
2

ripe figs, chopped

about 12-15 ripe greengage plums, stoned and quartered

½

a large cucumber, chopped

10-12 red and yellow baby tomatoes, halved
For the dressing-
2

tbsp

olive oil

juice of 1 lemon

a couple of mint leaves, crushed

1

tbsp

honey

salt to taste
Instructions
In a small bowl, add all the ingredients for the dressing and keep aside for a few minutes or until ready to serve.

In a serving bowl, add the figs, tomatoes, greengages and cucumber.

Just before serving, pour the dressing over the figs etc.

Mix well and serve immediately.
All the vegetarian recipes on this website can be found here.
You might also like these to try these other recipes from my blog-
Watermelon and grapefruit limeade
A refreshing non alcoholic thirst quencher for those hot, summery days.
Check out this recipe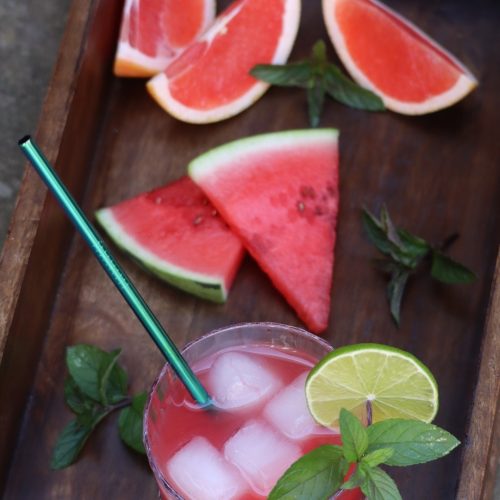 Hot and sweet gooseberry chutney
Hot and sweet gooseberry chutney laced with Indian spices and sweetened with jaggery
Check out this recipe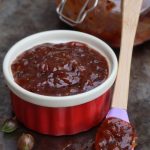 Kala chana – alu chaat l Black chickpeas and potato chaat
Kala chana / black chickpeas and potatoes are mixed with an assortment of vegetables, fruits and spices (fresh and dried) and brought together with some homemade mint-coriander and date-tamarind chutney. A healthy snack suitable for vegans too.
Check out this recipe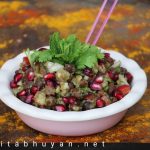 Until next time,
Sunita
STAY CONNECTED: