This hot and sweet gooseberry chutney was made from one of the batches of harvest from my homegrown gooseberries. The chutney is flavoured with Indian spices and the sweet note comes from jaggery. It is quite quick and easy too; comes together in approximately 15 minutes. The hot and sweet notes make it truly lip smackingly delicious.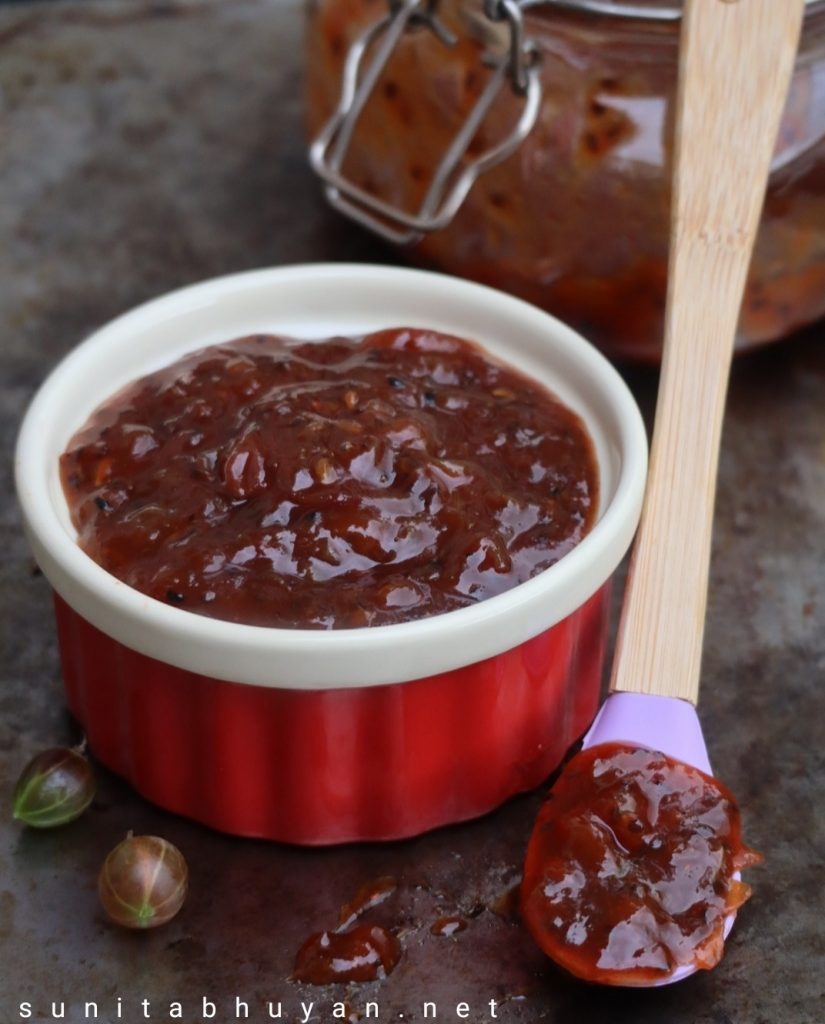 This year the harvest from my gooseberry plant has not been too bad. It has yielded ripe and juicy fruits. It is truly a joyous feeling to cook with homegrown produce.
I am a huge fan of hot and sweet combinations and this fit the bill perfectly. It is sweet when you put it in your mouth with a slight heat at the back of your throat.
Gooseberry type-
Back in India, I have grown up eating gooseberries. Those were more roundish in shape, had a stone in the centre and were very tart. These gooseberries that I have grown in my backyard here in the UK can be quite tart when they are green. But if left to ripen, they get plump and juicy and the mouth feel is almost similar to grapes. Instead of one stone in the centre, like their Indian counterpart, they have several tiny ones.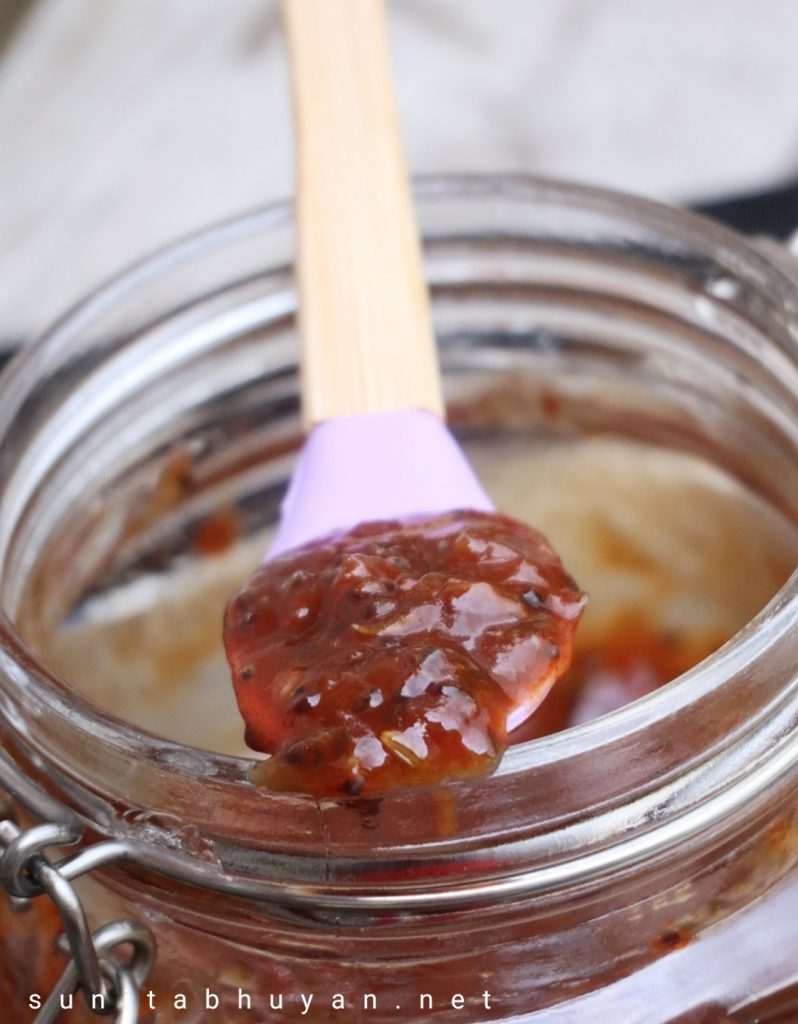 To serve-
This chutney will go perfectly with some crackers. It can also be a great condiment with Indian snacks too!
Continue reading for the full printable recipe for the hot and sweet gooseberry chutney.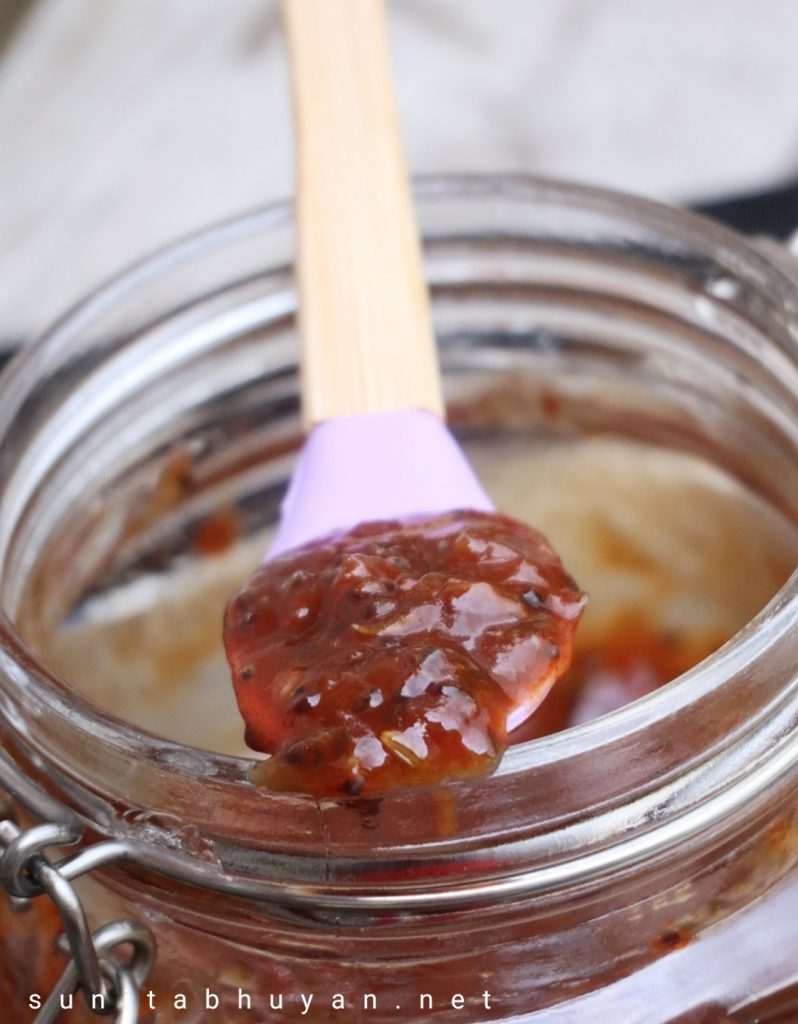 ---
Subscribe to Sunita's World – life and food! to receive updates on latest posts, tips and recommendations straight to your inbox! Simply fill in the details below. Thank you!
---
Recipe card-
Hot and sweet gooseberry chutney
Hot and sweet gooseberry chutney laced with Indian spices and sweetened with jaggery
Ingredients
350

gms

ripe gooseberries, washed, topped and tailed

2

tbsp

mustard oil

1

whole red chilli

1

bay leaf

4

pods of cardamom

2 inch piece of cinnamon

1

tsp

paas puron (see notes below)

1

tsp

fennel seeds

½

tsp

turmeric powder

1

tsp

cumin powder

1½

tsp

chilli powder

½

tsp

salt

1

cup

grated jaggery
Instructions
Heat the mustard oil in a pan.

Add the bay leaf, whole red chilli, cinnamon, cardamom and paas puron.

When the seeds begin to splutter, add the gooseberries over medium to high heat. Stir well for a minute.

Reduce the heat between low to medium. Add the turmeric, cumin, coriander and chilli powders. Keep stirring. The fruit will release its juices and start to soften.

Add the fennel seeds and mix in.

Add the salt and mix in. Keep stirring till the juices start to thicken slightly.

Add the jaggery and continue to stir till it melts completely and the mixture is bubbly.

Keep stirring constantly until the mixture thickens.

It is ready when a ladle pushed through the mixture makes a mark but soon covers it. It should fall easily from a spoon but shouldn't be watery.

Remove from heat and cool completely before storing in air tight containers. I kept mine in the fridge.

The chutney will thicken further on cooling, so ensure that it is not too thick when it is removed from heat.
Notes
Paas puron-A whole spice blend consisting  of equal parts of nigella seeds, cumin seeds, fennel seeds, black mustard seeds and fenugreek seeds
Although, the paas puron blend contains, fennel seeds, I added a little extra as it adds to the taste.
All the condiment recipes on this website can be found here.
You might also like to try these other recipes from my blog-
Mint – coriander chutney
An easy to put together Indian style chutney consisting of fresh mint, coriander, spices and lemon juice. My recipe calls for some peanuts too. A great condiment for Indian dishes- street food, grilled dishes etc
Check out this recipe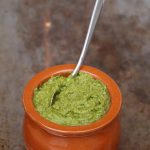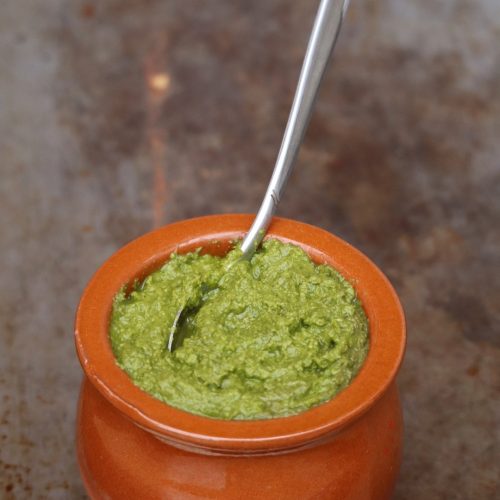 Roasted tomato and garlic dip
An easy tomato and garlic dip recipe to accompany savoury goodies.
Check out this recipe
Bogorir jola mitha asar l Assamese hot and sweet jujube pickle
A hot and sweet Assamese (from Assam, in North East India) style jujube pickle which is sure to tickle your taste buds; simply irresistable! And easy to make too.
Check out this recipe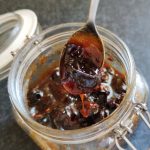 Until next time,
Sunita
STAY CONNECTED: