In my last post, I had shared some momos / steamed dumplings. Back home the momos were always accompanied by a red chilli based chutney and a clear soup. The chutney used to be super hot; well, by my standards at least. I skipped the soup and made a milder roasted tomato and garlic dip to go with them. Of course, if you like it spicier, you can always adjust the heat.
On the weather front, after days of very wet weather, the sun god has woken up and has been blessing us with some glorious sunshine. My little garden has surely perked up.
Coming back to the recipe for today, this is a very convenient, healthy and easy dip to make. All the hard work is done in the oven and then everything just needs to be blended together. I have also made a short instruction video to accompany the recipe.
We enjoyed this dip with the momos / steamed dumplings that I shared in my previous recipe which you can find here.
Roasting imparts amazing flavours to the tomatoes and garlic. As I mentioned earlier, this is a mild dip; and can easily be adapted for the spicier palate. We enjoyed it as it was with the dumplings and the combination went down a treat.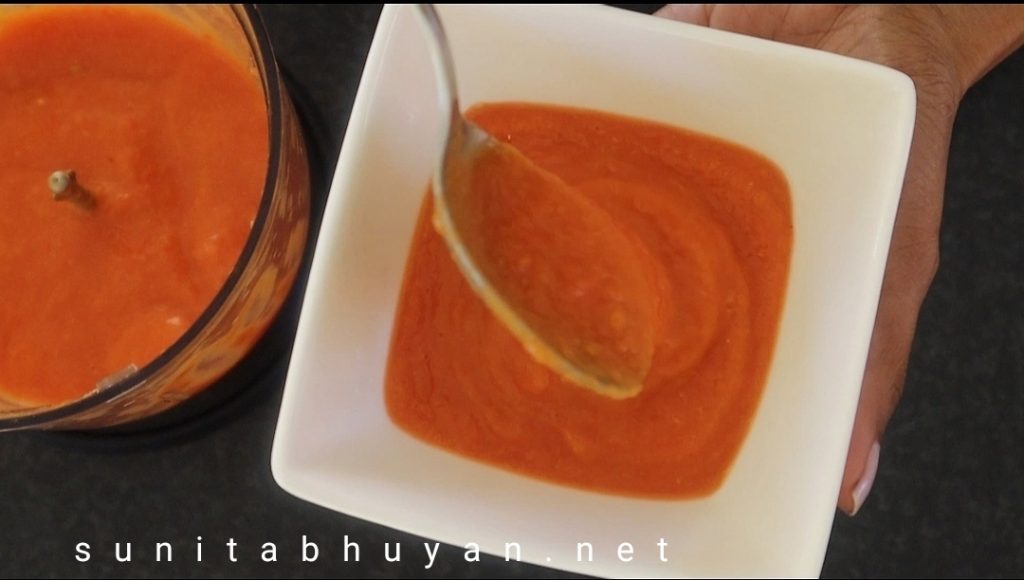 Continue reading for the full printable recipe for this roasted tomato and garlic dip
---
Subscribe to Sunita's World – life and food! to receive updates on latest posts, tips and recommendations straight to your inbox! Simply fill in the details below. Thank you!
---
Recipe card-
Roasted tomato and garlic dip
An easy tomato and garlic dip recipe to accompany savoury goodies.
Ingredients
3

tomatoes

1

head of garlic

5-6

tsp

olive oil

½

tsp

salt (may need more)

1

tsp

sugar

½

tsp

chilli powder
Instructions
Pre heat the oven at 200 deg C.

Score the skin of the tomatoes, vertically ( do not run the knife deep, just lightly score). Place in an oven safe bowl.

Rub 2-3 tsp of olive oil and the ½ tsp salt all over the tomatoes.

Cut the head of garlic in half horizontally and place on a piece of foil big enough to be able to wrap it.

Drizzle the remaining olive oil over the garlic halves. Wrap the foil around them and seal to form a parcel.

Place the garlic parcel along with the tomatoes in the baking pan.

Place the pan in the oven and bake for 20-25 minutes or till the tomatoes are tender.

Remove from the oven and transfer to a blender. (If your blender cannot handle very hot ingredients, cool the tomatoes and garlic).

Unwrap the garlic parcel and squeeze out the roasted garlic into the blender.

Add the chilli powder and sugar.

Blend everything to a puree.

Check the salt and add more if necessary. See notes below.

Let the dip come to room temperature before serving as an accompaniment to savoury snacks or dumplings.
Video
Notes
Check the heat level of the dip; if you like it spicier, mix in a little more chilli powder.
All the recipes for condiments can be found here
You might like to try these other recipes from this website-
Mint – coriander chutney
An easy to put together Indian style chutney consisting of fresh mint, coriander, spices and lemon juice. My recipe calls for some peanuts too. A great condiment for Indian dishes- street food, grilled dishes etc
Check out this recipe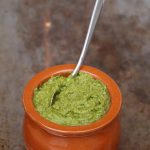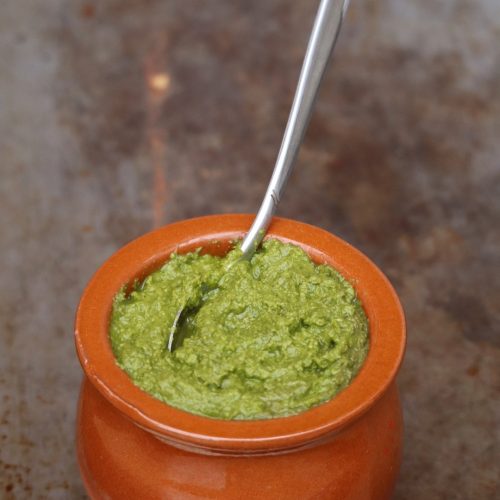 Date – tamarind chutney / Indian style date and tamarind chutney
This date – tamarind chutney / Indian style date and tamarind chutney is the perfect blend of sweet and tangy with a slight heat running through it. It is the perfect accompaniment to various Indian snacks such as samosas and pakoras to name a few.
Check out this recipe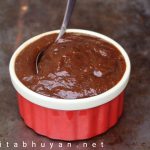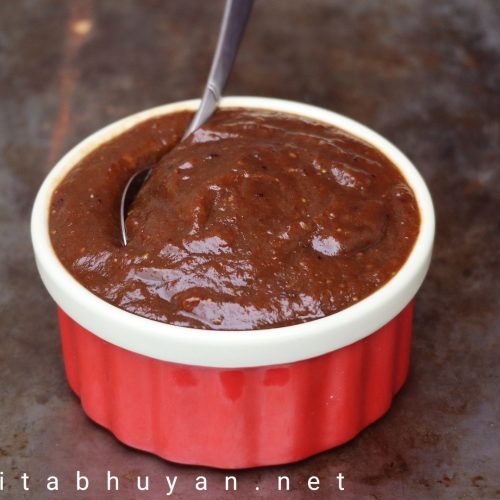 Bogorir jola mitha asar l Assamese hot and sweet jujube pickle
A hot and sweet Assamese (from Assam, in North East India) style jujube pickle which is sure to tickle your taste buds; simply irresistable! And easy to make too.
Check out this recipe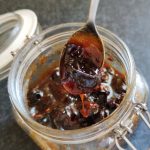 Until next time,
Sunita
STAY CONNECTED: