Momos take me back to my college days. There used to be a sweet little restaurant that excelled in momos and me and my buddies would frequent it very often. They were easy on the pocket too, which is always a bonus for cash starved students! Sharing my recipe for pork momos l pork dumplings with you today. I made a big batch, but considering what big fans all four of us are, they disappeared in no time.
Momo?
For the uninitited, "Momo is a type of East and South Asian steamed filled dumpling. Momo is native to Tibet, Nepal, Bhutan as the Himalayan the Indian Himalayan regions of Ladakh, Sikkim, Assam and Arunachal Pradesh, Himachal Pradesh, Uttarakhand and Darjeeling."(wiki)
Filling / substitutions / non meat options
Traditionally, momos have a minced meat filling, but nowadays, all sorts of fillings are added to suit the taste buds. So, if you are a non-meat eater, you can substitute the meat with your filling of choice. For example, by leaving out the meat and adding more vegetables, soy granules, crumbled, paneer, tofu etc. Vegetables like shredded cabbage and carrots go quite well. Just make sure to squeeze out the excess water in them. For this, place the shredded cabbage/carrots in a bowl and toss with a little salt. Let it sit for about 10 minutes and then squeeze out the excess water with a muslin cloth. The rest of the ingredients can be the same.
The wrappers-
The wrappers for the dumplings are usually made with plain flour and water though some do add additives like soda etc. I just added a little salt along with flour and water to make the dough. This is a relatively firm dough. It does soften a bit after resting, making it easer to roll out. Work with sections of the dough and keep the rest covered to prevent drying out.
Stacking the wrappers-
After rolling, dust the wrappers with enough flour so that they don't stick when they are stacked on top of each other. As an extra precaution, I place each rolled out wrapper between pieces of non stick paper and then covered the whole plate with a kitchen towel or plastic wrap. Do not let the wrappers dry out or they will tear on shaping and filling.
Accompaniments-
Back home, the momos were were accompanied by a fiery chilli sauce and a clear soup. When I say fiery, I really mean that and it used to be extremely hot, well for me at least! We had ours with a roasted tomato and garlic dip which is much milder.
Steaming-
The steaming of the momos usually take 10-12 minutes, but they may take a bit longer. Check after 10 minutes and adjust accordingly. Make sure not to overcook.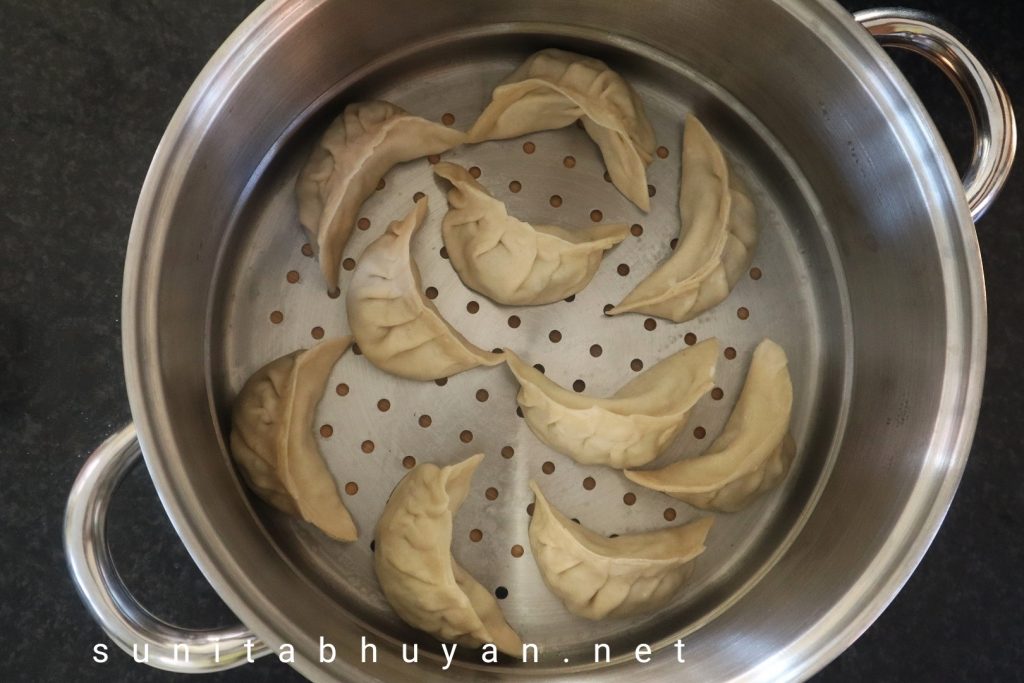 This is not a difficult recipe. However, there are a few steps to this recipe- making the dough and the filling, then rolling, filling, shaping and steaming. You just need to be organised. I am sharing all these steps in his recipe. I will share the recipe for the roasted tomato and garlic chutney in a later post.
Continue reading for the full, printable recipe / video for the pork momos l pork dumplings.
---
Subscribe to Sunita's World – life and food! to receive updates on latest posts, tips and recommendations straight to your inbox! Simply fill in the details below. Thank you!
---
Recipe card-
Pork momo l pork dumplings
Steamed dumplings with a pork based filling.
Ingredients
For the wrappers
3¼

cup

plain flour

1¼

cup

water (approximately)

½

tsp

salt
For the filling
500

gms

pork mince

150

gms

onion, finely chopped

25

gms

ginger, finely chopped

100

gms

spring onion, finely chopped

2

green chillies (more or less), finely chopped

35

gms

coriander, finely chopped

½

tsp

salt

¼

cup

+2 tbsp soy sauce
A little oil to grease the steamer compartment.
Instructions
Prepare the filling
In a bowl, add all the ingredients for the filling.

Using your hands, mix everything together with a heavy hand, using squeezing and mashing strokes.

Cover the bowl with a plastic wrap and chill in the fridge for at least four hours or overnight.
Make the dough for the wrapper
Approximately an hour and a half before the chilling time for the filling is over, start to make the dough for the wrappers.

In a bowl mix together the flour and salt.

Add the water and using a chopstick or fork, stir a litlte. Then, using your hands, Start to mix everything together. You may or may not need all of the water.

Transfer the dough to a work surface and knead till you get a smooth but firm ball of dough. Resist the temptation to add more water in the beginning. As you knead, the dough will come together. It will also soften further on resting.

Shape the dough into a ball and place it back into the bowl.

Cover the bowl with plastic wrap and rest for at least an hour.
Roll out the wrappers
Divide the dough into three to four portions. Work with one portion at a time and keep the rest covered in the bowl until needed. This is to prevent the dough from drying.

Shape a portion of the dough and roll into a sausage. Divide that into smaller portions of 15gms each. Shape each portion into a ball and slightly flatten.

Dust a rolling board with a little flour and roll out a portion to about 3.5 to 4 inches in diameter. Keep the edges thin.

After rolling, dust the wrapper with flour on both sides and place it on a plate between two pieces of greaseproof paper. Repeat until the first batch of dough balls have been used up. Then cover the whole plate with a kitchen towel or plastic wrap. Do not let the wrappers dry out or they will tear on shaping and filling.

Repeat with the other portions of dough. Use a different plate for each portion. Unless you are making a much smaller serving, stacking all of the wrappers on one plate will squish the wrappers.
Shape and steam the momos
Brush the bottom of the steamer bowl with a little oil and keep it close.

Divide the filling into equal portions (I made 43).

Take a wrapper and keep the others covered.

Wet the edges with a little water using your fingertips.

Place a portion of the filling on the wrapper, leaving a border all around.

Using both hands, shape the momos. Make pleats along one edge and press it against the other. Check the video for guidance.

Place the shaped momo in the steamer and repeat until the compartment has reached it's capacity. Do not overcrowd and make sure the steam holes are not all covered.

Steam the momos for about 10-12 minutes. Check after 10 minutes and adjust accordingly so that you do not overcook.

Serve hot with your choice of dipping sauce.
Video
All the non-vegetarian recipes on this website can be found here.
You might also like to try these recipes from my website-
Grilled chicken skewers
Boneless strips of chicken thighs marinated in a walnut and yogurt marinade and grilled along with peppers and onions. Great to have wrapped in flatbreads or even on its own.
Check out this recipe
Lemon chicken
A mild lemon flavoured chicken recipe which can be made in one pan from start to finish. A great accompaniment to some fried rice or stir fried noodles.
Til diya kukura mangxo / Assamese style chicken curry with sesame seeds
An Assamese (from Assam, North East India) style chicken curry filled with the nutty flavour of sesame seeds. Not overpowering, and with minimum use of spices. Great with rice or Indian flatbreads.
Check out this recipe
Until next time,
Sunita
STAY CONNECTED: