I made these rocky road squares a few days ago. They are filled with goodies and treats like mini marshmallows and malted milk biscuits to the good stuff like walnuts, cranberries and sunflower seeds. Everything is then bound together with luxurious chocolate and topped with desiccated coconut.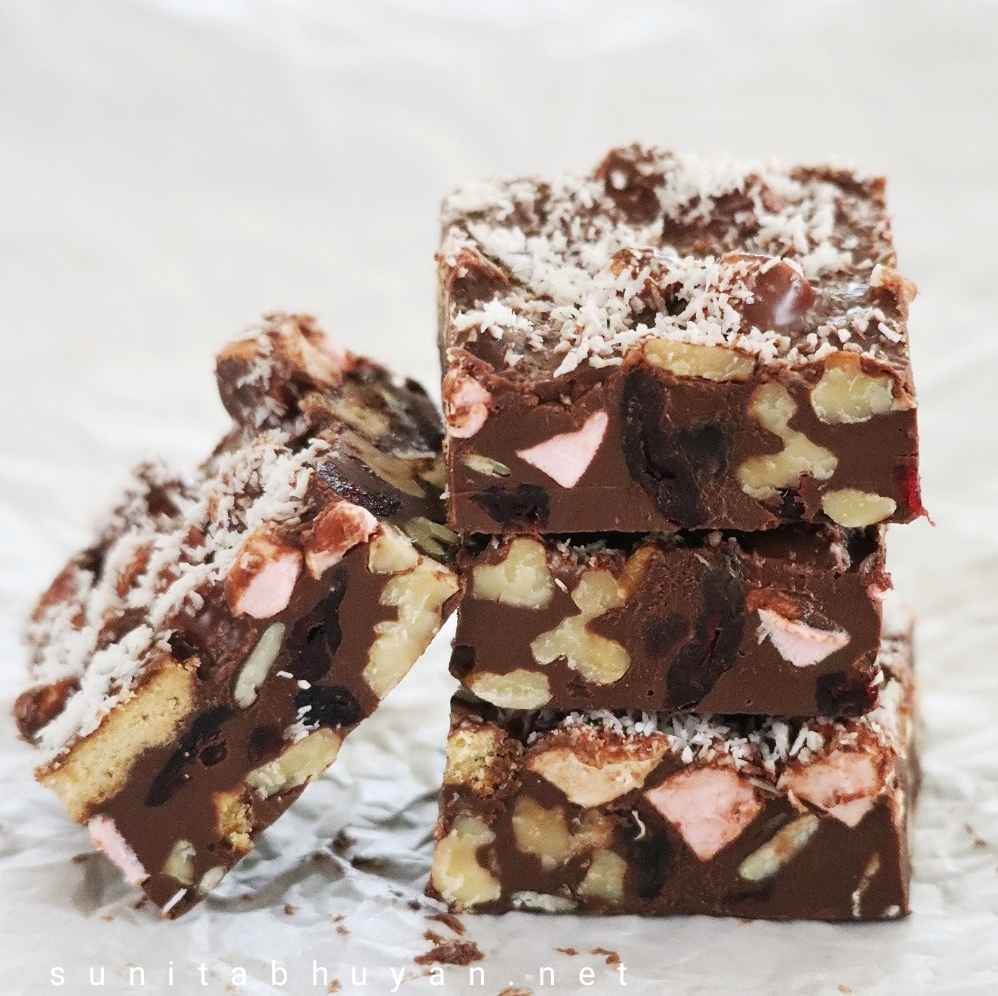 Memories-
I made these rocky road squares a few days ago when both the kids were home from their respective universities. These treats are a memory for us. When I make them, I am transported back in time to when both of them were little and joined in cooking/baking sessions with me. It not only taught them what was in the food they were eating, but also gave them a sense of accomplishment at being a part of the making process. They not only loved to eat them, they enjoyed making them too. Quite a few of the ingredients would slyly make their way into their little tummies before we finished making them. The wait for the squares to set and then the cutting and enjoying the treats; their little faces smudged with chocolate; so many memories!
This time, they were nowhere near me when I was making them; busy with end of term exams. But the excitement was probably still there as the daughter asked me numerous times if they were ready yet. How time flies and leaves us with these lovely memories. The daughter went back first and carried some with her. Just a few minutes after she boarded her train, I get a message that she has already had one! I guess some things never change!
Rocky road?
Coming back to the recipe for these rocky road squares. It is a no-bake recipe. Marshmallows and other ingredients are added to melted chocolate, allowed to set and cut into squares. The recipe is very adaptable. You can use your own combination of nuts and fruits, and even the kind of chocolate.
Trivia-
"The origin of the dessert is debated, but the earliest mention of it dates back to 1853 in Australia, where rocky road was supposedly created as a way to sell confectionery that had spoiled during the long trip from Europe, which were mixed with locally-grown nuts and cheap chocolate to disguise the flavour."
Another version says- "The flavor is claimed to have been created in 1929 by William Dreyer when he cut up walnuts and marshmallows with his wife's sewing scissors and added them to his chocolate ice cream during the Great Depression. The company claims it was then so named "to give folks something to smile about in the midst of the Great Depression."
Another host says the flavours were created by a Milton Ainbinder, while owning an ice cream toppings factory. Sam Altshuler, a Russian immigrant who arrived in the United States in 1917, founded Annabelle Candy Company Incorporated, in 1950. Mr. Altshuler learned the art of candy making, and after struggling for years, finally achieved success with his Rocky Road candy bar. He named his business the "Annabelle Candy Company" after his daughter, and began manufacturing Rocky Road in San Francisco. The item quickly gained popularity throughout the western United States where it has its strongest hold today, and is currently ranked among the top 35-40 best selling chocolate bars on the West Coast. " (wiki)
Whatever the origins, we do love them. We do not make ours in layers, we just mix them all together…much easier.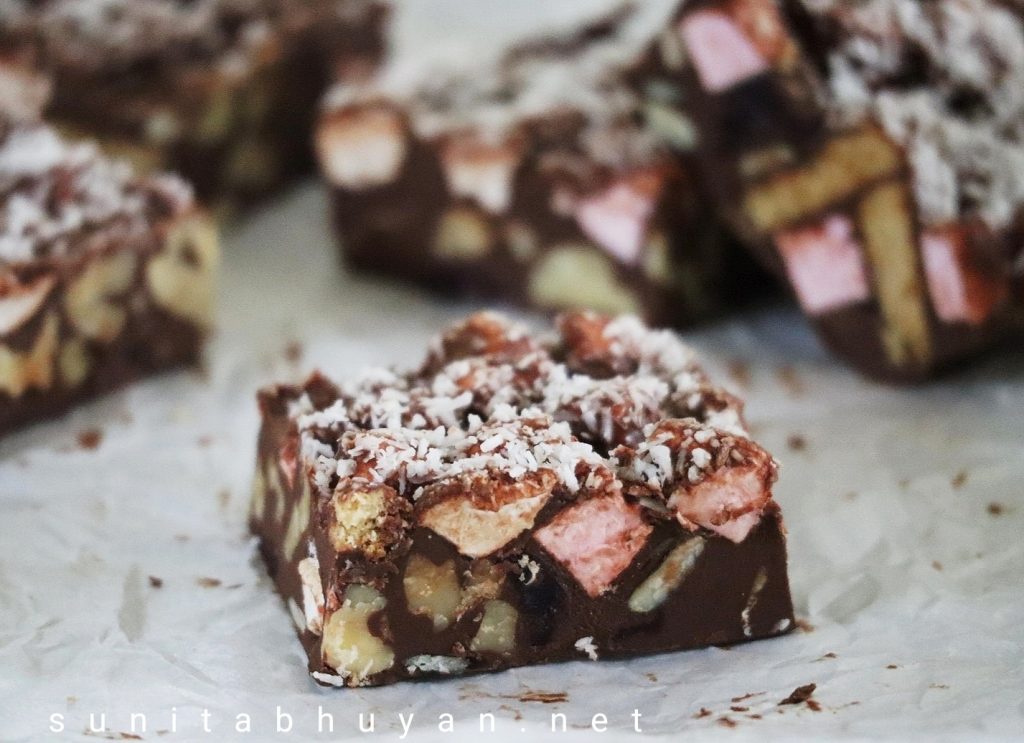 Continue reading for the full printable recipe /video for these rocky road squares.
---
Subscribe to Sunita's World – life and food! to receive updates on latest posts, tips and recommendations straight to your inbox! Simply fill in the details below. Thank you!
---
Recipe card-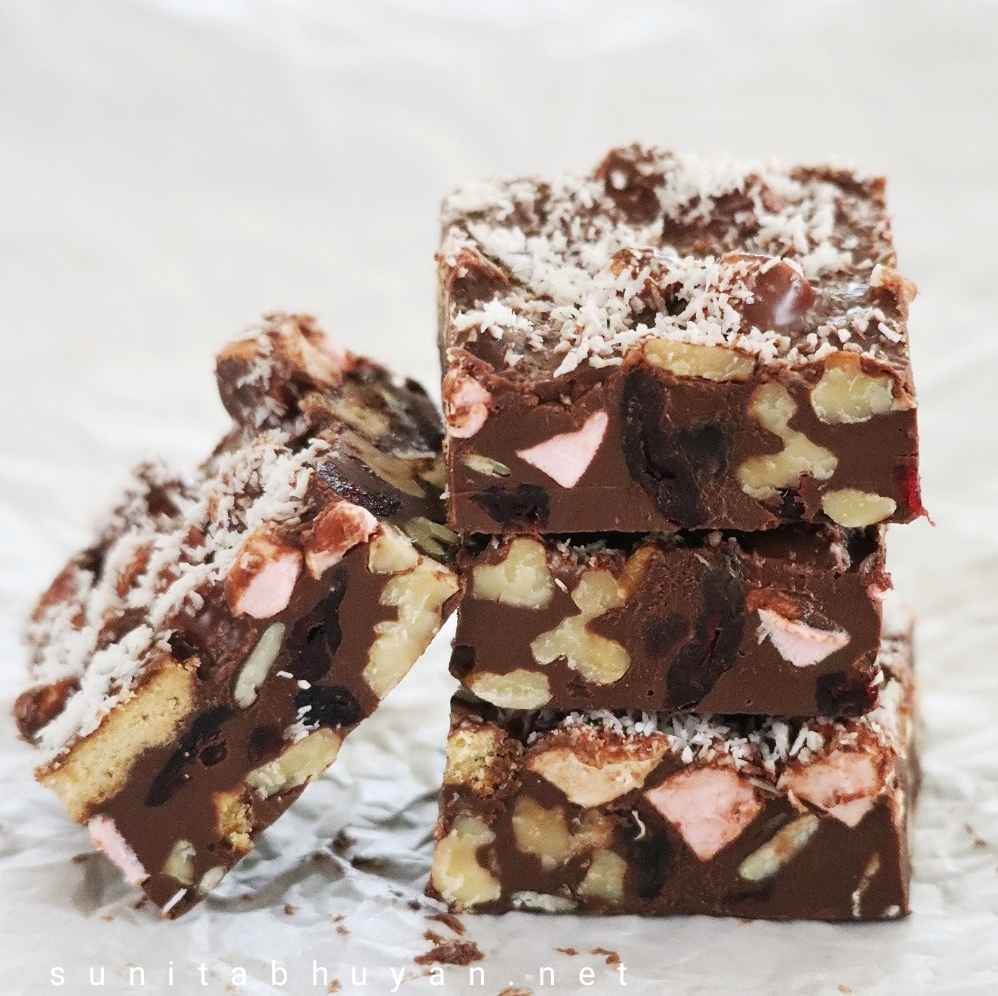 Rocky road
A no – bake recipe. Marshmallows and other ingredients are added to melted chocolate, allowed to set and cut into squares.
Ingredients
150

gms

milk chocolate

150

gms

dark chocolate

3

tbsp

oil

¾

cup

chopped walnuts

½

cup

dried cranberries

3

tbsp

sunflower seeds

40

gms

malted milk biscuits or digestive biscuits, broken into smaller pieces

¾

cup

mini marshmallows (or big ones cut into smaller pieces)

4

-5 tbsp dessicated coconut
Instructions
Line an 8 inch square pan with foil.

Except the two types of chocolate, oil and coconut, mix together the rest of the ingredients in a bowl.

Break both the types of chocolate into smaller pieces in bowl and add the oil. Melt the chocolate mixture.

Add the marshmallow mixture into the melted chocolate mixture and mix well.

Tip the mixture into the prepared pan. Spread out the mixture, pressing down with a spoon. It will not be smooth on top due to the texture of the ingredients.

Sprinkle the desiccated coconut on top.

Cover the pan with some plastic wrap and refrigerate for at least 2 hours or till set.

Cut into squares / bars and enjoy.

Keep any extras in an airtight container. If it is quite warm where you live, keep the container in the fridge.
Video
All the recipes for snacks on this website can be found here.
You might like to try these other recipes from my blog-
Whole wheat banana, ginger and walnut cake
An easy snack cake filled with the goodness of bananas, the warmth of ginger and cinnamon and the bite from the walnuts. Not overtly sweet; perfect with a cuppa either as it is or topped with a simple chocolate frosting. Can also be a light and less guilty indulgence to appease the sweet tooth.
Check out this recipe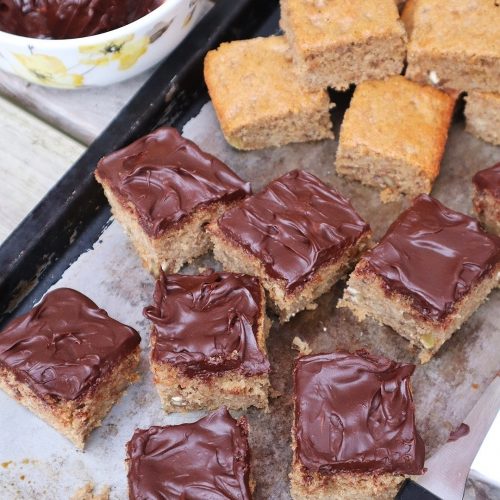 Peanut butter, puffed rice and fruit and nut squares
These crunchy peanut butter, puffed rice and fruit and nut squares are filled with the goodness of an assortment of fruits, seeds and nuts. A very adaptable recipe which is easy to put together and ready in minutes. A perfect snack or energy bar to have at home or on the move. Great as a snack in lunchboxes too; both for the young and not so young.
Check out this recipe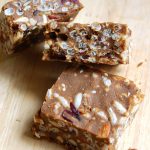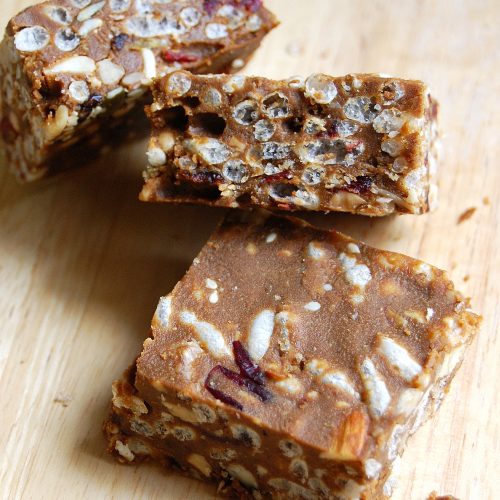 Oats, chocolate and ginger cookies (eggless)
Easy to make eggless oats, chocolate and ginger cookies. They have a nice bite to them and the ginger gives it a nice kick; perfect with your cuppa or glass of milk.
Check out this recipe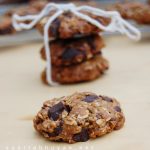 Until next time,
Sunita
STAY CONNECTED: