These coconut and cumin cookies (eggless) are a perfect option to enjoy if you want a break from the sweeter cookies.These delightful savoury bites are a lovely option if you want a break from the sweeter cookies. They are easy to make and has no chill time. And it does not compromise on flavour. Roasted cumin , coconut, a hint of chilli- what's not to like! Make them this Christmas; they will happily sit on your cheeseboard too!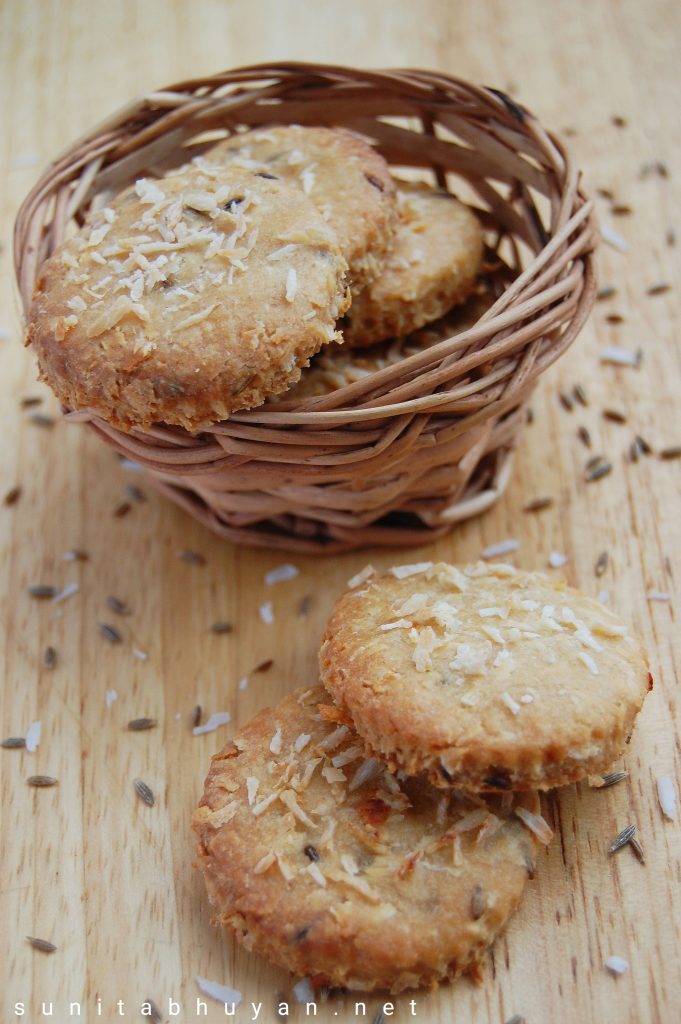 ---
These cookies are inspired from this batch of cumin cookies that I posted earlier. We really enjoyed those little bites flecked with roasted cumin seeds. And this time round, I made them with whole wheat flour and added a couple of other things like coconut and crushed red chillies, the latter adding a slight heat.
The dough-
As in the cumin cookies, the dough here is also a craggy one. Once everything just comes together, do not mix it further. The idea is to just bring everything together and not to knead or else the cookies will be hard.
Serving suggestions-
These cookies are full of flavour and you will have a hard time resisting from nibbling on them. However, along with enjoying them on their own, they can also be enjoyed with various toppings. With Christmas around the corner, these savoury cookies can be a great addition to your cheese board. Not only can they be enjoyed on their own, but they can also be used very much like a cracker topped with various cheeses and chutneys.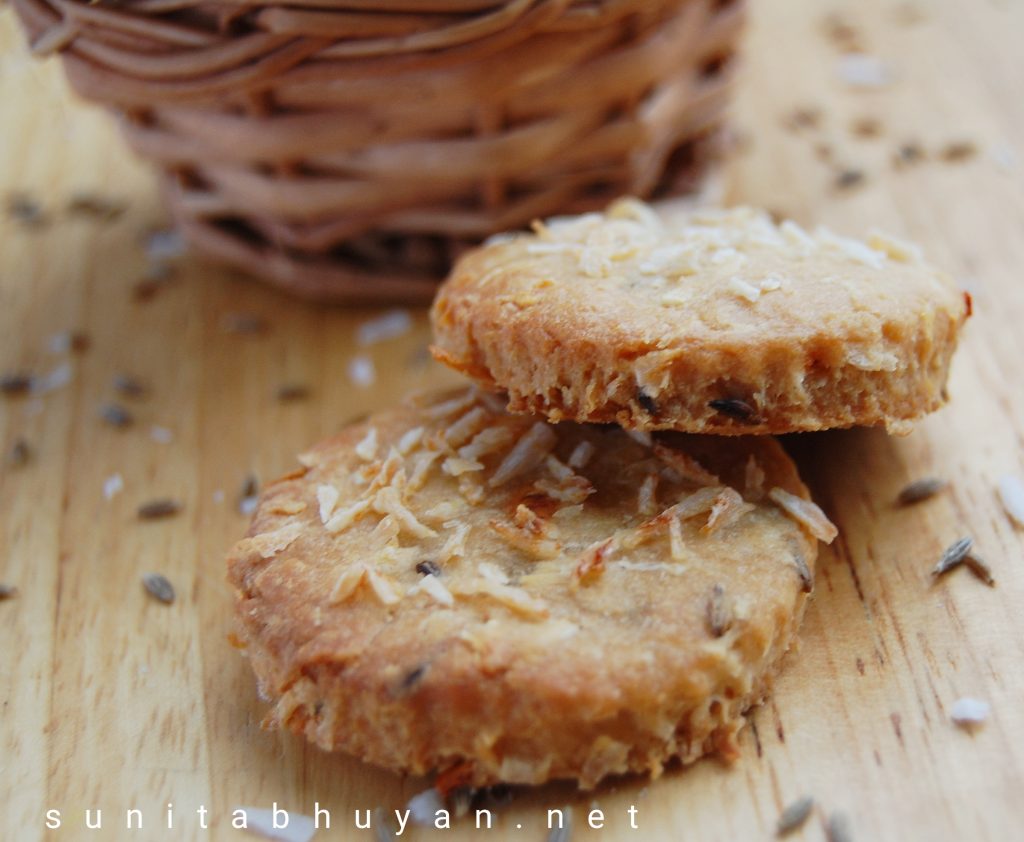 Revived-
This recipe has also been revived from the 'notebook'. Read all about it here. I'm slowly getting round to digging out the available photos and recipes from the notebook. I don't have all, but definitely a few to keep me busy. These recipes were all much loved and I am sharing them so that they can be available for more people to enjoy.
Continue reading for the full / printable recipe for these coconut and cumin cookies (eggless).
---
Subscribe to Sunita's World – life and food! to receive updates on latest posts, tips and recommendations straight to your inbox! Simply fill in the details below. Thank you!
---
Stay connected-
On another note, if you try any recipe from this website, do take a photo and tag me on instagram @sunita_bhuyan. I would love to see your creations! Also, do connect on other socials too; links to all my socials are given below-
STAY CONNECTED:
---
---
Recipe card-
Coconut and cumin cookies (eggless)
Delightful savoury cookies which can be enjoyed on their own or as a base for various cheeses and chutneys. Also has a slight hint of chillies.
Ingredients
10

tbsp

plain whole wheat flour (I used atta)

4

tbsp

desiccated coconut + a little extra for the top

1

tbsp

salt

a pinch of sugar

¾

tsp

baking powder

½

tsp

crushed red chillies

1

tbsp

roasted cumin seeds ( just dry roast the cumin seeds in a pan until fragrant)

3

tbsp

sunflower or vegetable oil

7

tbsp

plain yogurt

a little milk for brushing the tops
Instructions
Pre heat the oven at 180 deg C.

Lightly dust a baking tray with flour and keep aside.

In a bowl, mix together the flour, coconut, sugar, salt, baking powder, crushed red chillies and roasted cumin seeds.

Add the oil and rub in with the fingertips.

Make a well in the centre of the flour mixture and tip in the yogurt.

Quickly bring everything together to make a craggy dough.

On a floured rolling board, roll out the dough to about 5mm in thickness and cut out 2 inch circles. Arrange them on the floured baking tray.

Gather the trimmings, roll and cut more circles. Continue till all the dough has been used up.

Brush the tops of the circles with a little milk and sprinkle a little coconut on top.

Place the tray in the centre of the pre heated oven and bake for about 20 – 25 minutes or till the top is lightly browned.

Transfer to a wire rack to cool completely before storing in air tight containers.
---
All the baking recipes on this blog can be found here.
---
You might also like these other recipes from this website-
Whole wheat , eggless, coconut and orange cookies
A whole wheat, eggless, coconut and orange cookie recipe; crisp and not overtly sweet.
Check out this recipe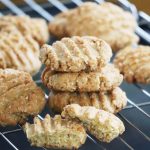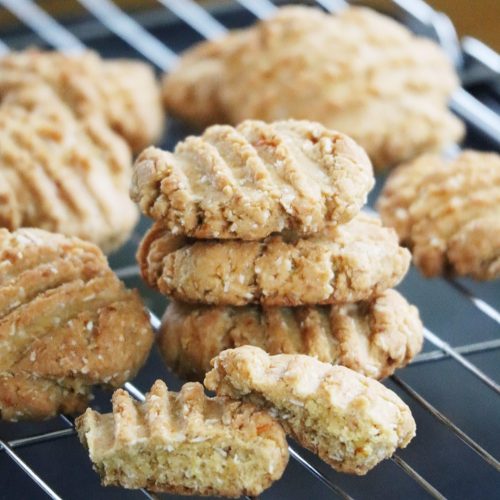 Spiced whole wheat and oats cookies
These cookies consist of an assortment of aromatic spices that lend their unique flavours.
Check out this recipe
Clove chocolate chip cookie
Delicious chocolate chip cookies with a hint of cloves.
Check out this recipe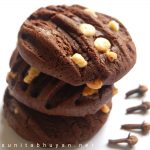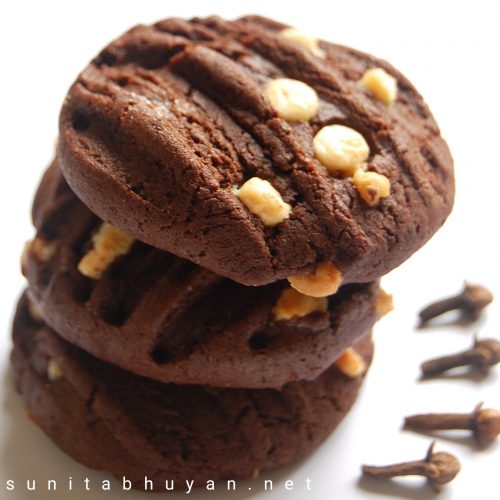 Cheese bites l Cheese cookies
These little crispy cheese bites l cheese cookies are really addictive and the pungency of the nigella seeds complement them very well. The Red Leicester cheese gives them a lovely orange hue too! Great if you're looking for a savoury treat to nibble on.
Check out this recipe
Until next time,
Sunita
STAY CONNECTED: