This whole wheat fruit and nut cake is my take on the traditional Christmas fruitcake. It is a lighter version and every crumb is delicious. Moreover, it is also a tried and tasted recipe in many households for a good few years!
---
This Christmas cake recipe is from more than a decade ago. I love dried fruits and nuts and I love to bake cakes with them. But, sorry, I'm not a fan of the traditional Christmas fruitcake and find it quite heavy. So, taking the basic idea, I developed this recipe and shared it on my blog (which was on another domain then) more than a dozen years ago. Since then, every year, it has been tried by many and have become firm favourites in many households. When I had the catastrophe with my then website, this was probably the recipe I was most concerned about losing. Many sent me emails, messages on social media requesting for the recipe all through the years when I was not active. So, all of you are now in luck.
Luckily, this and many other recipes have survived through my 'notebook', which I had also misplaced at the time while moving house. I have just a couple of photographs to go along with the recipe, but they are good ones, so I'm sure you'll get a good idea of how the cake looks like.
---
---
Low and slow bake-
This is a low and slow bake. In other words, the cake is baked at a low temperature for a longer time. Do not be tempted to raise the temperature or else the insides won't cook properly.
I am sure you will love this cake. It is a little crumbly, but I'm sure you'll love every crumb. We certainly did and there were quite a few converts. In all the years, I didn't need to change the recipe. So, there you go! Give this recipe a try and let me know how you got on.
---
Continue reading for the full recipe for this scrummy whole wheat fruit and nut cake.
---
Subscribe to Sunita's World – life and food! to receive updates on latest posts, tips and recommendations straight to your inbox! Simply fill in the details below. Thank you!
---
Stay connected-
On another note, if you try any recipe from this website, do take a photo and tag me on instagram @sunita_bhuyan. I would love to see your creations! Also, do connect on other socials too; links to all my socials are given below-
STAY CONNECTED:
---
Recipe card-
Whole wheat fruit and nut cake
A lighter but delicious version of the traditional Christmas fruit cake
Ingredients
1½

cup

dried fruits of choice ( I used a combination of raisins , sultanas and cranberries)

½

cup

of red grape juice mixed with 5-6 spilling tbsp of rum (if you don't want to use rum, use more juice)

5

medium sized eggs

1½

cup

muscovado sugar

2

tbsp

rum (optional)

¼

cup

hazelnuts, roughly chopped

1½

cup

sunflower / vegetable oil

2½

tsp

baking powder

½

tsp

bicarbonate of soda

2

tsp

ground cinnamon

1

tsp

ground nutmeg

2¼

cup

plain whole wheat flour ( I used atta )

½

cup

ground almonds

zest of 1 orange
To decorate on top
2 tbsp dark chocolate mixed with 3 tbsp of honey

nuts (I used walnuts, almonds, brazil nuts) and glace cherries

a little icing sugar mixed with a little milk / drizzling consistency
Instructions
In a small saucepan, soak the dried fruits in the juice mixture for about 15 minutes.

Place the saucepan over very low heat and stirring gently, cook till all the liquid is dissolved and the fruits are soft.

Remove from heat and cool completely. Mix in the orange zest and keep aside.

Pre heat the oven at 140 deg C. Grease an 8½ inch round springform pan.

Beat the eggs with an electric beater till fluffy.

Add the sugar and beat till the mixture falls back in ribbons when you lift the beaters.

Beat in the oil and 2 tbsp of rum (if using any).

In another bowl, mix together the flour, ground almonds, chopped hazelnuts, baking powder, bicarbonate of soda, ground cinnamon and nutmeg.

Fold the flour mixture into the egg mixture, in 3-4 batches.

Fold in the fruit mixture.

Spoon the thick mixture into the greased pan and smooth the top.

Place the pan in the centre of the pre heated oven and bake for about 1 hour 15 minutes or till a skewer inserted through the centre of the cake comes out clean.

Remember to check after 15-20 minutes. If the top starts to brown quickly, just place a piece of foil over the top of the pan.

Cool the cake in the pan for 5-10 minutes.

Brush the top of the cake with the 1/4 cup of rum.

Transfer the cake from the pan and onto a cooling rack and cool completely.

Melt the chocolate and honey together and brush very thinly over the top of the cake.

Use the remaining chocolate mixture to 'glue' on the cherries and nuts in the centre.

Drizzle the icing (icing sugar + milk mixture) over the top of the cake.

Slice and enjoy; it tastes even better the next day, if you can resist the temptation.
---
All the cake recipes on my blog can be found here.
You might also like to try these other recipes from my website-
Citrus cornmeal olive oil cake
A very moist cake with citrusy flavours from lemon and orange running through it and a slight bite from the pine nuts.
Check out this recipe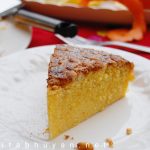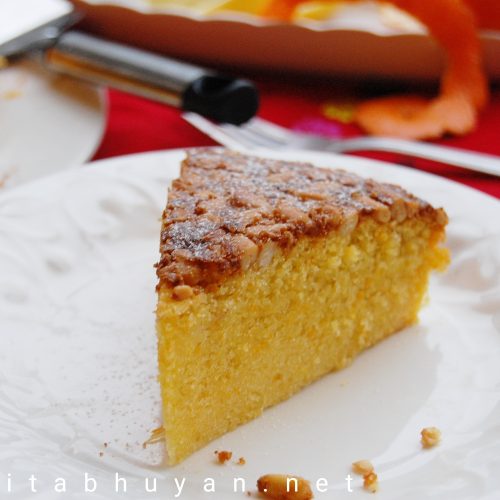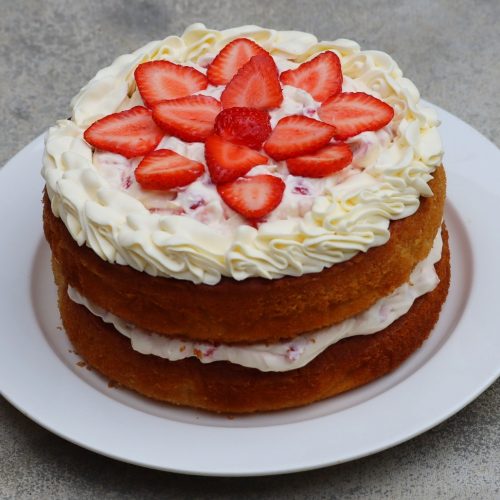 Carrot, walnut and raisin cake
A moist carrot cake made with whole wheat, flavoured with spices and filled with walnuts and raisins. Can be had on its own or filled and covered with frosting for a special occasion.
Check out this recipe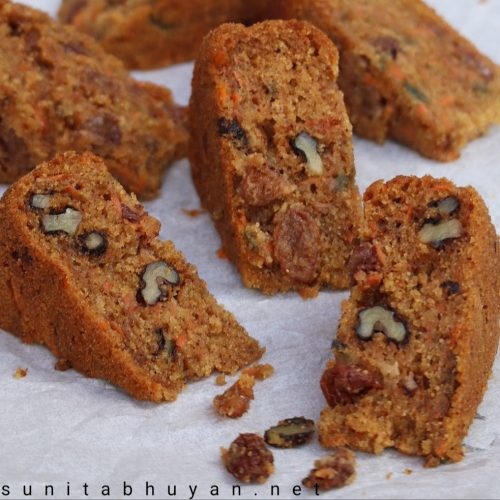 Until next time,
Sunita
STAY CONNECTED: