This baked sea bream recipe is very quick and easy to assemble and tastes great too. It is lightly spiced and cooks in 12-14 minutes. Just the kind of recipe one needs; healthy with minimal effort. Add some baked vegetables / salad on the side, and you are set to go!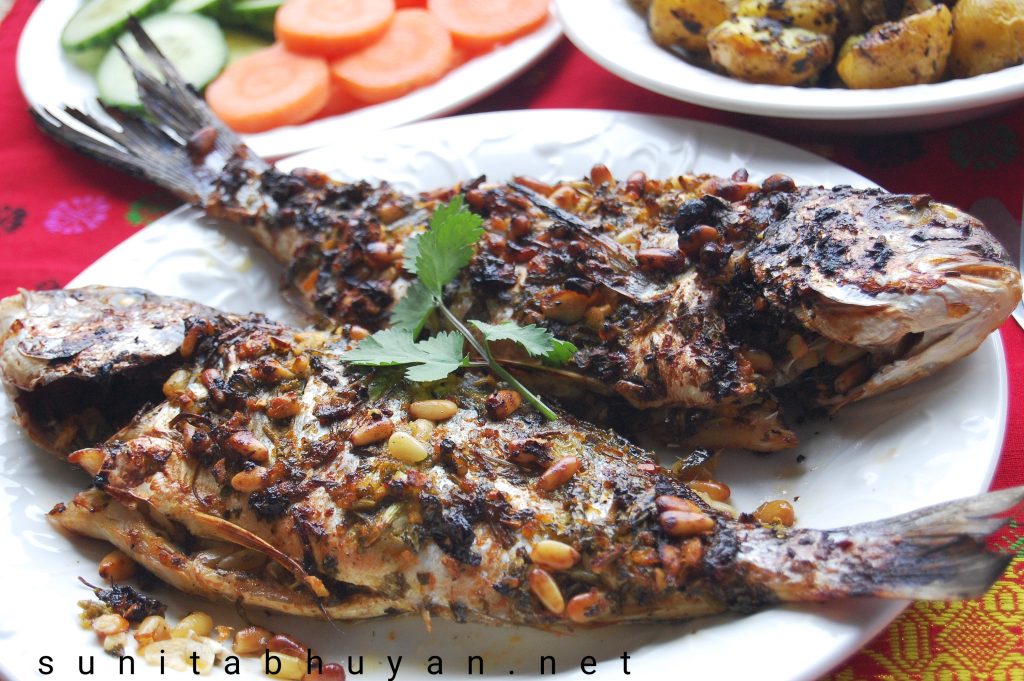 ---
Fish lovers-
Fish forms an essential part of the Assamese (from Assam, a state in North East India) diet. The close proximity of the state of Assam to the mighty Brahmaputra river has always assured a large and steady supply of various kinds of riverine fishes. Like so many of our native brethren, we too nurture this love and as we moved from place to place, we kept that love alive by adopting and savouring the various kinds of fish that are locally available and cooking them in the traditional and, at times, the not so traditional ways, but both to suit our taste buds.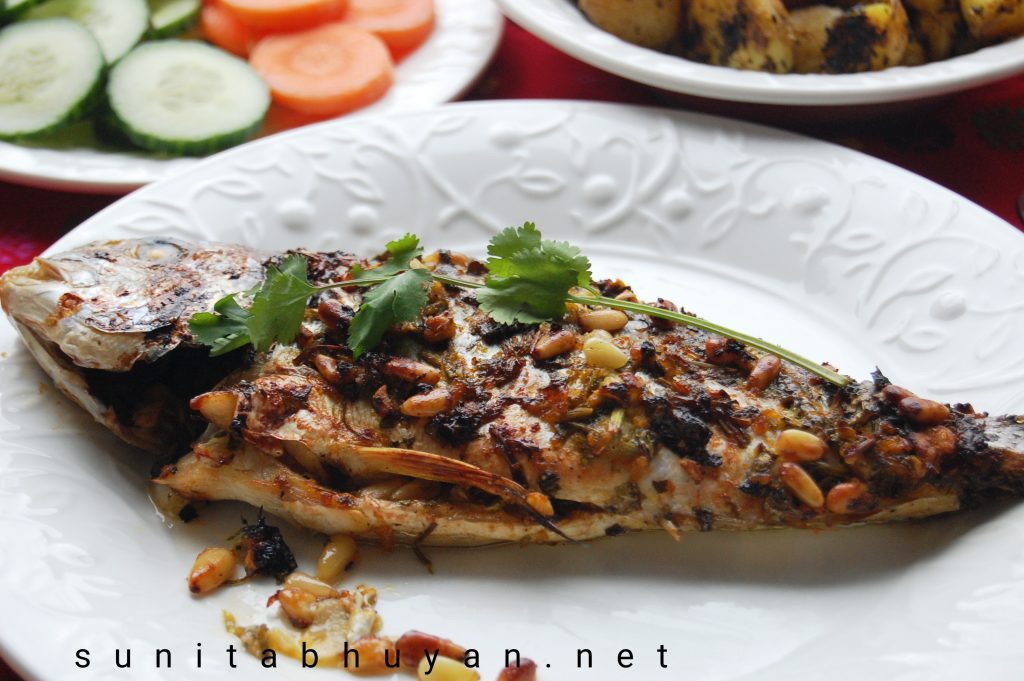 ---
Sea bream-
One of our fishy finds in the UK has been the sea bream. Sea bream, also called Dorade on the continent is a delicate white fish which is quite similar in taste and texture to the sea bass. It was this fish that I made a bake of, and along with some roasted new potatoes and a salad, they contributed towards a very nice meal. This recipe is easy to assemble and doesn't take long to cook. But watch out for those sharp fins, I mean they are really sharp (speaking from experience!). Snipping them off with some sharp scissors is the best thing you can do before anything else.
---
Continue reading for the full recipe for this baked sea bream.
---
Subscribe to Sunita's World – life and food! to receive updates on latest posts, tips and recommendations straight to your inbox! Simply fill in the details below. Thank you!
---
Stay connected-
On another note, if you try any recipe from this website, do take a photo and tag me on instagram @sunita_bhuyan. I would love to see your creations! Also, do connect on other socials too; links to all my socials are given below-
STAY CONNECTED:
---
---
Recipe card-
Baked sea bream
An easy to make recipe with sea bream, perfect for a healthy meal
Ingredients
2

whole sea breams, (approximately 750 gms), gutted, scaled and washed 

zest and juice of 1 orange

1 small bunch of coriander, finely chopped

1 inch ginger, finely chopped

3-4 cloves of garlic, finely chopped

½

tsp

ground coriander

½

tsp

ground cumin

½

tsp

crushed red chillies

2

tbsp

olive oil

salt and freshly ground pepper to taste

a handful of pine nuts(optional, but recommended, adds a nice bite)
Instructions
Pre heat the oven at 200 deg cel.

Pat dry the fishes with a kitchen towel and make 3-4 diagonal incisions on both sides.

Mix together all the rest of the ingredients.

Place the fishes, side by side on a greased roasting tray.

Spoon over half of the orange mixture on the fishes. Rub the mixture well over the skins on both sides and also into the slits.

Place the tray into the centre of the pre heated oven and bake for 6-7 minutes.

Remove the tray and spoon over the rest of the orange mixture, the same way as before.

Return the tray to the oven and bake for another 6-7 minutes or till the fish is cooked completely ( the flesh will turn white ).

Serve hot . A simple fresh salad goes well with this, but we gorged on some roast potatoes as well !
All the non vegetarian recipes on this website can be found here.
You might also like to try these recipes from this website-
Aloo bilahi masor jool / Assamese style fish curry with potato and tomato
This uncomplicated fish curry makes for a fast and hearty meal any day of the week
Check out this recipe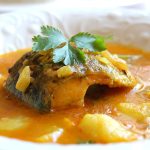 Salmon and vegetable pie
A delicious yet light salmon and vegetable pie which with a simple fresh salad can form a hearty meal.
Check out this recipe
Spicy baked salmon
Bite sized pieces from a salmon fillet are marinated in a wonderful combination of warm spices and herbs, wrapped in a parcel and baked.
Check out this recipe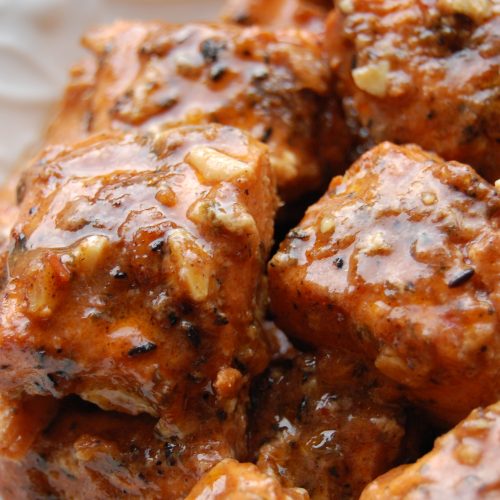 Until next time,
Sunita
STAY CONNECTED: