Somehow, this time of the year in the UK also reminds me of poka mithoi l Assamese spiced rice flour balls (laru /laddu). These laddus are made with rice flour, jaggery and a blend of warm spices, predominantly peppercorn.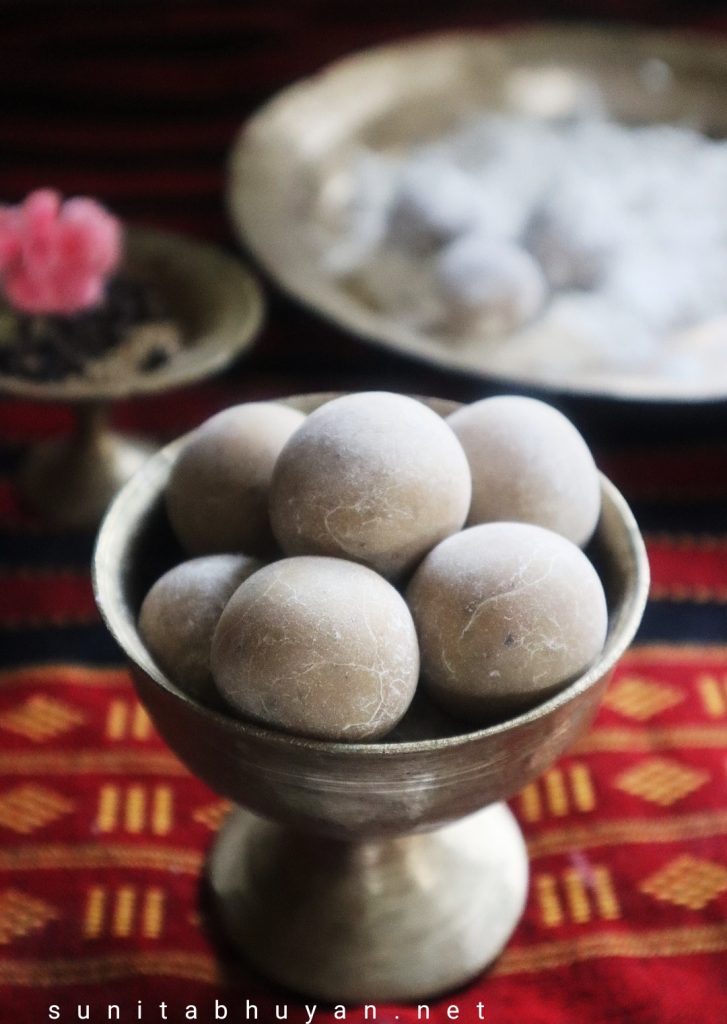 Nostalgia-
There are no visible or invisible similarities between gingerbread and other spiced cookies popular during Christmas, and the poka mithoi. It's just that the warm spices that I use for various bakes during this time of the year somehow reminds me of this laru / laddu. Poka mithoi is a sweetmeat laden with earthy spices. Food has an amazing capability to take one back to a moment in time. For me, biting into a poka mithoi and feeling the warmth of the spices is special as it is laden with memories and of growing up. Not to mention that I am a huge fan of larus / laddus; both eating and making them. I find the rolling of laddus very therapeutic and nostalgic at the same time. It reminds me of those times that I helped ma as she made a variety of sweetmeats (including various larus , of course) during our festivals. Those were really the 'all hands on deck' kind of days!
---
Poka mithoi is a regular feature in Assam during festivities, especially during Krishna Janmashtami, the celebration of the birth of Lord Krishna. It is also distributed among the devotees of Namghars (Assamese prayer houses). It is also made during the Assamese festival of Bihu. Or just make them to enjoy on their own or with your cuppa.
Poka mithoi has a somewhat bad reputation in the sense that they sometimes harden too much and might be difficult to eat. But I can promise you that the ones that I have made here are firm and hold their shape but not hard at all; just need to keep a few things in mind.
---
Rice eating community-
Rice is the staple grain of the Assamese community. Not only the savoury dishes centred around some plain rice, many of the desserts feature rice too. And this poka mithoi is one of them.
The rice flour-
I used shop bought glutinous rice flour, but any rice flour will work. It will need to be dry roasted. Make sure that you stir constantly over low heat; this needs to be done until the rice emanates a lovely aroma. It then needs to be removed from heat and transferred to a bowl to stop it from cooking further.
---
The jaggery syrup-
The jaggery syrup needs to be cooked until it just reaches a single string consistency before adding the rice flour. If you overcook the syrup, the laddus will be hard.
The spices-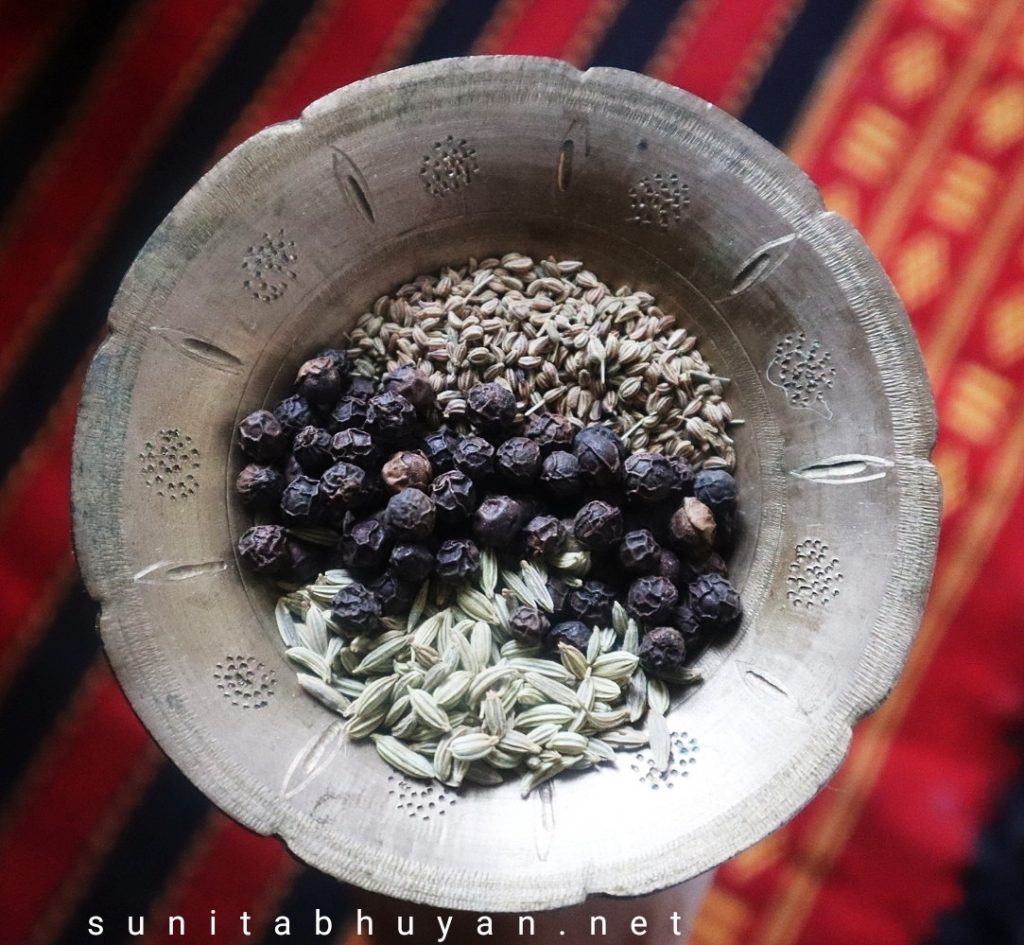 Poka mithoi is usually just made with just pepper to flavour it. I have used pepper of course, but also added a few fennel (saunf) seeds and a little carom (ajwain) seeds.
Continue reading for the full recipe / video for these Poka mithoi l Assamese spiced rice flour balls (laru /laddu).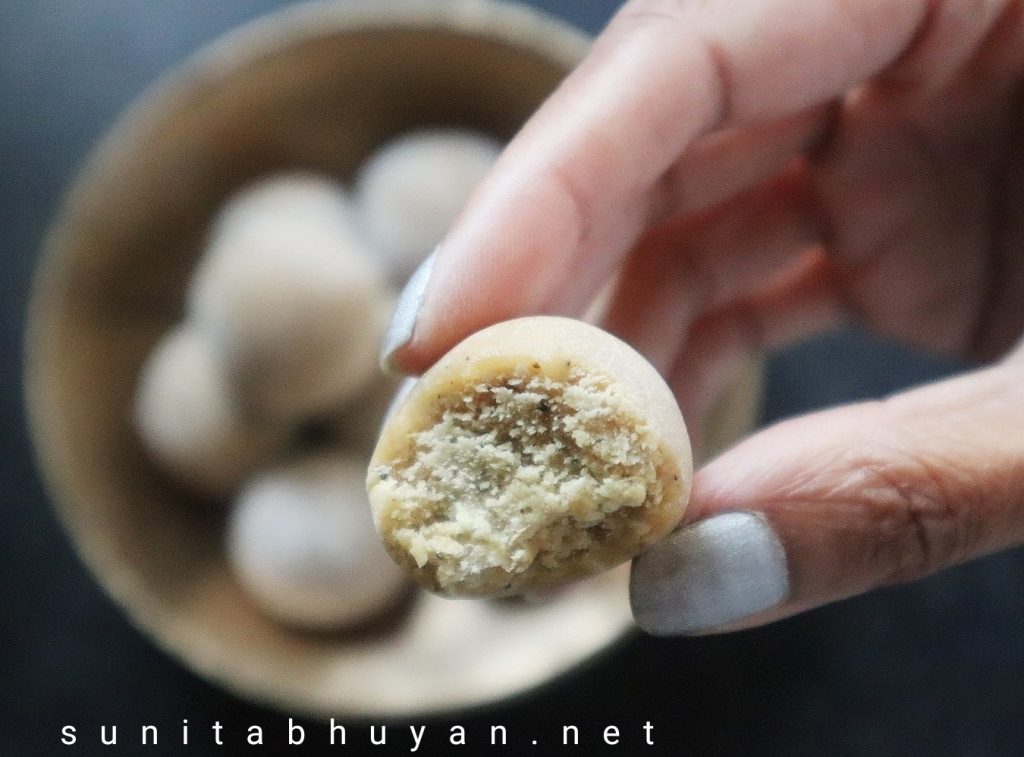 ---
All the Assamese recipes on this website can be found here.
Some of the popular Assamese recipes on this website are-
Til diya kukura mangxo / Assamese style chicken curry with sesame seeds
An Assamese (from Assam, North East India) style chicken curry filled with the nutty flavour of sesame seeds. Not overpowering, and with minimum use of spices. Great with rice or Indian flatbreads.
Check out this recipe
Luci / Poori
A deep fried Indian bread made with unleavened dough. The dough is divided into small portions which are then rolled into small discs and deep fried in hot oil to puff up.
Check out this recipe
Bootor dali
Bootor dali is an Assamese dish of split chickpeas (chana dal) cooked in spices. It is usually thick and eaten with Indian flatbreads though it's thinner counterpart is also enjoyed with rice.
Check out this recipe
---
Subscribe to Sunita's World – life and food! to receive updates on latest posts, tips and recommendations straight to your inbox! Simply fill in the details below. Thank you!
---
Stay connected-
On another note, if you try any recipe from this website, do take a photo and tag me on instagram @sunita_bhuyan. I would love to see your creations! Also, do connect on other socials too; links to all my socials are given below-
STAY CONNECTED:
---
---
Recipe card-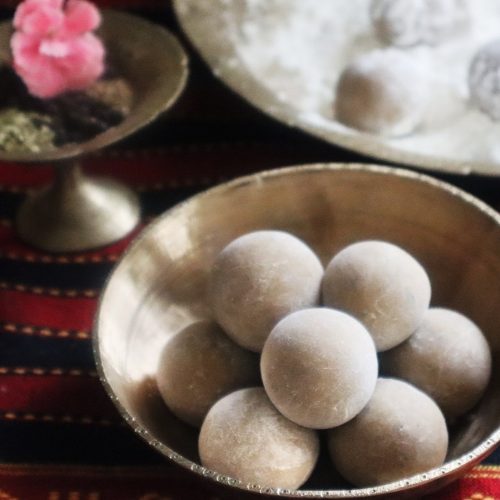 Poka mithoi l Spiced rice flour balls (laddu) from Assam
These laddus are made with rice flour, jaggery and a blend of warm spices, predominantly peppercorn.
Ingredients
2½

cup

rice flour ( I used store bought glutinous rice flour)

1-1½

tsp

whole black peppercorns

½

tsp

fennel (saunf) seeds

½

tsp

carom (ajwain) seeds

1

cup

jaggery shavings

½

cup

water
Instructions
In a small pan, add the peppercorn, fennel and carom seeds and roast over low heat till they leave a nice aroma. Make sure not to burn.

Remove from heat and grind coarsely in a mortar and pestle. You can use a spice grinder too, but do not make it powdery.

In a bigger pan, add the rice flour and place over low to medium heat. Stir constantly till it starts to leave a nice aroma. Do not let it burn. This took me about 10 minutes.

Remove the pan from heat and transfer the rice flour to a bowl to avoid overcooking in the hot pan.

Remove about one cup of the flour mixture to help in rolling and storing the balls.

In a pan, add the jaggery and water and bring to a simmer over low to medium heat.

Keep stirring the jaggery mixture till a single thread consistency is achieved. Dip the cooking spoon into the syrup. Take a little of the syrup from the spoon with your index finger and with the index finger and the thumb, try to press the fingers and pull them apart. If you see a thread forming, that means that the syrup is ready.

Mix in the ground spice mixture.

Reduce the heat to low and add the rice flour in batches. Keep stirring.

As soon as the mixture comes together and is lumpy, remove from heat and onto a plate. It does not matter if there are streaks of rice flour in the mixture, it will all come together later.

Lightly fold in the mixture a little; be careful, it will be hot.

Quickly, shape the mixture into 12 – 13 balls. You can use a some of the extra roasted flour that we saved earlier to help in binding the poka mithoi.

Roll the balls in the rice flour and keep aside.

Initially, the poka mithoi may not form perfect balls. But, as it cools, you can give them a second hand and reshape them. The idea is to get them into some shape before the mixture cools down and then fine tune it later.

Serve or if you want to store them, place them in air tight containers and roll in some roasted flour. Enjoy!
Video
---
You might also like to try these other recipes from this website
Kesa mithoi / Assamese no-cook rice flour laddu
An Assamese no cook sweet with rice flour and coconut as the main ingredients; usually served during religious functions.
Check out this recipe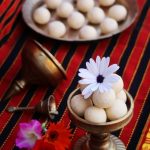 Courgette / zucchini khar (Assamese recipe)
An alkaline based dish from Assamese cuisine, typically had at the start of a meal with some rice.
Check out this recipe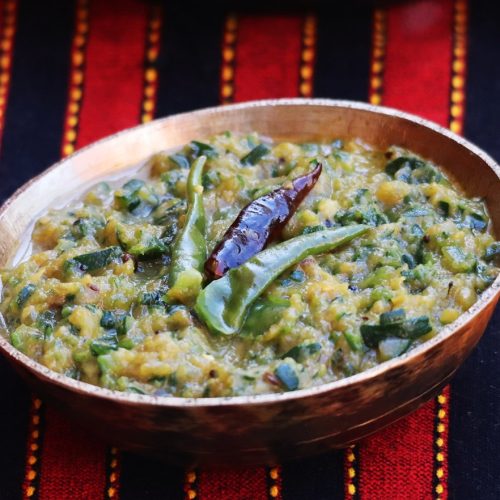 Bogorir jola mitha asar l Assamese hot and sweet jujube pickle
A hot and sweet Assamese (from Assam, in North East India) style jujube pickle which is sure to tickle your taste buds; simply irresistable! And easy to make too.
Check out this recipe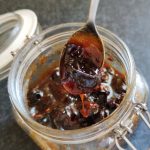 ---
---
Until next time,
Sunita
STAY CONNECTED: