These nutella and dark chocolate truffles are a chocoholic's delight! Not only are they easy to make, they look quite professional too! And of course, they taste great! Have I piqued your interest enough? Then, do read on!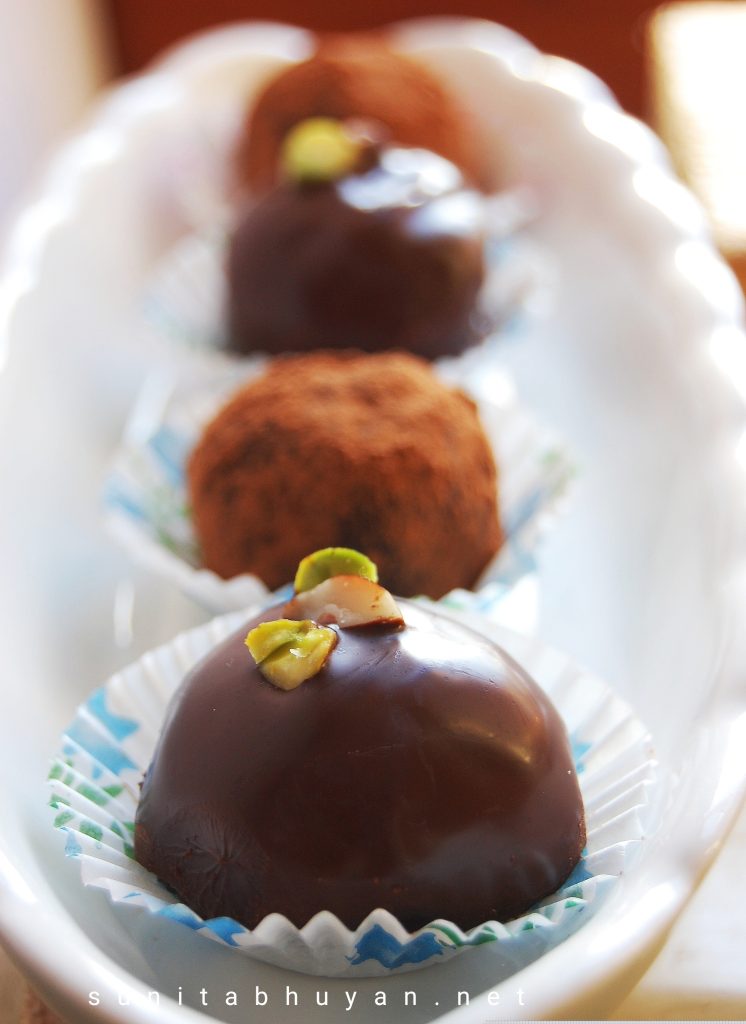 ---
How the time has flown! The recipe for these truffles comes from years ago when I made them for my chocoholic family and friends. I love it when things come together with minimum fuss. These truffles couldn't be easier to make and you can decorate them however you want I have given a few options, but feel free to add your own touch.
---
Edible gift-
Christmas is coming up in a couple of weeks. And if you are looking for an easy recipe for edible gifts or just something to have on hand for your sweet tooth, make these nutella and dark chocolate truffles and you won't be disappointed. I can have nutella by the spoonfuls but these truffles make it extra special and indulgent. And did I mention that they look great too? A perfect temptation. By the way, just getting it out there- this is not an advertisement for nutella, it is just our personal preference for this product.
---
I'm so looking forward to the next week to a full house as both the kids come back from university for their winter break! After all, family is at the heart of every festival, isn't it! Hold your loved ones close and cherish every moment. My heart goes out to all those who have lost their dear ones, especially in the past year due to the unforseen circumstances.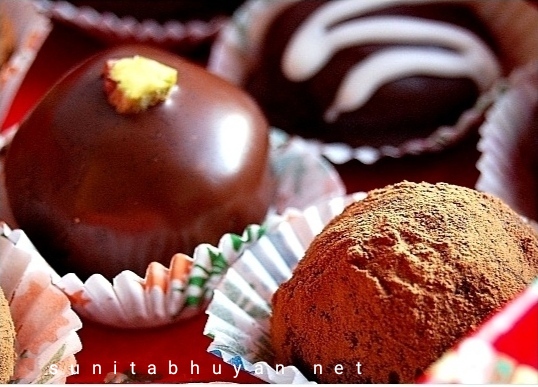 The truffles-
Once the truffle mixture is taken out from the refrigerator, be quick to roll the balls as the warmth from your hands will start to melt them and it will be difficult to handle.
Continue reading for the full recipe for the nutella and dark chocolate truffles.
---
All the dessert recipes on this website can be found here.
Some of the other chocolate recipes on the website are-
Chocolate, orange and almond flourless cake
A flourless chocolate cake with a hint of orange and almonds (ground and flakes)
Check out this recipe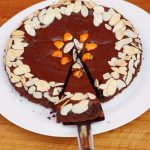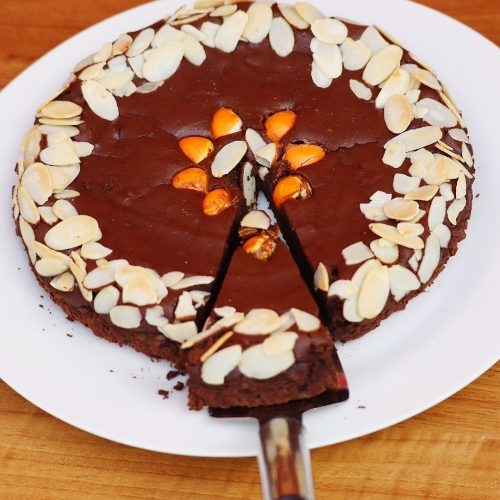 Oats, chocolate and ginger cookies (eggless)
Easy to make eggless oats, chocolate and ginger cookies. They have a nice bite to them and the ginger gives it a nice kick; perfect with your cuppa or glass of milk.
Check out this recipe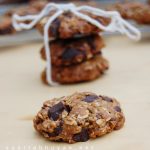 Rocky road
A no – bake recipe. Marshmallows and other ingredients are added to melted chocolate, allowed to set and cut into squares.
Check out this recipe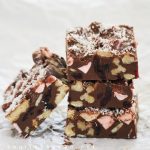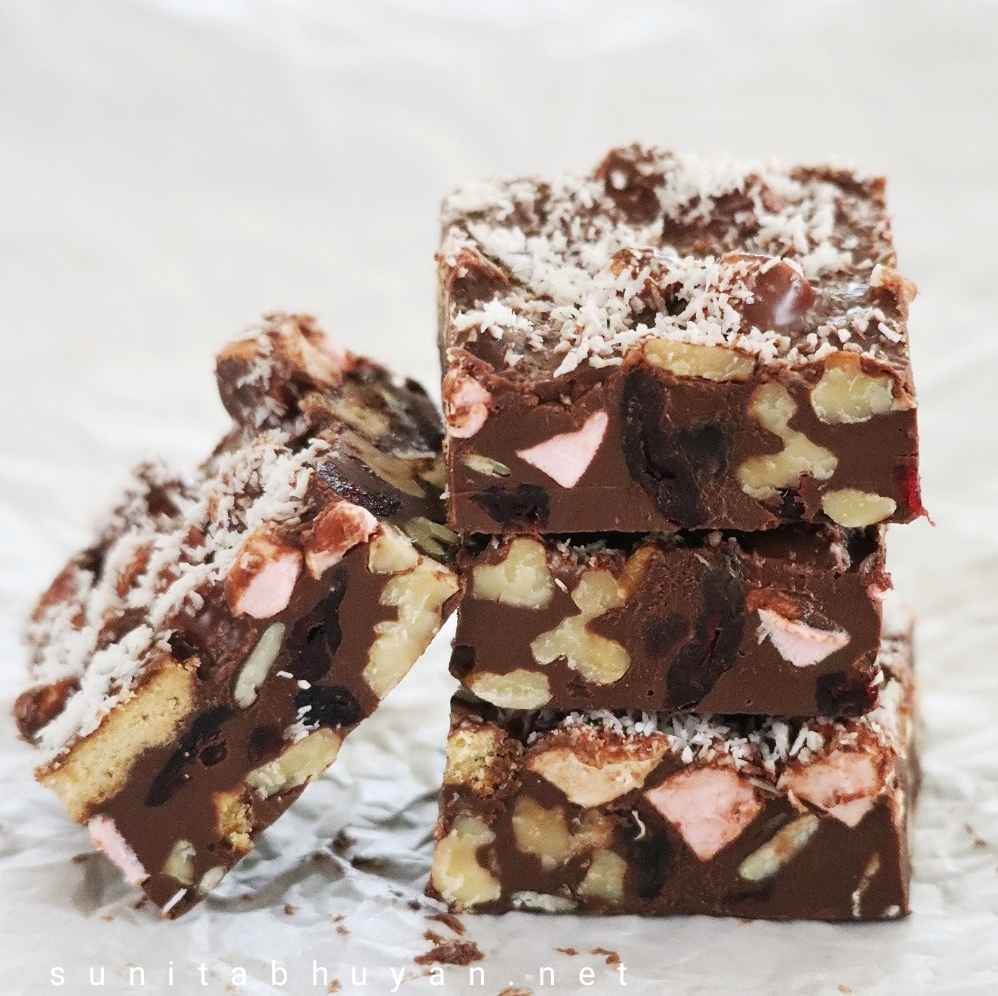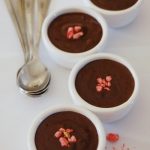 ---
---
Subscribe to Sunita's World – life and food! to receive updates on latest posts, tips and recommendations straight to your inbox! Simply fill in the details below. Thank you!
---
Stay connected-
On another note, if you try any recipe from this website, do take a photo and tag me on instagram @sunita_bhuyan. I would love to see your creations! Also, do connect on other socials too; links to all my socials are given below-
STAY CONNECTED:
---
---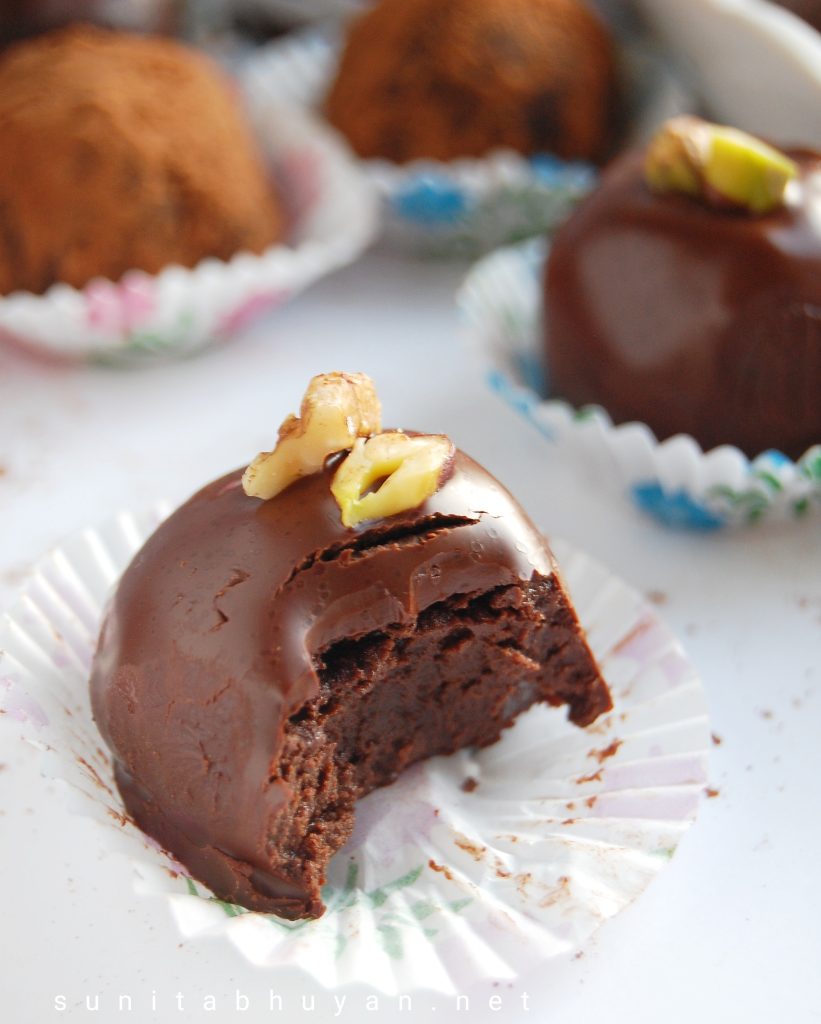 Recipe card-
Nutella dark chocolate truffles
An easy to make treat; perfect for the end of the year festive season.
Ingredients
400

gms

nutella

100

gms

dark chocolate

4

tbsp

honey

1

tbsp

ghee
Topping, coating options
melted dark chocolate, melted milk chocolate, cocoa powder, chopped nuts icing, white chocolate etc
Instructions
Add the nutella, dark chocolate, honey and ghee in a bowl and melt together in a microwave or double boiler. Be careful not to overheat. The chocolate should just be melted. Keep an eye, do not put the bowl in the microwave for a long time in one go. Stir every now and then.

Remove the bowl from the microwave or double boiler and stir vigorously till smooth and nearly at room temperature. As the mixture cools, it will come away from the bowl easily.

Once the mixture is at room temperature, cover the bowl with plastic wrap and chill in the fridge for at least an hour or till the mixture is firm and mouldable.

Shape into balls or an oblong shape and coat, decorate as you wish.

What I did-

*Dipped some of the truffles in melted dark chocolate and left to set. I then piped some white icing over them. You can use melted white chocolate to do this.

*Dipped some truffles in melted milk chocolate, placed a few pieces of chopped nuts on top ( I used pistachios and walnuts ) and left to set.

*Simply rolled some of the truffles in cocoa powder.

I arranged them in individual paper cups to make it easier to handle.
You might also like to try these other recipes from this website-
Clove chocolate chip cookie
Delicious chocolate chip cookies with a hint of cloves.
Check out this recipe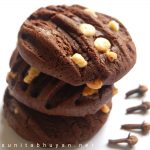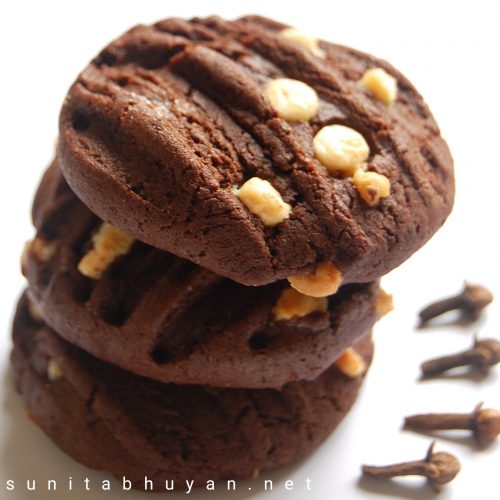 Rhubarb, almond and white chocolate cake
Fresh stalks of rhubarb were combined with the flavours of almond and white chocolate to give a combination of taste explosions in every spoonful.
Check out this recipe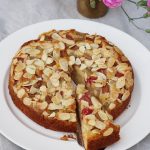 Eggless banana chocolate chip cookies
A delightful cookie alongside your cuppa or a glass of milk; consists of all good ingredients and is not overtly sweet.
Check out this recipe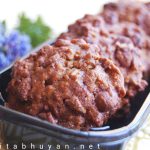 Until next time,
Sunita
STAY CONNECTED: