This kesar badam murgh l saffron and almond chicken curry is beautifully indulgent without leaving you feeling heavy; perfect to share with friends and family.
---
Food influences
When you are familiar with a style of cooking, it gives you the confidence to try out various combinations. Being brought up in an Indian household and having had the privilege to live in three food centric Indian cities and then moving to the UK does have its benefits. Knowingly or unknowingly, various influences started creeping up in my cooking repertoire.
---
For example, this style of chicken curry is not something that I was brought up on in my Assamese (from Assam, a state in North East India) family. But then, that is the beauty of regional cuisine and India is a powerhouse when it comes to the varieties and options offered. The same ingredient can be cooked in so many ways, depending on the region. Probably one lifetime is not enough to taste all of them.
So, somewhere along the way, probably during our stay in North India, this style of cooking has sneaked its way in. The only problem when throwing together with ingredients is coming up with a name. It's a regular family joke; the daughter frequently askes if I just came up with the name of the dish, because many a time I do, mostly hiding behind the names of ingredients. As for this curry, 'kesar badam murgh' does sound more interesting than just 'saffron and almond chicken curry'; wouldn't you agree?!
This curry-
This kesar badam murgh l saffron and almond chicken curry is not something that I make on a regular basis. It is reserved for those special days to share with friends and family. Although it might crop up on ordinary days too and make it more special. Food has such a great capability of making oneself and others special!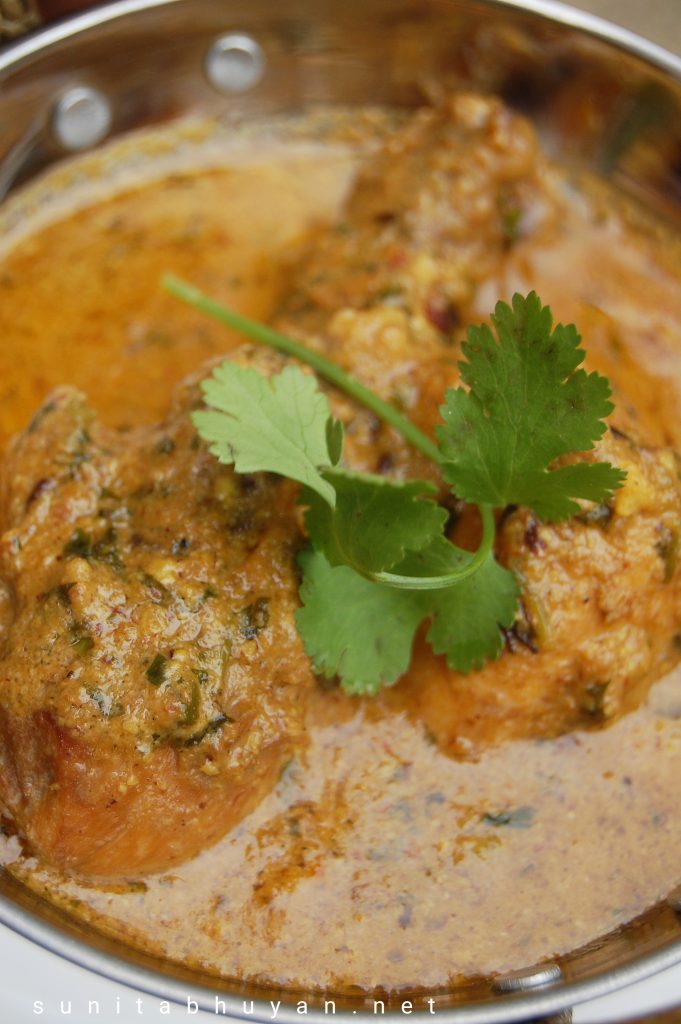 ---
This too, is a recipe that goes back a decade and I was luckily able to revive from 'the notebook'. What 'notebook' I hear you say! Read all about it here!
I say it is an indulgent recipe and it does look and feel indulgent. But it does not leave you feeling heavy. The almonds add a beautiful texture and richness to the gravy.
Continue reading for the full / printable recipe for this kesar badam murgh / saffron and almond chicken curry.
---
Subscribe to Sunita's World – life and food! to receive updates on latest posts, tips and recommendations straight to your inbox! Simply fill in the details below. Thank you!
---
Stay connected-
On another note, if you try any recipe from this website, do take a photo and tag me on instagram @sunita_bhuyan. I would love to see your creations! Also, do connect on other socials too; links to all my socials are given below-
STAY CONNECTED:
---
---
Recipe card-
Kesar badam murgh l Saffron and almond chicken curry
An indulgent chicken curry to enjoy with friends and family; best enjoyed with some Indian flatbread.
Ingredients
1½

kg

whole chicken, cut into pieces and skinned; keep the bones in

2

tbsp

cumin powder

⅓

cup

sunflower / vegetable oil

1

tsp

sugar

½

cup

whole almonds, ground with a little water

2½

cups

water ( may need more)

1

tsp

saffron strands

1

tbsp

garam masala powder

salt

to taste

½

cup

finely chopped coriander
For tempering
2

bay leaves

1

tsp

cumin seeds

1

inch piece of cinammon

1

whole dried red chilli
To be ground to a paste
1

large onion, chopped

4

large cloves of garlic, peeled

1

inch piece of ginger, peeled and chopped
Instructions
Add the ingredients for tempering.

When the seeds start to sizzle, add the sugar and let it caramelise. Keep an eye on it and make sure it doesn't burn.

Add the ground spice paste (onion, ginger, garlic) along with the cumin powder and saffron.

Keep stirring over medium heat till the moisture evaporates and the mixture becomes lumpy.

Add the chicken and stir till nicely browned and coated in spices. Do this between medium to high heat.

Add the salt, stir and cover and cook over low heat till the chicken is almost done. Stir occasionally.

Mix the almond paste with the water and add to the pan. Stir well.

Cover and cook till the chicken is cooked completely. Keep stirring occasionally. If the gravy starts to dry out too much, add a little more water.

Add the garam masala powder and chopped coriander, stir and simmer for a minute.

Remove from heat and serve hot with rice or Indian flatbreads.
---
All the Indian recipes on this website can be found here.
You might also like to try these other recipes from this website-
Til diya kukura mangxo / Assamese style chicken curry with sesame seeds
An Assamese (from Assam, North East India) style chicken curry filled with the nutty flavour of sesame seeds. Not overpowering, and with minimum use of spices. Great with rice or Indian flatbreads.
Check out this recipe
Chicken pulao
This chicken pulao is dressed up with an assortment of spices which turn this dish into an indulgent and delightful one pot meal.
Check out this recipe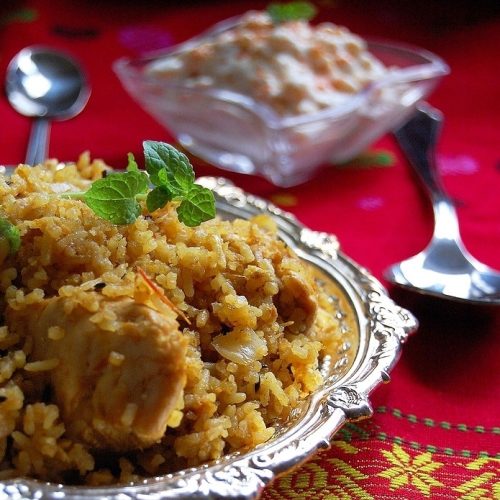 Grilled chicken skewers
Boneless strips of chicken thighs marinated in a walnut and yogurt marinade and grilled along with peppers and onions. Great to have wrapped in flatbreads or even on its own.
Check out this recipe
Until next time,
Sunita
STAY CONNECTED: