This poached salmon in a chunky white sauce is a delicious way of enjoying this delicate fish.
---
The first time I tried salmon was when we moved to the UK more than two decades ago and immediately fell in love with. When they were little, the kids used to call it the 'pink fish' and would happily lap it up!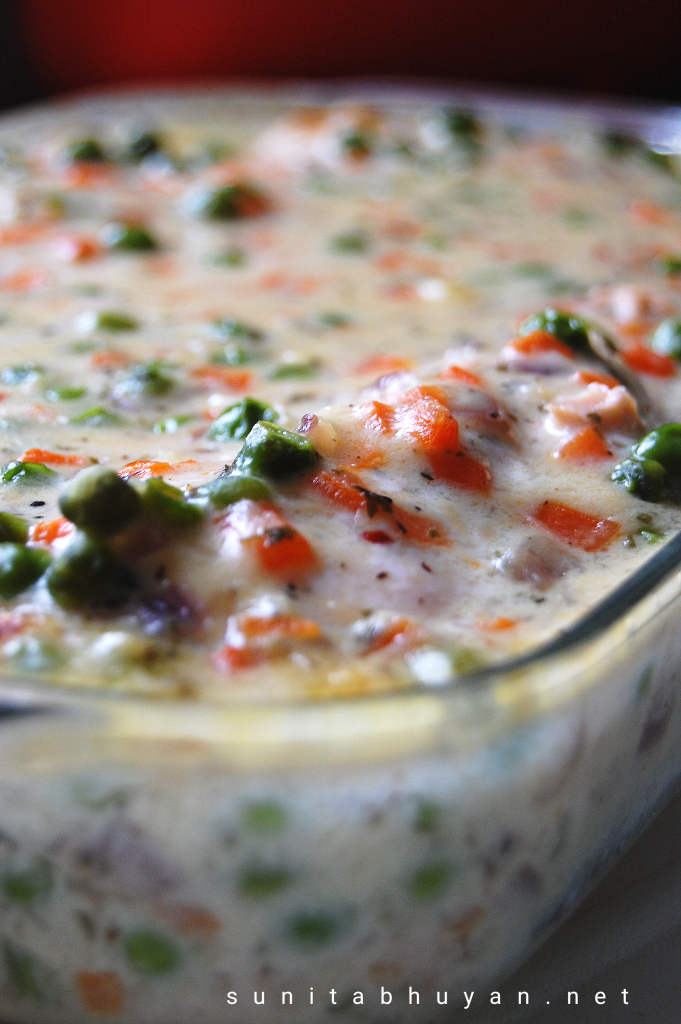 ---
We have had it pan fried, baked, curried and in a variety of other ways. But, the love affair is far from over. All four of us still gleam with happiness whenever it is served at the table, and it is done so very often. Although, the main reason for our salmon overdose is usually the health benefits attached to it- salmon is low in calories and saturated fat, yet high in protein, and a unique type of health-promoting fat, the omega-3 essential fatty acids – the fact that its taste is also enjoyed by us makes it all the better. So, no screwing up of faces to eat something only because it is healthy.
---
In my quest to cook and serve it up in different ways, I made the following dish of poached salmon in a chunky white sauce. The creamy and slightly indulgent sauce went quite well with the subtle fish.
I used salmon steaks in this recipe and they were a good size. Along with some roast potatoes and some fresh salad, this made for a nice and filling meal.
---
Continue reading for the full / printable recipe for this poached salmon in a chunky white sauce .
All the fish recipes on this website can be found here.
You might also like to try the following recipes from this website-
Orange salmon bake
Pieces of salmon are drizzled with a delicately spiced orange and olive oil dressing and baked. The recipe is easy to put together. It is simple enough to cook on a regular basis and sophisticated enough to grace your entertaining table.
Check out this recipe
Salmon and vegetable pie
A delicious yet light salmon and vegetable pie which with a simple fresh salad can form a hearty meal.
Check out this recipe
Spicy baked salmon
Bite sized pieces from a salmon fillet are marinated in a wonderful combination of warm spices and herbs, wrapped in a parcel and baked.
Check out this recipe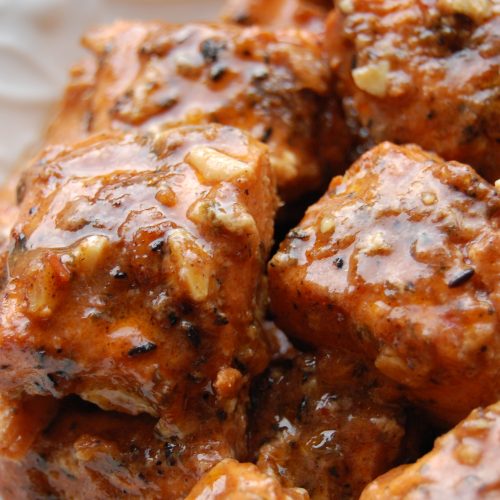 ---
Subscribe to Sunita's World – life and food! to receive updates on latest posts, tips and recommendations straight to your inbox! Simply fill in the details below. Thank you!
On another note, if you try any recipe from this website, do take a photo and tag me on instagram @sunita_bhuyan. I would love to see your creations! Also, do connect on other socials too; links to all my socials are given below-
STAY CONNECTED:
---
Recipe card-
Poached salmon with a chunky white sauce
Salmon poached with spices and then baked in a beautiful chunky white sauce.
Ingredients
5

salmon steaks

3-4 whole peppercorns

1 large onion, finely chopped

2 cloves of garlic, finely chopped or crushed

1 carrot, finely chopped

2-3 handfuls of peas

1½

tbsp

of butter

3

cups

of milk

1

tbsp

dried parsley

3

bay leaves

a pinch of crushed red chillies(more or less)

½

cup

of plain flour

plenty of freshly ground pepper

salt to taste
Instructions
Place the fish steaks in a pan of salty water with a bay leaf and the whole peppercorns, and poach till the fish is almost cooked. Keep an eye on the fish as salmon cooks quite quickly.

Discard the bay leaf and peppercorns; drain the liquid and keep the fish aside.

Pre heat the oven at 250 deg C.

Melt the butter in a pan.

Add the onion, garlic, remaining bay leaves, carrots and peas and stir fry over medium heat for 4-5 minutes.

Add the salt, freshly ground pepper and crushed red chillies, parsley and stir well.

Add the milk and bring to a boil.

Gradually add the flour, constantly whisking to avoid forming lumps.

Keep stirring over medium heat till the mixture thickens and remove from heat.

In a baking tray, spread some of the chunky sauce and arrange the fish over it, covering them with the rest of the sauce.

Place the tray in the centre of the pre heated oven and bake for a few minutes or till the fish is cooked completely and heated through.

Serve hot. We had ours with some roast potatoes and some fresh salad.
---
You might also like to try the following recipes from this website-
Aloo bilahi masor jool / Assamese style fish curry with potato and tomato
This uncomplicated fish curry makes for a fast and hearty meal any day of the week
Check out this recipe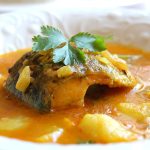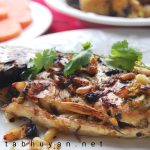 Xoru maas diya adar jool l Small fish in ginger gravy
An Assamese speciality of small varieties of fish added to a ginger infused curry of soupy consistency
Check out this recipe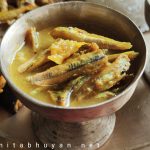 ---
Until next time,
Sunita
STAY CONNECTED: