These tomato and paneer paratha are full of flavour and are absolutely delicious. The spices blend well with the rest of the ingredients and add to the taste. And as everything is mixed into the dough, it makes them easier to rustle up!
---
Paratha-
Now let's talk about parathas. They are unleavened Indian flatbreads and come in many varieties such as layered, stuffed etc. Some are flaky, while others are crisp on the outside and stuffed with a soft filling. Well, if one is into Indian cuisine, there will probably be very few who are familiar with them and don't like them. We are definitely not among those few.
Parathas can hardly go wrong, what with the zillions of combinations that can be rustled up, making them a meal in themselves. Whether enjoyed on their own or with other curries or with some yogurt and pickle, they form a nice , filling meal. They also form a fuss free item to pack in the lunchbox. I don't mind making and of course eating stuffed parathas, and aloo parathas (potato stuffed parathas) are our firm favourites.
---
But I must admit that I more often resort to adding everything to the dough itself. Especially when the time is limited. These tomato and paneer parathas are one such. And I am so glad to still have the recipe, considering they were first made all those years ago. I did make a note of it in the notebook, so that was lucky! Which notebook? Read about it here.
Oil, butter etc-
I used minimal oil while cooking these parathas. In fact I just used a non stick spray to grease the pan; you can use regular vegetable or sunflower oil too. And if you want to indulge, you can add some butter to the parathas on each side while cooking, or add some to the cooked parathas while eating.
---
Serving suggestions-
Our usual choice is to enjoy these parathas with yogurt or pickle; but they will go well with dal and other vegetarian or non vegetarian curries for a filling meal.
Continue reading for the full recipe for these delicious tomato and paneer paratha.
---
All the Indian recipes on this website can be found here.
You might also like to try the following recipes from this website-
Mixed vegetable and cheese paratha
A filling and delicious paratha stuffed with an assortment of vegetables and some cheddar cheese.
Check out this recipe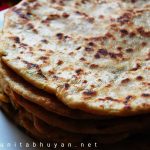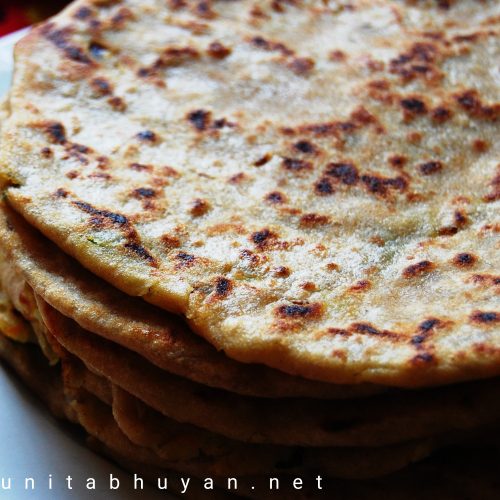 Aloo-methi-cream cheese parathas
Delicious Indian flatbreads with potatoes, fenugreek leaves and cream cheese.
Check out this recipe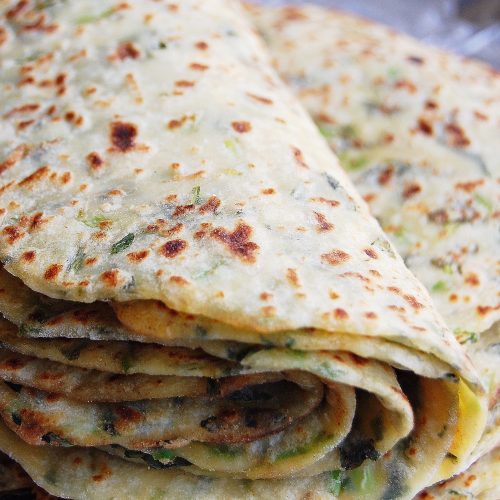 Luci / Poori
A deep fried Indian bread made with unleavened dough. The dough is divided into small portions which are then rolled into small discs and deep fried in hot oil to puff up.
Check out this recipe
---
Subscribe to Sunita's World – life and food! to receive updates on latest posts, tips and recommendations straight to your inbox! Simply fill in the details below. Thank you!
---
Stay connected-
On another note, if you try any recipe from this website, do take a photo and tag me on instagram @sunita_bhuyan. I would love to see your creations! Also, do connect on other socials too; links to all my socials are given below-
STAY CONNECTED:
---
Recipe card-
Tomato and paneer paratha
An easy to make paratha (not stuffed), full of flavours.
Ingredients
3

ripe, medium sized tomatoes, chopped

4

cloves of garlic, chopped

1

inch piece of ginger, chopped

1

small onion, chopped

4½

cups

plain whole wheat flour (atta) + extra for rolling

½

tsp

 turmeric powder

1

tbsp

cumin powder

1

tsp

cumin seeds 

1½

tsp

garam masala powder

½

tsp

chilli powder (more or less)

1

tbsp

salt

150

gms

paneer, grated

2

tbsp

sunflower / vegetable oil

⅔

cup

water
To cook
non stick cooking spray or a little sunflower / vegetable oil to grease the pan
Instructions
Blend together the tomatoes, ginger, garlic and onion in a food processor with the water.

In a bowl, mix together the rest of the ingredients.

Tip in the tomato mix into the flour mix and knead well to form a ball of dough.

Cover the bowl with plastic wrap and let the dough rest for at least half an hour.

Divide the dough into 16 equal portions, and slightly flatten them. Roll the balls in the extra flour.

Roll out each ball into discs of about 6 inches in diameter. I rolled and made the parathas simultaneously. While one was on the pan, I rolled the other, switching when necessary.

Grease a griddle ( I used non stick spray) and place a rolled out disc onto it. Cook over medium heat for 10-11 seconds. Turn over and repeat. Turn and cook again on each side for 4-5 seconds or till dark brown spots appear. Repeat for all the other balls of dough.

Stack them, one atop the other and wrap with foil, if using later.

Serve hot with dal or vegetarian /non vegetarian curries, or just with some yogurt / pickle.
---
You might also like these other recipes from this website-
Bootor dali
Bootor dali is an Assamese dish of split chickpeas (chana dal) cooked in spices. It is usually thick and eaten with Indian flatbreads though it's thinner counterpart is also enjoyed with rice.
Check out this recipe
Palak paneer
An Indian dish of paneer (Indian cottage cheese) cubes in a spinach gravy. Soft cubes of paneer in a smooth spinach gravy- the perfect accompaniment to Indian flatbreads and rice.
Check out this recipe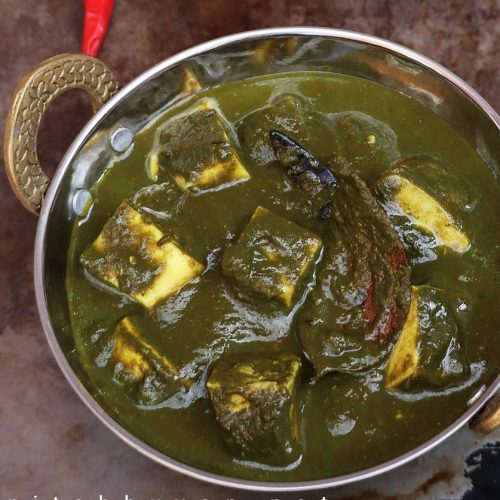 Tomato, peas and paneer curry
A delicious, healthy and creamy paneer curry packed full of flavours.
Check out this recipe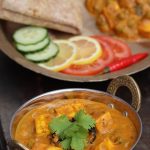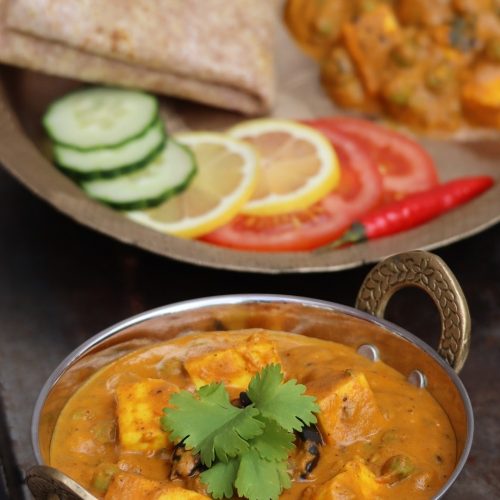 ---
Until next time,
Sunita
STAY CONNECTED: