Rahar dali l Arhar dal l Toor dal l Split pigeon peas is very much loved in our household. This recipe is easy to make, delicious, filling and nutritious at the same time.
---
Rahar dali / split pigeon peas are a popular pulse all over India and is prepared in a variety of ways. They are also an excellent source of protein and iron along with a host of other health benefits. All the more reason to stock this pulse in your pantry. Although, masur dali (split red lentils) remain the most popular lentil in our household, rahar dali comes close. And while masur dali is our go to regular lentil, rahar dali does feature often too, especially when we need something a bit more substantial.
This is a easy recipe. However, keep in mind not to overcook the rahar dali.
---
Coconut-
I have added some small coconut pieces to the rahar dali; it adds a nice bite. However, you can avoid it if you do not prefer.
Vegan option-
If you follow a vegan diet, you can still enjoy this recipe by just omitting the little amount of ghee (clarified butter) that I added towards the end. It will still taste great.
Continue reading for the full recipe /video for Rahar dali l Arhar dal l Toor dal l Split pigeon peas.
---
All the Indian recipes on this website can be found here.
You might also like to try the following recipes from this website-
Bootor dali
Bootor dali is an Assamese dish of split chickpeas (chana dal) cooked in spices. It is usually thick and eaten with Indian flatbreads though it's thinner counterpart is also enjoyed with rice.
Check out this recipe
Muri ghonto l fish head with yellow lentils
A dish of split yellow lentils (mung dal) with fish head; best served with hot plain rice.
Check out this recipe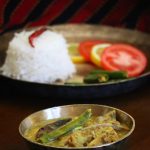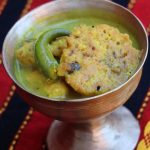 ---
Subscribe to Sunita's World – life and food! to receive updates on latest posts, tips and recommendations straight to your inbox! Simply fill in the details below. Thank you!
---
On another note, if you try any recipe from this website, do take a photo and tag me on instagram @sunita_bhuyan. I would love to see your creations! Also, do connect on other socials too; links to all my socials are given below-
STAY CONNECTED:
---
Recipe card-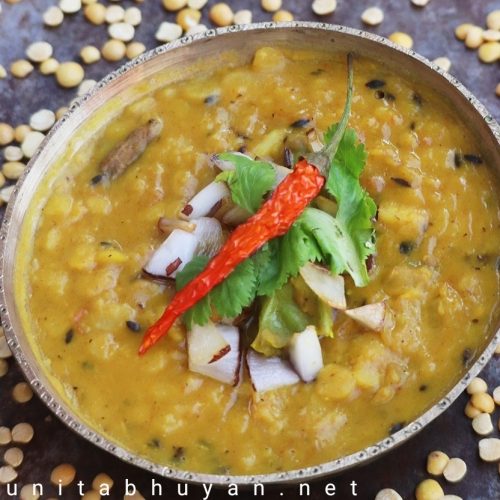 Rahar dali l Arhar dal l Toor dal l Split pigeon peas
A delicious and easy to make recipe
Ingredients
1

cup

rahar dali /arhar dal/toor dal/split pigeon peas

3-4 tbsp masur dali / split red lentils

1½

tsp

salt (or to taste)

½

tsp

turmeric powder

½

tsp

coriander powder

½

tsp

cumin powder

5

cups

water

1

cup

hot water (may or may not need it)

½

tsp

chilli powder

2

green chillies, split halfway up from the bottom

1

tsp

garam masala powder

1

tomato, chopped

1

tbsp

ghee (clarified butter), optional

⅓

cup

chopped coconut (cut into small pieces)
For tempering-
1

tsp + 1tbsp sunflower or vegetable oil

2

whole red chillies, split in half

2

one inch piece of cinnamon

5

pods of cardamom

1

tsp

cumin seeds

1

tsp

ginger-garlic paste
Instructions
Wash together the rahar dali and masur dali in several change of water until the water runs clear. Drain.

Add the washed rahar dali mixture to a pot along with salt, cumin powder, coriander powder and chilli powder.

Place the pot over high heat and bring to a boil.

Reduce heat to low, cover and cook for 10 minutes. Stir in between.

Add the green chillies, stir and cook for another 5 minutes.

Add the chopped tomatoes. Stir, cover and cook for about 20-25 more minutes or till the dali is soft. Keep mashing the tomatoes as they soften.

The pulses should not be absolutely mushy and should still hold some shape. Keep stirring in between. Add more water – a little at a time- if needed. I added 1 cup of hot water after 15 minutes.

Keep an eye on the pot in the last few minutes; it will go from cooked to a mush very quickly.

Heat a small pan and add a tsp of oil.

Add the coconut pieces and fry till slightly golden; keep aside.

In the same pan, add 1 tbsp of oil.

Add the dry red chillies, cumin seeds, cinnamon and cardamom and stir.

Add the ginger-garlic paste and stir for a few seconds.

Tip the entire contents of the pan into the pot of dali along with the coconut pieces and garam masala. Stir well.

Stir in the ghee if using.

Place the pot over heat for a little while, just until heated through. Stir and remove from heat.

Serve hot with rice or any Indian flatbread.
Video
---
You might also like to try the following recipes from this website-
Tomato, peas and paneer curry
A delicious, healthy and creamy paneer curry packed full of flavours.
Check out this recipe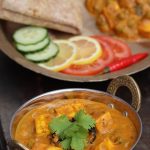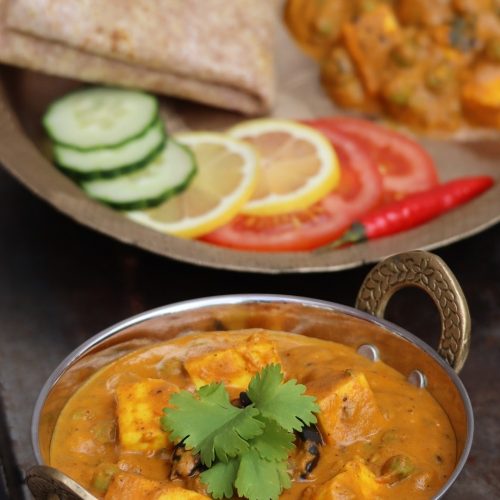 Baked baby aubergines in peanut gravy
Baked juicy aubergines dunked in an easy peanut gravy
Check out this recipe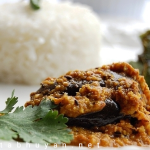 Palak paneer
An Indian dish of paneer (Indian cottage cheese) cubes in a spinach gravy. Soft cubes of paneer in a smooth spinach gravy- the perfect accompaniment to Indian flatbreads and rice.
Check out this recipe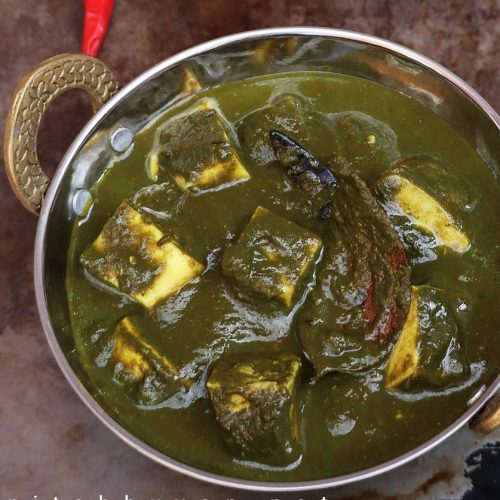 ---
Until next time,
Sunita
STAY CONNECTED: