This courgette – bilahi masor jool l courgette – tomato fish curry is based on one of my favourite Assamese style fish curries while growing up. It is a light, comforting and refreshing fish curry, and it's quite easy to make too.
---
Growing up in an Assamese (from Assam, a state in the North East of India) household, masor jool ( light fish curries) were a part of our regular meals. Situated on the banks of the mighty Brahmaputra, fish was an essential ingredient of our lunches and dinners.
Assamese fish curries are mostly vegetable based and have a soupy consistency to them. Mix some with hot, steamed rice, and you're all set for a comforting meal that is also easy on the tummy.
---
Memories-
One of my favourite masor jool while growing up was pani lau – bilahi masor jool l bottle gourd – tomato fish curry. I absolutely loved that combination. Bottle gourd is found in plenty in Assam. In fact, my father, an avid gardener, had quite a few growing in the vegetable garden in our backyard, along with tomatoes and others. So it was very much a case of garden to plate. The fresh and tender bottle gourd along with the lush, vine ripened tomatoes almost melted in the cooking pan to produce the beautiful and light fish curry.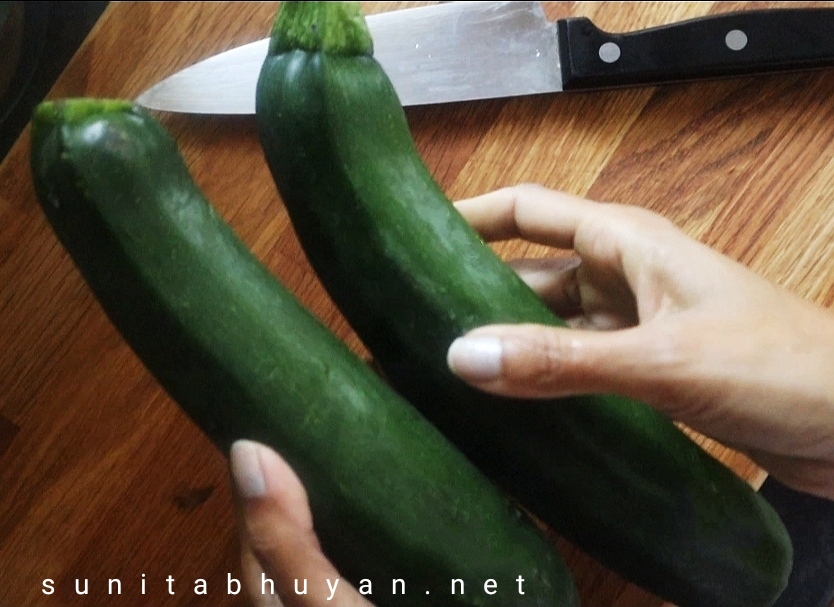 ---
Options-
Fast forward to the UK, bottle gourds, of course were not easily available. The longing for the lau – bilahi masor jool (bottle gourd – tomato fish curry) remained and I began to scout for bottle gourd substitutes. Bottle gourd was sometimes available at the local Asian grocery shop; but it did cost an arm and a leg and wasn't always available. That's when the humble courgette came to the rescue. It was not an exact substitute but it gave off very similar textures and the combination tasted great. And soon, over the years, this courgette – bilahi masor jool l courgette – tomato fish curry has managed to become my new favourite fish curry.
---
The fish-
Back in Assam, this fish curry is usually made with rohu / labeo rohita, a fish from the carp family. Although we have carried our love of fish all the way here to the UK, most of the time it is the locally available fish that makes its way into our shopping trolley. But, once in a while, we do indulge and greedily trudge to the local Asian grocery store to stock up on a rohu. In this recipe, I have made this curry with rohu fish. But over the years, I have also used trout in this recipe with delicious results.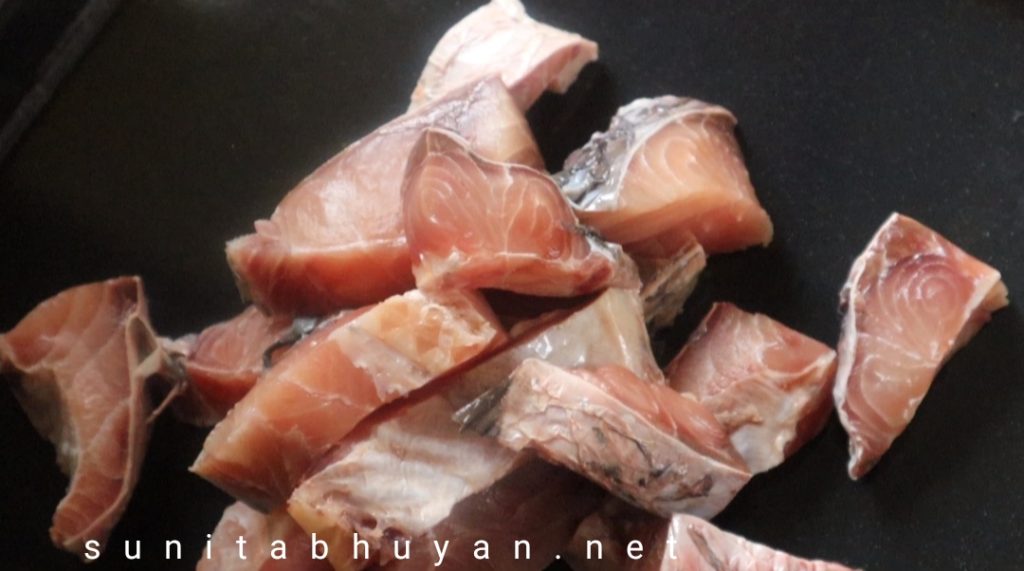 ---
Baking variation-
Traditionally, everything is cooked on the stovetop. But in this recipe, I have used both the oven and the stovetop to make the curry. I baked the fish; marinated it in the authentic way and then put it in the oven. The pieces of baked fish came out perfectly and that too with only a couple of tablespoons of oil. And it also keeps away the hot oil splatters during frying. I then cooked the jool (curry) on the stovetop before adding the fish to it.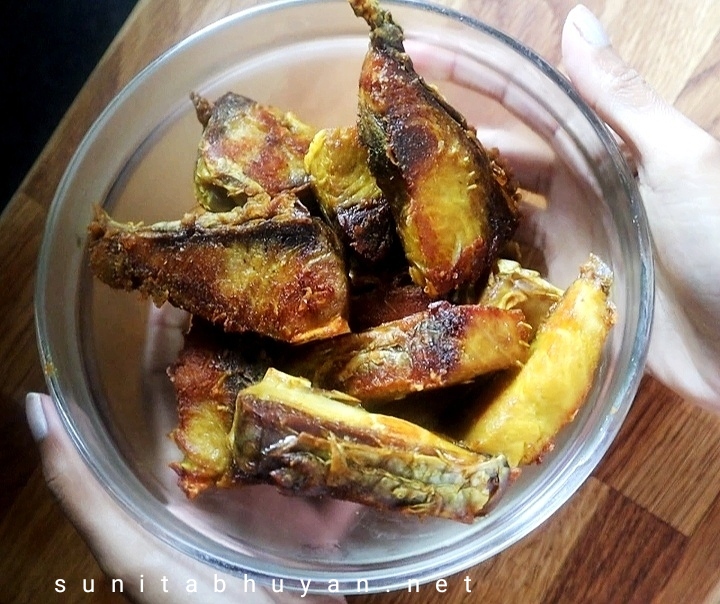 ---
Cooking oil-
Traditionally, mustard oil is used in Assamese fish curries but I have used olive oil to keep it lighter.
Continue reading for the full recipe for this courgette – bilahi masor jool l courgette – tomato fish curry.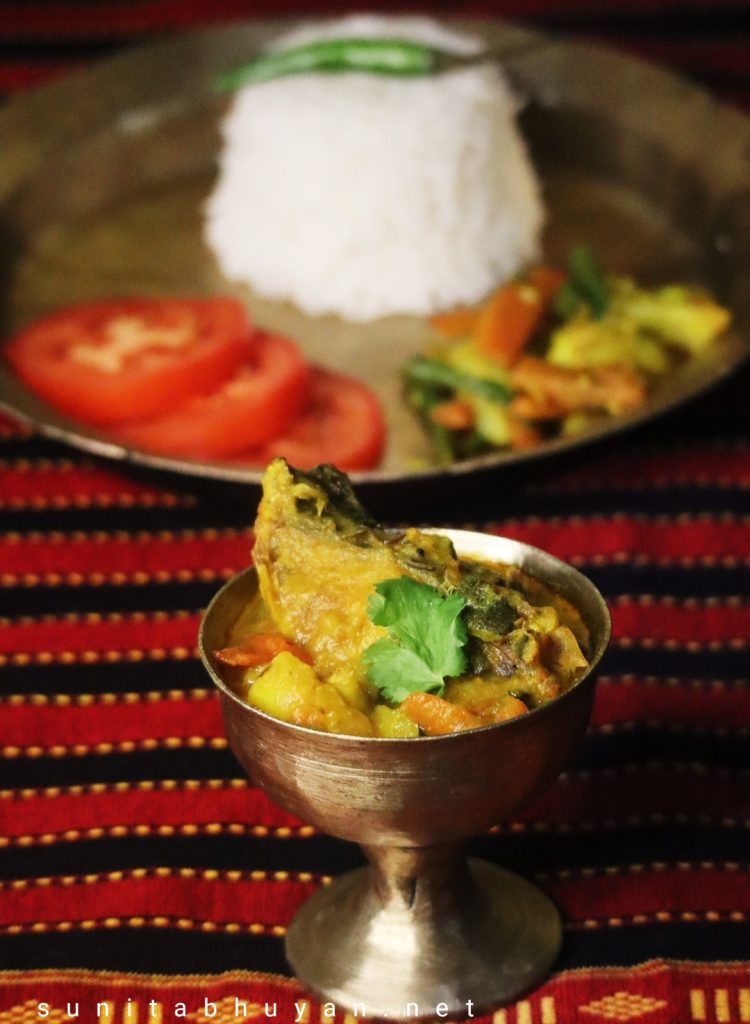 ---
All the Indian recipes on this website can be found here.
You might also like the following recipes from this website-
Muri ghonto l fish head with yellow lentils
A dish of split yellow lentils (mung dal) with fish head; best served with hot plain rice.
Check out this recipe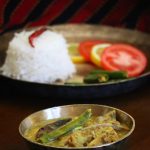 Aloo bilahi masor jool / Assamese style fish curry with potato and tomato
This uncomplicated fish curry makes for a fast and hearty meal any day of the week
Check out this recipe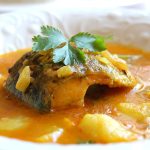 Aloo – phulkobi masor jool l Assamese cauliflower and potato fish curry
An Assamese style fish curry popular in Assam, especially during winter when cauliflowers are aplenty
Check out this recipe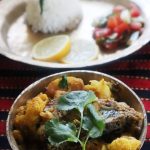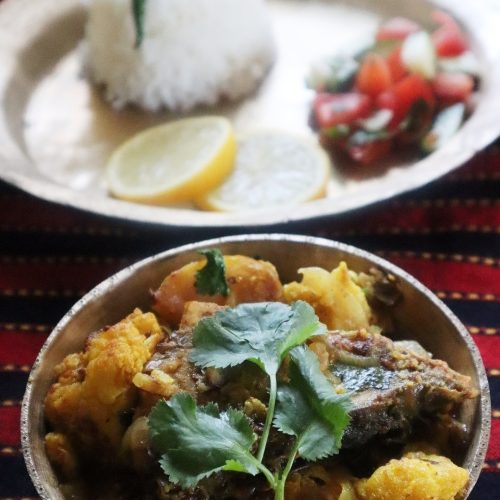 ---
Subscribe to Sunita's World – life and food! to receive updates on latest posts, tips and recommendations straight to your inbox! Simply fill in the details below. Thank you!
---
Stay connected-
On another note, if you try any recipe from this website, do take a photo and tag me on instagram @sunita_bhuyan. I would love to see your creations! Also, do connect on other socials too; links to all my socials are given below-
STAY CONNECTED:
---
Recipe card-
Courgette – bilahi masor jool l Courgette – tomato fish curry
An easy to make Assamese style fish curry based on a childhood favourite.
Ingredients
Marinade for fish
1

tsp

turmeric powder

1½

tsp

salt

3½

tbsp

olive oil
Tempering-
2

bay leaves

2

whole red chillies

1

tsp

paas puran
Other ingredients for the curry
3

tbsp

olive oil

2

courgettes, cut into thin pieces and washed

2

medium sized potatoes, sliced and washed and soaked in water until needed

2

large tomatoes, chopped

1

large onion, sliced

5-6 cloves of garlic, chopped

1 inch piece of ginger, chopped

salt to taste

1

tsp

sugar

1

tsp

turmeric powder

3

tsp

cumin powder

2

tsp

coriander powder

3½-4 cups of hot water

a small bunch of fresh coriander, chopped

1

tsp

garam masala powder
Instructions
Pre heat the oven at 200 deg C

Rub the fish pieces with the ingredients for the marinade and leave for 5 minutes.

Arrange the fish pieces on a greased baking tray (or line the tray with parchment) in a single layer.

Place the tray in the centre of the pre heated oven and bake for about 19 minutes or till the fish is cooked and nicely coloured on both sides. Turn them over once after 12-15 minutes. Keep aside.

Add the ingredients for tempering.

When the seeds begin to sizzle, add the potatoes over high heat and stir for a a few seconds.

Add the courgette, onion, ginger, garlic, salt and sugar.

Reduce the heat to low , cover and cook till the courgette and potatoes are almost done.

Add the tomatoes and sir well. Cover and cook.

When the tomatoes are half cooked, add the turmeric, cumin and coriander powders.

Stir well and cook till everything is completely cooked.

Add the hot water and bring to a boil.

Add the fish, stir very gently and simmer for a couple of minutes.

Add the fresh coriander and garam masala powder and simmer for a minute.

Remove from heat and serve hot with some steamed rice. We had our fish curry with some fresh salad and a dry mixed vegetable dish.
Video
---
You might also like to try the following recipes from this website-
Rahar dali l Arhar dal l Toor dal l Split pigeon peas
A delicious and easy to make recipe
Check out this recipe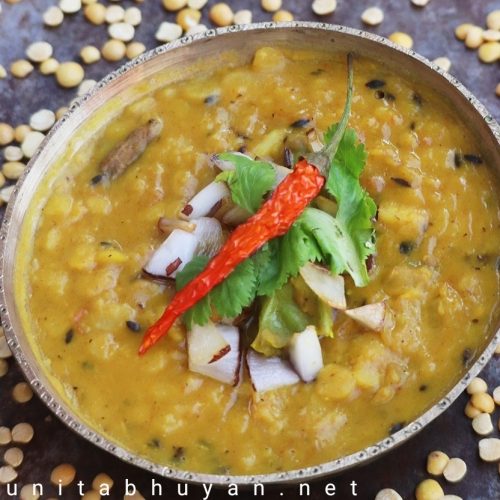 Baked mint and coriander chicken
Succulent baked mint and coriander chicken full of flavours; quick and easy recipe
Check out this recipe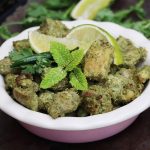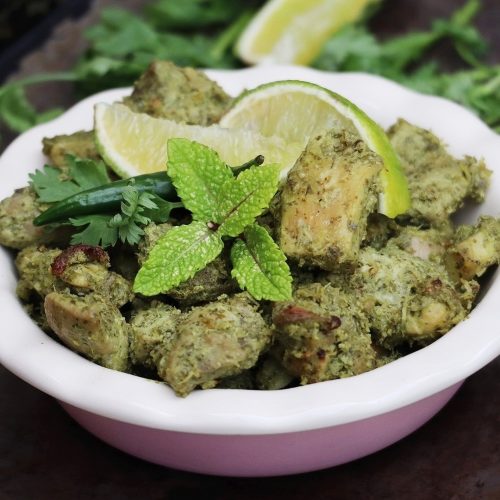 Bootor dali
Bootor dali is an Assamese dish of split chickpeas (chana dal) cooked in spices. It is usually thick and eaten with Indian flatbreads though it's thinner counterpart is also enjoyed with rice.
Check out this recipe
---
Until next time,
Sunita
STAY CONNECTED: