This baked mint and coriander chicken is one of our family favourites. I have made it innumerable times, for family and friends at home and taken it as a contribution to joint parties. It is very succulent, full of fresh flavours and easy to make too!
I hadn't made it in a while though and had promised the family to make some rolls with this chicken as the main filling. I decided to seize this as an opportunity to do a post and also record a video. But life had other plans in store and I was left with very little time to make them, let alone make notes and record a proper video. The rolls were made and devoured in record time. I had just a little left over to click pictures later. I did manage to click a few while making it and the daughter recorded a bit too. The video is not the most detailed, but it's there if you want to get the idea. This recipe is a keeper and I couldn't wait to share it with you, so here we go.
To check doneness-
This chicken does not need to brown all over to be done. So do not look for colouring to gage its doneness. Just check the inside; if it is cooked through remove from the oven.
Serving suggestions-
I filled some Indian flatbreads (parathas) with the chicken, some sliced and pan fried peppers and red onion (just enough to take the raw edge off) with a dash of lime, and a little Greek yogurt. This chicken can also be enjoyed on it's own as a starter or snack; a dash of lime / lemon is all that is needed! Or add some to a sandwich!
Continue reading for the printable recipe for this baked mint and coriander chicken.
---
Subscribe to Sunita's World – life and food! to receive updates on latest posts, tips and recommendations straight to your inbox! Simply fill in the details below. Thank you!
---
Recipe card-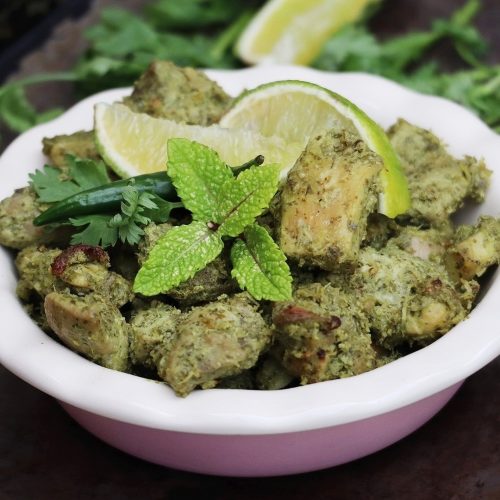 Baked mint and coriander chicken
Succulent baked mint and coriander chicken full of flavours; quick and easy recipe
Ingredients
900

gms

skinless and boneless chicken thighs, cut into bite sized pieces

150

gms

fresh coriander

a small handful of fresh mint leaves

4

-5 fresh green chillies

40

gms

fresh ginger

5

-6 large cloves of garlic

5

heaped tbsp of Greek yogurt

1

tbsp

ghee

juice of 1/2 a lime

salt to taste
Instructions
Using very little water, grind together the coriander, mint, ginger, green chilli, garlic into a thick and slightly coarse mixture.

In a bowl, add the chicken, the ground mixture and the rest of the ingredients and mix well, massaging the marinade into the chicken.

Cover the bowl with a plastic wrap and place in the fridge for at least 30 minutes.

Pre heat the oven at 200 deg (fan) and grease a baking tray.

Transfer the contents of the bowl (chicken along with the marinade) to a tray and arrange in a single layer.

Place the tray in the centre of the oven and bake for 15-17 minutes or till the chicken is cooked through.

Half way through, carefully take out the tray and discard almost all of the liquid.

Stir a couple of times in between.

The chicken does no need to brown, just check that it is cooked through; it will be moist and succulent.

Enjoy on it's own as a snack /starter with a dash of lime / lemon, or use it as a filing in wraps, rolls etc.
Video
All the non vegetarian recipes on this website can be found here.
You might also like to try these recipes from this website-
Grilled chicken skewers
Boneless strips of chicken thighs marinated in a walnut and yogurt marinade and grilled along with peppers and onions. Great to have wrapped in flatbreads or even on its own.
Check out this recipe
Lemon chicken
An easy to make lemon chicken recipe which has a mild flavour, a hint of heat and a slight sweet note from the lemon. Great as a side dish with fried rice or stir fried noodles.
Check out this recipe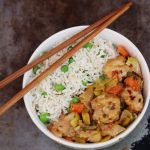 Baked leek and sage chicken patties
Ground chicken thighs (boneless and skinless) are mixed with an array of herbs and spices, shaped into patties and baked. Great on their own or as a burger or inside a tortilla wrap.
Check out this recipe
Until next time,
Sunita
STAY CONNECTED: