Summer is in full swing in our neck of the woods. Although the temperatures have been fluctuating a bit with high twenties one day and low tens the next. Nevertheless, the summer blooms have come up, bringing much joy. My lavender plant has perked up and I decided to bring it's favour and scent from the garden to our plates. So, I made these delicious lavender whole wheat shortbread biscuits with my homegrown lavender.
These were crisp, buttery biscuits with a hint of lavender. I also added a little semolina to the dough and it gave a nice bite to the baked biscuits.
How much lavender?
I dried a few stems of lavender from my garden and added to the biscuit dough for a very subtle flavour. Lavender can be overpowering in a recipe if used too much. The quantity added is also based on the strength of the lavender flavour; some will be stronger than the others. The flavour in these biscuits is very mild, if you like it stronger, add a little more; if you need to. As I mentioned before, your dried lavender may have a stronger flavour and the amount I used might be too much, in which case, you might need to reduce it. The best way to go about this recipe is to try a small batch and then go from there.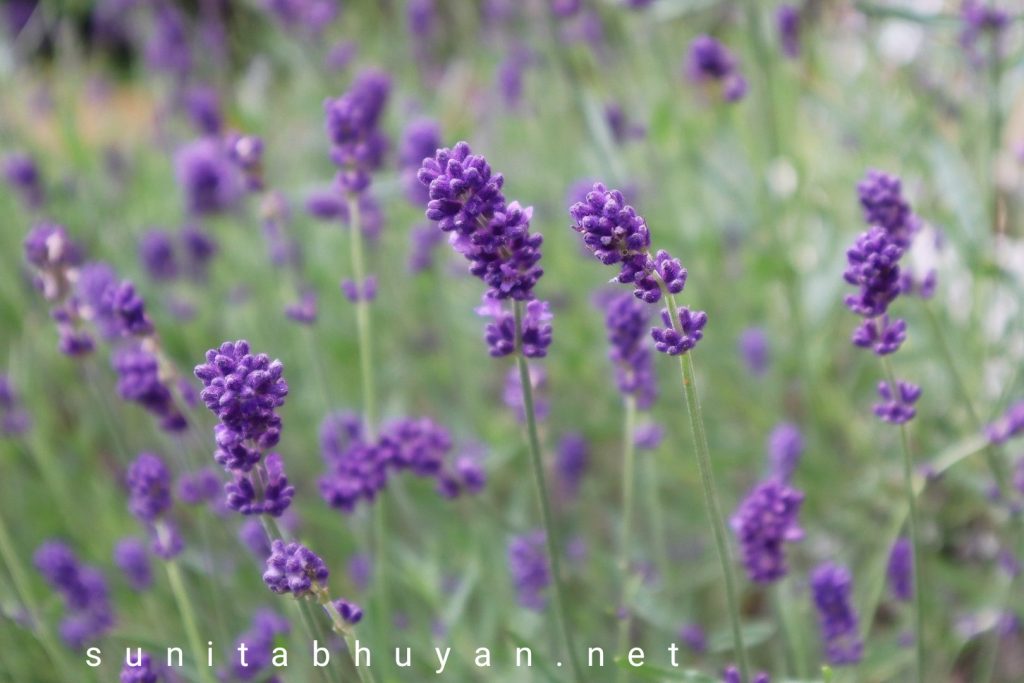 Dried lavender-
You can use ready made dried lavender from the shops or make your own. I snipped some stems with buds and dried them. The dried lavender stems can be used too, but in this recipe I have only used the buds. There are various ways of drying lavender. To see what quick and easy method I used to dry them, check the video below-
When are the biscuits done?
The pale colour does not mean that the biscuits are undercooked. To confirm their doneness, gently pick one up and check the bottom; it will have started to change colour while the top is still quite pale.
Continue reading for the full printable recipe / video for the lavender whole wheat shortbread biscuits
---
Subscribe to Sunita's World – life and food! to receive updates on latest posts, tips and recommendations straight to your inbox! Simply fill in the details below. Thank you!
---
Recipe card-
Lavender whole wheat shortbread biscuits
Shortbread biscuits infused with lavender.
Ingredients
¾

cup

softened butter

1½

cup

plain whole wheat flour

½

cup

granulated sugar

¼

cup

semolina

2½

tsp

dried lavender buds (more or less, depending on the strength of the dried lavender used)
Instructions
In a bowl, add the flour and semolina. Whisk well and keep aside.

In another bowl, add the butter and sugar. Whisk together till pale and fluffy.

Add the flour mixture, and fold in.

Add the lavender and fold in till incorporated. Do not over mix.

Place the dough on a piece of plastic wrap and shape into a log of approximately 8 inches long and 2½ inches wide.

Wrap the log in the plastic wrap and keep in the freezer for 30 minutes. Alternatively, you can keep in the fridge for an hour.

Pre heat the oven at 160 deg C and line a baking tray with parchment. I needed two trays, and baked one at a time, keeping the other in the fridge until needed.

Unwrap the dough and cut 20-21 slices. Arrange on the baking tray/s, cut side up.

Place the tray in the centre of the pre heated oven and bake for about 12-14 minutes.

To confirm their doneness, gently pick one up and check the bottom; it will have started to change colour while the top is still quite pale.

Take the tray out of the oven and place on a cooling rack for about 3-5 minutes.

Carefully transfer the biscuits onto the rack and cool completely.

Store in air tight containers.
Video
All the baking recipes on this blog can be found here.
You might also like to try the following recipes from this blog-
Whole wheat , eggless, coconut and orange cookies
A whole wheat, eggless, coconut and orange cookie recipe; crisp and not overtly sweet.
Check out this recipe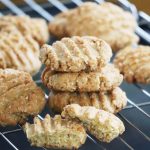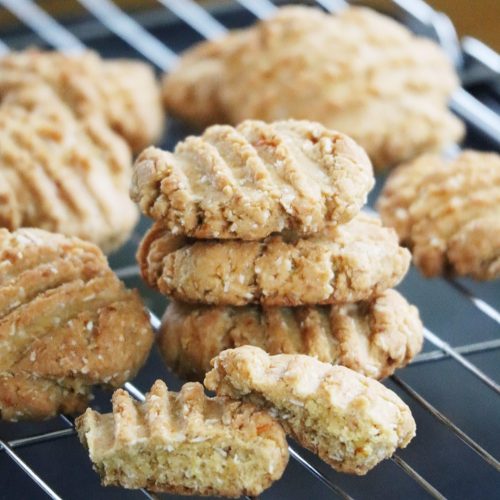 Cheese bites l Cheese cookies
These little crispy cheese bites l cheese cookies are really addictive and the pungency of the nigella seeds complement them very well. The Red Leicester cheese gives them a lovely orange hue too! Great if you're looking for a savoury treat to nibble on.
Check out this recipe
Oats, chocolate and ginger cookies (eggless)
Easy to make eggless oats, chocolate and ginger cookies. They have a nice bite to them and the ginger gives it a nice kick; perfect with your cuppa or glass of milk.
Check out this recipe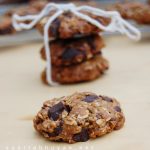 Until next time,
Sunita
STAY CONNECTED: