Baked honey chilli lemon garlic chicken – succulent chicken thighs with the most finger licking hot and sweet, lemony and garlicky sticky sauce.
---
The chicken thighs are browned in a pan and then baked in the sauce. The latter is reduced later to form the most delicious, and did I say, finger licking coating for the chicken. It is hard to resist having the sauce by itself. But do be careful and let it cool down a little to avoid burning your tongue.
This dish can be whipped up very easily; the stovetop cooking is just about 10-12 minutes; the oven does the rest. Moreover, the steps are not very complicated and before you know it, you will have this plate of deliciousness to gush over and enjoy!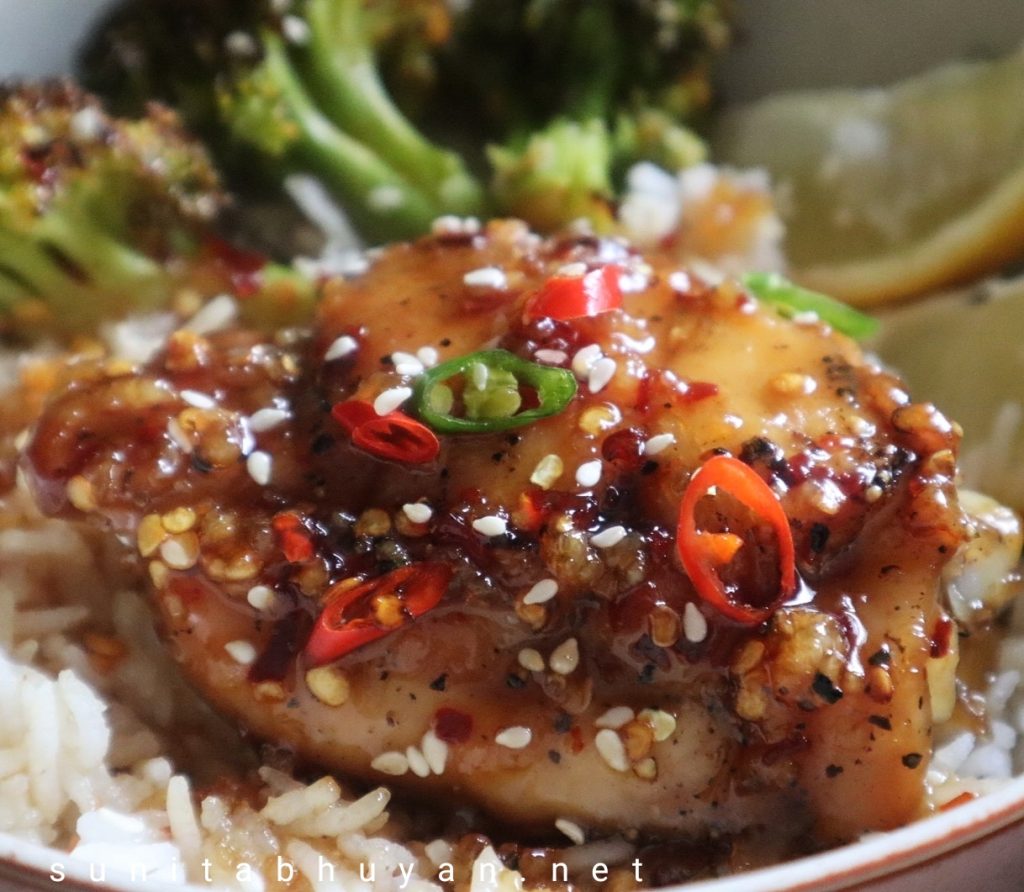 ---
The chicken-
The chicken thighs, as I mentioned earlier, are browned in a pan for a few minutes . A quick and easy sauce is then poured over it. The dish is then placed in the oven until the chicken thighs are cooked through. The sauce is quite liquidy at this stage and it is almost like poaching the chicken in it.
The sauce-
By the time the chicken is cooked through, the sauce will still feel liquidy. It is then reduced on the stovetop to be poured over the chicken.
---
Meal idea-
We had ours with some steamed rice, roasted broccoli and an extra squeeze of lemon.The succulent pieces of chicken with the sticky sauce was surely delightful!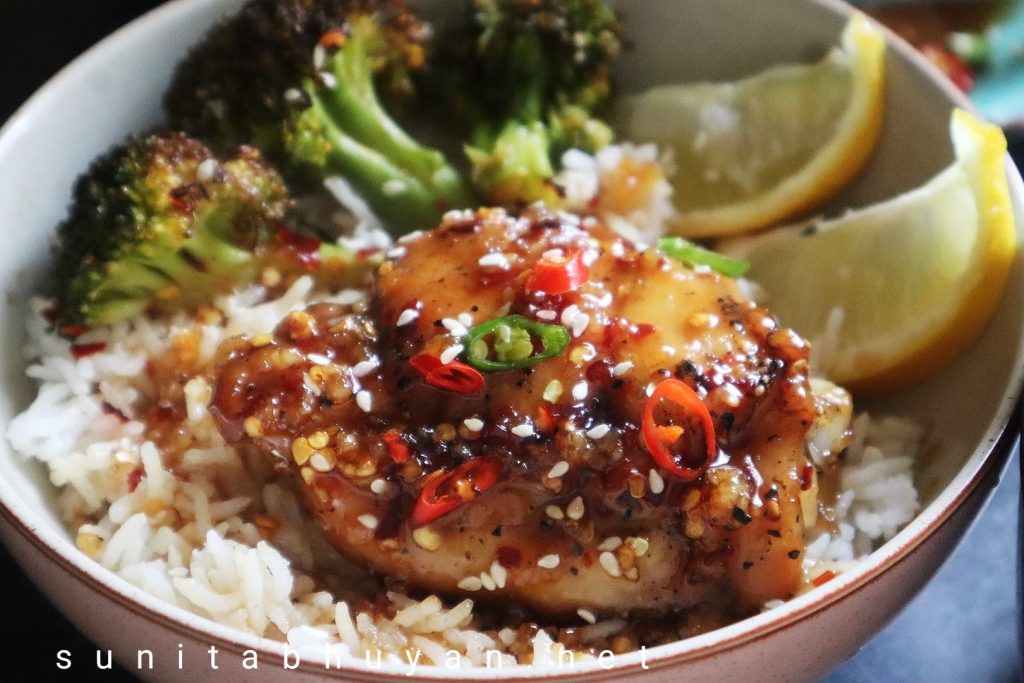 Continue reading for the full recipe and video for this baked honey chilli lemon garlic chicken.
---
All the non-vegetarian recipes on this website can be found here.
You might also like the following recipes from this website-
Grilled chicken skewers
Boneless strips of chicken thighs marinated in a walnut and yogurt marinade and grilled along with peppers and onions. Great to have wrapped in flatbreads or even on its own.
Check out this recipe
Baked leek and sage chicken patties
Ground chicken thighs (boneless and skinless) are mixed with an array of herbs and spices, shaped into patties and baked. Great on their own or as a burger or inside a tortilla wrap.
Check out this recipe
Baked mint and coriander chicken
Succulent baked mint and coriander chicken full of flavours; quick and easy recipe
Check out this recipe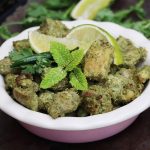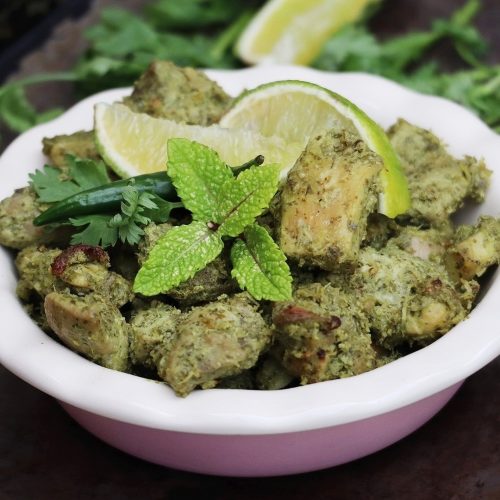 ---
Subscribe to Sunita's World – life and food! to receive updates on latest posts, tips and recommendations straight to your inbox! Simply fill in the details below. Thank you!
---
Stay connected-
On another note, if you try any recipe from this website, do take a photo and tag me on instagram @sunita_bhuyan. I would love to see your creations! Also, do connect on other socials too; links to all my socials are given below-
STAY CONNECTED:
---
Recipe card-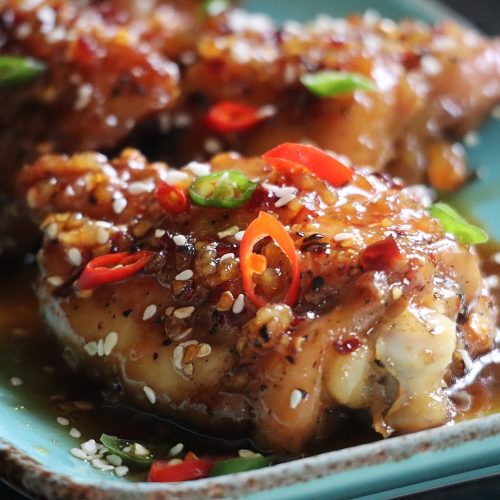 Baked honey chilli lemon garlic chicken
Succulent chicken thighs with the most finger licking hot and sweet, lemony and garlicky sticky sauce.
Ingredients
4

large chicken thighs, skinless, bone in

1

tbsp

olive oil

freshly ground pepper

½

tsp

salt, or to taste

7-8 large garlic cloves, crushed

½

cup

honey

1½

tbsp

dark soy sauce

2

tsp

crushed red chillies

juice of one large lemon

1

tbsp

vinegar

1

tsp

plain flour
To garnish-
1 red and 1 green chilli, cut into thin slices at an angle

a small handful of white sesame seeds
Instructions
Pre heat the oven at 180 deg C

Make horizontal incisions on the chicken thighs.

Rub the chicken pieces with salt and pepper and keep aside.

In a bowl or small jug, add the honey, soy sauce, vinegar, crushed red chillies, garlic and lemon juice. Whisk well and keep aside.

Heat a pan and add the olive oil.

Over high heat, add the chicken pieces and cook for 5-6 minutes or till they are golden on both sides. Keep turning over every now and then.

Remove from heat and arrange the chicken in a baking dish in a single layer.

Pour the honey sauce over the chicken. Spoon some of the liquid over the chicken pieces.

Place the baking dish in the centre of the pre heated oven and bake for 30 minutes.

Remove from the oven and spoon some of the sauce over the chicken pieces.

Return the dish to the oven and cook for another 10-15 minutes or till the chicken is cooked completely.

Take out the chicken pieces from the sauce and arrange on a serving tray.

Pour the sauce into a small saucepan and place over high heat. Bring to a boil.

Reduce the heat and simmer for about five minutes.

In a small bowl, add the plain flour along with a couple of tablespoons of the sauce. Mix well.

Add the slurry to the sauce and keep stirring constantly to avoid lumps.

Simmer for a minute or so until the sauce starts to thicken. Do not let it thicken too much as it will thicken further on cooling( see notes below).

Cool the sauce slightly and spoon it over the chicken pieces. Sprinkle the sliced chilli and sesame seeds on top.

Serve with noodles or steamed rice. We had ours with some plain rice and roasted broccoli.
Video
Notes
If you are not going to eat immediately, you can reheat the sauce slightly before spooning over the chicken. Make sure to reheat the chicken too.
---
Lemon chicken
A mild lemon flavoured chicken recipe which can be made in one pan from start to finish. A great accompaniment to some fried rice or stir fried noodles.
Chicken pulao
This chicken pulao is dressed up with an assortment of spices which turn this dish into an indulgent and delightful one pot meal.
Check out this recipe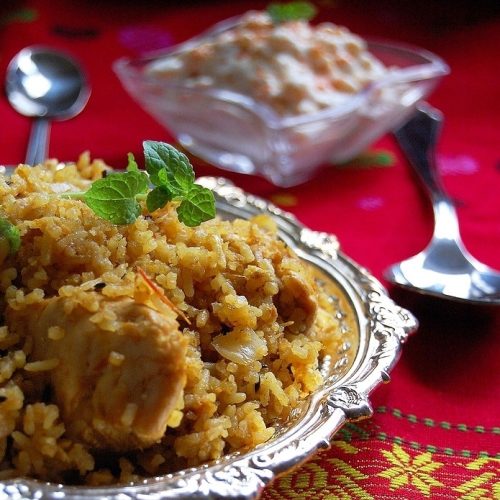 Til diya kukura mangxo / Assamese style chicken curry with sesame seeds
An Assamese (from Assam, North East India) style chicken curry filled with the nutty flavour of sesame seeds. Not overpowering, and with minimum use of spices. Great with rice or Indian flatbreads.
Check out this recipe
Kesar badam murgh l Saffron and almond chicken curry
An indulgent chicken curry to enjoy with friends and family; best enjoyed with some Indian flatbread.
Check out this recipe
---
Until next time,
Sunita
STAY CONNECTED: