These avocado and carrot savoury pancakes recipe is from many years ago. It is another of the recipes that I managed to salvage from 'the notebook'. And today being 'pancake day' here in the UK, it seems to be the perfect time to cast the spotlight on these beauties.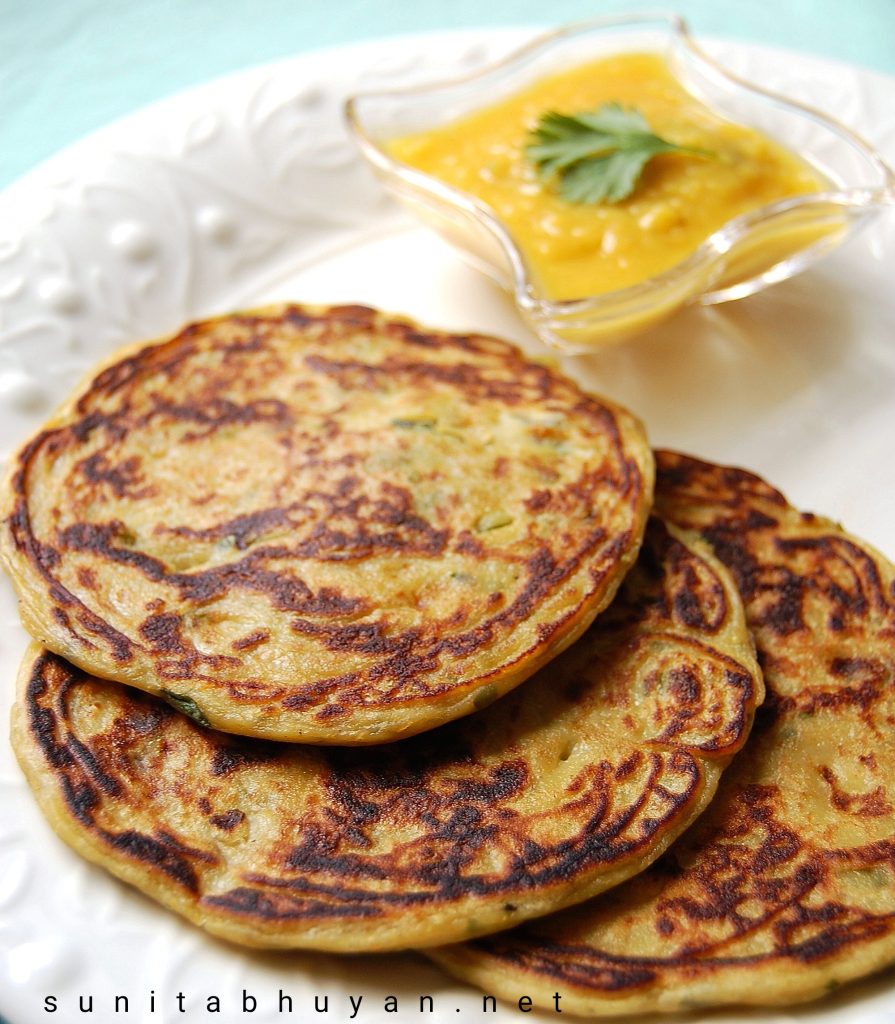 ---
Pancakes are usually reserved for our weekend breakfasts. The ones that we all love the most are whole wheat and banana ones, lightly spiced with cinnamon and served with a drizzle of honey.
But, occasionally, on other days of the week, I also make some savoury ones which we like to have, not for breakfast, but with some light soup (usually dal), and make a light meal out of them. Huh? Pancakes for dinner?!!! Well, why not!
---
The pancakes that I make are almost always the crepe like the English ones where the batter is spread out to make them thinner. However, for the following avocado infused pancakes, I kept the sizes smaller and slightly thicker, compared to the ones I usually make, as they proved to be quite tricky to turn over. These pancakes would also form a nice breakfast, or a snack, on their own.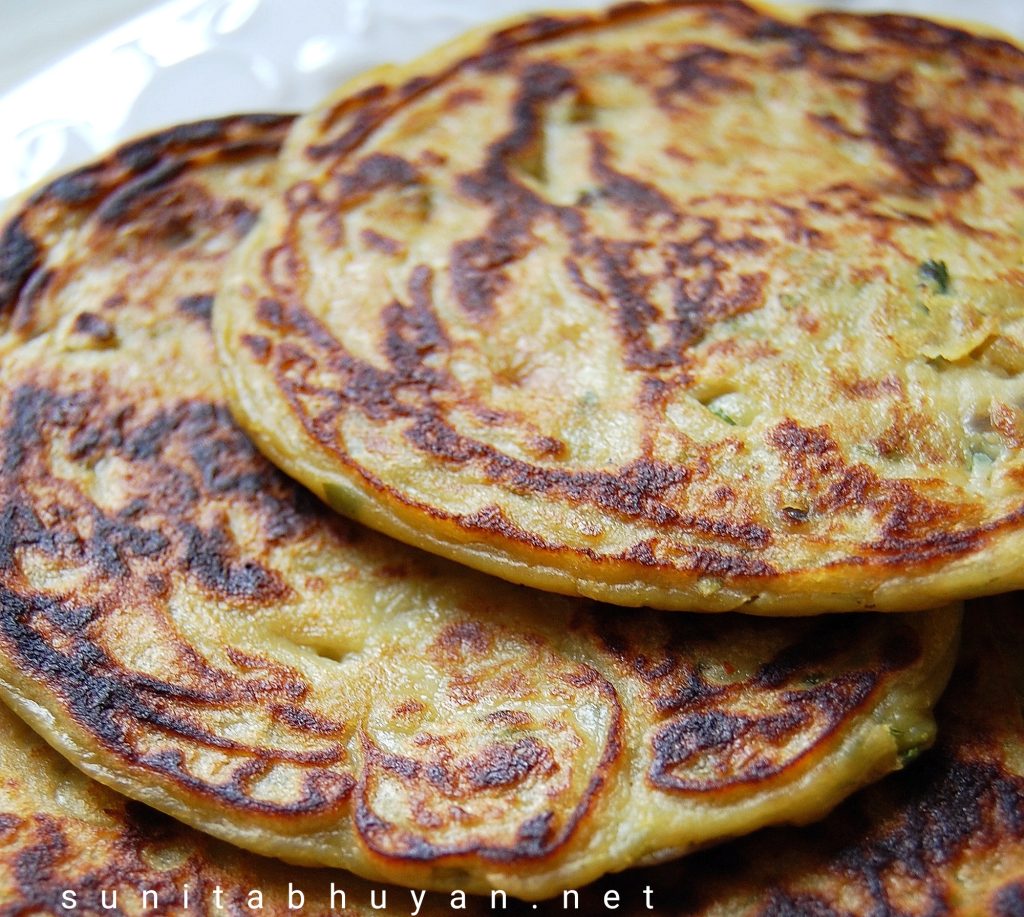 ---
Serving suggestion-
We had our carrot and avocado pancakes with some dal (red lentil soup) and some mixed pickle.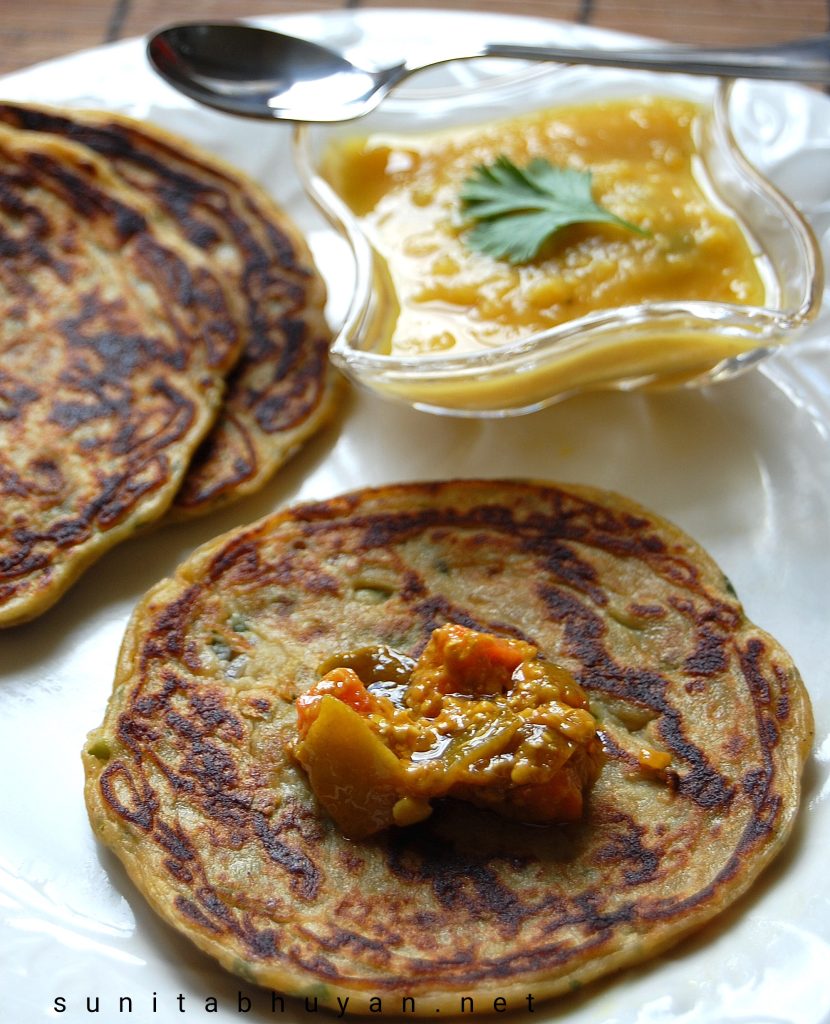 Continue reading for the full recipe for these avocado and carrot savoury pancakes.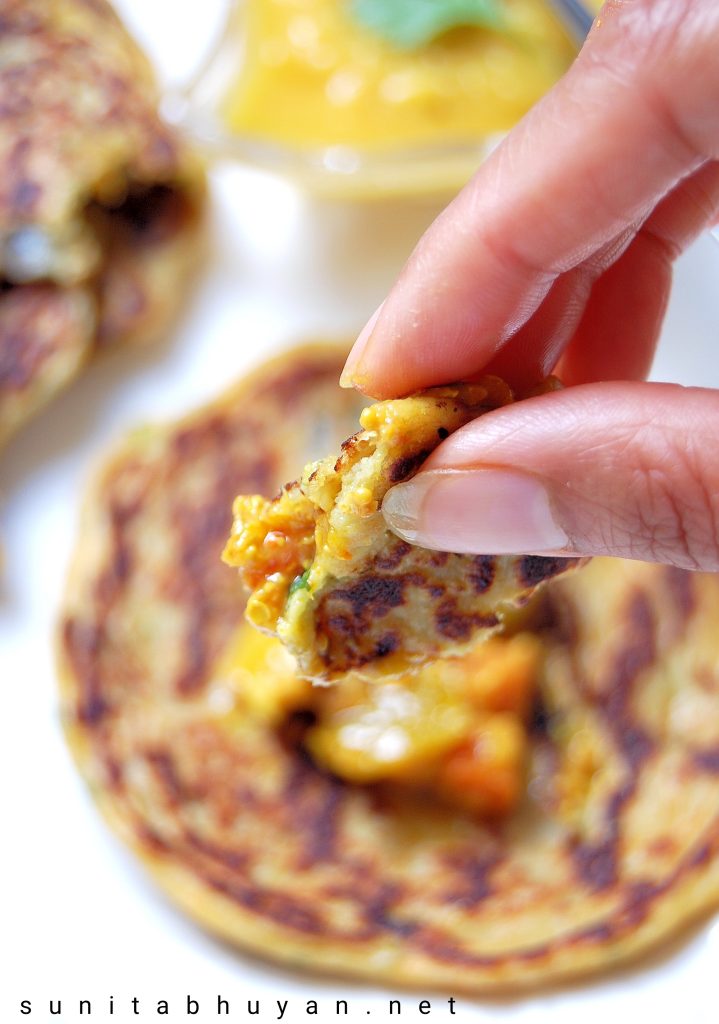 ---
All the vegetarian recipes on this website can be found here.
You might also like the following recipes from this website-
Aloo-methi-cream cheese parathas
Delicious Indian flatbreads with potatoes, fenugreek leaves and cream cheese.
Check out this recipe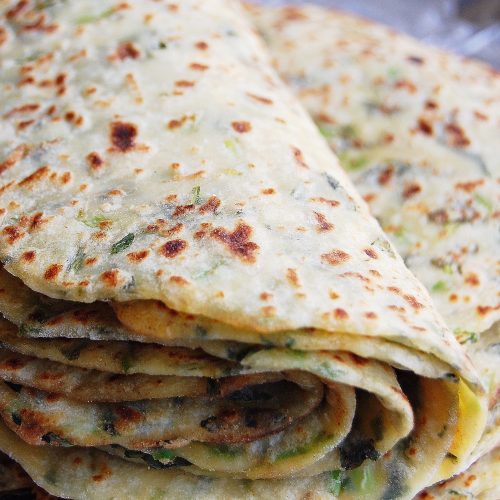 Rahar dali l Arhar dal l Toor dal l Split pigeon peas
A delicious and easy to make recipe
Check out this recipe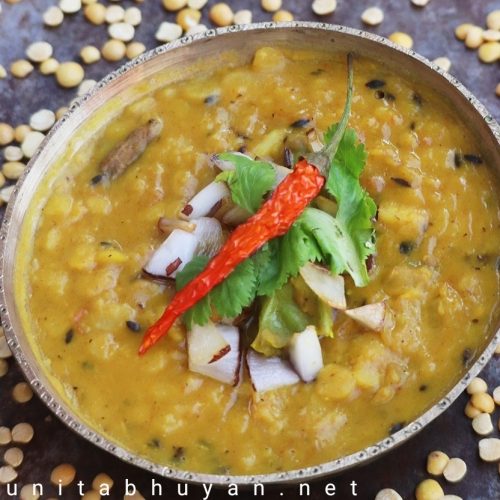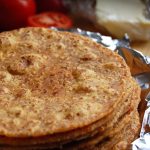 ---
Subscribe to Sunita's World – life and food! to receive updates on latest posts, tips and recommendations straight to your inbox! Simply fill in the details below. Thank you!
---
Stay connected-
On another note, if you try any recipe from this website, do take a photo and tag me on instagram @sunita_bhuyan. I would love to see your creations! Also, do connect on other socials too; links to all my socials are given below-
[smbtoobar]
---
Recipe card-
Avocado and carrot savoury pancakes
A savoury pancake, perfect for breakfast or even a light lunch / dinner with some soup.
Ingredients
2 ripe avocados, halved, stoned and the flesh scooped

1 small carrot, grated

1 red onion, finely chopped

2 and 1/2 C of plain whole wheat flour (atta)

1 tsp of baking powder

1 tsp salt

2 and 1/4 C milk

1/2 tsp (more or less) crushed red chillies

1 tbsp oil

1 egg, beaten

non stick spray +or oil to grease the pan
Instructions
Mix the avocados (mashing them) with the carrots, chillies, onion, flour, baking powder and salt.

Add the milk, egg and the tbsp of oil and whisk to make a batter.

Heat and grease (with preferably the spray) a pan over low heat.

Add a ladle of the batter and gently spread it out a little with the ladle itself. Cover and cook for approximately 2 minutes.

Lift up the pancake, and while still holding it in the spoon, grease the pan again and turn it over to cook the other side for another 2 minutes. During this time, gently press the pancake with a slotted spoon.

Transfer to a plate covered with kitchen roll, stacking one on top of the other as more are being made.

Serve hot. We had ours with some dal (red lentil soup) and some mixed pickle.
---
You might also like to try the following recipes from this website-
Phulka (roti /rooti) recipe l Puffed Indian flatbread
An unleavened Indian flatbread partly cooked on a pan and partly over an open flame which puffs it up.
Check out this recipe
Bootor dali
Bootor dali is an Assamese dish of split chickpeas (chana dal) cooked in spices. It is usually thick and eaten with Indian flatbreads though it's thinner counterpart is also enjoyed with rice.
Check out this recipe
Luci / Poori
A deep fried Indian bread made with unleavened dough. The dough is divided into small portions which are then rolled into small discs and deep fried in hot oil to puff up.
Check out this recipe
---
Until next time,
Sunita
STAY CONNECTED: